When it comes to selecting an opulent luxury getaway, there's no better way than to catch the trade winds and set sail in exotic waters. From a view of beautiful landscapes scattered with wildflowers and houses framed with bougainvilleas, to olive groves, cypresses and picture-perfect ports.
Sailing in gem-like waters and visiting white sandy beaches accentuate a luxury sailing holiday. Explore a different bay each day, with enchanting panoramic views of blue skies and ocean horizons. This list explores some of the best luxury sailing holidays to explore this year.
Looking for the perfect luxury sailing holiday with a choice of flotillas, catamarans and a selection of yachts and prestigious beach clubs? Take a look at Ocean Elements Holiday Guide here: https://www.oceanelements.com/sailing-holidays/flotilla.
1) Kos, Greece
Sail your way to Kos, part of the Dodecanese archipelago in the southeastern Aegean Sea. The island is an ideal destination for tourists with its crystal-clear waters, rich history and antiquity, and stunning pristine beaches.
Enjoy your uber-luxurious holiday sightseeing or basking on one of the many beloved beaches under palm trees. Enjoy the natural wildlife, such as peacocks or the lively nightlife and aquatic sports. The list is endless on this magical island!
2) Mykonos, Greece
Mykonos is most famous for its characteristic blue and white buildings hugged with bougainvillaeas, It's a popular image amongst artists, photographers and those looking for a picture-perfect summer holiday.
Enjoy exploring the town and its shopping opportunities or cruise to the deserted beaches on the opposite side of the island from the port. You can even visit one of its neighbouring islands by your yacht or sailing boat. This strikingly beautiful and famous island is also ideal for party-goers and night owls.
Nicknamed the 'Island of the Winds', it's a paradise for water sports. Kitesurfers, windsurfers and sailing enthusiasts flock to Mykonos for its desirable conditions and heavenly waters.
3) Corsica, France
Corsica Island is popular among tourists, best known for its warm balmy climate, stunning picturesque coastlines and dramatic mountainous landscapes. It's situated in the southeast of France's Mediterranean coast, attracting visitors from around the world.
The island is a beach lover's dream and a history enthusiast's delight. Make your way to Loto and Saleccia beach for a secluded, sandy getaway with access to clear waters. Calvi beach is another option which shares beautiful views of the town and the magnificent citadel.
There is a range of snorkeling and diving sites around the island. Enjoy other aquatic sports such as jet-skis on the warm island waters, or explore historic castles and forts.
Corsica offers luxury dining at Michelin-quality restaurants found throughout the major towns. This island is a smooth sail to the French Riviera, making it an ideal luxury sailing destination.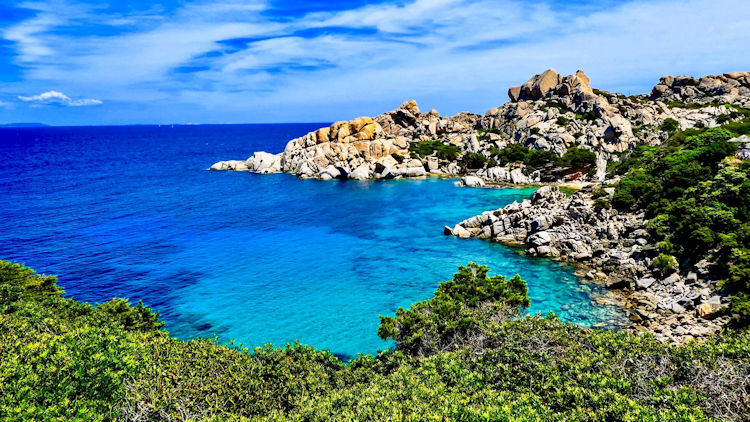 4) Sardinia, Italy
Sardina is the epitome of a luxury sailing holiday. While visiting Corsica, you can sail over to Sardinia (or vice-versa) for the perfect balance between pristine, uncrowded beaches and opulent yachting events and fine dining.
Find your way to Porto Cervo and view prestigious regattas during the summer season or enjoy a haven of wildlife at La Maddalena Nature reserve.
5) Porto Heli, Greece
Situated in the Saronic Gulf, Port Heli is a famous port village on the eastern side of Peloponnese. An ideal family destination, where private yachts are moored and yacht owners enjoy an opulent holiday.
You will come to find the balmy Mediterranean landscape is the backdrop to attractive beaches, beautiful villas and lively nightlife. These are just a few highlights of Porto Heli.
Porto Heli is one of the most luxurious holiday destinations in Greece and for a good reason!
6) Santorini, Greece
One of the most iconic Greek Islands on the Aegean Sea is undoubtedly Santorini. A spectacular island from the Cyclades group of islands, Santorini offers complete paradise.
From traditional, white-washed houses and blue roofs to pink bougainvillaeas, this magnificent volcanic island will not let you down.
Find your way to the hot springs at Nea Kamini or enjoy a hike from Fira to Oia for some panoramic views of the ocean.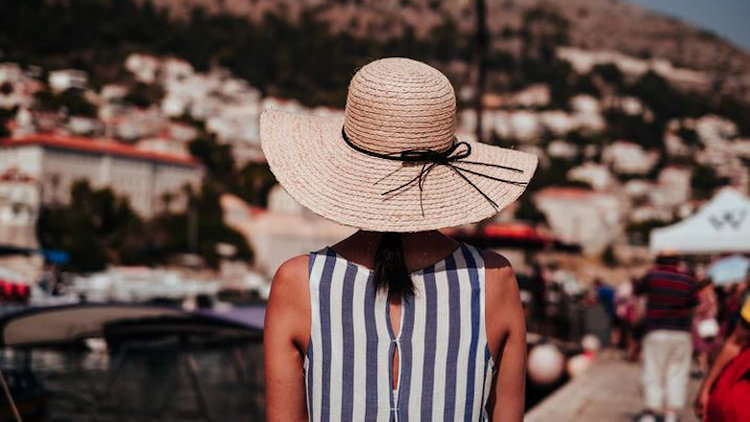 7) Dubrovnik, Croatia
Dubrovnik is a UNESCO World Heritage Site. It's filled with opulent shopping opportunities, cafes, and art galleries - all nestled among medieval streets. Also known to host a fantastic party, there are countless bars and restaurants which illuminate the streets after sundown.
Enjoy a wide selection of robust wines from local vineyards, or explore the countryside for a fun-filled day.
8) Corfu, Greece
If you're looking to sharpen your sailing abilities the Corfu islands are ideal for intermediate sailors. Corfu is part of the Ionian group of islands found off the west coast of Greece's mainland. The Mediterranean climate makes chartering a yacht in the Ionian Islands idyllic. You can expect mild winds and clear turquoise waters.
Corfu mainland provides visitors with Venetian cobbled alleyways and architecture, Italian-inspired delicacies and grand arcades. It's a luxurious, laid-back holiday destination.
9) French Riviera, France
The Cote d'Azur found in the Western Mediterranean is one of the most popular destinations for luxury yacht charters. This is largely thanks to its spectacular locations including Monaco, Saint-Tropez and Cannes where festivals and world-renowned events seasonally take place.
Plan your trip to enjoy the after-parties of the Cannes Film Festival or watch the famous Monaco Grand Prix.
Another less popular, yet equally as beautiful, location is Cassis which is nestled beside the gorgeous Parc National des Calanques (Calanques National Park).
10) Lefkas, Greece
Lefkada (the "Caribbean of Greece"), is a dream destination for those who are looking for picture-perfect paradise. Located in the Ionian sea and home to a popular sailing yacht base, it's the ideal place for a luxury sailing holiday.
Lefkada offers spectacular landscapes, sandy beaches and mesmerizing turquoise waters. The island welcomes visitors to seaside villages such as Agios Nikitas Lefkada and natural wonders like the Dimosari waterfalls.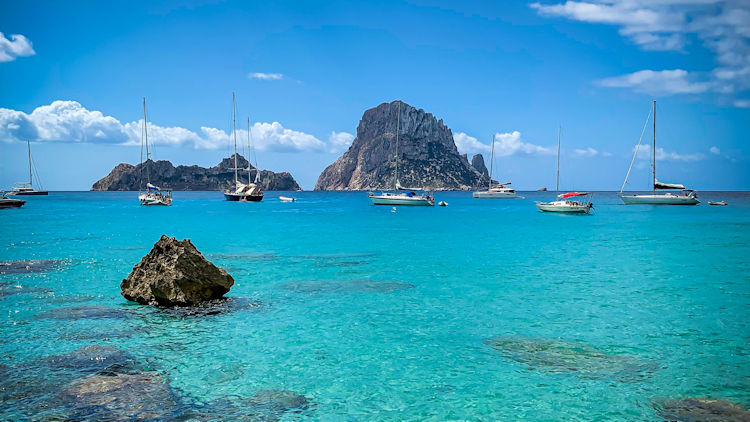 11) Balearic Islands, Spain
The Balearic Islands offer some of the Mediterranean's most significant cave and wreck dives. Once you've exhausted yourself by enjoying the underwater wonders, make your way to enjoy the sensational nightlife in Ibiza.
If you prefer a tranquil ambience, there are plenty of restaurants and quiet bars along pristine beaches readily awaiting you. Palma also offers wonderful museums, art galleries, castles and of course, boutiques to explore.
The Balearic Islands exudes luxury and is favored among the affluent.
12) Vassiliki, Greece
Set your sails to Vassiliki, a gorgeous picturesque fishing village and a glandular vacation for the whole family.
It's a popular windsurfing and sailing destination due to its superb weather conditions. There are also other holiday activities to be enjoyed, such as kayaking, biking, paragliding and paddleboarding.
Luxury Sailing Destinations - The Ultimate Sailing Holiday
For a magnificent holiday filled with a blend of culture, history and delicious cuisine - find your way to these opulent luxury sailing destinations.
Explore magical islands onboard a private flotilla catamaran or yacht. Dive into gorgeous jewel-clear waters and taste the delicacies abroad. For a stylish getaway, find yourself a luxury sailing holiday that will bring you a multitude of delights.
Tip - What better way to remember an 'out of this world luxury holiday' than to collect memories with an all-round action camera?
Photo credits: unsplash