For those looking for a luxurious, swoon-worthy getaway, we've handpicked a few of the most opulent suites. All of these properties have played host to presidents, dignitaries, celebrities and other notables.
The Charles Hotel
Presidential Suite, Cambridge, MA -- rates from $3,500/night
The Charles Hotel recently remodeled Presidential Suite is the home-away-from-home to some of the most influential people in the world including numerous presidents who have stayed in this very suite countless times. The suite includes a custom made grand king size four poster maple bed, unique original artwork, two fireplaces, five flat screen TVs including a Vision Art TV, security camera, office with a custom made desk and boasts breathtaking views of the Boston and Cambridge skylines and all guests are able to make free international calls anywhere in the world.
Some of the notable Presidents that have made this incredible suite their home include President Barak Obama, President Bill Clinton, Vice President Al Gore, USSR President Mikhail Gorbachev, and South African President Nelson Mandela.
The Charles Hotel is The Smart Place to Stay. Located in the heart of Harvard Square, The Charles is a member of Preferred Hotels and Resorts and AAA Four Diamond award-winning hotel. With its classic New England design, sophisticated service, technology and one-of-a-kind accommodations, The Charles is the ideal place to stay for both business and leisure travelers.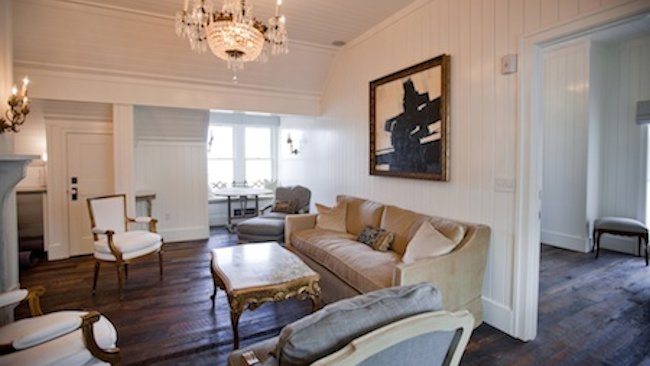 Washington School House
Presidential Suite, Park City, UT – rates from $1,950/night
This three-bedroom Presidential Suite is a combination of the Penthouse Suite, a Town King and a Pool King Room to provide three bedrooms, three private bathrooms and a den for guests. The 1,290-square-foot suite boasts 270-degree views of the town of Park City stretching 500 miles to the High Uinta Mountains. A private elevator entrance offers discretion for high profiled guests, and this luxurious retreat offers visitors a living room, dining nook, gas fireplace, desk and work station.
Washington School House, a National Historic Registry landmark built in 1889, announced its official opening in December 2011 as Park City's most exclusive luxury boutique hotel. After undergoing a stunning eight-month renovation, old school is the new cool at the downtown Park City hotel, located in one of the last surviving original school houses in the United States.
The Washington School House has been a Park City icon for well over a century. The recent renovations respect the building's historical integritywhile re-imagining the stunning interior. The design team of Paul and Shannon Wehsener of Paul Allen Design and architect Trip Bennett crafted 12 spectacular suites and rooms within the original structure, creating breathtaking spaces throughout the historically significant hotel.
Sitting atop Park Avenue, just steps above Main Street, Park City's mountain-urban dining, shopping and entertainment district, the school house boasts an original quarried limestone exterior, which has been protected with the installation of a new standing seam metal roof, restoring the building's authenticity. A new heated pool and spa have been terraced into the hillside enveloped by aspens, spruce and boulders. It is a private retreat under thestars exclusively available to guests and highlighted by an original steel Olympic torch from the 2002 Winter Olympics in Park City.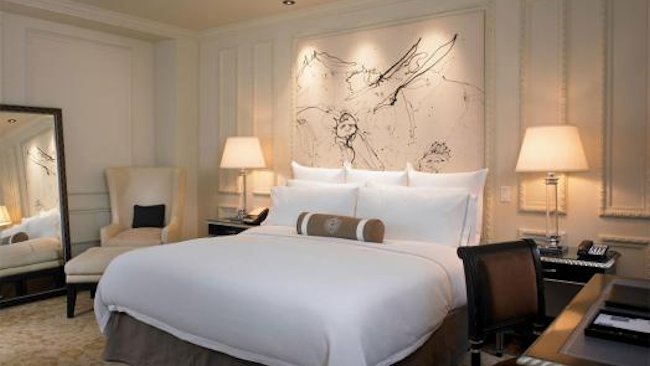 THE US GRANT
Penthouse Presidential Suite, San Diego, CA – rates from $3,500/night
The spacious 11th floor suite at THE US GRANT offers panoramic views of the surrounding cityscape and bay. The suite boasts a six-person dining area with built-in-service bar, executive desk for personal or business communication needs, a separate salon area, and master bed & bath. THE US GRANT has hosted 14 presidents, most recently President George Bush Sr. Since opening, the popular hotel has played host to United States Presidents from Woodrow Wilson to John F. Kennedy to George Bush Sr. In 1927 the world-famous aviator, Charles Lindbergh, stayed at THE US GRANT while his San Diego-built plane, The Spirit of St. Louis, was readied for his momentous New York to Paris flight.
The Penthouse Presidential Suite was originally a radio station; the suite embodies the hotel's past and present. Redesigned for the most discerning guests, the suite was added onto the rooftop of the hotel in 1939 as a radio station and created a mark in history as the very radio station from which President Franklin D. Roosevelt broadcast his first 'fireside chat' outside of DC.
THE US GRANT Hotel, a Luxury Collection Hotel, is one of the most historically significant locations in San Diego. The hotel was developed in 1910 by Ulysses S. ("Buck") Grant, Jr. in honor of his father, Civil War hero and the 18th President of the United States, Ulysses S. Grant. The hotel underwent a 20-month, $58 million restoration in 2006, emerging with the timeless style and classic grandeur for which THE US GRANT is synonymous, coupled with the style and sophistication of the 21st century.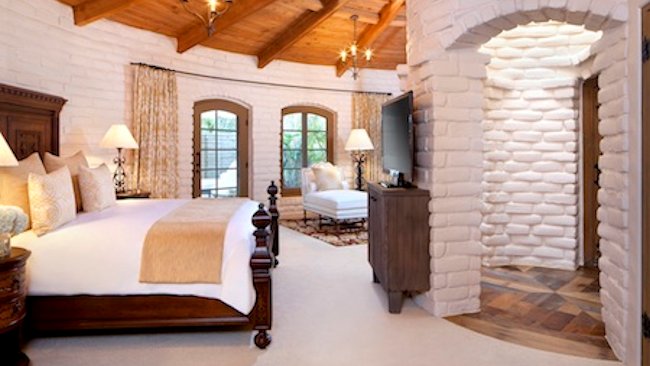 The Hacienda at Rancho Valencia Resort & Spa
, San Diego, CA -- rates from $3,000/night
A favorite of Bill Clinton's, the award-winning Rancho Valencia Resort & Spa, located in San Diego's upscale neighborhood of Ranch Santa Fe, features a 5,000-square-foot Hacienda. The estate-styled, private guest home features a new kitchen with modern appliances, three colorful bedrooms with private patios and steam showered bathrooms or large bathtubs, plush living spaces and a private backyard with pool, dining area and outdoor entertaining space. Enhancements to the Hacienda were completed in October 2012 as part of Rancho Valencia's $30 million property-wide renovation.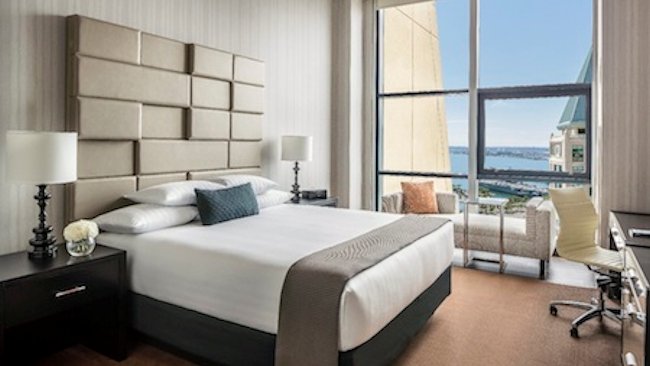 Manchester Grand Hyatt
Presidential Suite, San Diego CA -- rates from $2,000/night
Being the largest waterfront property on the West Coast, the Manchester Grand Hyatt is no stranger to first-class guests. The property has hosted some of our country's finest including Bill Clinton, Jimmy Carter, John McCain, Al Gore, Bob Dole, George Bush Sr. (Bush 41). This holiday weekend stay like a president! Enjoy the view from the Manchester Grand Hyatt's, newly renovated, Presidential Suites located on the top floors of the Harbor Tower. With 1,050 square feet of space, the Presidential Suites offer service bar in parlor, spacious seating area, separate bathroom in parlor, separate kitchen with refrigerator, separate service entrance and a double / double additional connecting bedroom (fees apply).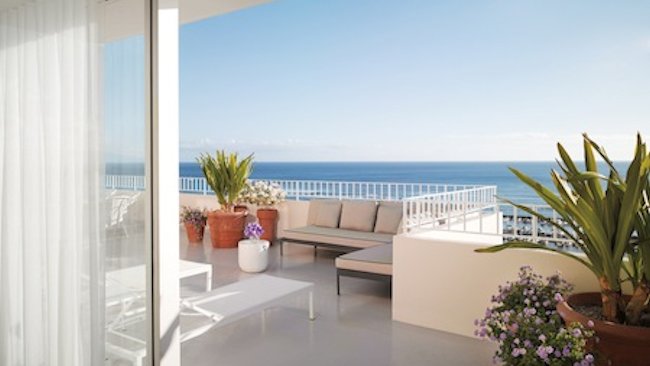 The Modern Penthouse Suite
, Honolulu, HI -- rates from $5,000/night
The Modern Penthouse Suite is ideal for entertaining guests or simply enjoying an expansive sense of privacy, this Waikiki penthouse offers a unique, one-of-a-kind retreat with an array of luxe amenities. Featuring 1,400 square feet of custom-furnished space and a 1,500 square foot wraparound landscaped terrace, the Penthouse resembles a luxury apartment complemented by exquisite service standards. The Honolulu penthouse boasts its own private dining room, kitchen, entertainment center and bedroom with sweeping views of the Pacific. Amenities include custom beds with imported linens by Frette, down comforters and pillows, original and custom designed furniture with custom fabrics, 55" LCD TVS, and an in-room fully stocked wet bar. When seeking grand Waikiki accommodations with generous space, endless amenities and breathtaking views, consider The Modern Honolulu's Penthouse experience. For an incredible dining setting, enjoy The Modern Honolulu's Morimoto Waikiki with fresh island-grown ingredients and hip decor, and that was recently visited by President Obama and named one of his favorite restaurants.