Gianni's
offers a delicious blend of Italian and Mediterranean dishes and wine selections, served in a one-of-a kind historic setting of a 1930s mansion. The stunning atmosphere of Gianni's as night falls in the former Versace mansion rivals the best locales in the world to dine. In the history-steeped dining room, or under the stars poolside, Gianni's offers a wonderful, unique luxurious dining experience. Here you get a glimpse back to the lifestyle when The Villa Casa Casuarina was a private home. Ask bartender, Israel, to make you 'Medusa Bubbles' pre-dinner cocktails for an experience to remember!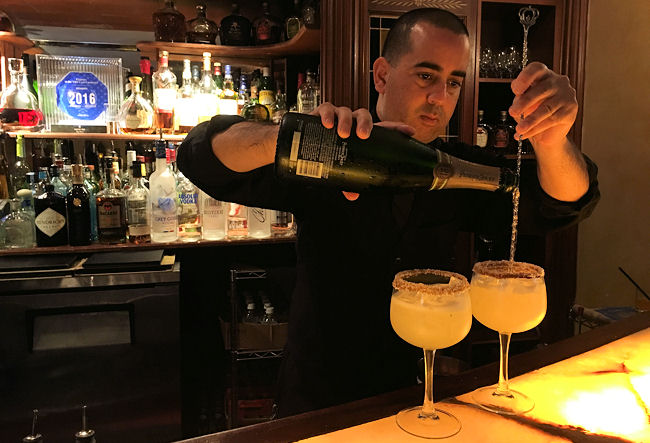 Israel making Medusa Bubbles cocktails at Gianni's bar
Spiga Ristorante Italiano
is located in the heart of the South Beach Art Deco District in front of the Impala Hotel. For many years now, Spiga Restaurant has been offering an intimate atmosphere, with a romantic and poetic decor, along with the quality and simplicity of its food. Inspired by the traditional art of bread making, and by its main ingredient, Spiga (wheat), they present a unique home style where everything on the menu is prepared daily just like it used to be in the old Italian 'trattoria.' The pasta and ravioli are still hand made as well as the bread and desserts, not to mention daily fresh fish and vegetables. The staff has worked at the restaurant since the beginning so repeat customers feel right at home.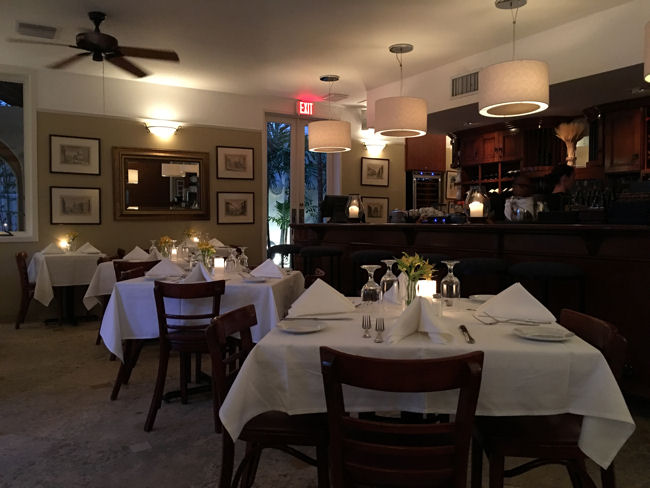 Spiga Ristorante Italiano
Jaya at The Setai
- Jaya, which means 'victory' in Sanskrit, was chosen to honor The Setai's renowned interior designer Jaya Ibrahim and the hotel's first decade of successful Asian-inspired hospitality. Executive Chef Mathias Gervais and Executive Sous Chef Vijayudu Veena collaborate to create standout dishes from Thailand, Vietnam, Korea, India, China and Japan. Incorporating many traditional culinary techniques from wok stations to tandoor ovens, Jaya's menu features modern Asian cuisine with the bountiful flavors of turmeric, cardamom, ginger, cinnamon, chilies, coconut milk and tamarind and also presents longtime Setai favorites including Indian curries, Naan breads, Tandoor sea bass and Dim Sums. Food is the key thread in the fabric of Asian life and how people socialize. As such, Jaya follows this tradition serving dishes in a style to be shared in an inviting atmosphere to make for a lively experience paired with the sophistication and hospitality you've come to expect from The Setai, Miami Beach. Guests have the choice to dine indoors or in The Setai's serene courtyard.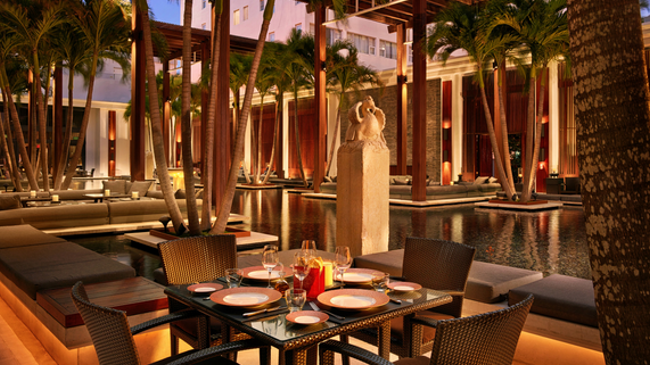 Jaya at The Setai courtyard
Full Bloom
– Vegan cuisine is all the rage these days among the A-list with so many celebrities and athletes going vegan like Ariana Grande, Dr. Oz, Bill Clinton, Katy Perry and so many more. Open for a little over a year, Full Bloom is the first Vegan restaurant in Miami Beach that was established to creatively bring vegan dining to a new level. Right on the water on Belle Isle in Miami Beach, their mission is to bring healthy, cruelty-free and environmentally conscious cuisine to Miami and provide an intimate, special dining experience. Fresh, organic ingredients come from local farms and small distribution companies and the creative dishes are sure to delight vegans and non-vegans alike!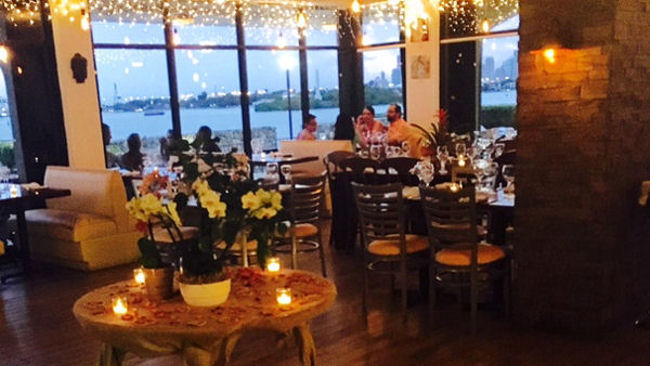 Full Bloom
Cecconi's
, in the courtyard of Soho Beach House, is a modern day classic Italian restaurant open for brunch, lunch, cicchetti (tapas), and dinner, seven days a week. Cecconi's serves hand-made pasta, seafood and dishes from Italy using the finest ingredients. The restaurant has outposts in West Hollywood and Miami, Istanbul and Berlin.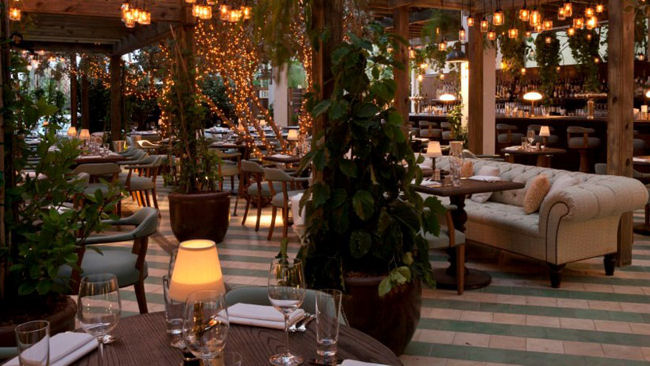 Cecconi's
The Bazaar by José Andrés
- James Beard Award-winning Chef José Andrés provides an exquisite dining experience at his restaurant, The Bazaar, located at the SLS Hotel South Beach. The celebrated chef employs the latest culinary techniques ranging from smoking cocktails to a lavish 22 course personalized tasting menu. Foodies will rejoice to see the restaurant serves Jamon Iberico, one of the tastiest and most coveted ingredients coming exclusively from Spain. We love the "Twenty-Vegetable Quinoa Couscous" prepared with tamarind broth.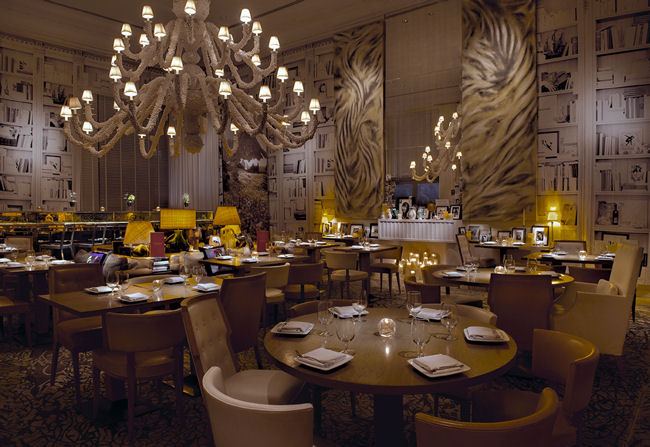 The Bazaar by José Andrés
Beachcraft
at 1 Hotel South Beach brings celebrity chef Tom Colicchio's seasonal sensibility to Miami. Colicchio collaborates with executive chef and South Florida native Michael Fiorello on a menu that features locally caught fish and antibiotic-free meats accompanied by vibrant produce. An expansive, open kitchen anchors the restaurant, where seafood dishes and vegetables are center stage. A fully stocked raw bar, salads, flatbreads and freshly made pastas round out the Beachcraft experience. The decor features natural materials such as wood and stone, bronze lighting, caramel banquettes, an expansive, concrete-topped bar with seating for 22 and an outdoor patio.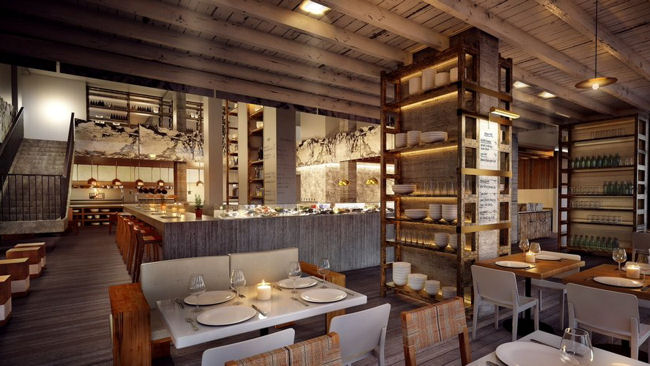 Beachcraft
The Restaurant at The Raleigh
takes its inspiration from the hotel's rich history in South Beach. Chef Jose Icardi updates the menu daily with the best seasonal ingredients from locally sourced farms and fishermen. The restaurant's eclectic menu features creative spins on typical dishes, such as confit chicken wings with a house-made wing sauce, and a lobster and king crab ceviche with Florida citrus and candied fresh coconut. The restaurant also has a comprehensive wine list ranging from light, crisp whites to luxurious, rare reds.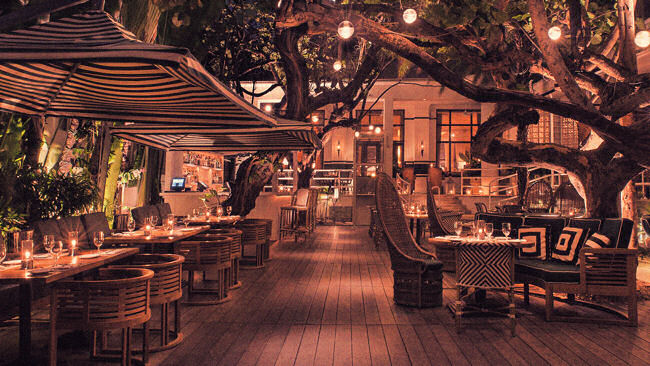 The Restaurant at The Raleigh
A Fish Called Avalon, Avalon Hotel
- Visit the Avalon Hotel's storied local hotspot for a traditional South Beach dinner. In addition to a menu of fresh seafood from Chef Kal Abdalla, classic cocktails and ocean views for 25 years on Ocean Drive (7th Street), the restaurant is known for their laid back vibe and live Spanish Rock and Latin Jazz performances every Thursday, Friday and Saturday. Indulge in an award-winning wine list and sublime dishes like crab-crusted grouper or seafood paella, while relaxing in the restaurant's Art Deco and tropical inspired outdoor and indoor seating.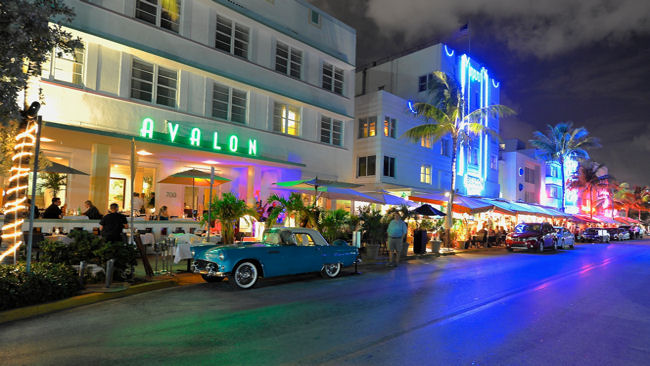 A Fish Called Avalon
Bistro One LR
at the Ritz-Carlton South Beach offers a warm dining experience with views of the hotel's infinity pool and the Atlantic Ocean. Executive Chef Anthony Le Pape's menu items take inspiration from the Spanish Riviera and feature a selection of fresh local seafood and remarkable steaks. The restaurant's signature dishes, citrus crab with cucumber gazpacho and crème fraiche and red snapper served with potato risotto, wild mushroom, and truffles, are sure to impress.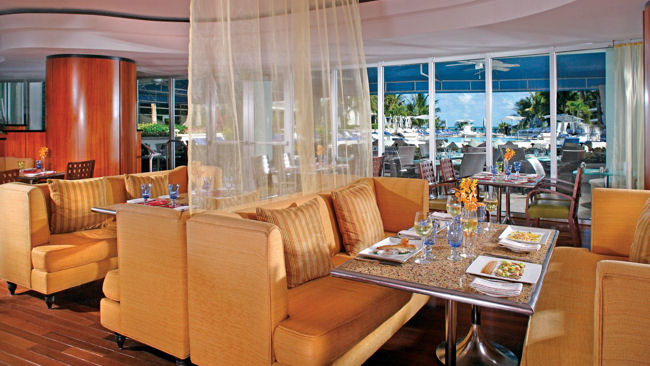 Bistro One LR
Also read:
Glamorous Miami Beach: A-List Haunts and Hideaways