With the opening of its doors Bhutan Spirit Sanctuary introduces the world of travel to a new brand of hospitality, dubbed Inspirational Hospitality. Connecting their guests to the essence of the destination and guiding them in the journey to a restful mind, the aim is to help create a lasting positive change in the daily lives of its guests.
The sanctuary is offering a special introductory rates starting at $770 per night will be available through December 31 and represents 50% off of the starting rate for the peak season. The rates at the Sanctuary include the use of all services as well as meals, snacks, drinks and minibar (only excluding alcohol). It also includes individually designed well-being programs, including a consult with the traditional medicine doctor, yoga/meditation classes, as well as a wide variety of spa treatments.
"Bhutan is the obvious destination to be a pioneer in this inspirational journey to bring a new hospitality interpretation to the travel market. Known as the Land of Gross National Happiness, the focus on well-being is deeply rooted in its society. Service to King, Country and People (known as the Tsa-Wa-Sum) is considered an honor, notes Louk Lennaert, founder of Bhutan Spirit Sanctuary. "And the ancient practice of Buddhism has infused the country and its people with a deeper understanding of life, karma, and the impermanence of all things. A tremendous connectivity to the present and the importance of being kind to self and others is the result."
Bhutan Spirit Sanctuary embodies all these different facets of Bhutan.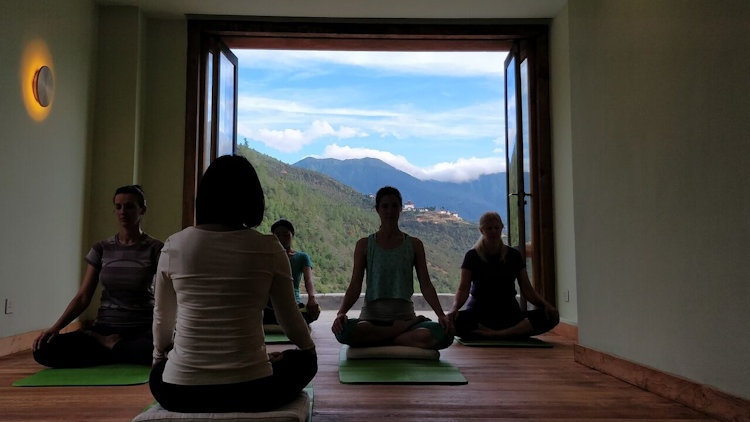 THE SANCTUARY
The Sanctuary is located in the beautiful Neyphu valley of Paro. "Neyphu" translates roughly to 'a gateway to secret places' and that is exactly what Bhutan Spirit Sanctuary offers its guests; a gateway to the discovery of self and the essence of Bhutan, all in restful and luxury surroundings. With its nearly 1-meter thick walls and its courtyard the Sanctuary has an architecture inspired by the traditional Bhutanese Dzongs (fortresses) and monasteries. With the planned construction of traditional but luxury 'mud houses' as an additional guest accommodation option the experience of Bhutanese traditional architecture will be taken to the next level.
In keeping with the traditions of the Bhutanese people and Buddhism, the layout of each room is designed to respect the local culture while also maximizing the stunning panoramic views of the valley and the historic Eutok Samdrupcholing monastery. Beds are positioned so feet do not face the monastery – which is considered unseemly - and each room also has an apple tree, bench and a book to invoke inspiration.
Upper floor rooms feature 515 square feet plus a 85-square foot balcony and ground floor rooms are 581 square feet along with an outdoor garden terrace with tables and chairs. All rooms feature:
King-size bed (on request can be changed to twin beds)
Fully stocked inclusive minibar (except for alcoholic beverages)
High speed Wi-Fi and tablet/notebook
Locally handmade natural cosmetics from Mudra and the environmental friendly dental hygiene products of The Humble Co.
Twin vanity bathroom with separate shower and bath
Lounge area
Walk-in closet with safe
Sound system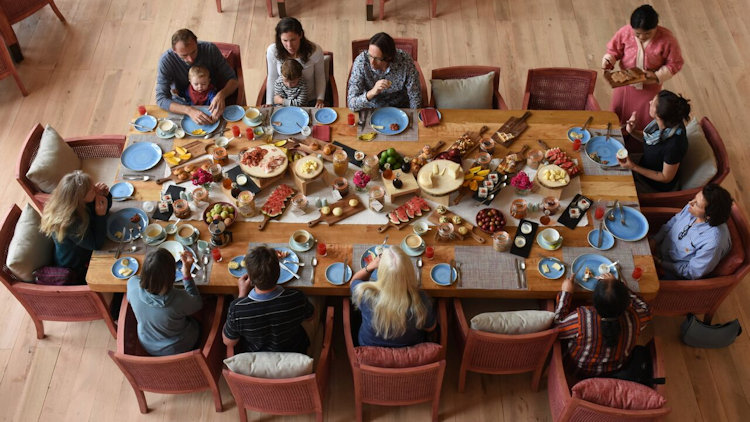 CUISINE
The restaurant features an outdoor terrace along with indoor and in-room dining options as well. Guests can dine at any time of day whether it is a contemplative breakfast or group dinner.
In addition, guests can meet with the chefs to design a customized menu in keeping with specific dietary needs or allergies. With Bhutan's goal of becoming 100% organic by 2020, the farm to table culinary team sources local organic ingredients, with seasonal fruits and vegetables from around the environmentally diverse nation. Herbs and vegetables come from local farmers with plans to grow an organic garden on the property itself.
The property has also created a beverage menu that showcases the unique flavors of Bhutan. Teas, fresh juices and smoothies are local favorites, and of course, the ever-present Bhutanese suja or butter tea. According to tradition, drinking suja keeps the body warm during winter. The signature cocktail menu also featured locally sourced whiskeys and beers to support local brewers by showcasing their newest creations.
BODY, MIND & SPIRIT
Bhutan Spirit Sanctuary is the only well-being inclusive property in Asia. Classes in mindfulness, meditation, and yoga as well as a wide variety of spa treatments are all included.
Signature treatments include Kunye (traditional Tibetan massage) and Moxibustion (traditional Chinese medicine therapy). Bespoke well-being programs are individually designed for every guest including a consultation with a Bhutanese traditional medicine doctor to develop a personal in-house treatment journey towards a restful mind, body and spirit.
Bhutan is also known as Lhomen Menjong, the 'Land of Medicinal Herbs' and is widely is considered to be a rich and abundant source of traditional medicine. The Sanctuary's spa brings together the wild medicinal herbs and spices of Bhutan in healing and rejuvenating products.
Medicinal water or 'menchu' is also abundant in the area and is believed to have healing power to treat a variety of ailments. Many of the Sanctuary's staff have their own stories of the healing powers of menchu. Guests can experience its healing powers firsthand as menchu is used to prepare traditional hot stone baths.
Bhutan Spirit's journey to well-being utilizes 6 treatment rooms with 12 treatment beds, 2 in-house traditional Bhutanese medicine doctors, steam and sauna facilities (m/f), 2 traditional hot stone baths with individual treatment beds, yoga and meditation room with in-house teacher, gym, 50-foot heated indoor pool, art studio with in-house teacher, and a cuisine rich in flavor and nutrition.
In addition to the in-house well-being staff the Sanctuary often hosts (international) yogis and meditation gurus as well as local monks to offer an inspirational journey into well-being and a restful mind.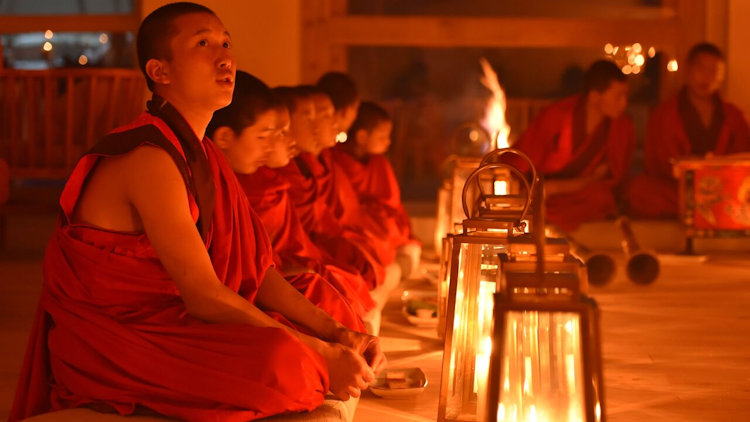 COMMUNITY OUTREACH/SUSTAINABILITY
Bhutan Spirit Sanctuary has both initiated and supports programs/projects for the local community and environment. Guests also can contribute in many ways, including packing for a purpose before they depart and bringing things to help the local community; visiting project sites and actively participate in a program/project by sharing knowledge, experience or other resources.
For additional information or to make reservations, visit https://bhutanspiritsanctuary.com/
Photos courtesy of Bhutan Spirit Sanctuary