An imposing vessel at 394-feet in length and valued at $300 million dollars, the yacht was named "A" by Melnichenko in honor of his wife, Aleksandra. She was on board along with her husband and their little dog.
Take Tour:
Mr. Melnichenko's 394-foot megayacht "A" has become the most talked-about yacht on the seas
After Naples and Capri the couple stopped in Ischia attracting much attention. The silhouette makes for a cross between a spaceship and a submarine with silver bulkheads that are, in effect, a sophisticated anti-pirate satellite alarm system. The fuel tanks are equipped with enough fuel to travel over 65,000 miles at a cost of approximately one million Euros. This, though, allows the yacht to travel a distance comfortably from London to Cape Town avoiding refueling stops.
The mega yacht is dotted with a landing pad for a full ocean helicopter, three convertible top swimming pools programmable with special wave effects, along with a garage capable of holding several motorboats which on occasion is transformed into a discotheque and aquarium.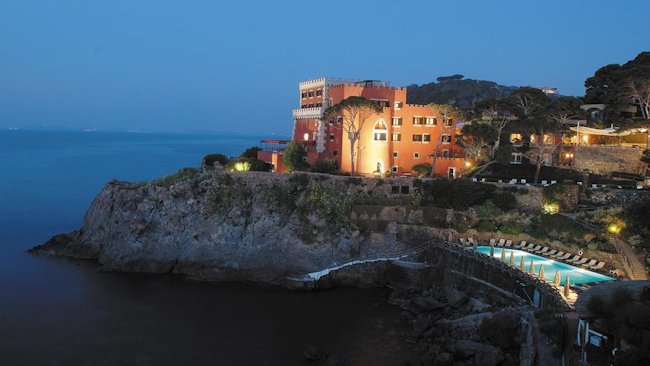 Mezzatorre Resort & Spa
Mr. Melnichenko and his wife made one stop on Ischia Island at the Hotel Mezzatorre where they enjoyed several thermal and wellness spa treatments.
The couple who reached shore on the tenders of yacht "A" reached the hotel resort on board an old style typical Ischia car.
Before leaving they met with the manager who honored them in a basket with wines of Ischia and citrus of the beautiful island.
Their spa treatments included:
• Spring water natural mud mask for the face and the body: A natural mask, smoothing and purifying suitable for all types of skin.
• Cryotherapy: Cold bendages for legs, to firm and improve circulation.
• Thermal Water Treatment: Pool 38°C with 6 different special jets for back, buttocks, abdomen, shoulders, legs neck and cervical.
• Kneipp terapy: Walking for 15 minutes in 2 tubs connected with thermalwater 38°C and seawater 17°C to improve circulation and tone the legs.
About:
Mezzatorre Resort & Spa