Birkenhead House in Hermanus is positioned on the top of a cliff. The neat building, with primrose-yellow walls and white wooden trim, is constructed on a slope from road level down to the cliff edge. After an enthusiastic welcome - from staff members attired in smart-casual white - I enter the airy foyer, then step down to a courtyard with a fountain. On my right is the Spa, with plush rooms emitting fragrances from the oils being used for guests during their African styled massages.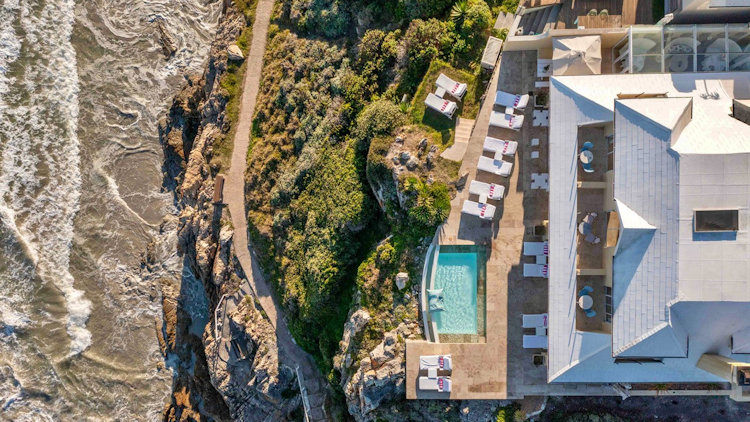 Image by The Royal Portfolio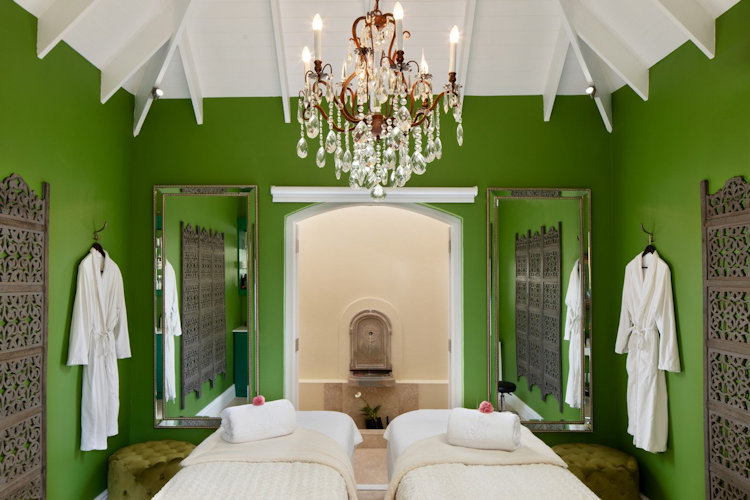 Image by The Royal Portfolio
From here I can see through an inside lounge area, over a two-tier swimming pool, down the series of level to the Indian Ocean. This pleasing architecture is almost symmetrical with a breezy, feng shui centre, inter-leading communal rooms on the right hand side and an outdoor dining space with pizza oven on the left. The lowest level has a lounge with sofas in white cotton, an array of lovingly selected coffee table books and a tiered stand with binoculars for our use. Floor to ceiling windows maximise the sublime views. Décor is by Liz Biden, the owner, who has a gift for combining aesthetic items, for putting together extraordinary colour combinations and an eye for witty - or sometimes naughty - modern African art. I particularly love the fresh flowers in each space, which adds splashes of colour and interest, contrasting with the white elements in Birkenhead House.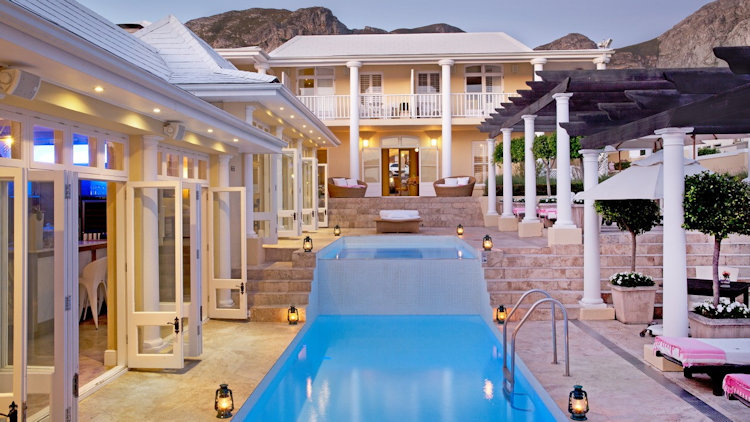 Image by The Royal Portfolio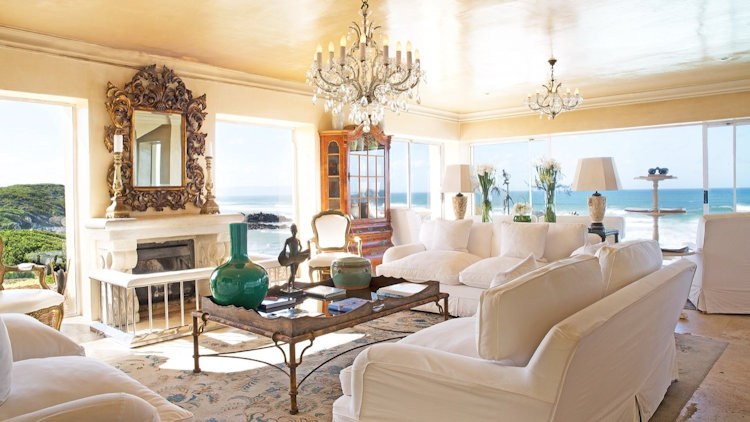 Image by The Royal Portfolio
Opposite the lounge, open-plan, is one of the indoor dining areas, with pastel-yellow circular and some white square tables. A strategically placed mirror on the edge of this area gives the illusion of the room being twice as long. The side wall is lined with funky African art, framed with a white border, in light wood. The marriage of ocean and sky outside is the vista from all tables.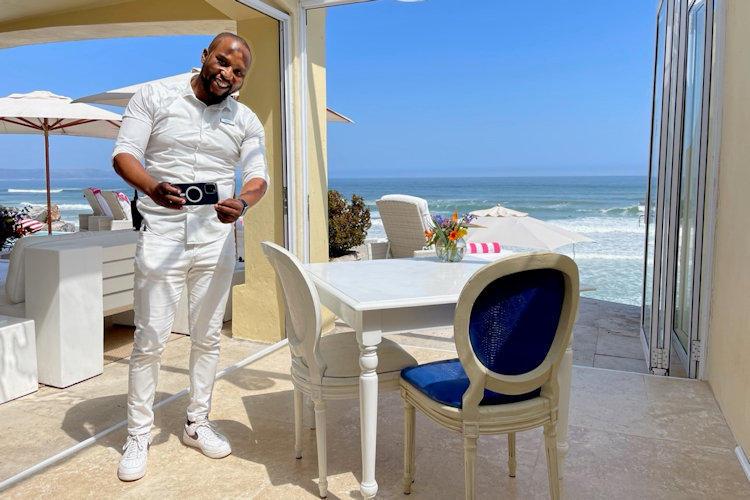 Image by Gillian McLaren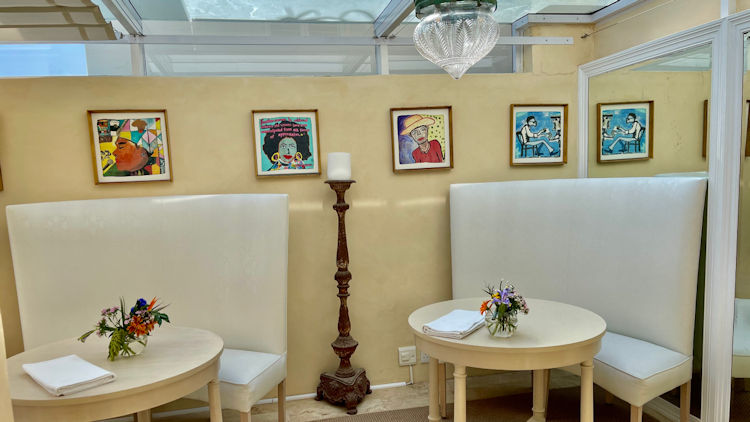 Image by Gillian McLaren
The front deck, with a heated infinity pool, has a panoramic view down over the renowned Cliff Path, to slopes with fynbos flora and beaches with foaming waves. This idyllic spot is perfect for meals at the circular, rice-paper white wooden tables, or to laze on a sun-lounger covered in chalk white cotton towelling. This is also a fine vantage point for spotting the various species of whales that migrate from the Antarctic to Walker Bay to mate and calve. I watch Southern right whale youngsters as they cavort near to their 16 yard long mother, playfully breaching to show their callosity-covered heads, splashing their fins, then flopping downward revealing tail flukes. A particularly close sighting is cause for excitement and celebration amongst guests, who alert one another to the spectacle, calling for a glass of award-winning South African wine!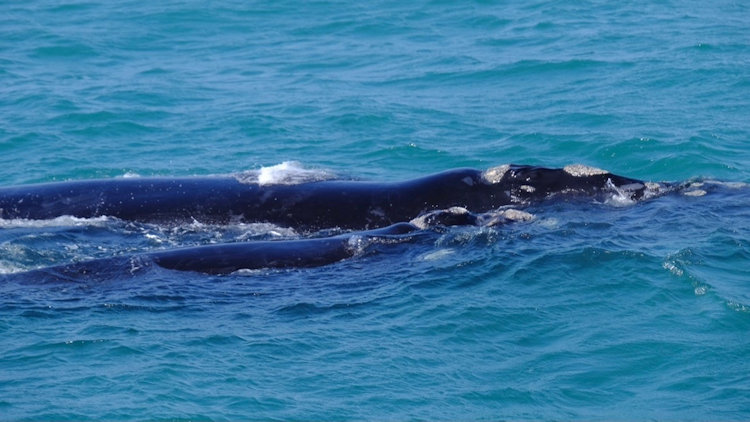 Image by Gillian McLaren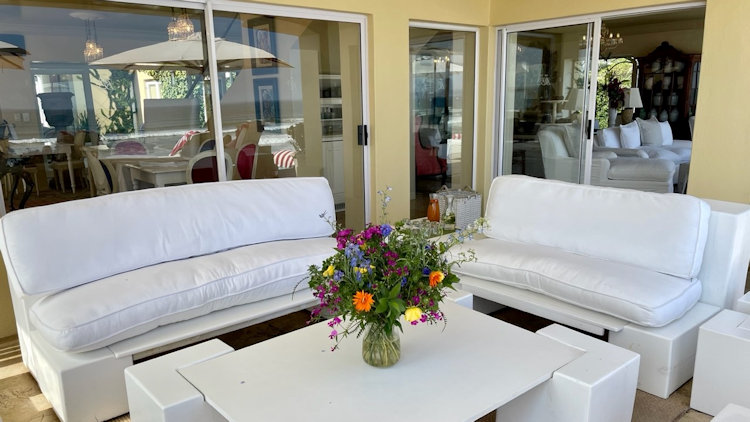 Image by Gillian McLaren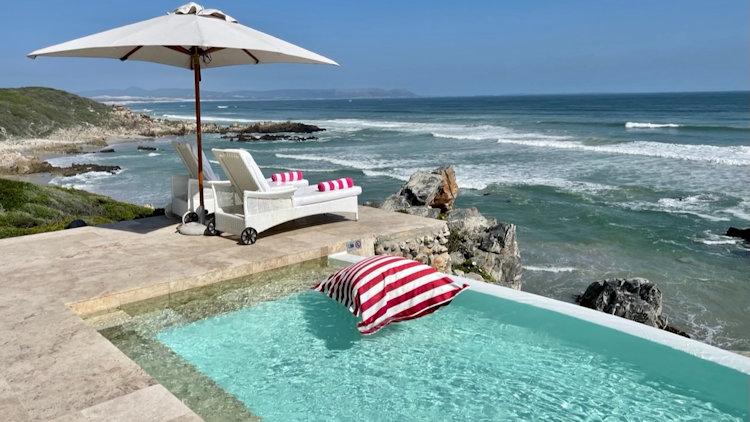 Image by Gillian McLaren
Massive rocks near to the beaches are home to Cape fur seals that bask in the sunshine before moving in their ungainly manner into the water, where they transform into graceful performers to frolic in the waves. When I am swimming in the cool ocean one morning, a Cape fur seal approaches me through the breakers, seemingly as curious about me as I am of her. The regular surfing fraternity tell me that they sometimes see dolphins in their wake.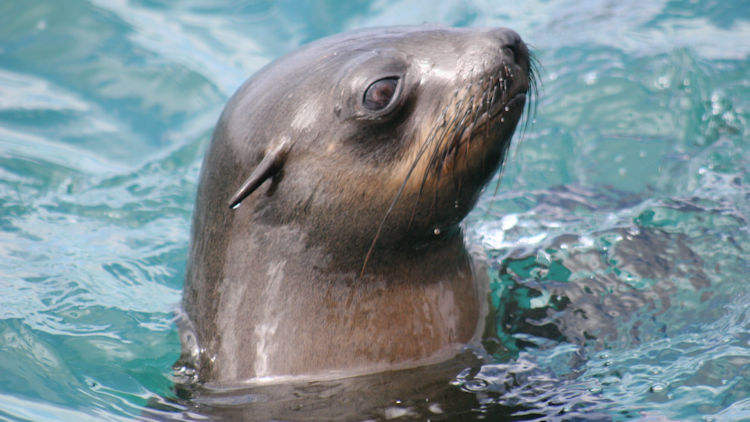 Image by The Royal Portfolio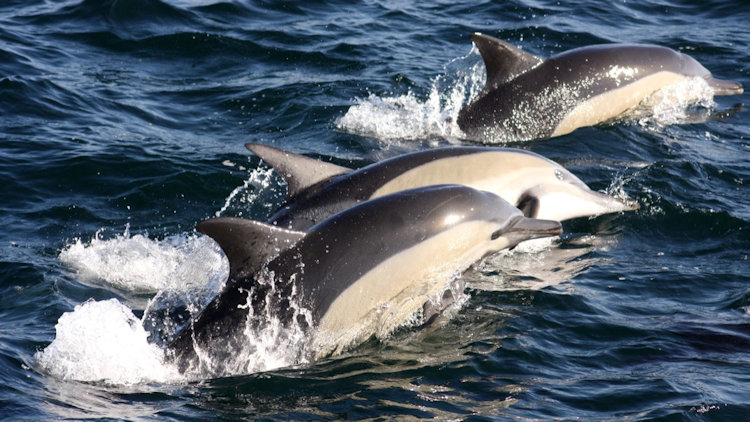 Image by The Royal Portfolio
My suite has verandahs on three sides, with splendid views of ocean and of the Olifantsberg Mountains behind Birkenhead House. Adjacent suites have have dividers with space enlarging mirrors, which resemble photo-realistic paintings of the scenery that they are reflecting. With the doors open, a mild breeze keeps the suite at comfortable temperature, so I don't have to use the air-conditioning at night. I fall asleep in my opulent King-sized bed - made up in 100% pure linen sheets and duvet cover, embossed with The Royal Portfolio logo - to the sound of crashing waves on the shore. Behind the bed is a fabric covered platform, with rust coloured ceramic lamps on either side, and a centrally placed glass tray with glasses and new bottles of premium drinks. On either side of the back doors are circular mirrors, which are cleverly placed to bounce back the scenery.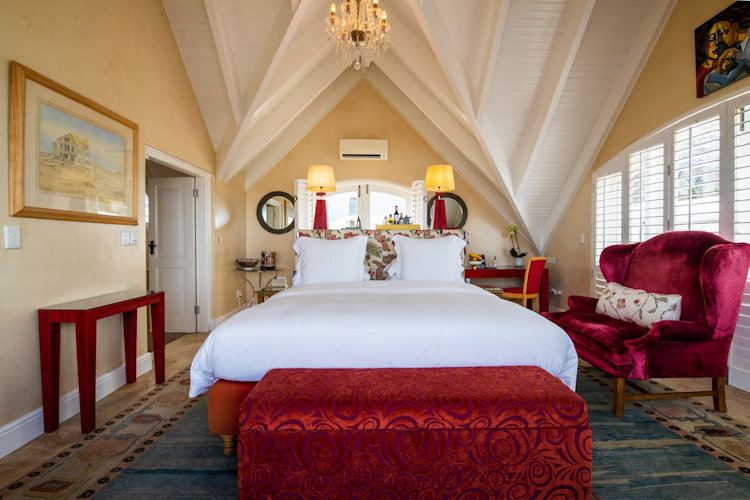 Image by The Royal Portfolio
Continuing the pleasing theme of symmetry, the en-suite bathroom has a centrally placed free-standing stone bath, with a basin on either side, then movable white wooden shelving displaying thick-piled towels and glass bottles of aromatic bath oils. A tall silver-framed mirror hangs above the bath, with a smaller rectangular mirror above each basin, each reflecting the glass chandelier and skylights in the sloping roof. Creative touches include a Persian rug next to the bath, a lime green armchair and top-lit painting of a modern African woman wearing summery clothing. A dressing room in the entrance of the suite has capacious wardrobes, making it easy to unpack my clothing and hang my dresses and skirts.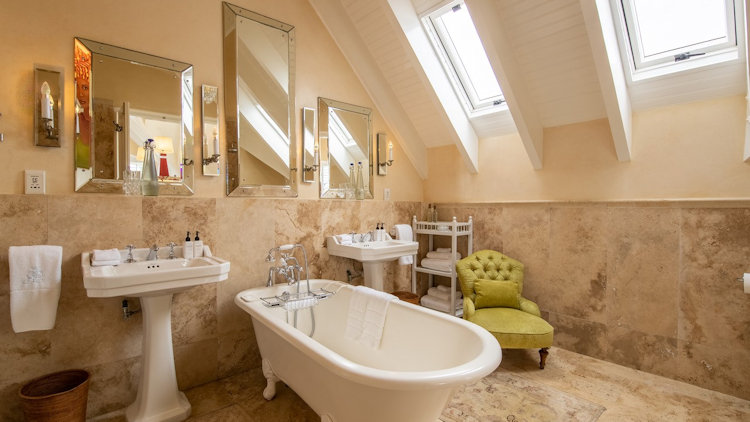 Image by The Royal Portfolio
Below Birkenhead House, the Cliff Path becomes a magical mystery tour. One morning I walk left through a milkwood forest, to an expansive fine-white-sand beach next to a lagoon, with scores of birds, including flamingos. Strolling into the surf, holding my skirt above my knees, I laugh as I try to escape getting drenched! The white foam left behind the receding wave edge resembles a crocheted cloth. The beach is rich with shells of bivalves, so I keep a few, to take home with me, to be able to rekindle memories of this precious time. What joy to be here, to refuel, re-centre and engross myself in pristine nature.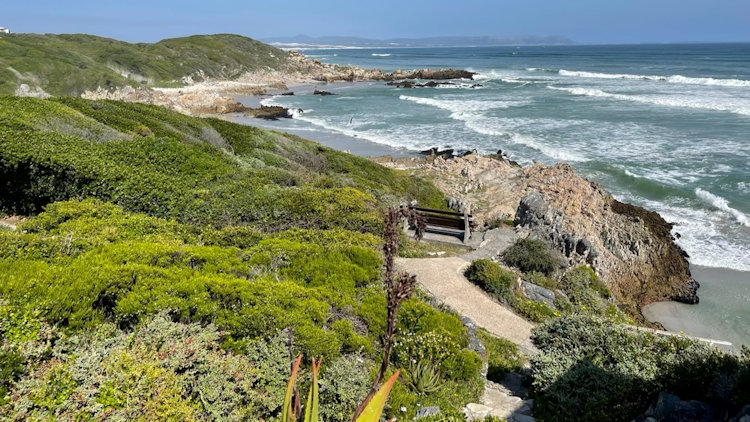 Image by Gillian McLaren
Walking right from Birkenhead house takes me past beaches where wild waves break high above the rocks. One bay is aptly named Kwaaibaai, an Afrikaans word for 'Angry Bay." I sit on one of the benches - commemorating people's loved ones that have passed away - where I gaze at the spectacle and am drawn into thoughts of eternity, creation and the majesty of nature. Descending onto the beach of one of the coves, I find thousands of mussel shells on the beach and rocks tightly packed with live mussels. The chef accompanies guests to pluck this seafood at low tide. He then gives a lesson on ways to cook this fresh delicacy and how to pair the mussels with the best, prized local wines. Another activity from Birkenhead House is to visit selected vineyards in the esteemed Hemel-en-Aarde Valley nearby.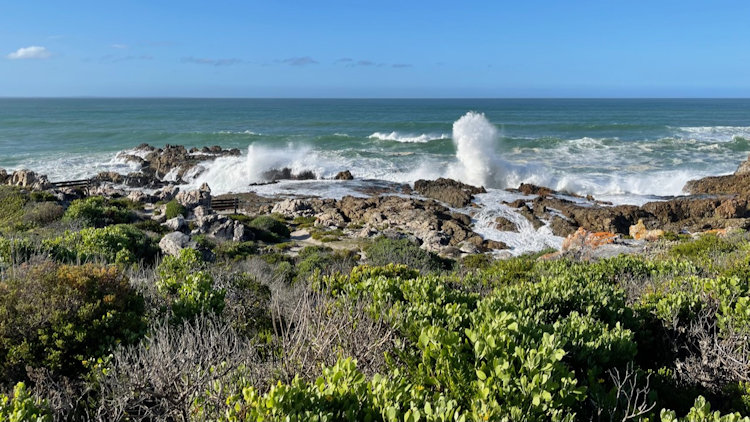 Image by Gillian McLaren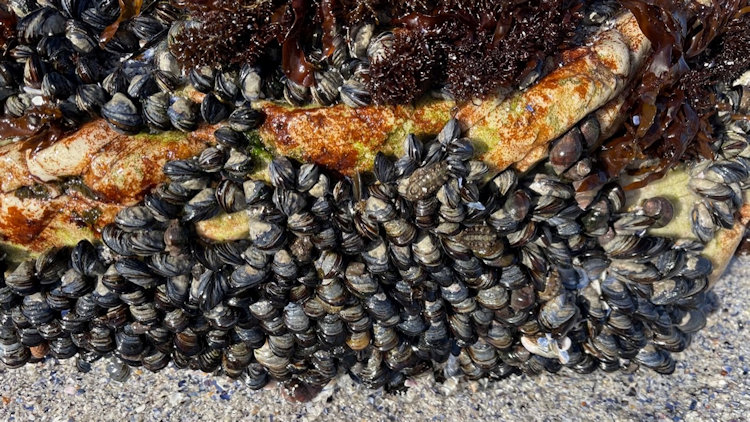 Image by Gillian McLaren
Each repas in this coastal hotel is a leisurely feast, in a setting with a sterling view. A romantic and completely private mise-en-scène for fine-dining is a room next to the bar, with a flickering log fire, which guests may reserve during their stay. The wine cellar is a cosy and elegant spot for fine dining. As I favour alfresco dining, I sit outside for most of my meals. Under the Southern Cross and waxing moon, I listen to the calls of nocturnal birds and the pounding of waves on the shore.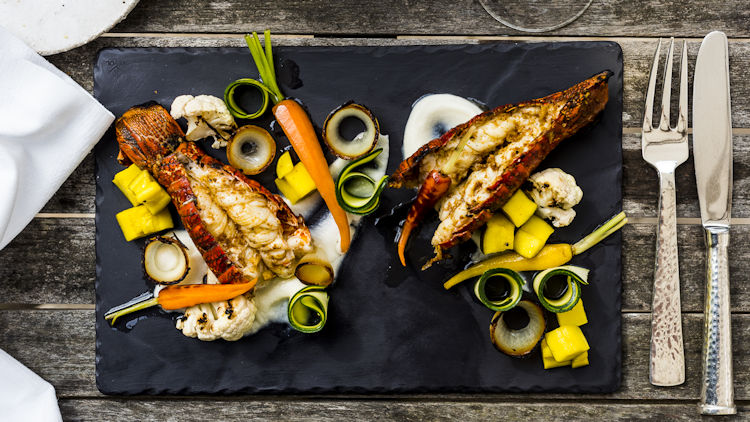 Image by The Royal Portfolio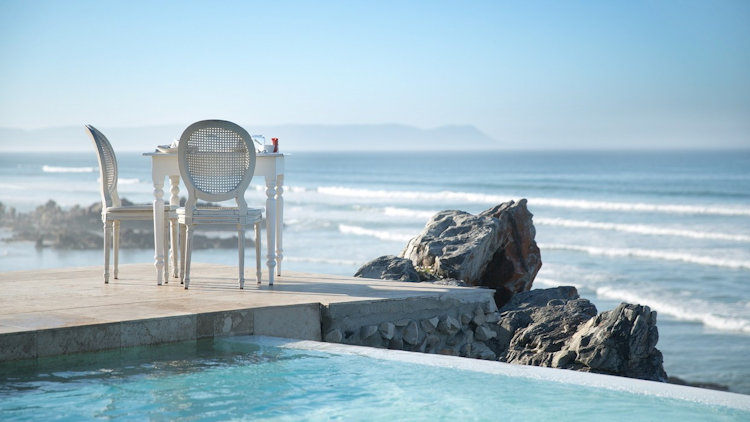 Image by The Royal Portfolio
A stay at Birkenhead House, part of The Royal Portfolio, is a privilege and an unforgettable experience with constant pampering and exemplary kindness from Shane Brummer - the General Manager who is a keen surfer - and his staff. Being here is an immersion in the splendour of the natural world, ensconced in comfortable elegance, in Western Cape, South Africa.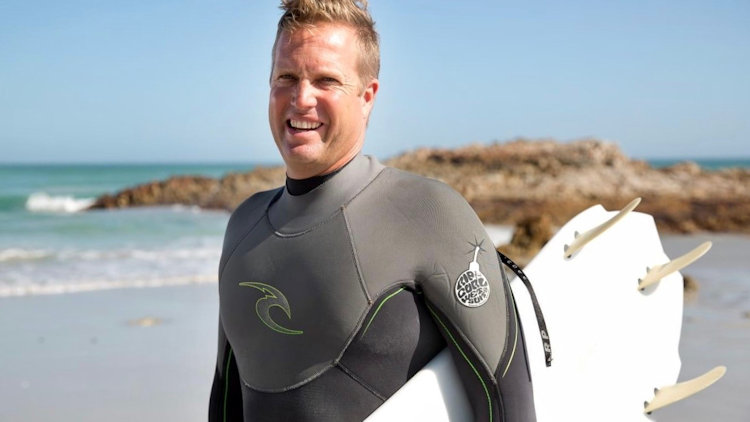 Image by The Royal Portfolio
https://www.theroyalportfolio.com/birkenhead-house/overview/
For more features by Gillian McLaren, see: www.gillianmclaren.blogspot.com