Visitors might feel they're entering a palace as they arrive at a lobby graced with inlaid marble floors. The few steps to check-in result in our eyes being drawn upward to take in the open, soaring, five-story atrium capped by a glass-paneled ceiling. All around, Romanesque archways front each floor. Behind the reception desk is a gold-leafed back wall.
The splendor prevails in the dining side of the building where the famous New York Café, the intimate Nyugat Bar, Salon Restaurant and the Deepwater Restaurant combine to produce the "Boscolo Food Experience."
The royal feel continues throughout the hotel's 185 rooms, each decorated with comfort and style in mind. Throw in a grotto pool, spa and easy access to the city, staying here is not only convenient, but also a delectable pleasure.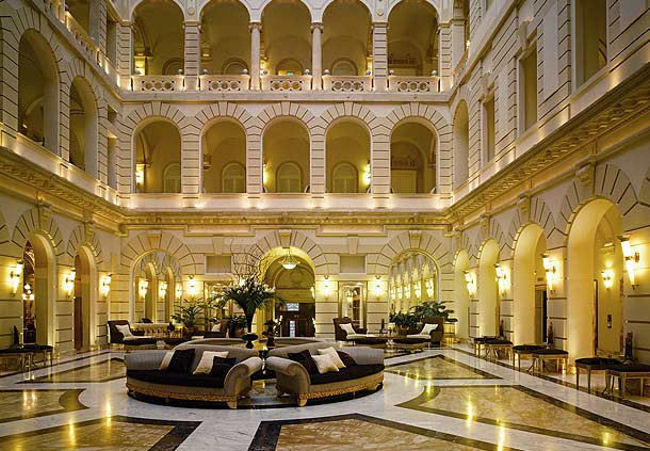 Budapest's rich history dates back about a thousand years, changing political hands many times and often rocked by war. Castles, fortifications and palaces, as in most of Europe, were a part of life, so it's no wonder staying in a building with its depth of history can elicit thoughts of the past.
In fact, this building was known as the New York Palace. While it appears to have been here for centuries, it only dates back to 1894 when the New York Life Insurance Company built it as its local head office using architects Alajos Hauszmann, Flóris Korb and Kálmán Giergl.
The New York Café, which opened in 1894, was lauded as the "most beautiful café in the world." That reputation was further enhanced as a gathering spot for Hungarian writers, artists and intellectuals in ensuing decades. Today, locals and tourists mingle here amid several levels of dining/drinking options. Camaraderie and business share tables, booths and stools in a museum-like setting. Elaborate columns twist upward as if growing from the floors. Sculptures, ornate lighting, gorgeous ceiling frescos, paintings and the overall architecture inspire the feeling we might be attending a royal affair. Oftentimes, people will just pop in to snap pictures; it just that enticing.
The Café, long the focal and social point of the building and still famous for a good time, is now joined by adjacent dining options and lively bar areas.
Over the astounding breakfast buffet served in the Deepwater Restaurant, Hungarian musicians serenade guests who sip mimosas with their omelets, us included. The kitchen puts out a massive, perhaps unrivaled spread of nearly every imaginable morning essential, spanning global tastes and popping eyeballs for the shear beauty of preparation, presentation and physical space.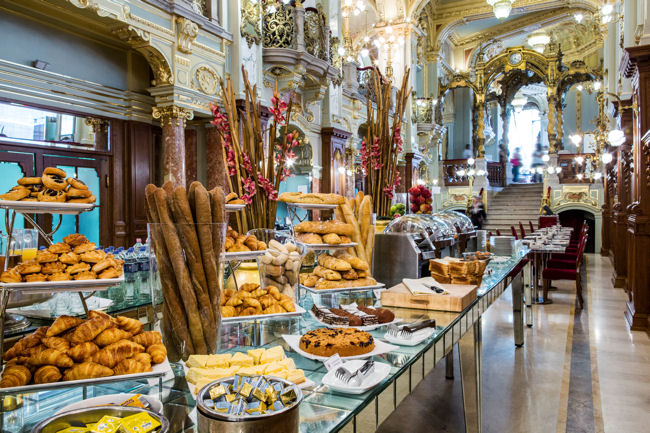 The Nyugat Bar, named in honor of the leading Hungarian literary magazine from 1908-1941, provides a plush enclave where the red carpet and draperies, dark seating and well-placed mirrors provide guests privacy. Imagination can conjure secret meetings of long ago or even a clandestine rendezvous. The piano man fills the room with just the right amount of cover sound so conversations can be intimate.
The Salon Restaurant, known throughout Hungary for elevated culinary creations, sits at one side of the main entrance and is a place for refined dining and service, not to mention an extensive wine list featuring many Hungarian selections. From napkins and tablecloths so soft that they could easily be bed linens, from Venetian chandeliers so elegant they appear to have been made for regal serving rooms, the ambiance is stellar.
We sample fresh local ingredients prepared in dishes like cold goose liver with coffee and sour cherry, saddle of venison with lentils and apple-flavored celery, plus trout filet with broccoli, caviar and Hungarian pancetta. Beautiful and delicious desserts come from the hands of master confectioner Nagy Anna. Our evening here is among the highlights of our first visit to Budapest.
"Essential Hungarian gastronomy" is the preferred description by Andras Wolf, Chef de Cuisine at New York Cafe and the Salon Restaurant. He says this method relies on "preserving the most important characteristic of the dishes – their taste – but altering their texture, shape, preparation and serving modern, (so) even more enjoyable creations are born."
Do remember that this is a five-star hotel, but has not always been so. Its 1894 opening as a life insurance headquarters created an Art Nouveau structure that combined Greek, Latin, Renaissance and baroque styles. But decline and two world wars took their toll on all of Budapest, this building included. Fortunately, in 2001, Boscolo Hotels took on the Herculean task of restoring the structure to reopen five years later and rejoin its place among the city's distinguished properties.
Today Boscolo Budapest houses 185 rooms which include 20 Exclusive Rooms, 22 Junior Suites, five Executive Suites and two Presidential Suites along with class, deluxe and superior categories. Each room is eclectic and cosmopolitan, furnished with individual pieces of precious antique furniture yet incorporating contemporary designer details.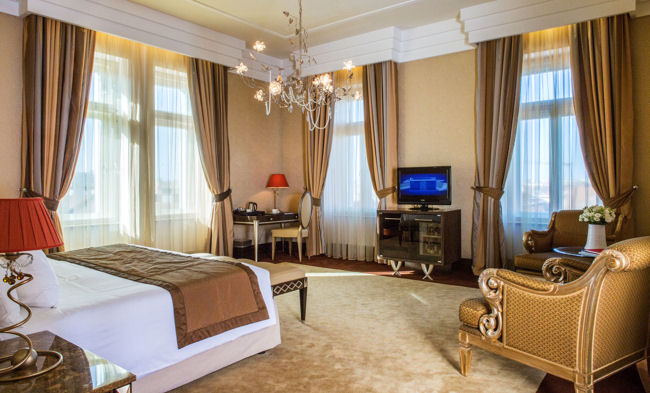 Our junior suite has a king bed with matching decorative lamps and a whimsical Murano chandelier overhead. The sitting area with chairs, sofa and coffee table has artwork and sculpture. There's a separate writing desk with self-serve coffee and a note to "explore the unknown capital of coffee houses." The well-stocked mini-fridge bar is beneath a flatscreen TV. Fine silk wall upholstery adds to the luxury. Our balcony is awesome, providing a view of the busy street below, city rooftops beyond, but also giant sculptures capping the building itself. It's the perfect spot to reflect on our day discovering the gems of the city as well as post-dinner to take in the nighttime lights and bustling street sounds.
The oversized bathroom, with exclusive Etro toiletries, features Carrara marble and mahogany, elegant bathroom fittings with corner tub and separate shower partitioned from the main environment by semi-circular glass panels.
One level below the lobby is a grotto-like thermal pool designed by architect Simone Micheli, inspired by the natural elements of water, rock and wind. Just outside the pool is a spa with a wide range of treatments plus a hair salon featuring Paul Mitchell products. On level five is a well-equipped fitness area.
Outside the hotel's front doors is the central part of Budapest, with much of the Pest side of the city within walking distance. Also of note is easy access to the stellar transportation system. Our three-day Budapest Card works with the trams, buses and subways that cover the city. The Budapest Metro is a tourist attraction on its own, being the oldest, electrified, underground railway system on the European continent, first used in 1894 and the second-oldest in the world, by City & South London Railway, started in 1890. Safe, clean and efficient, the metro will get you close to where you want to go, and taking the long, fast and super-steep escalators down to the trains is a ride in itself. We videotaped our first thrill ride on it. Upon exiting, a bus or tram stop is normally nearby.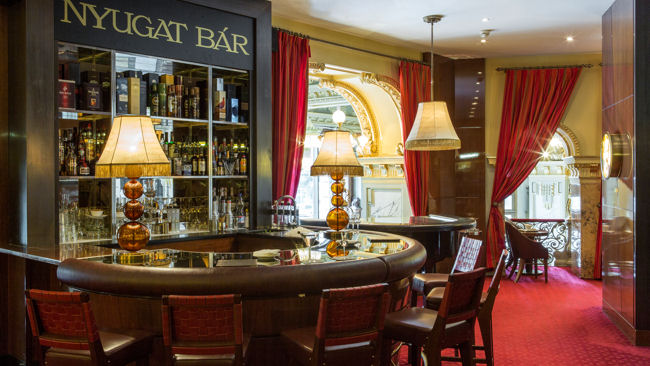 However, we recommend walking, walking, walking around this world-class city where the Danube has brought countless visitors for centuries. That historic river is what brought us: An unforgettable, seven-night Danube River cruise aboard AmaWaterways'
AmaViola
, which launched in 2016 and has dedicated itself to this region. The company offers pre- and post-cruise add-ons in both Budapest and Prague.
We highly recommend a stay at the Boscolo Budapest for superior service, luscious dining options, live entertainment, elevated luxury and for that royal feeling. Yes, you can live like a king and queen.
Husband-wife team J.S. Fletcher and Kathy M. Newbern are award-winning freelance travel journalists based in Raleigh, NC, and as a result of this trip added four more countries to their total of 74. They often incorporate their travels into their other business, www.YourNovel.com, where they put you and your sweetie in your own personalized romance novel "wild" or "mild."
(Photos courtesy of Boscolo Budapest and Fletcher/Newbern)