Brave Era's 100% Silk Travel Sheet is the perfect product for travelers to add a touch of luxury to their travels.
Super compact and light, extremely luxurious, naturally hypoallergenic and machine washable, this travel sheet is a must-pack, travel-enhancing essential for anyone who dreams of sleeping soundly wherever their travels take them.
Adventurous days deserve peaceful nights, with one of a traveler's most coveted possessions according to Ritz-Carlton, Allure and Newsday.
Weighing less than six ounces, the travel sheet folds into a tiny pouch (about the size of an iPhone) and fits easily into a small carry-on. Natural silk is ideal for sensitive skin and offers protection against dust mites, allergens, harsh detergents and unclean bedding, plus natural fiber absorbs and releases body heat for a more comfortable sleep.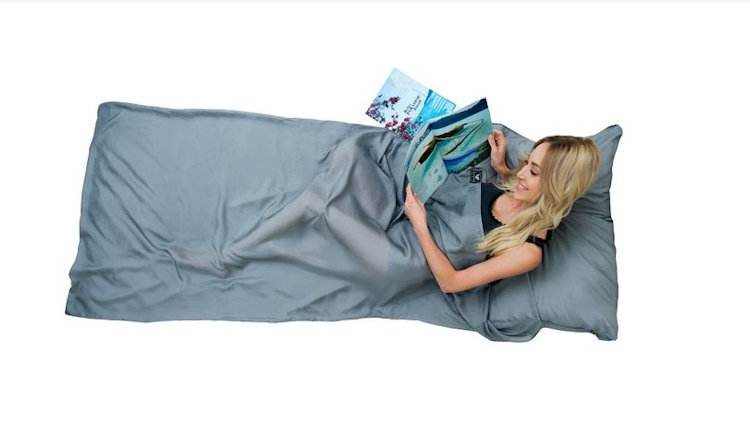 Say NO to bedbugs and nasty disease-carrying mosquitoes. Brave Era's silk travel sheet is your sanctuary in any situation. You can throw it right into the washing machine and it will air dry in about an hour, and since it's premium quality silk, it will last through lots of washes.
Who doesn't want to transform every night's sleep into a luxurious experience, no matter your location or accommodations?
Travelers of all kinds love their Brave Era travel sheets: campers, glampers, weekend warriors, extreme adventurers, road trippers, cabin crew, hostelers, stargazers, backpackers, music festival-goers and luxury seekers.
Traveling in any capacity has a way of making us miss certain comforts of home, especially exploring some of the world's most interesting destinations, simple luxuries like silk sheets can make your trip and save your sanity with a good night's sleep. Plus, slumbering on silk can reduce wrinkles and fight signs of aging, all while keeping bedhead at bay, and because silk is less absorbent than other fibers, it won't cause your skin to dry out!