This Tudor manor brings back the elegance and grace of the Gilded Age, and after only a few hours, I was enchanted. Blantyre offers a truly rare opportunity to engage with the past and become immersed in the delights of a bygone era.
The Berkshires
in western Massachusetts has attracted elite visitors since the 19th century. Along with the Vanderbilts and the Carnegies, one lesser-known businessman named
Robert Paterson
built his summer house here, naming it Blantyre after his mother's ancestral home in Scotland. Current owner
Ann Fitzpatrick Brown
is the mastermind behind the restoration of the Paterson's 'summer cottage' – handpicking every fabric, wallpaper, and mirror with flawless vision. From the moment we drove through the gates, I knew this was the type of history lesson I would enjoy: one that is hands on.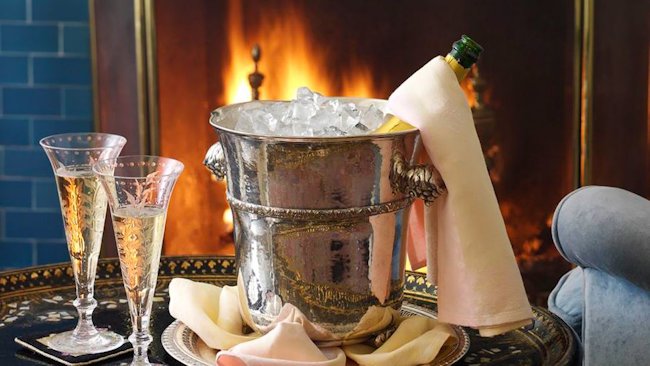 Champagne by the wood-burning fireplace
I was reminded of the fairy tales of my childhood as we passed under the portico, ventured through the front door and into the main hall where the air was scented with fresh-cut flowers. Each member of
the staff
has mastered the role of gracious host, and we were immediately welcomed to our new home in the Berkshires. Where so many hotels fail – Blantyre shines. From the moment we climbed the red-carpeted stairs, the staff succeeded in personal attention without all the fuss. It is easy to see that the staff loves Blantyre too – and especially the
Paterson Suite
.
Stepping inside, my Gilded Age fantasy was complete. Beyond the formal sitting area and colossal four-poster bed is an intimate room with wood-burning fireplace and writing desk tucked into a bay window. Despite all of this grandeur, part of Blantyre's charm is its ability to immediately set its guests at ease. Within minutes of arrival, we were lounging on plush couches nibbling on fruit, cheese and nuts with a glass of Champagne in hand and classical music filling the 1,042 square feet of the Paterson Suite.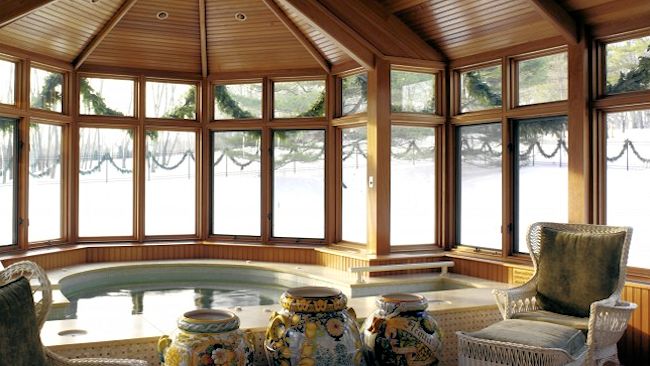 Potting Shed Spa
Before dinner we indulged in the hotel's
Potting Shed Spa
. We soaked in the hot tub as a fire roared in the stone fireplace. Dusk settled into the pine trees outside and we read the weekend newspapers in fluffy robes. This country cottage provides something invaluable: an atmosphere that is free of interruptions. Without distractions, life's simple pleasures – from warmed cider to a glass of fine wine – somehow taste even more sublime.
Dressing for dinner, I could hear faint piano music drifting up from downstairs. These touches are part of an old world refinement that is hard to find in America, but Blantyre firmly grasps. As we toasted glasses of wine, I could hardly believe that this European-style country retreat was less then 3 hours' drive from New York City. Delicate canapés teased at the chef's talents, and without hesitation, we chose the
five-course surprise menu
.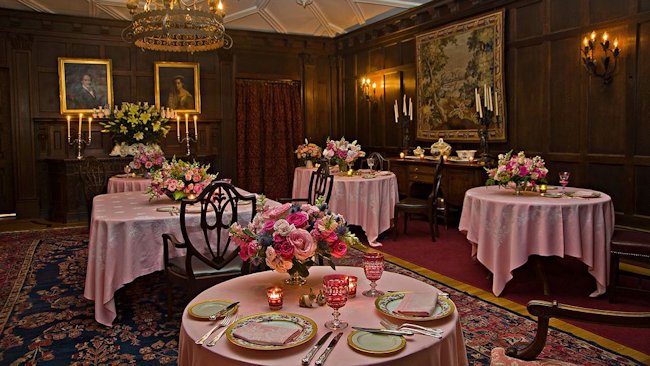 Blantyre Dining Room
Entering the dining room, it is almost impossible not to envision elegant dinner parties from the era before World War I. In this tradition, Blantyre requires a jacket and tie for men, secretly pleasing women who can pack along a cocktail dress or two. Sommelier Luc Chevalier paired two wines with each course of our meal, showcasing his knowledge of the 19,000 bottles in Blantyre's cellar. The evening's procession of cuisine included divine sea scallops, butter-poached lobster, beef tenderloin, an artisanal cheese plate, and finally a trio of chocolate.
Within the walls of this manor, a tradition of entertaining is thriving. Ann Fitzpatrick Brown curates every detail with such precision, that guests might think Blantyre was preserved from the Gilded Age. This is not so – in fact there is only one piece of original furniture in Blantyre – the rest has come to life from Ann's imagination since she became the eighth owner of the property in 1980. Every individual has their own motivations for travel – one of mine happens to be the opportunity to live in someone else's shoes. At Blantyre's dinner table, this wish was granted.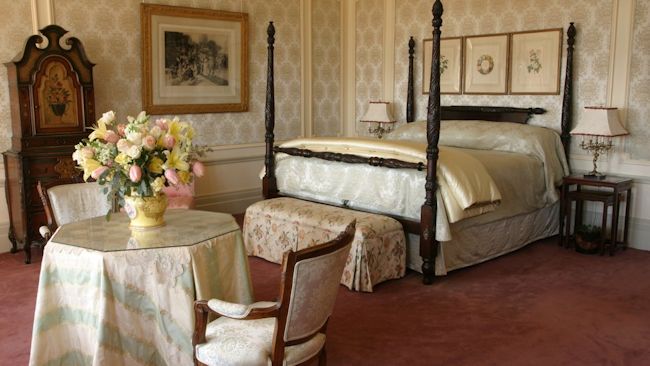 Paterson Suite bedroom
An hour later, the fire in our suite had reduced to glowing coals and the silence of Blantyre ushered in blissful sleep. This writer felt right at home in a suite full of books, which Ann says 'warm a room'. Every object here has a story, from a chair in the Paterson Suite that declares 'Marilyn Monroe Sat Here' to a book with Babe Ruth's signature. A glance at the guest book reveals how deeply Ann has touched the lives of her guests. One couple wrote that after celebrating their 40th anniversary here, they felt 'as if they were dating again'.
The morning after a fantastic meal, I am always craving more indulgence at breakfast. Downstairs in the sun-filled observatory, tables adorned with fragrant lilies encouraged us to enjoy a leisurely meal. As we looked over the menu, I couldn't resist nibbling the chef's signature blueberry muffins. Poached eggs with house-smoked salmon had exactly the rich touch I craved, but I left a little room to taste dishes we would prepare with the chef during an afternoon cooking course.
Arnaud Cotar
is a quintessential chef: passionate about food and open to discussing the philosophy of his cuisine. During a cooking course he let me in on a few secrets about how to create his elegant country house cuisine. After a few too many spoonfuls of risotto with carrot-ginger puree, we thanked the chef for his time and generosity, and hit the
one-mile trail
around the property for an invigorating stroll.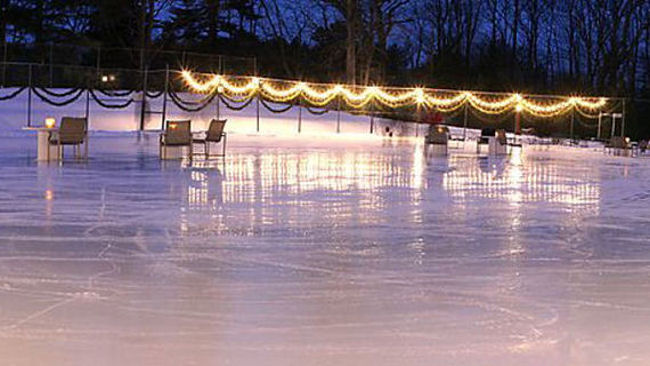 Blantyre ice rink
A
hot stone massage
and soak in the hot tub later, it was time to eat again. At 8pm, we took a seat in front of the fire to soak up the atmosphere of the music room. On this Monday evening, we enjoyed one of Blantyre's greatest winter pleasures: private dining. This serene meal, with no distractions or noisy neighbors, revealed to me why Ann calls winter her favorite season at Blantyre. Since the hotel was winterized in 2005, the tennis courts have been flooded each year to create an ice skating rink, a winter wonderland under the stars. I can't wait to return and lace up my skates, with the glowing cottage in the background and promise of warming up afterwards in my favorite chair by the fire.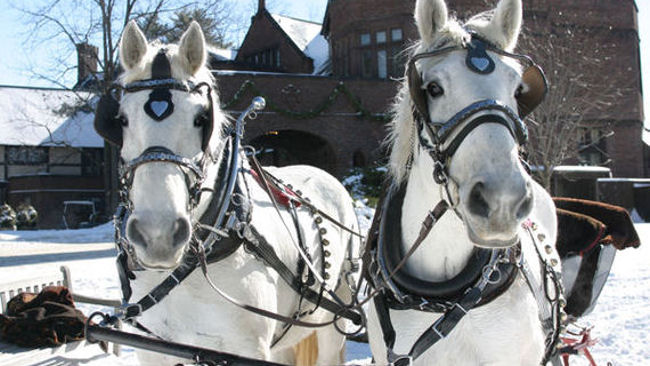 Blantyre sleigh rides
Get away to Blantyre for an unforgettable New Year's Celebration complete with seven course dinner with wine chosen by the sommelier, The Sultans of Swing Band, a New Year's Day sleigh ride, and much more.

To read more about the hotel and for booking contact information, please see Luxury Travel Magazine's Hotel Profile for: Blantyre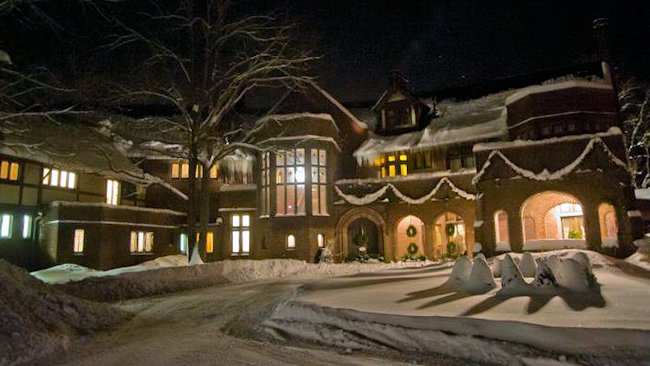 Blantyre exterior in winter