It's a perfect primitive island scene, but last night we were served a world-class, 7-course tasting menu by a Michelin-trained chef. This is what it's like to stay on
Calala Island
.
An oasis of serenity, Calala Island is located in the idyllic Pearl Cays along Nicaragua's Caribbean coast. When we arrived a few days ago we were informed that we are the very first Americans to visit the resort. What a privilege! This part of the Caribbean is still an undiscovered place in the world and Calala is the only luxury resort. Owners Tim and Sarah Wickham are true pioneers in this new frontier.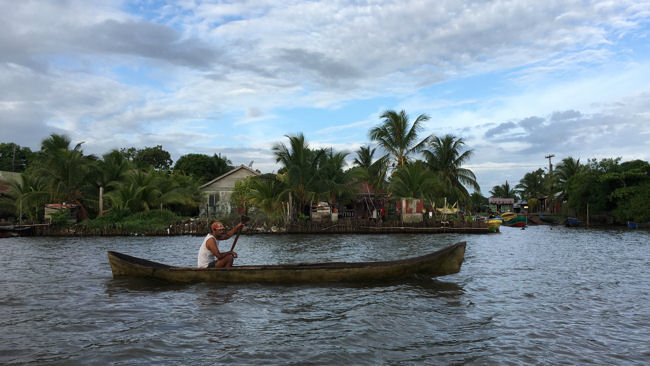 Fisherman in dugout canoe
It is remote so it's an adventure getting here. We arrived to the small airport of Bluefields (via Miami and Managua) with goats grazing by the runway as we landed. Mildred from Calala met us and another couple who had come in from London and accompanied us on the traditional Nicaraguan panga boat ride to the island. On the way, we traveled through a lagoon lined with mangroves and passed some tiny villages and the occasional fisherman in a dugout canoe. After an hour we reached the open sea and it was another half hour to the island.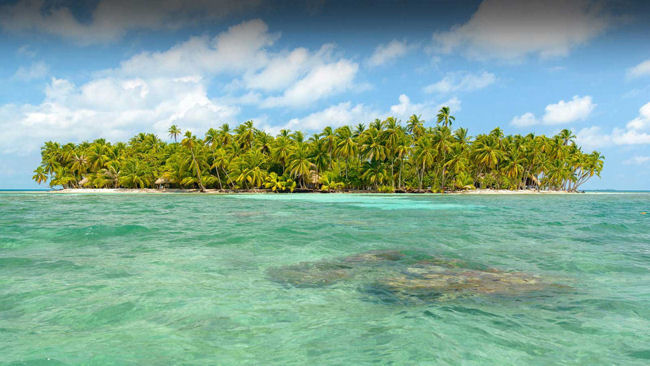 Calala Island
We are welcomed on the dock by the entire Calala team with a song and refreshing rum punches. Just what I was hoping for! It's a long trip to get here, but from the moment we stepped foot on the island it felt like a dream. Tom and Sarah Morrell are the young couple who run the resort (not to be confused with Tim and Sarah – the owners). Tom is an amazing chef from the UK who made it to the finals of the MasterChef TV series in 2013. Sarah is his charming and beautiful French wife who is the island's hostess and GM.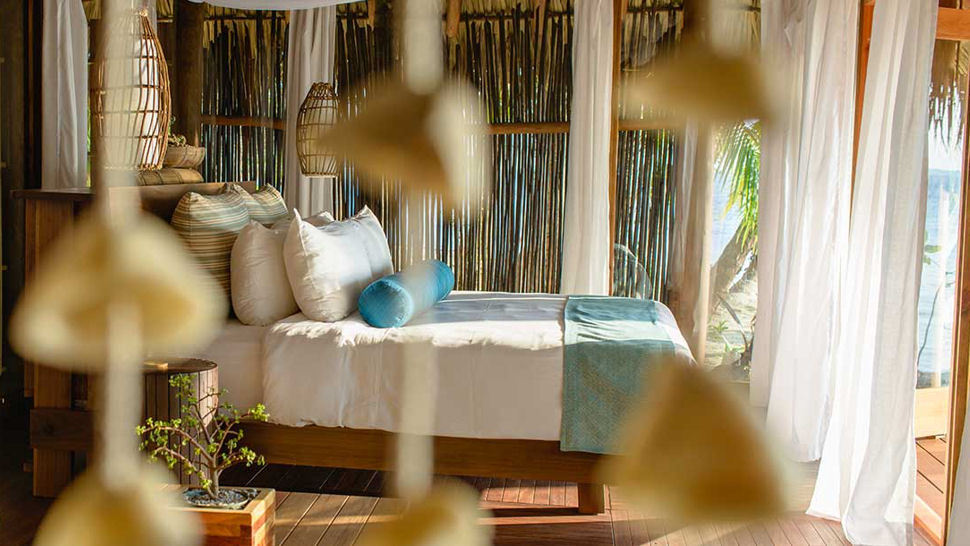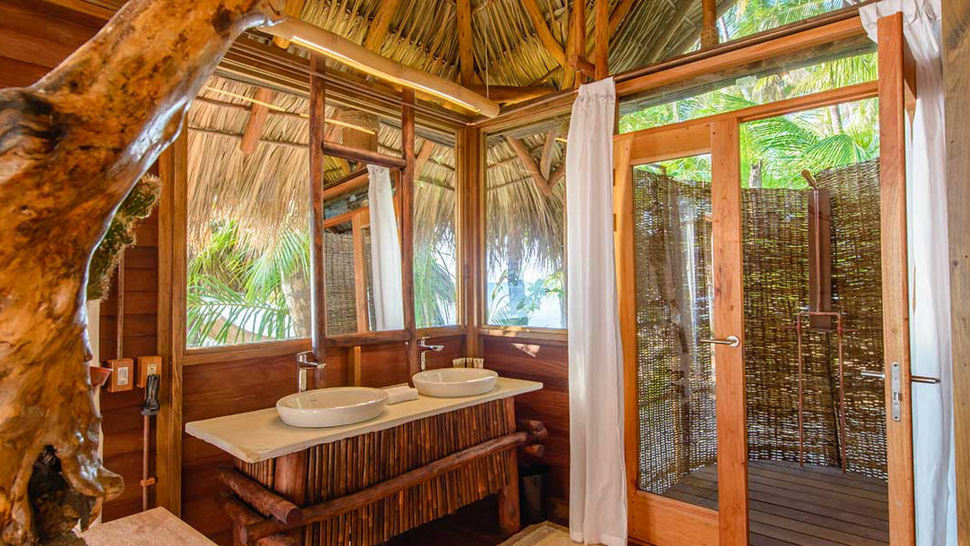 We are shown to our suite, one of only four stretched along the beach on the 10-acre island. The architecturally stunning beachfront bungalow features a luxurious king size bed, outdoor shower, deck, and hammock for ultimate relaxation. The bungalow suites are named after local communities – ours is "Orinoco." The guest capacity for the island is a maximum of 10 and you can book a single bungalow or the entire private island.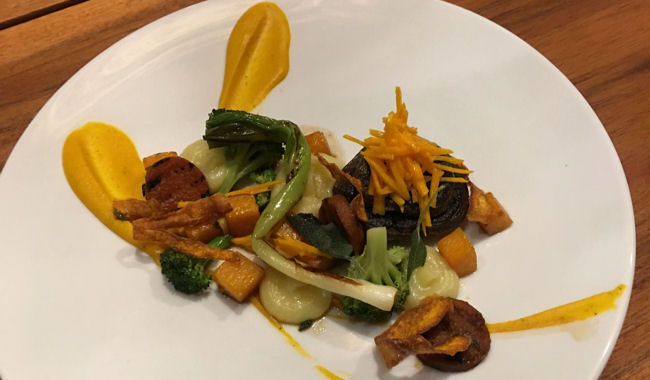 This evening we are treated to the first of many chef's creations by Tom. We are vegan and he rose to the challenge serving us an imaginative amuse-bouche of avocado mousse with pickled red peppers, beet and ginger salad, gnocchi with tomato and zucchini, and homemade coconut sorbet with mango compote for dessert. For non-vegans there are other delights like freshly caught local lobsters, shrimp and fish. You can even go out fishing and Tom will prepare your catch.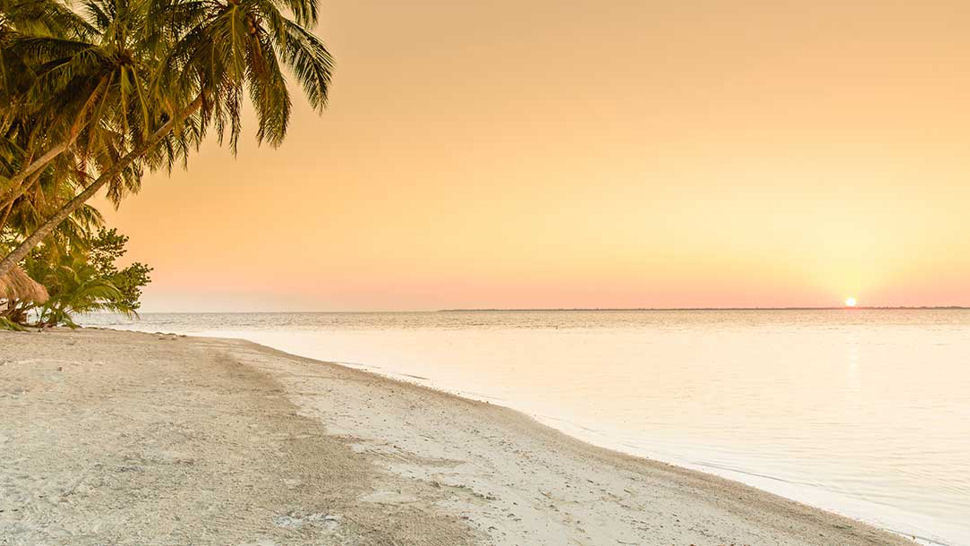 There's nothing like waking up on your own private island! We could have chosen room service but we decided to follow the coconut lined sand path to breakfast. The pink and orange sunrise is out of this world. I spot pelicans and hummingbirds in this colorful paradise. A nice breeze flows through the open-air restaurant and I can see many of the surrounding islands that make up the picture perfect Pearl Cays (the largest is 26 acres). The view is reminiscent of the Maldives with perfect droplets of islands all around.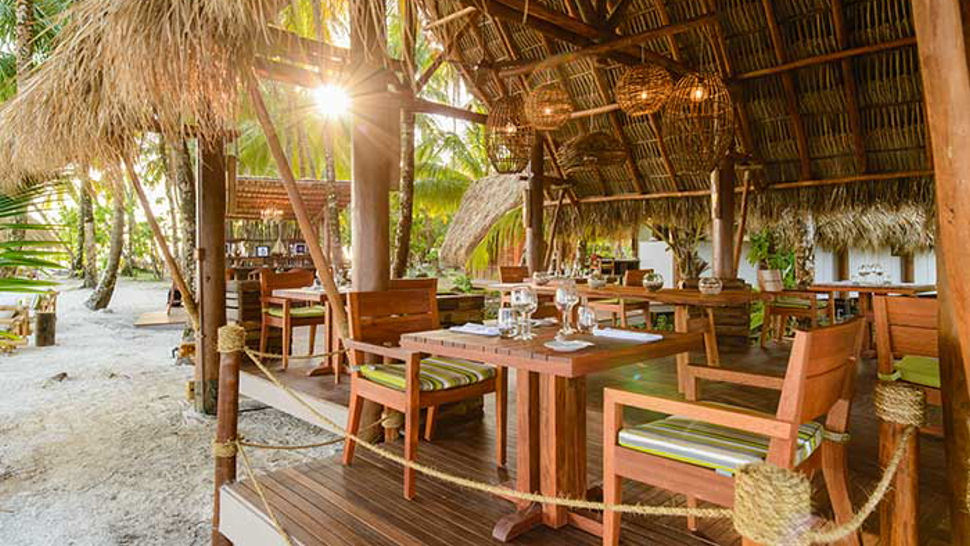 Caribbean-style restaurant for breakfast and dinner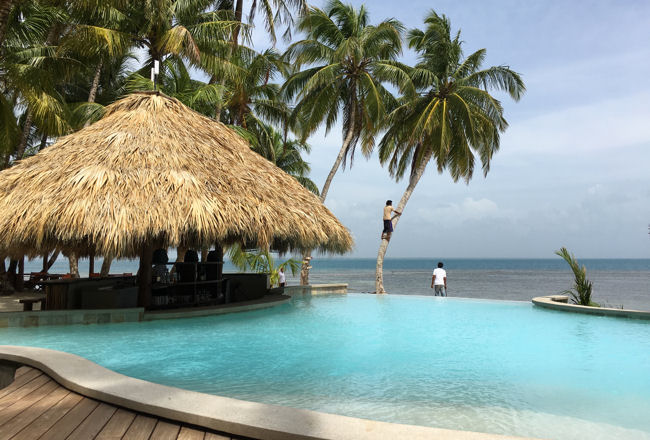 After breakfast we take the short walk over to the other side of the island where there is a gorgeous freeform infinity swimming pool by the beach. One of the staff asks us if we'd like coconut water and the next thing we know a young guy is climbing up a palm tree to get our coconuts! We spend our entire day in and out of the pool, at the swim up bar, relaxing and soaking up the sun and tropical atmosphere. At night the pool glows with spectacular colors.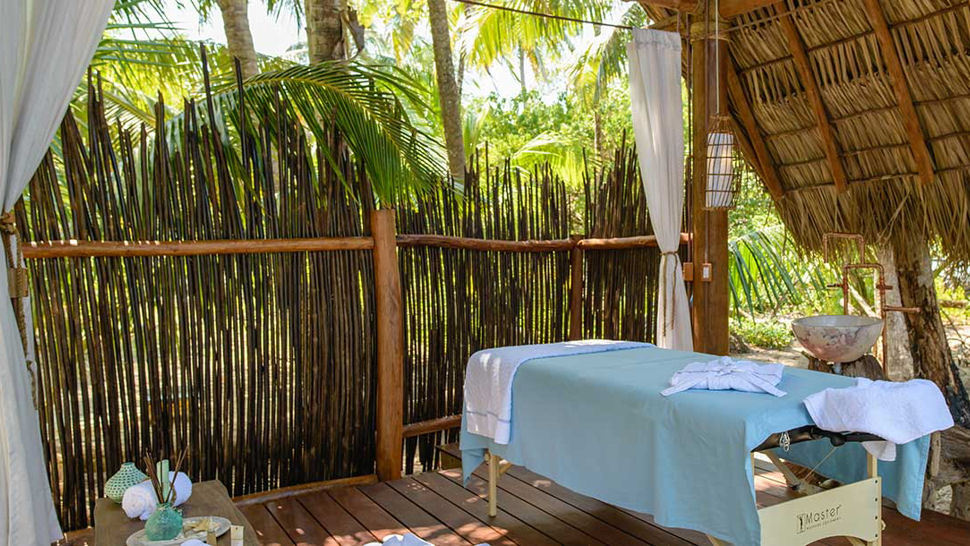 Other days are filled with lazy activities. There is an open air massage area nestled privately in the mangrove where relaxation is taken to another level. There is a sand bar called "Little Calala" and we paddle kayaks over to explore. We go snorkeling. One night there is a fun beach BBQ and some of the talented staff entertain us with songs. There is very little to do but relax and yet the days seem to pass quickly and I'm never bored. It's amazing how the views are constantly changing with different light from morning to night. Passing clouds and a brief shower bring a gorgeous rainbow. Calala treats us to spectacular sunrises and sunsets each day. And the island's two parrots make us smile.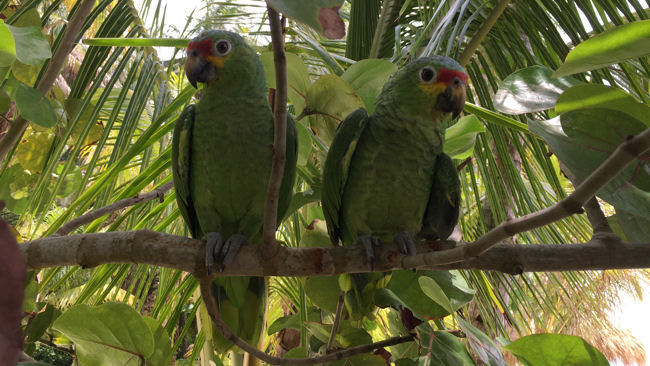 The Caribbean coast of Nicaragua is also known as the Miskito Coast or Mosquito Coast (having to do with the Miskito people, not the insect). One day we were offered a visit to a local fishing community called Set Net Point by one of the staff named Shine, who is from there. He has a big personality and is the local judge in this tiny community of less than 100 people. The Caribbean coast is much different than the Spanish Pacific coast of Nicaragua. It is made up of many small fishing communities and different cultures. Besides the Miskito people who make up over 50% of the population, there are also Creoles, Ladinos, Amerindians, Garifuna and more. Over the week, we get to know all the staff and it is interesting to find out about all their different backgrounds and cultures. They are all multi-lingual usually speaking three languages – English, Spanish, and Miskito or Creole.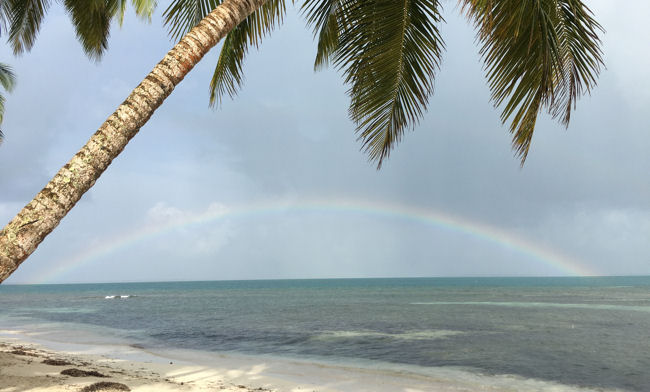 This has been a true getaway – it is world's away and a long trip back to reality. I am sad to leave. If you feel you've been everywhere, or just want dibs on a new undiscovered place in the world, this trip is for you!
Visit website:
http://www.calala-island.com/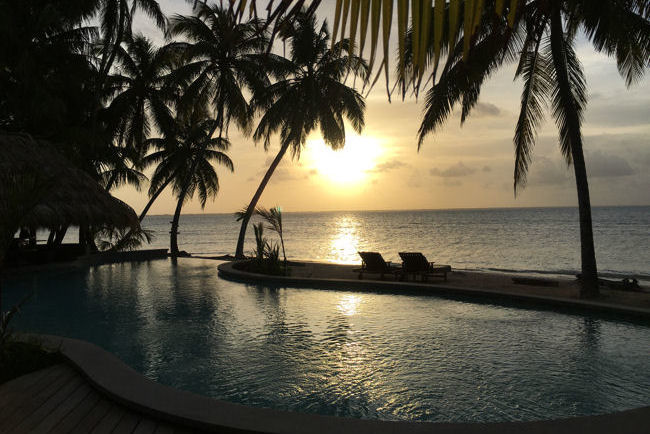 Calala Island sunset