All the sandals available for purchase on
Canfora.com
are made on the island of Capri, in Canfora's shop-workshop on Via Camerelle, using only 100% Italian materials.
How Canfora sandals are made

The sole
The sandals are still made in exactly the same way as Amedeo Canfora did, when he first opened the shop in 1946: starting with the sole, made with various layers of Italian leather.
Inside the sole, an iron arch support preserves form and consistency. The various layers are pressed and sewn together: this is the feature which distinguishes Canfora's sandals from the other, Capri-style, sandals on the market, in which the sole is glued and not sewn together.
To see the difference, all you need to do is to look at the bottom of a pair of sandals: when they have been glued, stitches are only visible on the top of the sandals, in Canfora's sandals, stitches can also be seen underneath.
At this stage, the sole is practically eternal: the sandals maintain their form and consistency for years and are even rain resistant.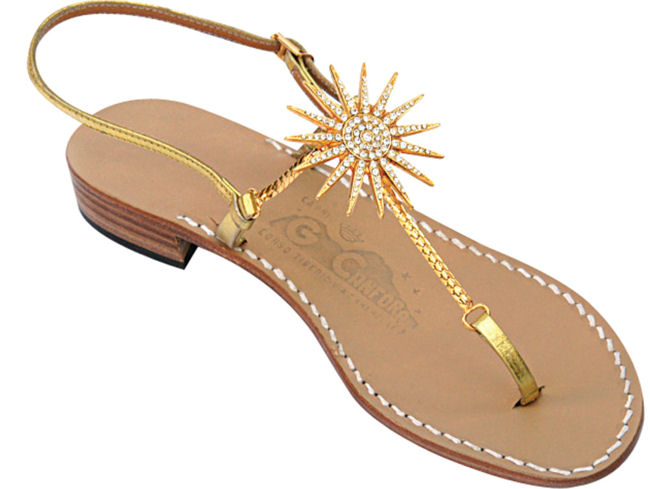 The straps
Straps are attached to the soles and provide maximum durability. Canfora's sandals can be embellished with various accessories and decorative items. In all cases, only the finest Italian costume jewelry is used, thus guaranteeing maximum longevity. It is important that the decorations last as long as the leather parts of the sandal, so that customers will be able to wear their sandals summer, after summer, after summer.
The heel
The standard heel used is 0.9 inches (2.5 centimeters high). The traditional Capri sandal, patented by Amedeo Canfora, is, in fact, almost flat: ideal for walking up and down the steep lanes of Capri and, above all, supremely comfortable and resilient.

Needless to say, fashion is fashion, and for this reason, Canfora also produces sandals with a 2-inch (5 centimeter) heel or a 2.4 inch (6 centimeter) wedge. When choosing your sandals, you can select the type of heel you prefer.
Like the soles, heels are made with layers of leather pressed together. These are then covered in rubber (not plastic). The rubber helps prevent slipping and increases durability.
You can see the styles inspired by
Jackie Kennedy here
-- these simple and essential sandals will appeal to advocates of understated elegance.
In addition to the K model inspired by Jackie Kennedy, Canfora makes many collections to choose from: So Capri, Sunshine, Make it Easy, Capri Bells, Capri light, First Lady, Antiqua, To the Beach, and La Dolce Capri. You are spoiled for choice!
Visit Canfora's website:
www.canfora.com
or visit them in Capri at Via Camerelle, 3, 80073 Capri NA, Italy. Phone:+39 081 837 0487