"Bermuda, Bahama, come on pretty mama…."
The Caribbean has long been reputed as an idyllic vacation hotspot, inspiring not only the Beach Boys but the entire world.
It's a region that never gets old with over thirty nations and territories spread across hundreds of islands, each diversely unique with different cultures, jungles, cities and sugary sand beaches that vary from powdery white to shades of gray.
I felt an overwhelming wave of gratitude with so much natural beauty constantly surrounding me "in my office" during the filming of Season One of my lifestyle travel series "Travel Time with Linda". It was a dream come true- hence the season's theme title; "Caribbean Dreaming".
The biggest challenge of my job was finding a unique way each episode to feature twelve tropical bucket-list destinations, highlighting each locales essence and flavor. One show in particular that stands out was island-hopping the Exuma Cays in The Bahamas. While covering this exquisite cruising ground, I can still see our boat jaunting through the crystal-clear turquoise water and the constant grin on my cameraman's face. His expression similar to the way my dog Lucky would enjoy a car ride with his tongue-wagging and head stuck way outside the window. It was the only episode we featured solely by boat and Chuck confirms it was his all-time favorite show to film of the 25 destinations to date.
The Bahamas is a yachting mecca, with a diverse topography of 700 islands and coral reefs or "cays" and only approximately 30 of the islands are inhabited.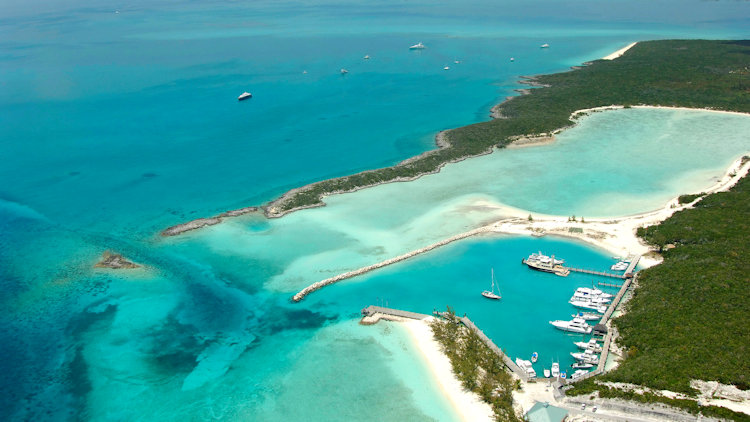 We featured Highbourne Cay Resort & Marina, known worldwide as the luxury "Gateway to The Exuma Cays". A privately-owned island with eight pristine powdery white sand beaches, six luxury cottages and a first-class marina, it's among one of the best-kept secrets in The Bahamas. Another standout? You've heard the expression "When Pigs Fly"? Well this is the land where pigs swim!
Not far from Highbourne Cay is Pig Beach located on Big Major Cay. How the pigs actually got here is not confirmed. Some feel they escaped off a shipwreck, others claim they were brought back in the day by pirates and explorers. One thing I am certain, they are truly one of nature's most amusing accidents and provide tourists a bucket-list activity with ample piggy selfies to take home as souvenirs.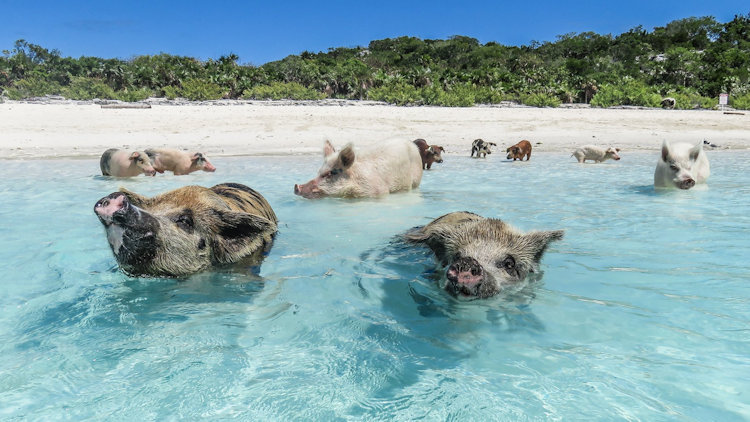 If pigs don't float your boat, how about a unique twist to fishing?
Give a man a fish and you feed him for a day. Teach a man how to fish and you feed him for a lifetime….
While there are many unique ways you can catch a fish, it was in the Turks & Caicos islands where I learned the fine art of Bonefishing.
Bonefish mirror its surroundings, camouflaging themselves which make them very hard to catch. They are iridescent and also rumored to be the fastest and strongest moving than any saltwater fish.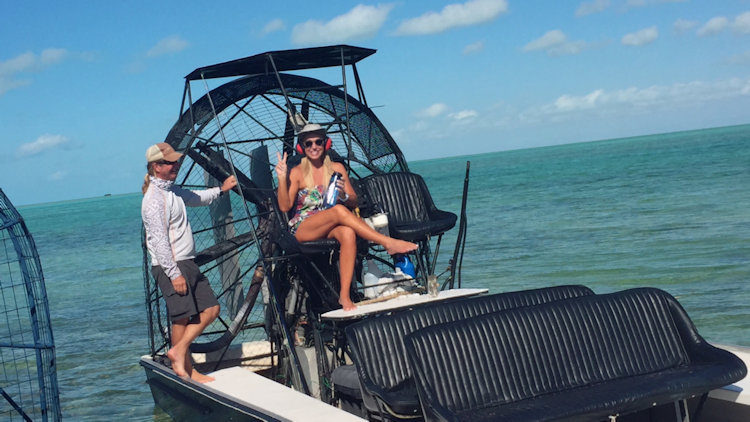 Using an Airboat propelled by air with a car engine as my magic carpet ride, we ventured out on the flat banks of South Caicos to catch the wily and elusive bonefish. Armed with a headset for ear protection to offset the near deafening engine located directly behind us, we glide through the remote shallow turquoise waters with the expert angler team Beyond the Blue lead by owner Bibo Jayne. Not only did we catch (and release) many bonefish that day on our exhilarating airboat adventure, this eco-friendly way of fishing was highly considerate as we didn't impact the natural environment and habitat of the fish.
As our airboat ventured back along the pristine flats and mangroves, I consciously took a mental "travel snapshot" of a flock of pink flamingos that abruptly took flight. So grateful to have captured this and countless other moments not just for the show but stored in my memory bank to enjoy the rest of my life.
I often share that, "Travel is the only thing you can buy that can make you richer", and a prime example of this are the priceless memories made while "Caribbean Dreaming".
I'm excited to share more travel inspiration with all of you on my national travel show! You're invited to join me in the passenger seat for a more fully immersive experience….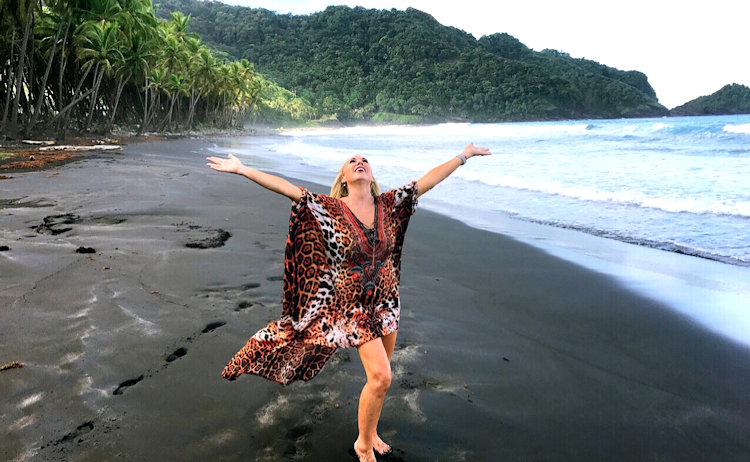 Watch all the "Caribbean Dreaming" episodes from Season One "Travel Time with Linda" on Amazon Prime here~
Linda Cooper is an award-winning TV Host, Producer and Writer serving as a brand ambassador to worldwide travel on her national luxury lifestyle series "Travel Time with Linda" and as a contributor to several lifestyle and travel publications. Her specialties include television and in lifestyle publications include the travel; lifestyle; luxury; tourism; hotels; restaurants; food/wine; fitness; spas; and retail shopping industries. Season One of 'Travel Time with Linda' aired nationally on AXS TV Network winning a 2018 Telly Award and is now available on Amazon Prime Video.
Season Two of "Travel Time with Linda" is airing now on AXS TV Network nationwide featuring "Bucket-List Destinations". Set your DVR to watch weekly Sunday mornings 8am ET / 7am CST.