Carrington Italia, the only luxury villa specialists with a local office in the heart of Positano, has added a new property — Casa del Fico — to its collection of exclusive rental homes on Italy's famed Amalfi Coast.
"The Amalfi Coast is one of the world's most popular vacation destinations, and private villa rentals in Positano and nearby towns along the Amalfi Coast are in great demand," says Erin Romano of Carrington Italia. "The most requested properties often book as much as a year in advance. Having exclusive villas in our portfolio allows us to give our guests personal service and truly customize their visits."
Casa del Fico is a tranquil retreat in Positano's Fornillo neighborhood, a short distance from the town center, with accommodations for up to seven people. The beautifully updated villa, with authentic architectural features, offers stunning sea views, lush gardens and a terrace for outdoor lounging and dining. It boasts a traditional Italian kitchen, comfortable living area, brightly decorated bedrooms and beautifully appointed en suite bathrooms featuring handcrafted Italian tiles.
According to Romano, villas offer numerous benefits and creature comforts for families, couples and groups, while also providing a one-of-a-kind travel experience and the opportunity to live like a local.
Casa del Fico is accessible from the street via very few steps, which Romano says is a rare find in the vertical town of Positano. A pleasant and leisurely 20-minute stroll along Via Pasitea will bring guests down into the town center and Positano's main beach, passing boutiques, restaurants and shops along the way. The local bus stop is conveniently located within a minute's walk, with service every 30 minutes.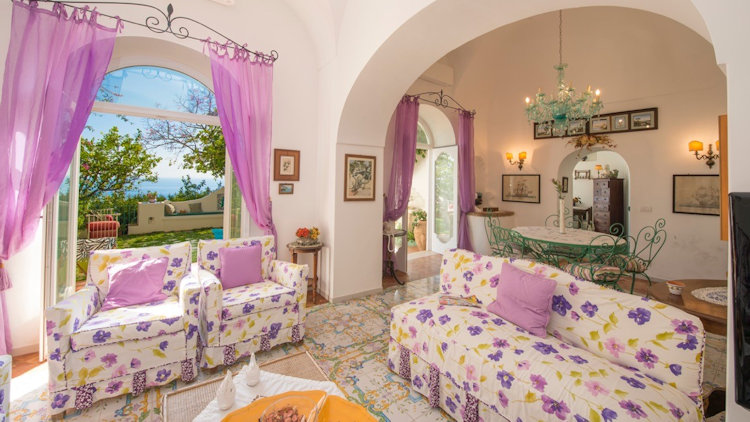 Carrington Italia Casa del Fico
Romano says Carrington Italia's villa rentals are almost fully booked for the 2018 season, but there are a few available dates left for several of their highly desirable properties.
Details about Casa del Fico can be found at https://www.carringtonitalia.com/property/detail/254.
Other exclusive properties managed by Carrington Italia range from condominium homes to private estates that can accommodate large groups:
Casa Fiori is an elegant three-bedroom, two-bathroom apartment in the Parco dei Fiori gated community just above Positano, with sweeping views of the Tyrrhenian Sea. Guests of Casa Fiori have access to the large community pool on the property. It's also one of relatively few accommodations in Positano that include a complimentary reserved parking space for those who want to rent a car. Details about Casa Fiori can be found at https://www.carringtonitalia.com/property/detail/252.
Villa Gaia, one of Positano's premiere villas, is a three-bedroom, three-bath home boasting a spectacular terrace and private pool, and separate areas for outdoor dining and lounging. The interior features vaulted ceilings and archways and modern, elegant appointments throughout. Villa Gaia is one of only a few properties that enjoy a privileged position overlooking the sea and town with a minimal number of steps leading down to its entrance from the street. Located in a quaint neighborhood at the top of Positano, the town center and main beach can be reached within a 15 to 20-minute leisurely walk down a combined series of neighborhood stone steps and pathways. Mere steps away from Villa Gaia are charming restaurants, shops, mini-markets and a local bar. For details visit https://www.carringtonitalia.com/property/detail/241.
Villa Fontana, a luxuriously appointed two-bedroom, two-bathroom apartment home, boasts an expansive terra cotta terrace and breathtaking panoramic views of the sea and the cascading cliffs of Positano. With large glass doors opening to the terrace, this property brings the spectacular coastal vistas into the indoor space. Located just 15 minutes from the town center by foot, the stairway decent goes through the characteristic neighborhoods leading to town, Villa Fontana is convenient to restaurants, cafes, markets and more. Additional information about Villa Fontana can be found at https://www.carringtonitalia.com/property/detail/255.
"The tourist season extends into early November on the Amalfi Coast, and visitors who want a more tranquil vacation and to avoid the summer crowds often visit during this shoulder season," says Romano. "But even in later months our villas are in high demand, so we encourage guests to begin planning as early as possible."
Carrington Italia creates tailor-made Italian experiences through its network of longstanding personal relationships and personally-curated luxury villas along Italy's Amalfi Coast and Sorrento Peninsula.
Leveraging its local presence in Positano, Carrington Italia's onsite bilingual team provides local expertise and concierge services and assists their guests in experiencing the region in more personal and authentic ways.