This ultra-luxury villa is located inside the gates of the private sanctuary of Punta Mita on Mexico's Riviera Nayarit. Silicon Valley moguls, Hollywood stars, and the Mexican President frequent this exclusive peninsula so security is extremely tight. We had to pass multiple checkpoints before arriving at Casa Majani's gates.
Making a Grand Entrance
The villa's modest entryway from the tree-shaded driveway doesn't prepare us for the dramatic entrance we're about to experience. We pass through a narrow break in walls that opens to a sunlit circular fountain and a palm-lined view straight to the ocean. I feel like we've just passed through the gates of heaven!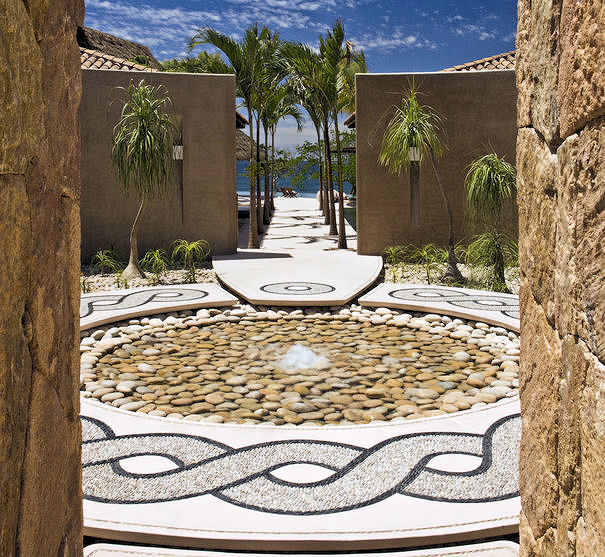 We are welcomed by the staff who hand us cold towels and refreshing margaritas. At the heart of this impressive casa stands the grand palapa with graceful dining and living areas nested beneath the palm-thatched roof. Ocean breezes and sun-drenched pools with striking sea views complete the scene. The house overlooks picturesque tiny islands in the Bay of Banderas and outside the villa walls is a Jack Nicklaus Signature golf course, part of the gated
Four Seasons
community.
The property is designed by world-renowned Mexican architect Manolo Mestre, who is also responsible for Isabel Goldsmith's
Las Alamandas
resort down the coast, Francis Ford Coppola's Blancaneaux Lodge in Belize, Casa Dos Estrellas in Careyes, and Villa Sheherezade on Mustique Island, among other masterpieces. If you are wondering the meaning of "Majani", it is a fusion of the names of the owner and her two lovely daughters, Ma-ja-ni.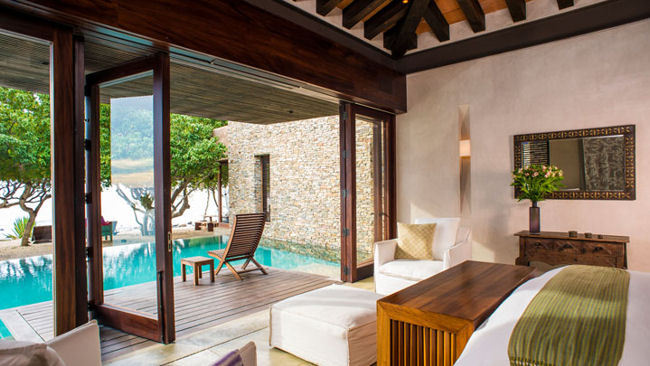 Walking on Water
The villa is made up of many unique structures connected by a network of pathways floating over reflection pools giving the illusion that Casa Majani is suspended over the Pacific. There are 6 ensuite bedrooms: 2 oceanfront master suites, 3 garden guest suites and 1 garden bedroom. A cool design detail is the outdoor bar that is created from a vintage surfboard cantilevered from the stone wall with its fin and tail coming through on the other side of the wall forming a towel shelf in the ocean view bathroom of the Keili Suite.
The suites are surrounded by reflection pools or lush native gardens and have a relaxing, light and airy atmosphere. Artwork displayed throughout the villa is made by local
Huichol people
and includes colorful tapestries, spiritual masks, baskets, votive bowls and animal figures. They use beads, yarn and wood in their imaginative work that is a means of channeling sacred knowledge, considered a form of prayer. Every item carries heavily symbolic, esoteric and beautifully rendered symbols.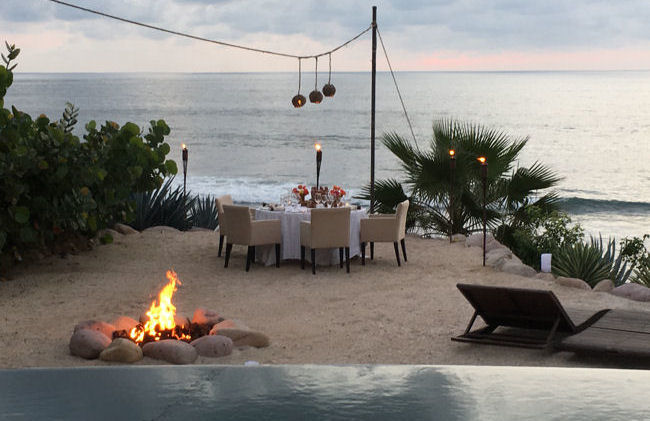 Dining divinely
Casa Majani's culinary team is truly magical, preparing incredible cuisine and desserts while catering to each guest's personal tastes and preferences. Breakfast, lunch and dinner are all special events here. Lunches and dinners are presented in different spots around the property and breakfast is usually served at the table outside the chef's kitchen. Lunch can be served under the grand palapa or beachside under the shade of manzanita trees. I love the different exotic juices that are served with lunch: Hibiscus, Passionfruit, Tamarind…all so delicious and refreshing. Sunset cocktails and hors d'oeuvres are served on the pool deck before dinner. Memorable four-course dinners are set up on the sand with torches and a firepit overlooking the ocean where we each receive a personalized menu. One evening after a tequila tasting demonstration we were surprised and delighted with a Mexican fiesta complete with Mariachi band and ballet folklorico Mexicano! Amazing.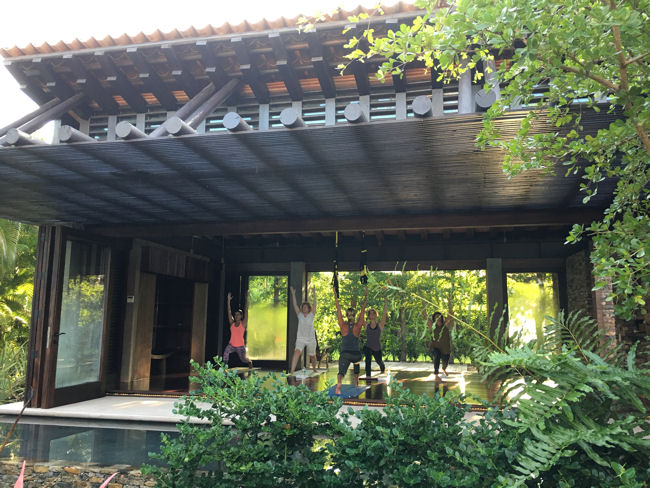 Relaxation and Wellbeing
There is plenty of temptation not to leave the property not only because of the stunning architecture and location, but also because of the impeccable staff that fulfills your every whim. From food and beverages to a session in the yoga studio, a massage in the garden, a picnic on the sand, or anything else you wish can be arranged at any time. There's also a small gym and a large media room – these are great for a rainy day (which we didn't experience).
The beach in front of the villa is rocky – not good for walking or swimming – but there is complimentary access to two beach clubs easily reached by golf cart. The
Punta Mita Beach Club
overlooks the unique
Tail of the Whale
overwater hole 3B of the Four Seasons golf club and the
Kupuri Beach Club
has more facilities for families as well as a long stretch of beach to stroll along.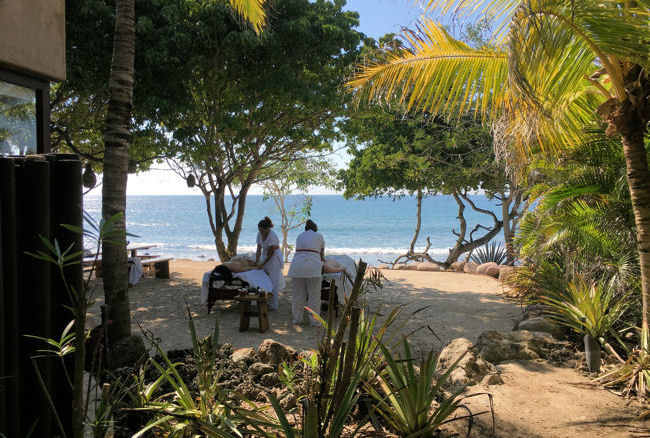 Exploring the Riviera Nayarit
One morning we decided to visit
Sayulita
, a bohemian surfing village just a 20-minute drive from Casa Majani. There is a town square with a church surrounded by cobblestone streets with colorful shops and restaurants. A couple of main streets lead us toward the beach. The many shopping options range from beach vendors and street artisans to boutiques, but you won't find Prada or Chanel in this beachside paradise with a population of approximately 4,000. We settle in at
Don Pedro's Restaurant & Bar
for an authentic Mexican lunch on the beach. On the way back to the main square our attention is drawn to an enormous
guamuchil tree full of iguanas
. This quirky town is definitely worth a visit.
Another morning we took a 40-minute boat ride to the
Marietas Islands
, a national park sanctuary for diverse marine and bird life. The big surprise is seeing
blue-footed boobies
which can only be seen in one other place in the world – the Galapagos. We also spotted many pelicans and frigate birds. It must be mating season because the male frigate birds are showing off their inflated red chests to attract females. Here we can choose to snorkel, kayak or paddle board exploring the rocky caverns and natural archways along the shores. During the winter season this adventure is all about the adrenaline rush of witnessing humpback whales and wild dolphins in their natural habitat.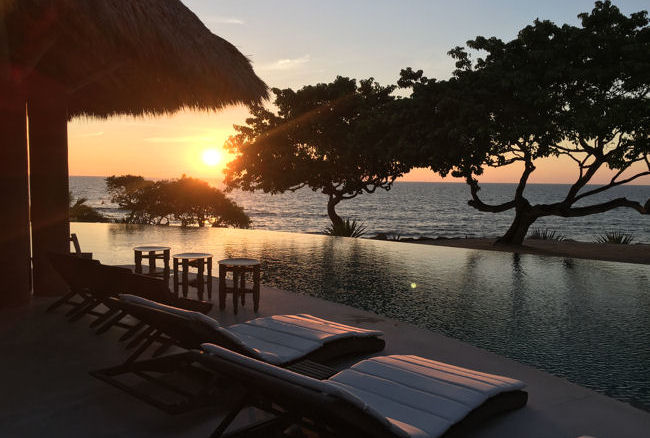 Saying Adiós
We are told that people cry when they leave Casa Majani. As wonderful as this place is, I didn't believe it would happen to me, but when the time came, I did get tears in my eyes. I think it's because of the connection with the caring staff that makes your stay so incredible. Casa Majani is one of those rare magical places in the world where nature and nurture come together!
When You Go
Guests of Casa Majani have access to the two Jack Nicklaus-designed golf courses, a tennis club, the local fitness club, as well as two beach clubs. Access to the Four Seasons and St. Regis Hotel properties and amenities is available seasonally.
Visit website:
www.casamajani.com
| More information:
Casa Majani
RESERVATIONS:
majani@omajani.com
or call The Harlowe Group at 954-345-4078