Inspired by gold and natural elements, in a nod to Cartagena's ancient history and El Dorado lore, the spa will offer a range of full-body treatments harnessing local ingredients and mystical practices to promote relaxation and awakening.
Latin for "Gold" and "shining dawn," gold is the symbol of radiance, health and new beginnings. Pre-Colombian civilizations revered the Sun as an important deity thought to reside on Earth in its physical form as gold. The element has long been associated with healing and mystical properties, as well as its qualities of protection and harmony with nature.
This, together with Cartagena's aura of Magical Realism, is the foundation of the Aurum Spa at Casa San Agustin.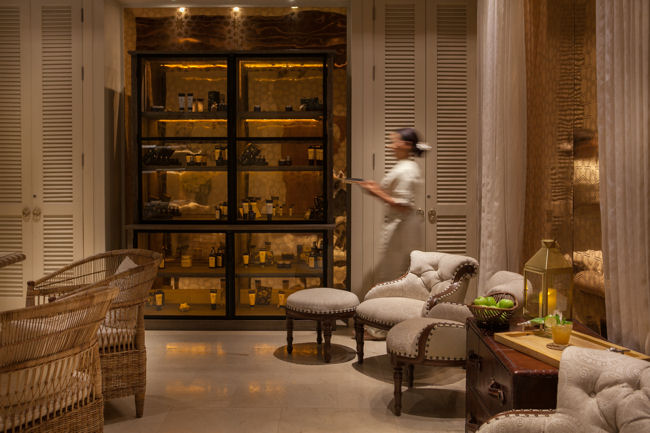 The Aurum Spa at Casa San Agustin brings together traditional Colombian wellness practices and modern innovations to promote the awakening of the inner spirit and lost energy within. The spa's services are personalized to cater to each individual need, transforming the mind, body and soul on a journey to radiance and self-discovery.
Treatments are available for head-to-toe harmony, from the Pure Gold Massage to the Wild Lime Scalp Treatment. Several specialty treatments are also available and draw on the power of local ingredients, including the Cartagena Coffee Body Treatment, Lemongrass and Mimosa Body Scrub
All rituals and treatments include potent local ingredients, including Colombian coffee, pure tobacco, volcanic mud, horse chestnut, sea salt and more. The spa's oils, lotions and aromatherapy are sourced from Naturopathica, an organic, botany-based skincare line inspired by traditional Naturopathic medicine.
The Aurum Spa includes four treatment rooms, as well as a hammam, soaking tub, relaxation room, and a manicure and pedicure room.
For more information on the Aurum Spa at Casa San Agustin, visit
http://www.hotelcasasanagustin.com
or call (855) 272 1122.