Where are you from?
My wife Chrissie is from London and I am from Australia. We met when Chrissie was transferred to Australia as CFO of a computer game company. I was working at a winery in the Otway Ranges and came up to Melbourne for wine tastings and that's where we met.
What gave you the idea to start a business abroad? Can you remember where you were when you had the light bulb moment?
In Mexico we visited an incredibly tranquil place called Hacienda San Gabriel and Chrissie had the idea. She said, "Why don't we move to Italy, buy a farmhouse, rent out a room and you can teach at a nearby school or University?" This is when the idea of
Casa San Gabriel
was born. At this stage, I hadn't ever been to Italy and Chrissie's only experience was sleeping on the steps of the Venice railway station while inter-railing around Europe as a teenager.
What made you decide on Italy?
For a tourism business it seemed like the perfect place. Everyone who had been to Ital, wanted to return and all those who hadn't been, had it on their bucket lists. We were banking on the public conception that Italy is a great place for children to grow up and we knew that it wouldn't be too difficult to get friends and family to come and visit us there. My family had strong links to the Italian community in country Victoria having rented land after the war to Italian farmers to grow onions and potatoes and I always remember them as great people.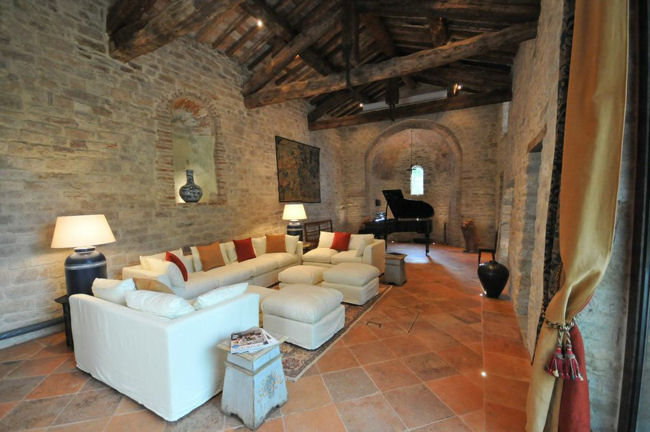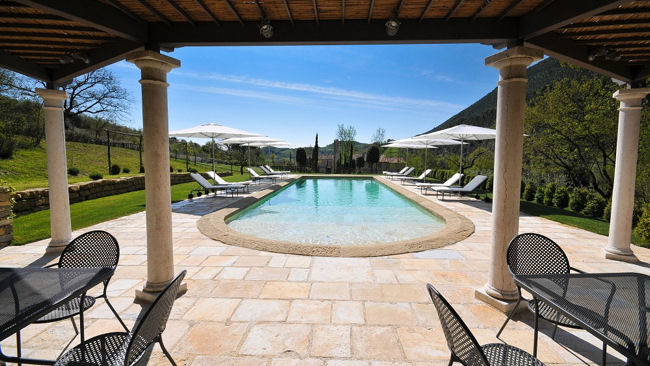 When did you get your first booking?
Our first real guests were in the year of 2004 and we are now into our thirteenth season of guests and have had people from over 50 nationalities.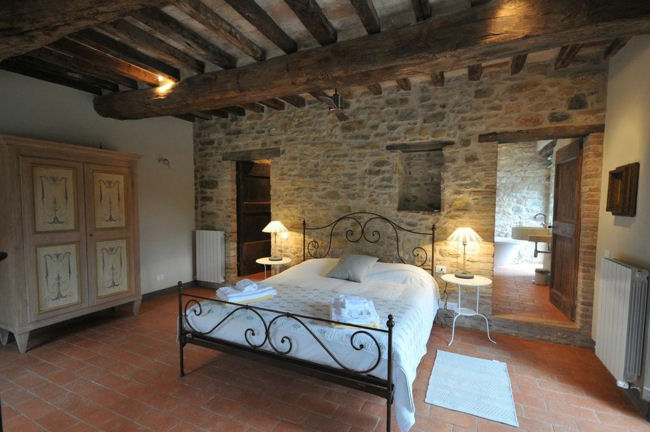 What does Casa San Gabriel offer?
Casa San Gabriel has three self-catering cottages. La Stalla is a converted studio apartment sleeping two with ensuite bathroom. La Cantina which was originally used for wine and olive oil equipment and now sleeps either 2 or 4, and Il Fienile which was a hay loft but now the mezzanine has a double bedroom and downstairs there is a living area, bunk beds for two and bathroom so sleeping four in total. All the cottages have their own private terraces and beautiful views down the valley. We have a small flock of Alpacas, a children's playground and a 16th century pizza oven from which guests enjoy weekly pizza nights eating alfresco on the terrace. Above the property there is a pool with views down the valley as far as Assisi. Chrissie and I live in the original farmhouse on the same property and are available to help book local restaurants and provide local advice. Our daughters are only too happy to introduce guests to our alpacas.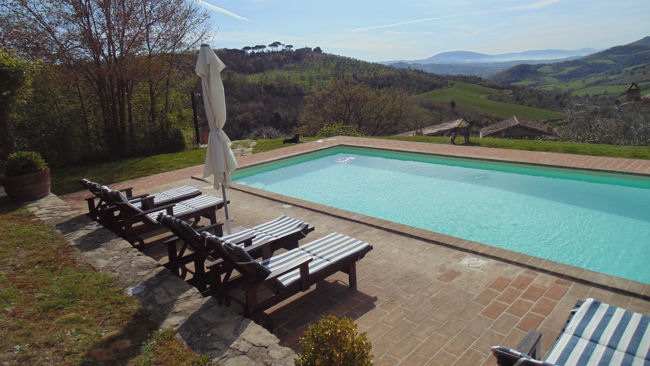 Have you been affected at all by the earthquakes in Central Italy?
We were very fortunate to not be affected by the earthquakes as they are approximately 75kms from here and the other side of the Tevere River and no damage was suffered in our area. Only 5% of Umbria was affected as the earthquakes were very centralized but the areas that were damaged were affected very badly. Everyone in Central Italy is working very hard to help these areas get back on their feet either by buying local products to keep the farmers in work or in sending clothes and household items through local appeals. Local restaurants have also donated a part of the price of every pasta amatriciana sold to the Red Cross and other similar organization to assist in the earthquake appeal. Sadly the international news channels continually mentioned Perugia as it is one of places in Central Umbria that is universally known whereas in reality there was no damage to Perugia or most areas of Umbria and this has meant that tourism has been severely affected in all of Umbria and central Italy.
Any funny stories about those early days?
Once a week we organize a pizza night for our guests using our old 16th century wood-fired oven on the side of our house. I was given a recipe by a chef I knew to make orangecello, a significantly stronger version of the famous limoncello from the Amalfi coast and the idea was to serve it to guests after the pizza nights. Unfortunately the first time we served it, my wife who isn't a spirits drinker, gave everyone a wine glass full and left the bottle and we went and cleaned up. The next morning when I went up to clean the pool, I noticed one of our guests who I can only suppose wasn't a spirits drinker either, fast asleep on the pizza oven table. When I woke him up, he recounted his very enjoyable evening and asked what that wonderful orange liqueur was he had been drinking. It has become a stalwart of pizza nights ever since.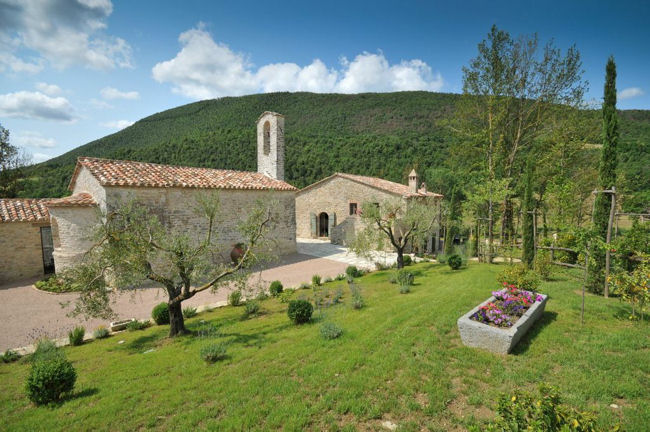 Chiesa del Carmine
Tell us about the wine business - how did you start and what stage are you at?
We were approached by an Italian farmer saying that all the land in our valley was up or sale. In the 1950's a lot of the land was farmed with olive groves, vines, pasture and woodlands. A famous US wine writer, Burton Anderson, wrote about two great Umbrian wines, one from Orvieto and the other produced in our valley. I spoke to one of my neighbors who had expressed the desire to bring the valley back to its former productive glory and he agreed to buy the land if I was to manage it. I then set up an agricultural company, started the conversion process to organic farming methods and we began ripping out the old vineyards and planting vines, olive trees, a truffle wood. There was a derelict 12th century church in the bottom of the valley which we have now restored into a luxurious country house,
Chiesa del Carmine
, and so we now organize weddings here and rent it out as well. We are into our fourth vintage of making wine and producing organic olive oil now and it is all very exciting and we are now selling both all over the world. Our guests have been very successful in spreading the word on how good both are.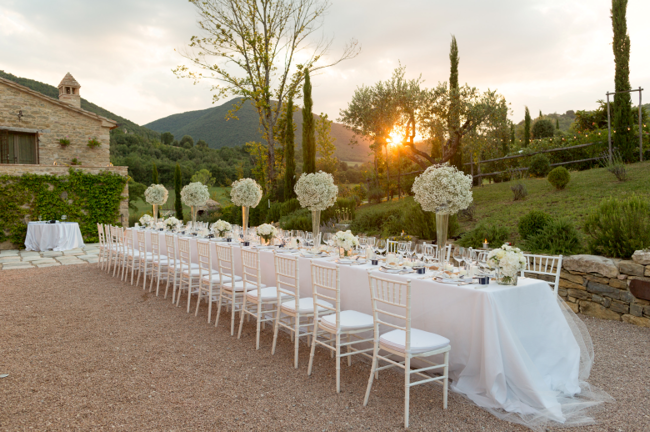 What does Chiesa del Carmine offer?
Chiesa del Carmine
sleeps 14 people in luxurious surroundings. The property has been set up so there a lots of different places for people to relax and eat together or just sit, relax and unwind. There is daily maid service included in the rental and our multi-lingual chef can provide catering for everything from simple, light meals to gala dinners. She also organizes cooking classes for adults and children. We have an organic vegetable garden on site where guests are encouraged to pick their own vegetables and a pizza oven and BBQ for use. The property is surrounded by farmland, vines, olive groves, a truffle wood and the gardens are stunning. Throughout the estate there are mapped walking trails for varying levels and bikes can be hired for people's arrival at the property for the more adventurous. We also have a sommelier who takes tours through the vineyards of the estate and runs tutored tastings of the estate wines with local produce. Less than 5 minutes away there is a Robert Trent Jones 2 Championship golf course and Umbria's hill towns and culture are on your doorstep. The hardest part people find is to drag their children away from the beautiful pool and start exploring but there is always the lure of Italian gelato to help with this.
Visit websites:
www.casasangabriel.com
and
www.chiesadelcarmine.com
View more photos on
Instagram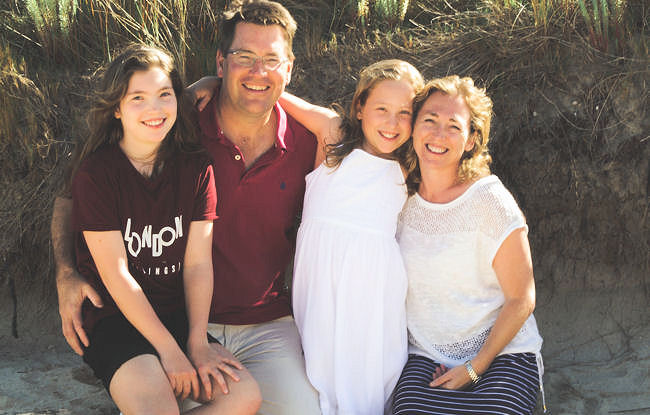 David and Chrissie Lang and family