CLERC manufactures powerful luxury diving watches called "exploration machines". They're designed for extreme life conditions – the kind you find at 1,650 feet below sea level.
At those depths, survival depends on uncompromising quality, precision, toughness, and reliability. This is how CLERC has been crafting watches for 140 years.
But on land and in everyday life, discerning luxury watch lovers expect comfort, elegance, style, and prestige.
So we said, why not have both? And set out to create a new breed of Swiss luxury watch called Hydroscaph. It combines raw power with pure luxury in a distinctly identifiable timepiece.
And there's nothing else like it in the world.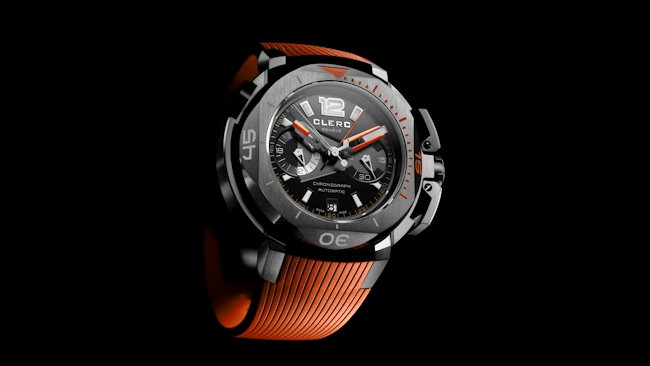 The CLERC Hydroscaph Central Chronograph model is powered by the exclusive 51 jewel C608 mechanical self-winding calibre with 44 hour power reserve, central chronograph with day-night 24 hour, date display, and small second indicators. Cases come in steel, black diamond-like coating, or 18k red gold finishes. Strap options include vulcanized rubber and Hornback crocodile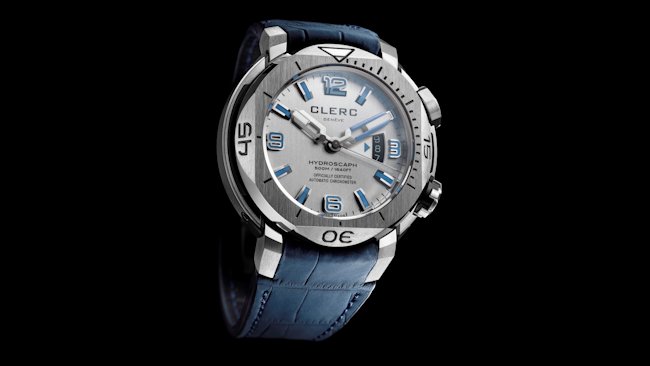 The CLERC Hydroscaph H1 model is powered by the exclusive C.O.S.C-certified 21 jewel C609 mechanical self-winding calibre with 42 hour power reserve with sweep second and date functions. Cases come in high-grade steel or black diamond-like coating. Folding clasp strap options include vulcanized rubber, Louisiana alligator, and Hornback crocodile.
To discover CLERC's amazing Hydroscaph creations visit
clercwatches.com
or email
openwater@clercwatches.com
for additional information and personal service.