This family-owned and operated luxury hotel group has mastered the art of welcoming guests into founder Roberto Polito's extended family.
After years in the hotel business, Polito went out on his own in 1974 with a single property in the Italian port town of Punta Ala in Tuscany. Named
Hotel Cala del Porto
(now Baglioni Hotel Cala del Porto), this five-star hotel and Relais & Châteaux property was the childhood home of Polito's children, including his son, Guido, who now helps manage the company from his home in Milan.
"Guests really perceive that there is a soul behind the brand," says Guido Polito, referring to the six properties in Italy, two in France, and one in the U.K. "We select our staff first based on their attitude and then skills because you can always teach skills, but not an attitude. It's important the staff feel passionate about the brand and share our values," he continues, "which is to treat guests in an authentic, friendly and caring way."
Indeed, all the properties exude a warm, welcoming feeling, including Baglioni Hotel Cala del Porto, where service is elegant, but discreet—something many wealthy Italian families, such as Bulgari, Prada, and Ferragamo, appreciate when they visit the property's newly renovated La Vela Beach Club to relax on the beach, use the gym, enjoy a spa treatment, or lunch on grilled fish at La Spiaggia Restaurant overlooking the water. The main house has 37 rooms and suites decorated in light, airy colors. Most have private balconies with views of the yacht-filled port, along with the hotel's pool and Belvedere Restaurant, where you can dine alfresco on local seafood, pastas, and Tuscan favorites, like steak Florentine.
Beyond lounging on the beach in Punta Ala, you can walk, mountain bike, or horseback ride in the nearby Maremma region's pine forests. You also can golf at the Golf Club Punta Ala or indulge in one of the hotel's signature experiences, such as creating your own wine blend at the Renzo Piano-designed Rocca di Frassinello winery, which will ship home your bounty with your own personal label.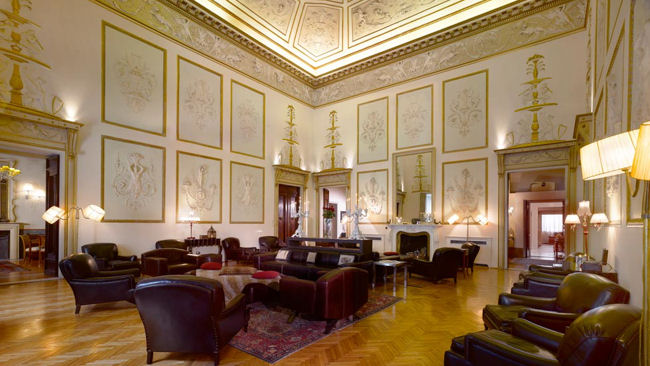 Relais Santa Croce
Another Baglioni Relais & Châteaux property is the
Relais Santa Croce
in Florence set in an 18th century palace that was the former home of Marquis Baldinucci, treasurer to the Pope. Flooded with sun and resplendent with columns, intricate ironwork, and other exquisite architectural details, the hotel has just 24 rooms and suites decorated with newly restored period furniture, fabrics, and frescos. In addition to the Guelfi e Ghibellini restaurant featuring modern Tuscan cuisine, the hotel houses Enoteca Pinchiorri, a 3-star Michelin restaurant (whose female chef was the first woman in Italy to win three stars) with innovative Italian cooking and a legendary wine cellar with over 50,000 bottles in the cave. As you walk around the hotel, the staff seems genuinely happy to see you and make your stay memorable.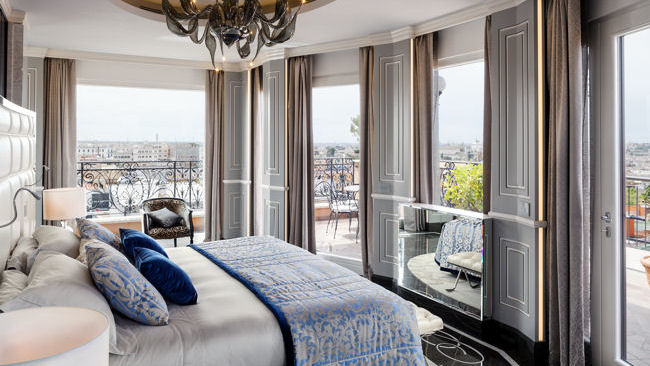 Baglioni Hotel Regina
In the heart of Rome you'll find
Baglioni Hotel Regina
, once home of Queen Margherita of Savoy, and crowned with its new Roman Penthouse Suite, featuring a panoramic view over the rooftops of Rome from the terrace, which wraps around several bedrooms and sitting areas. It also comes with a private gym, along with a butler, chef, barman, and limousine service.
With only eight floors, quite unusual for a five-star hotel, Baglioni Hotel Regina's building is considered one of the most historical properties in Rome. The 118 rooms and suites have a plush, cozy feel that blend modern European design with touches of Art Deco. The hotel has a small spa and fitness center, along with Brunello Lounge & Restaurant, an elegant, softly-lit space serving some of the best Spaghetti Carbonara in the city.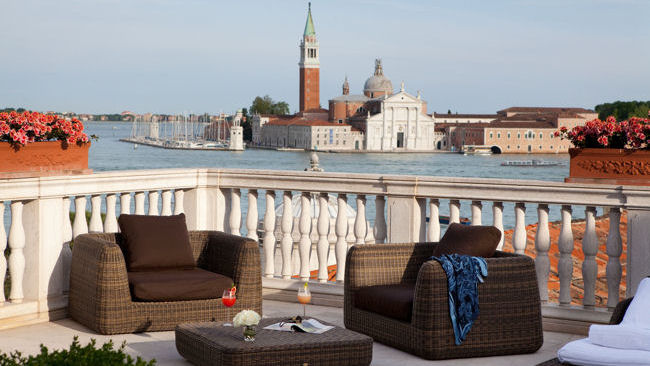 Baglioni Hotel Luna
The
Baglioni Hotel Luna
in Venice also has a new penthouse suite, the San Giorgio Terrace Suite with two bedrooms, an opulent pistachio green and gold sitting room, and rooftop terrace overlooking San Giorgio Island and San Marco Basin. The hotel, which was a former palace dating back to the 12th century, lies steps from Piazza San Marco in the thick of a shopping district filled with designer goods. Beyond the spacious lobby aglow with crystal chandeliers, you'll find the stunning Marco Polo Ballroom where you can enjoy breakfast gazing up at the breathtaking ceiling fresco of flowers, putti, Angels, and humans painted during the 18th century by artist Giambattista Tiepolo's students.
The hotel has 91 rooms and suites adorned with sumptuous brocades and antiques. The casual Café Baglioni serves snacks, beverages, and cocktails all day, while Canova Restaurant offers seasonal Venetian specialties, such as seafood risotto, in an elegant white-cloth setting. As with all Baglioni Hotels, this Venice property has several signature experiences, including a private tour of the Doge's Palace, followed by dinner in another private palace owned by a prominent Italian family.
For now, Roberto Polito is still very involved with his Baglioni Hotels group. "He runs the two French properties," says Guido, "and I speak with him several times day." Yet when his father retires, Guido knows just what to do.
"I would like my son to go into the family business," he says, aware that this is what makes Baglioni Hotels so special.
Visit website:
www.baglionihotels.com