As such, more of the world's upscale travelers are discovering the unique experiences that Colombia has to offer. In 2013, 3,747,945 travelers visited the country. What's more is that this number continues to grow each year. So what makes Colombia an ideal place to visit? Its culture, beautiful year-round weather, diverse natural landscape and variety in activities are just a few examples.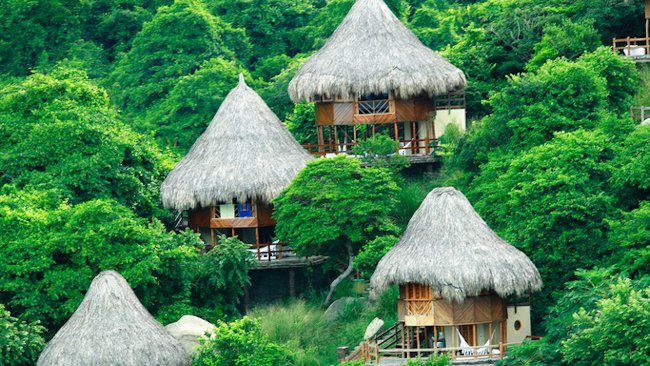 Ecohabs en la Sierra Nevada de Santa Marta
Colombia's Unique Experiences
Have you ever imagined yourself exploring the Amazon rainforest, going canopy walking, discovering a lost city or exploring true marine beauty? All of these experiences, and more, are available in Colombia.
In the Amazon rainforest, unique jungle sounds and diverse wild and plant life entertain travelers. Additionally, relaxing boat tours provide the opportunity to spot pink river dolphins or see the local indigenous communities along the wide riverbank. In terms of other outdoor activities, canopy walking provides the adventurous-type with the chance to traverse the treetops with the aid of special gear. Visitors become one with colossal trees that guard the beautiful landscape.
Still looking for adventure? Forests full of exotic plants and animals, hanging bridges, mountains and waterfalls provide the gateway to the ruins of the great Tayrona Empire. Located in the Sierra Nevada de Santa Marta range, these ruins feature a sophisticated integration of nature and civilization, and marvelous stone architecture.
For visitors that prefer the beach, the second largest coral reef in the Caribbean and one of the wealthiest in the planet in terms of marine biodiversity can be found in the waters of the San Andres and Providencia archipelago, extending a year-round invitation to divers from around the world to explore the cracks, caverns and massive walls that are part of the reef.
For history lovers, Cartagena de Indias is often considered the perfect destination for luxury travel due to its location on the northern coast of Colombia in the Caribbean Coast Region. What's more is that after nightfall, Cartagena warms up and lights up with its famous restaurants and night clubs that delight tourists looking for good music and delicious dishes. Founded in the 16th century, the colonial city is now a UNESCO World Heritage Site.
These are all truly unique experiences, providing something for every type of luxury traveler.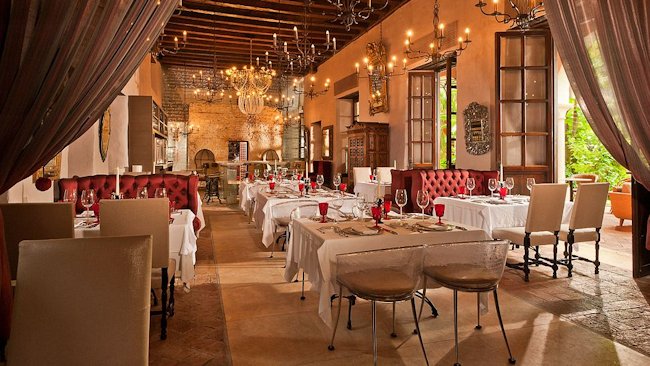 Sofitel Cartagena Santa Clara restaurant
Redefining Luxury Accommodations
With all of these wonderful activities and experiences, are you wondering where you will stay in Colombia?
While there are certainly plenty of traditional accommodations to choose from, it is the country's unique offerings that provide upscale travelers with truly authentic, Colombian experiences. Some of the greatest examples are seen in the diverse selection of luxurious accommodations that incorporate natural and historical elements and reflect Colombia's culture and heritage. Many boutique hotels are converted haciendas with reimagined colonial edifices. A "room with a view" is oftentimes captured in an exclusive and stylish property that overlooks rainforest scenes, Amazon River vistas, snow-capped mountain panoramas or stunning ocean views.
Take Cartagena, which offers a variety of high-end accommodations. In fact, more than 20 colonial-era houses in the city have been carefully transformed into small, high-end boutique hotels with 14 rooms or less. Casa San Austin, for example, is a luxurious boutique hotel that was chosen by TripAdvisor users as the best "new hot hotel" in the world among those opened in 2013. With 24 rooms available, the intimate hotel is located within Cartagena's walled city, thus maintaining its colonial charm. That said, it also provides the most modern amenities, including private pools and Jacuzzis, balconies with spectacular views and high-end toiletries in each room. Sofitel Legend Santa Clara is another example. The hotel was awarded the best hotel for weddings in Latin America by The World Luxury Hotels Awards, which recognize the best luxury hotels and service in the world. Sofitel Legend Santa Clara is housed in a former 17th century convent in the historic center of Cartagena. This unique hotel combines the best of international hospitality with modernity, innovation and French style. The hotel provides elegance in decor, good taste in food and respect for tradition, offering the best quality care for guests and visitors.
Outside of Cartagena, in the Amazon region, Casa Flotante affords luxury and privacy – and continually changing scenic views – as it cruises along the majestic Amazon. From the floating hotel, travelers can embark on excursions up and down the river.
Colombia plans more of such unique, and memorable, accommodations in the future. For example, In San Andres, there is a proposal to build a small boutique property, Casa Harb, designed to provide stylish accommodations in this idyllic Caribbean town.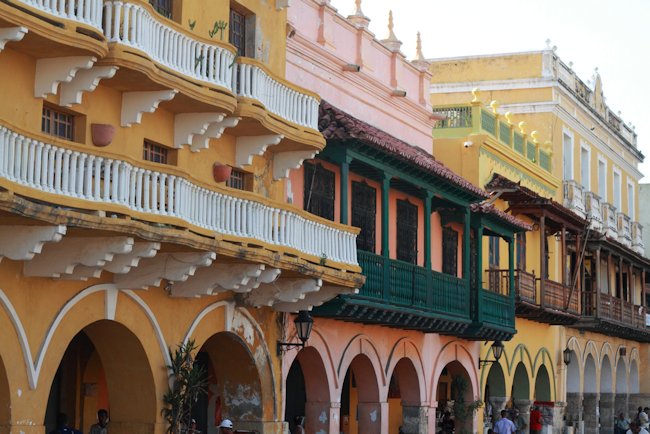 Cartagena Colombia Colonial Architecture
And this is just the beginning. Luxury travelers can visit Bogotá for its distinctive colonial architecture, stylish new properties, world-class restaurants and popular tourist sites. In the country's beloved Coffee Cultural Landscape, a number of coffee haciendas have been transformed into boutique hotels that both preserve the original façades and include upscale interiors where visitors can relax in comfort and style after spending the day learning the coffee culture. Or, visitors can experience Tayrona National Natural Park in the Sierra Nevada de Santa Marta while staying in The Ecohabs, which allow visitors to enjoy luxury amenities while staying in an indigenous style hut in the Andes overlooking the Pacific Ocean.
****
Proexport Colombia is the government entity that promotes international tourism, foreign investment and non-traditional exports in Colombia. Through its national and international network of offices, it offers support to clients through services aimed at facilitating design and execution of its globalization strategy, which seeks to generate, develop and close business opportunities. Proexport promotes international negotiations through identification of market opportunities, alliances with national and international private and public entities and specialized services to foreign entrepreneurs interested in acquiring Colombian goods and services or who wish to invest in Colombia.