The first-ever Colorado Historic Opera Houses Circuit, which connects five mountain opera houses, launches today, Thursday, June 23, 2022, at ColoradoOperaHouses.com. This new cultural heritage travel offering invites visitors to experience Colorado's Silver Rush past and the enduring importance of arts and culture in today's remote mountain towns, all within elegant buildings.
This summer, after two years of Covid closures, visitors can enjoy live performances and events—opera, national and regional music acts, theater, festivals, and more—plus building tours and rentals.
All Circuit opera houses are on the National Register of Historic Places, were built from 1878 to 1913, and retain their original character:
Central City Opera House (Central City)
Sheridan Opera House (Telluride)
Tabor Opera House (Leadville)
Wheeler Opera House (Aspen)
Wright Opera House (Ouray)
The Colorado Historic Opera Houses Circuit makes trip planning easy. ColoradoOperaHouses.com gives information about the opera houses, a calendar of events, and a Circuit map. The website links to nearby history and arts attractions, outdoor recreation, and lodging so that visitors can plan a full and rewarding trip.
Why Visit
Reopening: After two years of pandemic closures, the Colorado Historic Opera Houses Circuit enables visitors to step away from their screens and reconnect with the energy of live shows.
New Take on History: The opera houses introduce visitors to a lesser-known side of the Wild West. Among the rowdy mining camps, saloons, and outlaws, these ornate beacons of culture were built to announce a town's up-and-coming status.
Rarity: Between 1860 and 1920, 132 opera houses were built in Colorado, according to "Local Glories: Opera Houses on Main Street, Where Art and Culture Meet" by Ann Satterthwaite. Today, many opera houses are being used for other purposes or are no longer in existence. The five Circuit opera houses give visitors a rare opportunity to see live entertainment in the same settings that people did at the turn of the 20th century.
Upcoming Events
Summer events include music and film festivals, concerts, and art exhibits. Next on the calendar are a month-long opera festival (Central City Opera, July 2-31), the Telluride Plein Air Festival (Sheridan Opera House, June 28-July 4), Ghosts of the Tabor immersive performance (Tabor Opera House, July 8-9), Ouray International Film Festival (Wright Opera House, June 23-26), and at the Wheeler Opera House, Jazz Aspen Snowmass June Experience (June 24 & 25), Aspen Music Festival & School (July 7 – August 20), and Corrine Bailey Rae (July 22). The Circuit's website will feature a full calendar of events.
Tours are available this summer at Central City Opera House, Sheridan Opera House, Tabor Opera House, Wheeler Opera House, and Wright Opera House. The Sheridan Opera House, Wheeler Opera House (based on availability), and Wright Opera House can be booked for rentals.
About the Circuit
The following organizations are Circuit partners:
Aspen Chamber Resort Association
Central City Opera House Association
City of Central City
City of Ouray
Gilpin Historical Society
Lake County Tourism Panel
Sheridan Arts Foundation
Tabor Opera House Preservation Foundation
Wheeler Opera House
Wright Opera House
The project is funded by $40,000 from the Colorado Tourism Office, through its Marketing Matching Grant, and a collective partner contribution of $20,000. All participating organizations are equal partners; the Lake County Tourism Panel is the formal project lead.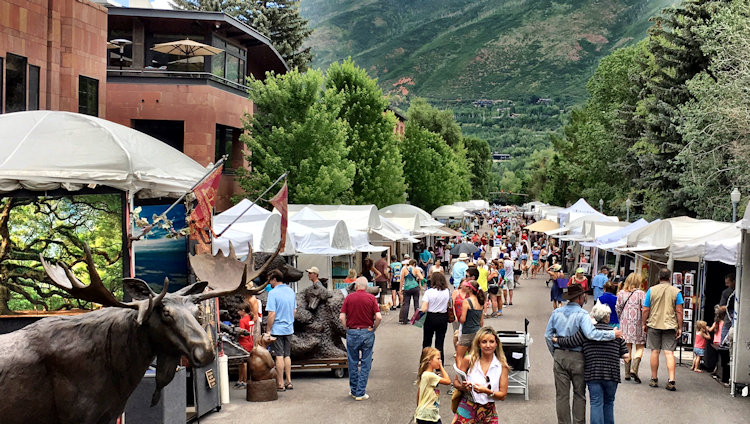 Colorado Summer of Art Tour Returns - Aspen, Keystone, Boulder, Avon, Telluride
Howard Alan Events (HAE), producer of the nation's top juried, outdoor art festivals, brings its popular artistic showcases back to Colorado for its 34th year during the Summer of Art Colorado Series. The incomparable festivals include a new event in Mountain Village, as well as the mainstay showcases in Aspen (pictured), Keystone, Boulder and Beaver Creek.
The series kicks off with the 19th Annual Downtown Aspen Fine Art Festival on July 16 – 17, followed by the 6th Annual Keystone River Run Village Art Festival on July 23 – 24. HAE returns once more to the 2nd Annual Boulder Fine Art Street Festival at 29th Street on July 30 – 31, before presenting the show that started it all during the 34th Annual Beaver Creek Fine Art Festival on August 6 - 7. Finally, after years of demand, HAE proudly presents its inaugural launch of the Mountain Village/Telluride Fine Art Festival taking place at the Heritage & Conference Plazas August 13 – 14.
"Artists and patrons from around the country have been asking us to bring a world-class art showcase to the Telluride area, and we are greatly looking forward to doing just that," says HAE founder, Howard Alan. "This year's line up will feature some incredible new artists, rising stars in the contemporary art scene, who we are exited to present to our wonderful Colorado patrons and residents."
The shows all feature a broad range of art including paintings, sculptures, photography, ceramics, glass, wood, handmade jewelry, collage and mixed media. Another difference from other art shows is that HAE's two-day festivals always offer free admission to all patrons, and the artists themselves are on site during the entire weekend to answer questions, take custom orders and explain the inspirations behind each work of art. Different local and visiting artists at each show offer patrons a chance to "follow the tour" and find different inspiration every weekend, and at every venue.
For more information on HAE and the Summer of Art Colorado Series, please visit www.artfestival.com.