We did trek to the Sun Gate at Machu Picchu and slide down an icy incline in Antarctica, but, when it comes to the long haul, give us the good life. Please.
We discovered we could have both on our first cruise with the French line Compagnie du Ponant. We boarded the sleek, 264-passenger Le Boreal in Boston and proceeded up the northeast coast of the United States and into the St. Lawrence River for 10 nights that took us to fascinating, lesser-known ports-of-call to enjoy the spectacle of nature and her creatures.
Yet, back on board, we traded our hiking boots and windbreakers for spa robes and slippers in plush accommodations and a 1:2 staff-guest ratio to meet our every pampering need.
Self-described as a luxury, mega-yacht, 466-foot Le Boreal has 132 staterooms, 124 of them with private balconies. Cabins feature king or twin beds, a desk, minibar, dressing table, marble baths with showers, L'Occitane products, flat screen satellite TVs and Wi-Fi.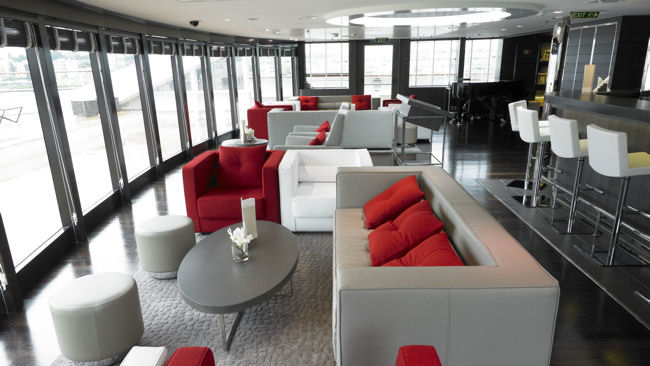 The ship features six decks, two restaurants, a theater, a couple of outside bars and two welcoming lounges. Shipwide, décor is sleek and appealing, contemporary in white and gray with red highlights. That highlight color is everywhere, from a stripe at water level on the ship's exterior to an accent in delightful '50s-era, black-and-white yachting, cruising and bathing beauty photos found along cabin corridors.
Le Boreal is small by cruise-ship standards, and many we've met in our worldwide sailings say they'd have their cruising no other way.
In this case, small means intimate and lovely, convenient and personal.
What makes it a yacht we asked the company;s North American representative Terri Haas. "You get an authentic welcome, the feeling of the yacht, that casual, luxury feeling… the idea of sharing experiences with people. Our itinerary is really your yachting experience."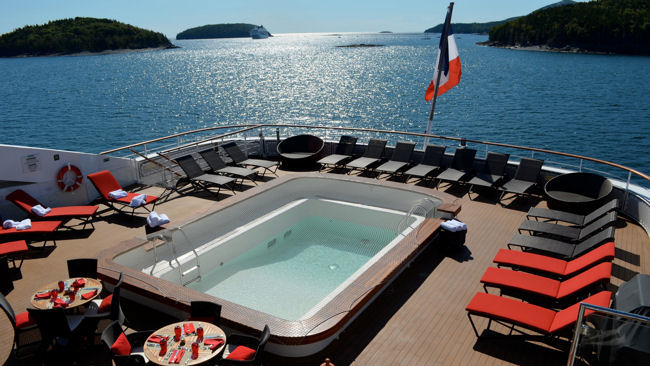 The ship is small enough to adjust the itinerary as needed along the way, either to see something spectacular or to avoid crowds. "In Dubai this summer," said Haas, "we knew 14 ships were about to arrive. We changed the schedule."
Before we boarded Le Boreal in Boston, she had just cruised Greenland, Iceland and the Arctic Circle. Over dinner, at the captain's table, Commandant Jean-Philippe Lemaire, who helped create the company, confides that expedition cruising touches his heart because it provides his guests with unforgettable experiences, such as spotting a polar bear or introducing them to a rookery of thousands of penguins. "My job is to give the goose bumps to the passengers," he says.
"The advantages of a ship this size," he adds, is "it's big enough to have some entertainment and small enough to have interaction with passengers."
Ashore, Haas tells us, "We really try to find those very obscure ports people haven't heard of."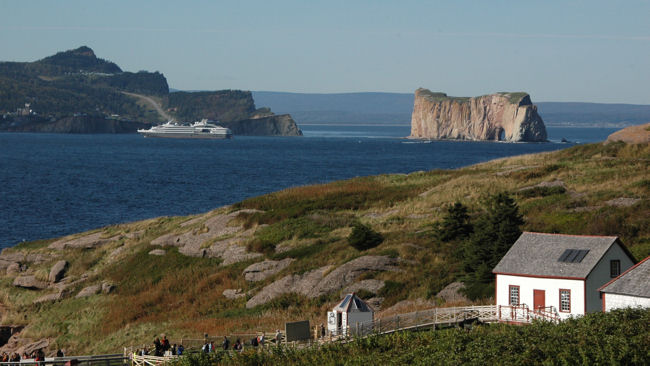 Out-of-the-Way Ports of Call
Le Boreal succeeded in that regard for us, as we'd only heard of Boston, Bar Harbor, Halifax, Quebec and Montreal this sailing. We were intrigued we'd be also be stopping at Louisburg, the Magdalen Islands, Perce, Havre St. Pierre, Tadoussac and Saguenay, all along the St. Lawrence. Discovery awaited at each.
• Along the tidy string of Magdalen Islands – dotted with compact, brightly-colored houses – we learned about a near-death experience of a lobster fisherman who has created his own rustic museum and recreated village to recount that lifestyle; visited a smoked herring warehouse also retaining a tradition; and saw stunning red cliffs in contrast to startling blue seas.
• At Perce, near the tip of the Gaspe Peninsula, the focal point is the massive, angular Perce Rock accentuated with a sizeable hole at water level. We got our first glance when we opened our stateroom drapes, and there it was, jutting skyward from the water, just off our starboard balcony. Later, by small boat we headed to nearby Bonaventure Island where a 60-minute walk – make that hike with incline – on Canadian park service land, brought us to the world's largest colony of gannets, white-and-black seabirds.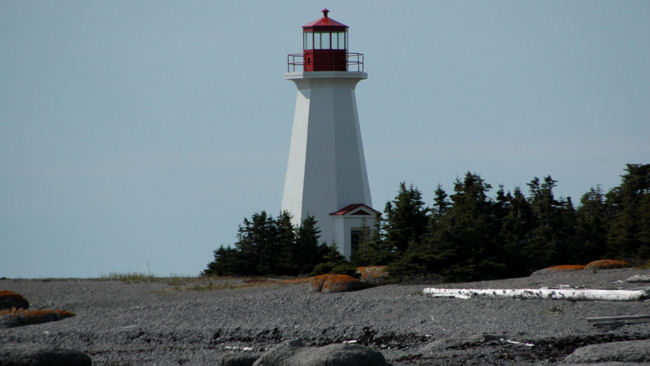 • Awe-inspiring monoliths awaited at another Canadian park near our port of Havre St. Pierre. By boat, we visited the Mingan Archipelago National Park Reserve that was so inspiring, in fact, that we bought native author Roland Jomphe's "In the Mingan Islands" that pairs his soulful poetry with photos of the huge rock monoliths. We were as fascinated by our enthusiastic guide, whose descriptions of some of the "images" the monoliths might represent – from an eagle in flight to Richard Nixon in profile – captivated our group. Then, as the excursion boat took us back to Le Boreal, that captain pointed out silhouettes in the towering rocks: one The Old Indian and another The Old Captain. As we neared the docks, our captain spotted a minke whale, and we followed it for a half-mile or so as it swam next to our boat.
• Tadoussac delivered the best statement of all our excursions courtesy of our small-boat captain who proclaimed in his French accent: "Now zis is whale watching!" We had spotted the spouting sprays from seven fin whales. We also saw several minke whales along the way, one even breaching long enough for us to get snapshots and a short video. We had braved cold, cramped quarters on the speedy boat, but no one complained about the three-hour tour that produced terrific results.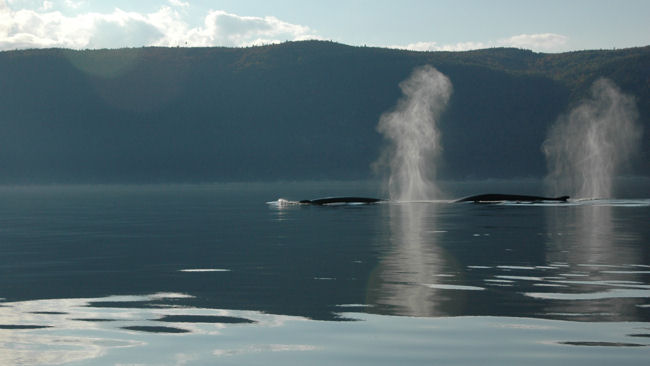 • Saguenay was where we finally came across some autumn color on what would normally have been a leaf-watching itinerary (full color came late this year). We watched from our ship balcony all morning as sailing boats, motor skiffs and floatplanes came and went. The port, in this case, was as interested in us (Le Boreal) as we were in it, as there was a parade of spectators that floated by to get a closer view. Late in the afternoon, it was our turn to board one of the Beavers, propeller-driven floatplanes. The flight produced a view of the multi-hued trees below that was worth the wait. Captain Lemaire took the 15-minute helicopter tour and called it "terrific – so beautiful."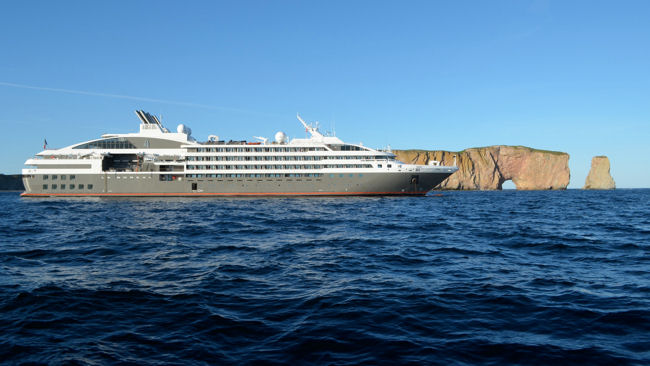 Ships and itineraries: Companie du Ponant offers 170 different cruises all over the world including theme cruises for opera (including on-board performance), golf, gastronomy, music, cinema, comedy and family friendly. The company has ordered a sixth ship to its lineup of 64-passenger, masted Le Ponant, sleek, 90-passenger Le Levant, 226-passenger Le Diamant, and sister ships L'Austral and Le Boreal (264 passengers). The new ship will turn those twins into triplets.
If You're Going: Le Boreal repeats this itinerary in both directions September 14-24, and September 24-October, 2012. Reservations:
www.ponant.com
Pre-post cruise stays:
The Langham, Boston
, once a national architectural landmark is now an elegant downtown address ideal for touring pre/post cruise on The Freedom Trail and more. The hotel's award-winning restaurant, Café Fleuri, serves breakfast, lunch, seasonal Saturday Chocolate Bar, and Sunday Brunch under lofty atrium ceilings. The stunning BOND restaurant named for the Federal Reserve which was housed here (look for the gold seal still in the floor) serves lunch, metropolitan afternoon tea, small plates of global cuisine in the evenings, and distinctive cocktails. Plus, visit the hotel's Chuan Body + Soul. You won't regret it.
Montreal's
Auberge du Vieux-Port
is a boutique hotel within walking distance of the port area and historic Old Town Montreal. Exposed beams and rock/brick walls gives ambience to the incredibly comfortable, roomy accommodations with all the modern touches (ask for a room overlooking the street). Wine and coffee are served just steps off the lobby, and pop next door to Taverne Gaspar for the full breakfast (included) or lunch or dinner. We discovered an amazing "garden" eatery with live jazz in the heart of the old city, again just steps from the hotel. Check out Jardin Nelson. Honest: We found it ourselves; only later did we see it had been featured on The Today Show.
Article By Kathy M. Newbern and J.S. Fletcher for Luxury Travel Magazine. Award-winning freelance travel journalists, Newbern and Fletcher often incorporate their romantic travels into their other business, www.YourNovel.com, where they put you and your sweetie in your own personalized romance novel "wild" or "mild." Among those offerings is a book based on their barge cruise from London called "Holiday on Thames". They are also the creators of the award-winning travel blog/podcast/radio report, www.YourSpaReport.com
.
Photos by Fletcher/Newbern and Companie du Ponant
This article won "First Place Best Online Consumer-Oriented Travel Article" by Society of American Travel Writers, Atlantic-Caribbean Chapter.