Around a corner, blankets were folded over chairbacks at a small cafe enticing early risers to get cozy with an espresso and the newspaper. Right then something switched: the normal fast pace of life was swapped for a more relaxed mode. This weekend, I would savor the pleasures of Copenhagen: the city's tastes, famed design, and slow canal-side strolls.
One hotel was a perfect match for the weekend I imagined:
Nimb
. This boutique property—with just 14 rooms including 9 suites—looks like a Moorish-inspired palace on the outside, an understated mansion on the inside. All but one of the rooms overlooks Tivoli Gardens, the amusement park dating back to 1843. Each room showcases antiques, four-poster beds, and the clean lines of Danish design. In-room fireplaces are stocked with birch wood, tempting guests into a private fireside happy hour accompanied by a glass of champagne.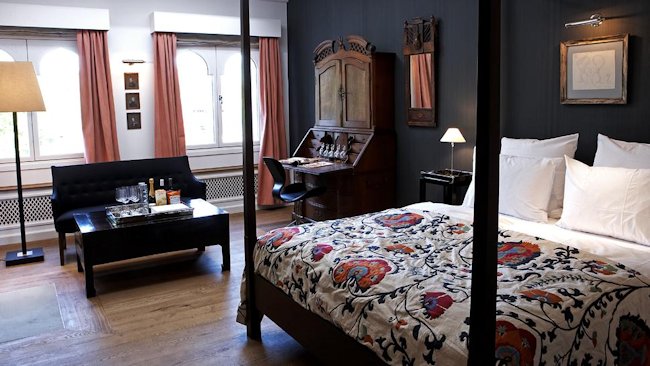 To acquaint myself with the local food scene I ventured out for a classic Danish lunch: smørrebrød. One local chef, Adam Aamann, puts new twists on the classic open-faced sandwich. A variety of ingredients are piled onto fiber-rich rye bread, including new potatoes with chives, radishes, and smoked cheese. The result is a wonderful play on texture and an introduction to local ingredients. This hearty lunch was just the fuel I needed for an afternoon of exploring classic Copenhagen on foot.
The royals of Denmark might not attract as much American media attention as the British royals, but their history is just as fascinating. In central Copenhagen I laid eyes on the four mansions that make up the Amalienborg royal palace. Men with black fur hats guarded the door to the home of Queen Margrethe II as people cycled through the square. Nearby in old Copenhagen is Nyhavn, a picturesque waterfront with brightly colored houses that date back over 300 years. One final stop on my city tour was the famous Little Mermaid statue, inspired from a fairytale by Hans Christian Anderson.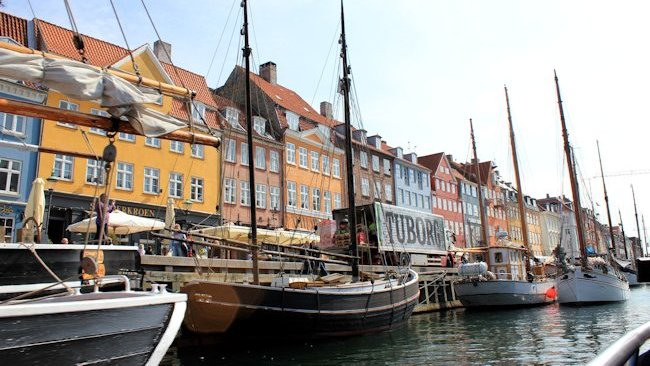 Classic Copenhagen has a certain timeless allure, but it is the local cuisine that has sparked contemporary appeal. Copenhagen has emerged as the food capital of Northern Europe, drawing visitors from across the globe to taste 'New Nordic' cuisine. For my introduction to local gastronomy, I took a seat at
Grønbech and Churchill
, from award-winning chef Rasmus Grønbech. Highlights of the evening menu included a spicy lobster soup and a divine veal shank with dark balsamic and tender white asparagus. To complete the Michelin-rated experience, wines and fresh baked breads were paired with each course.
Passion for food in Copenhagen is infectious, and a night in one of the city's best restaurants only made me curious to learn more. The next morning I strolled to Torvehallerne, the brand-new covered market. I started my day with a fragrant cup of coffee from the renowned Coffee Collective. As I sipped, I passed farmer's stands overflowing with artichokes and rhubarb, while inside, delicacies like cheese, chocolate, and pastries were all enticingly on display.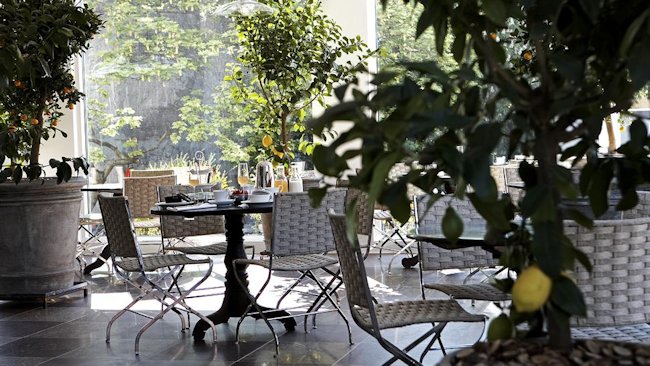 The Danes have a way with design that is soothing and sophisticated. After exploring this upscale market, I set out to find the same characteristics in furniture design.
Hay
is a young Danish brand, but its furniture nods back to the 1950s and 60s and the iconic work of Arne Jacobsen. While chairs and rugs might be difficult to transport home, there are other ways to bring Danish design back across the pond. At both Royal Copenhagen and Georg Jensen, visitors can browse fine collections of china, jewelry, and watches.
As the sun was setting I entered a quiet courtyard that led to the door of
Geist
, a restaurant from superstar Danish chef Bo Bech. Seats at the L-shaped bar provide a great view for the nightly theater in the kitchen, but I preferred a cozy booth in the back. The restaurant has a quintessential Danish attention to design, with a sleek dining room and aromatic dishes that please with color and presentation. The menu has no appetizers or entrees, just delicious, unfussy dishes described by their main ingredient such as quail with wild asparagus.
One of the pleasures of this eating style is leaving the table with energy. I strolled through the King's New Square and along Strøget back to Nimb and took a seat on the lovely terrace for a nightcap. Taking a sip of my wine, the 120,000 light bulbs of Tivoli Gardens brightly flickered against the night sky. This amusement park has a special place in the hearts of many Danes, who spent happy days here as children. Tivoli had the same effect on me, leaving me more carefree and content than when I arrived.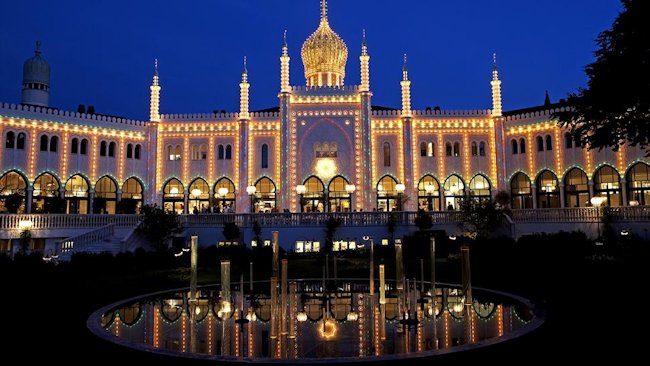 Jessica Colley is a freelance travel and food writer based in New York City. Follow her travels online at
www.thegreatamericantraveldream.com