The architectural detailing has been painstakingly executed and clearly a great deal of effort has gone into capturing the spirit of the Moors as well as many aspects of their construction techniques. Guests at the cortijo have at their disposal a range of facilities designed to ensure that they return home refreshed, invigorated, rested and with a strong sense of wellbeing.
If you are seeking the calm and peaceful tranquility of the countryside with ample trappings to feed your mind, appetite and imagination, we think that you will be impressed
with the unique offering of Jeff and Tish who run Cortijo Bujio in the magnificent landscape of Granada Province in Spain's Andalusia. They acquired the property some six years ago and they have since invested heavily (both time and money) in transforming the old ruin into a comfortable, up-to-date property that combines all the quirkiness and appeal of the original structure. The name Bujio is an old gypsy word meaning "hidden place" and this one was built in 1877 as a farmhouse, (one of only eight farmhouses in the area that had an olive press and a threshing circle for cereals). In spite of its name it is very easy to find, it is a little over an hour from Malaga airport and just half an hour from Granada airport. Set in a gorgeous valley near to Sierra Parapanda Cortijo Bujio offers unspoilt vistas of the neighbouring olive groves and oak forests, the panoramic expanse of the plains to the west of Granada and the snow capped slopes of the Sierra Nevada beyond.
Jeff and Tish were determined to offer something very special and their description of Cortijo Bujio says much about their aspirations. The intentional use of the description Villa Hotel is entirely justified for they have successfully combined the discreet comfort and privacy of a private house with all of the amenities usually associated with high-end hotels.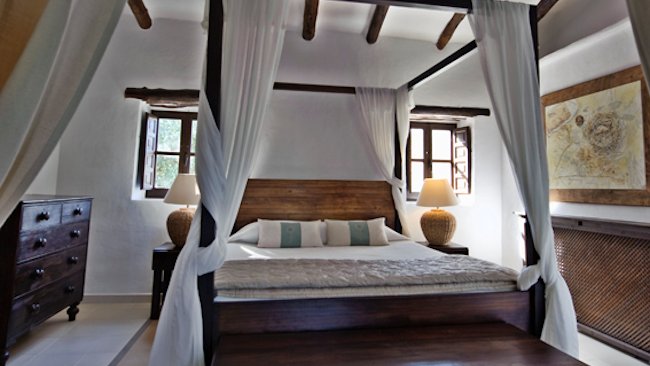 The setting is idyllic; tranquil and unspoiled just as Mother Nature intended. As you step inside the cortijo you are immediately transported into another world. Cortijo Bujio is not only a beautiful place but it exudes warmth and style from every angle. Tish took responsibility for the overall presentation of the property and when she decided to adopt a Moorish theme she dubbed her style Minimal Moor! The large dining room looks out onto a paved courtyard beyond which the land falls away to form the west side of a valley on the other side of which is the local mountain of Parapanda. The dining room with opening glazed doors along its two outer walls affords glorious views across the valley and into the surrounding olive groves. The adjacent sitting room is stylish and comfortable, the ideal setting for after dinner relaxation with ample seating for up to eight guests. A big-screen cinema plus Wii, Xbox360 + kinect and PlayStation 3 consoles with Internet access can be found in the Gamer's den. A great way for young and old to wile away the hours. The Gamer's Den may also be used for corporate functions and conferences. All of the necessary audio-visual equipment is available and the quiet environs make for very focused business meetings.
Cortijo Bujio can accommodate up to 12 guests; there are four beautifully appointed bedrooms two of which have four-poster beds. Each bedroom has en suite facilities and two of them also provide access to private gardens where guests may sit and relax and take-in the environment. Please take a moment to look at the enclosed photographs and you will surely appreciate the magnificent manner in which the rooms have been styled and dressed. Tish and Jeff have a very flexible approach to running the cortijo and unlike an ordinary hotel, they prefer to let the entire property either on a "fully catered" or a "self catering" basis. They are also aware that the very attractive setting would make it a perfect choice for weddings, anniversaries and other family celebrations. As mentioned above, the cortijo makes an excellent venue for high-level business meetings too.
One of the key features of Cortijo Bujio is the provision of a range of facilities and treatments that enable guests to de-stress, re-tone and re-energise. Plans are well advanced to add to the present outside facilities including the building of an Arab style spa area based upon traditional Moorish baths including a steam room, cold room and mineral hot spa all enclosed within a building with a domed roof. The spa which delivers a stimulating, therapeutic experience whilst its minerals help cleanse the body and soothe away aches and pains; alternatively guests my choose from a range of traditional Arabic/Moorish treatments in the hands of a skilled masseuse.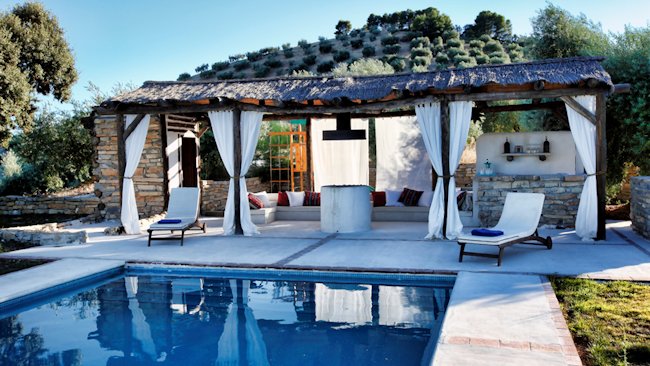 The pool and its associated casita is equal to many a five star hotel and is extremely popular with guests at the cortijo. It is set in an elevated position affording stunning views to the south, west and north. Here they can swim, paddle or play sport in the 5 metre by 10 metre pool, relax and chill in this most beautiful oasis with no fear of being overlooked or disturbed.
For the more energetic, fitness-conscious guest there is an open air gym where you can feast your eyes on Montefrio's very own Parapanda mountain without actually leaving the cortijo. Just take a seat on one of the exercise bikes or take a walk, (even a run) on the treadmill and in next to no time you can complete the imaginary journey to the very top of the mountain and at the same time feel absolutely marvelous, even a little smug! Somewhat less demanding though providing a fascinating diversion is the viewing platform with a telescope suitable for terrestrial and celestial viewing.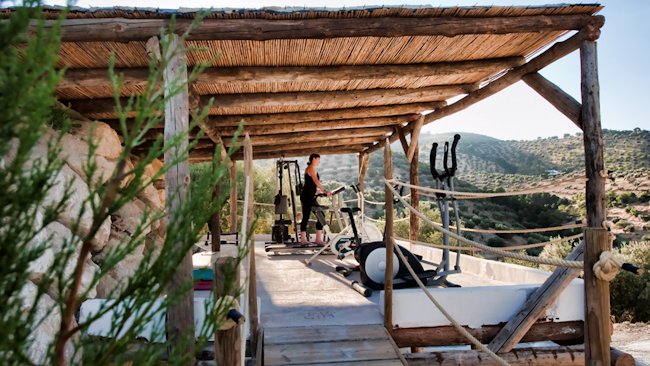 Cortijo Bujio is clearly differentiated from other hotels and villas in that it not only provides a real home from home but does so in one of the most delightful settings one could possibly imagine. Peaceful it certainly is yet it is not isolated; the gorgeous city of Granada with its rich Moorish history is less than an hour away, even closer is the pretty town of Montefrio which boasts one of the world's most magnificent domed churches, cave houses, a richly adorned convent and on the hill above the town known as La Sentinela stands La Villa a church where once stood a Moorish fort. The church is a prominent landmark by day and by night, it has been adopted as the town's symbol and is widely recognized as such throughout the region. In the direction of Algarinejo there still stands a Roman bridge that is used on a daily basis by locals wishing to cross the Milanos River. Signposted off the Montefrio to Pinos Puente, about 7km out of town, is an intriguing and unmissable archaeological site, the Penas de los Gitanos, which has evidence of human settlement from Neolithic times to the Bronze Age. Excavations here have unearthed numerous artefact's including combs made from bone, flint arrowheads and shards of decorative ceramics in the collection of cave dwellings and prehistoric tombs.
In spite of the many attractions within a short distance of the Cortijo, ranging from historical, cultural, religious, artistic and architectural, the majority of Cortijo Bujio's guests to date have chosen to spend most of their time at the cortijo itself. A small number however have chosen to drive to Granada in order to see the magnificent Palace of the Alhambra, and perhaps venture into the Albacin District for drinks and tapas or maybe buy silk or spices or take tea in one of the many tea shops in the city centre.
Cordoba is one of Spain's most visited cities. It is multicultural and traces of its past are still to be found not least in the form of The Mezquita a mosque built by the Muslem's was converted into a catholic cathedral when Cordoba was reclaimed by the Christians and the Muslims were routed in 1236. The Mezquita is the third largest mosque in the world.
Those wishing to visit the coast can reach Motril or Salobreña in about an hour. Malaga airport is a little over an hour and Granada airport just 30 minutes drive away.
www.villahotel.eu