This new route allows international travelers to embark on Puerto Caldera (in Costa Rica) and departs on the new route, being called the Amazing Pacific. Travelers now have more time in Costa Rica to explore its beaches, lush rainforests and volcanic landscapes with AzamaraClub Cruises.
This new route will certainly boost overnight stays of international travelers in Costa Rica and presents a tremendous opportunity for the Pacific coast of Central America and position it as a fascinating cruise destination.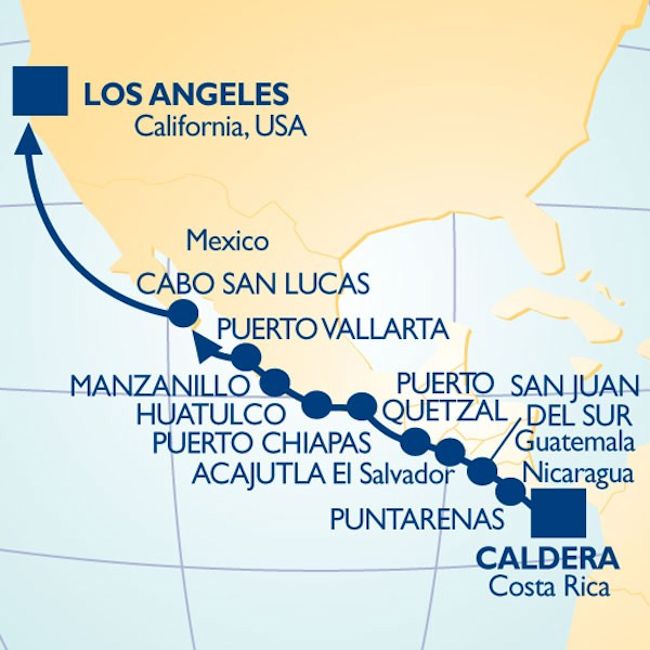 For every visitor, Costa Rica offers a rich cultural experience and a myriad of options that all fall in line with country's sustainable tourism initiatives.
The new Mesoamerican Route consists of an a 14 night voyage on the Pacific coast aboard the "Azamara Quest" Azamara Club Cruises®, from the Caldera Port, passing places other popular destinations including: Puntarenas Costa Rica, Gulf of Papagayo, Costa Rica; and docking at San Juan Port in Nicaragua, in Acajutla, El Salvador, Quetzal, Guatemala and the Mexican ports of Chiapas, Huatulco and Cabo Blanco, and finalizing its journey in Los Angeles, California.
Roughly the size of West Virginia, Costa Rica houses 5 percent of the world's known biodiversity. The country is known for its natural and ecological wonders and is a world leader in sustainability. Cruise passengers will have the opportunity of exploring Costa Rica's Pacific Coast, featuring some of the country's best national parks known for their large and diverse populations of forests and aquatic birds. Caldera's rainforest, which begins just inside the coastline and continues up into the mountain ranges, features a multitude of rivers and waterfalls.
Additional Route of the Americas ports include Nicaragua, El Salvador, Guatemala and Mexico.
For more information on Costa Rica and the variety of options available to cruise passengers, visit www.VisitCostaRica.com.