Craghoppers
offers a hand-picked selection of outdoor wear exclusively for U.S. customers: Expect agile, insect-repellent jackets, pants, shirts and tees for hot-climate adventures, as well as lightweight, technical trail wear that protects and performs in all weather.
They've been chosen as the official travel apparel partner of the
National Geographic Society
, which has resulted in some incredible co-branded pieces.
In the over 50 years that Craghoppers has been making protective travel and outdoor clothing, they have traveled to all corners of the world testing their gear, creating memories and capturing life moments. Discover for yourself their high quality craftmanship in every stitch and seam, teamed with tried-and-tested Craghoppers technologies.
Visit website:
www.craghoppers.com
Some of our Editor's Picks:
The big story this year is the Insect Shield® Lifestyle line. The collection features casual cool styling combined with sun and insect protection.
M's Insect Shield® Henri Long-Sleeved Shirt - ($80)
(Also available in Short Sleeve)
Comfortable cotton-rich casual travel shirt.
-Insect Shield®
-Solar Shield UPF40+ Protection
-Moisture Control Technology
-Hidden Zipped Security Pocket

M's Insect Shield® Mercier Trousers - ($75)
(Also available in shorts)
Enjoy the best of both worlds this summer with these stylish new travel pants. Featuring all the hot-climate tech you'd expect from Insect Shield - outstanding insect-repellent and UV-protection - in a streamlined design that looks the part on the urban trail, too.
-Drying Loops
-5 pockets, 1 hidden zipped
-Cooling Inner waistband
-Insect Shield®
-Solar Shield UPF40+ protection
M's Nat Geo Insect Shield® Avila II Hoody - ($80)
Stay protected and warm when the sun goes down on your next adventure.
-Insect Shield®
-Solar Shield UPF 40+ Protection
-Thumbholes
-Quick Drying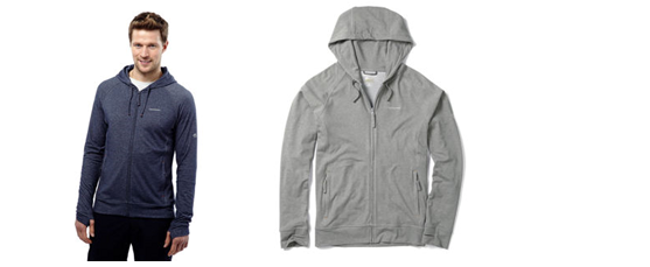 W's Insect Shield® Bailly Tunic - ($55)
A versatile top that looks great partnered with casual NosiLife trousers and shorts. Wear it to the beach or layer it over a smart skirt or capris for a city stopover. Choose from plain or stripes in NosiLife insect-repellent jersey that's perfect for hot-climate travel.

W's Aurora Long Skirt / Dress - ($60)
If you love travel wear that performs double duties, you'll want to take a closer look at Aurora. This cleverly designed NosiLife dress quickly converts to a skirt by rolling down the top and using the fabric neck strap as a waist tie. Handy for transitioning from beach to bar – pair it with a NosiLife tee or tunic.