It's our first day back from a Silversea cruise of the Caribbean and I miss stepping out onto our private veranda, feeling the tropical sea breeze and watching the beautiful sunrise in a new port. I miss the smiling face of our butler bringing us soy cappuccinos and the Vitamix juice-of-the-day to start our morning. Everything felt so carefree.
Silversea's itineraries put an emphasis on unique and exotic destinations, so on our 11-night cruise we visit 9 ports that are a mix of the usual and the unique. Because Silversea ships are smaller, we are able to visit unspoiled islands like Bequia, Virgin Gorda, and St. Bart's that the larger ships cannot visit because of their size.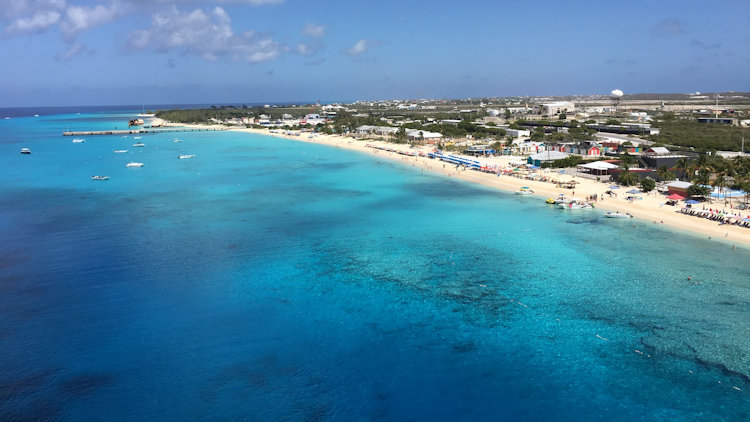 View of Grand Turk beach from the top deck of the ship
We depart from Fort Lauderdale on Silversea's Silver Spirit and after a day at sea to settle in, our first port of call is Grand Turk which is a small island only 7 miles long and one mile wide, with nothing much to see, but it's the first chance for us to put our toes in the pink coral sands and take a dip in the sparkling turquoise sea. The attraction of this island is not on land, but in the water with a 7,000-foot-deep coral wall that drops down only 300 yards out to sea, so I'm sure the SCUBA enthusiasts on our cruise are excited to be here.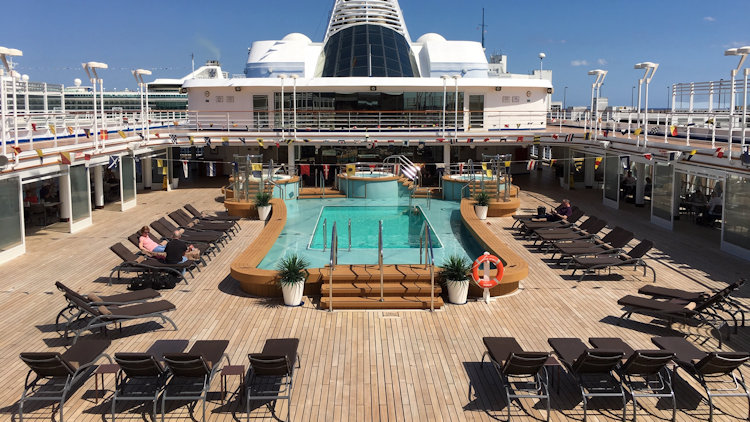 Silver Spirit's pool deck was lengthened by almost 50 feet in 2018
In addition to visiting 9 ports, our cruise also includes two days at sea, on the first and third days, which gives us time to acquaint ourselves with the ship. Silver Spirit was cut in half in 2018 and extended by 49 feet -- the first time such a feat has been performed to a luxury cruise ship. The length went from 642 feet to 691 feet and the passenger capacity from 540 to 642 guests.
During the days at sea there are so many activities from which to choose, we could stay busy all day long. After a relaxing morning including a long walk around the jogging track and time at the pool, we decide to attend a Martini tasting in the early afternoon which turns out to be a lot of fun. We learn all about martinis and cosmopolitans and get to try three – a French Martini, a Mandarin Cosmopolitan, and a White Nile Martini which becomes my favorite after dinner drink, made from Amarula, Cointreau and White Crème de Cacao.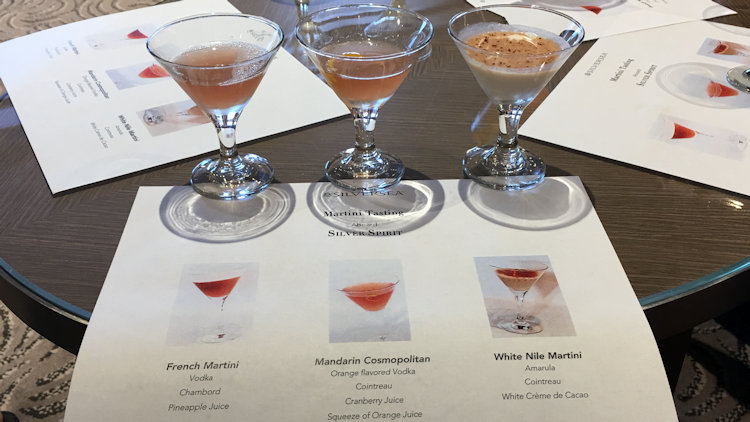 Martini tasting
There are many healthy activities offered such as a Detox Fitness Seminar and a Body Sculpt Boot Camp, but we decide to go all out today and indulge by also attending the cooking demonstration with the Executive Chef and an Italian wine tasting with the Head Sommelier. By the time we finish dinner in Atlantide, one of the ship's eight outstanding restaurants, we are too tired to stay up for the entertainment, so we call it a night.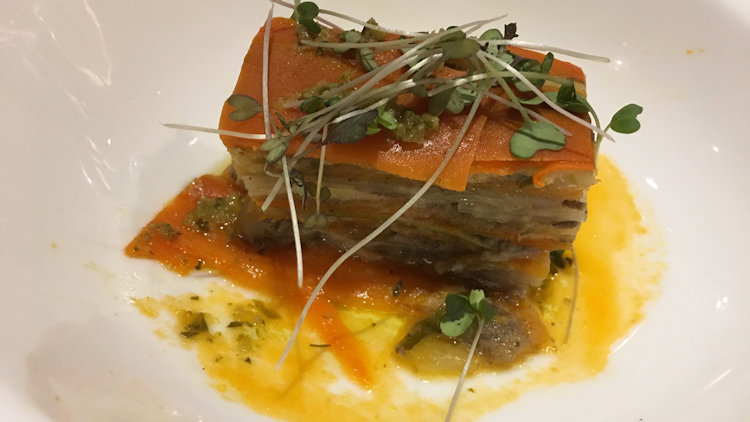 Thousand Layers at Atlantide restaurant
The ship's main focus seems to be on dining and drinking venues with 8 restaurants and 6 bar/lounges – an amazing array considering the small ship size. Of course, the other major focus is on relaxation with the newly enlarged pool deck including 3 hot tubs, jogging track, extensive spa facilities, gym and yoga terrace, and Tor's Observation Library which is a tranquil space all day until pre-dinner drinks and canapés are served in the evening. Our favorite relaxation space became the Arts Café with its tasty treats and wonderful deck at the back of the ship. The ship's small casino feels like your own private VIP room inside a larger casino and the boutique focuses mainly on jewelry and watches with some perfumes, handbags, and fashion.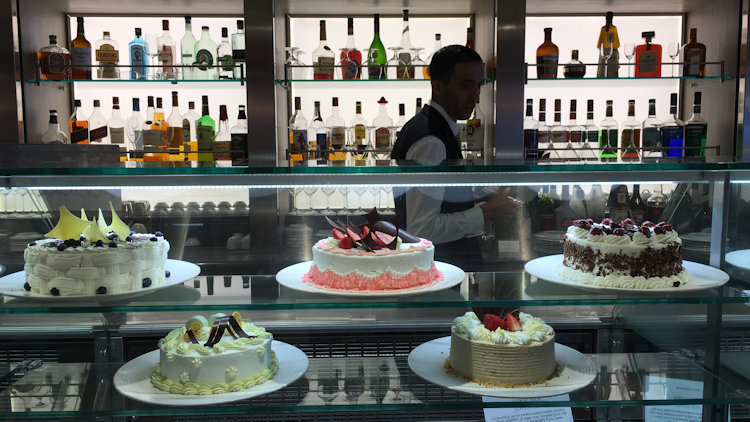 Arts Café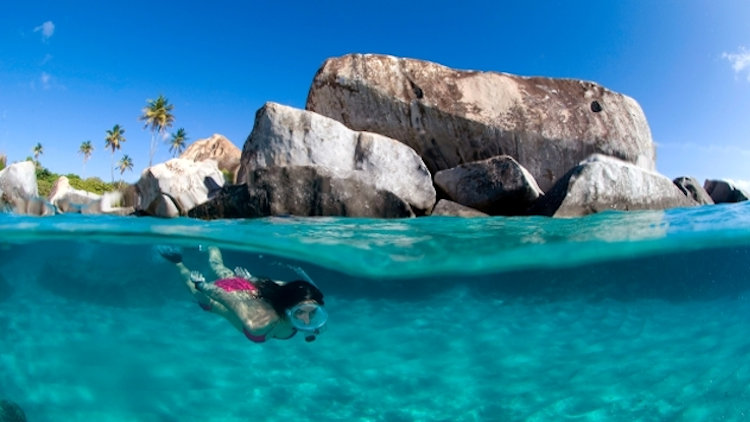 The Baths, Photo credit: BVI Tourism
In the morning, we arrive in Virgin Gorda in the British Virgin Islands, known for the Baths – a scenic labyrinth of granite boulders forming a series of pools, tunnels, and seawater-flooded grottoes. After finding our way through the maze of boulders from Devil's Bay to Spring Bay, we are rewarded with a rum punch from the beach bar with a handsome bartender who looks like Lenny Kravitz.
Tonight we have pre-dinner cocktails and canapés in Tor's Observation Library high on Deck 11 at the front of the ship and then dine in La Terrazza which looks completely different at night with a romantic candlelit atmosphere, than it does during the day as our favorite lunch spot. We also stay up late enough to enjoy a 1960s-themed cabaret show at 10:00pm in the ship's theatre – the Venetian Lounge. Afterward, we head to the disco in the Panorama Lounge where a DJ plays music until the last guests wish to leave (even if it's 4:30-5am in the morning).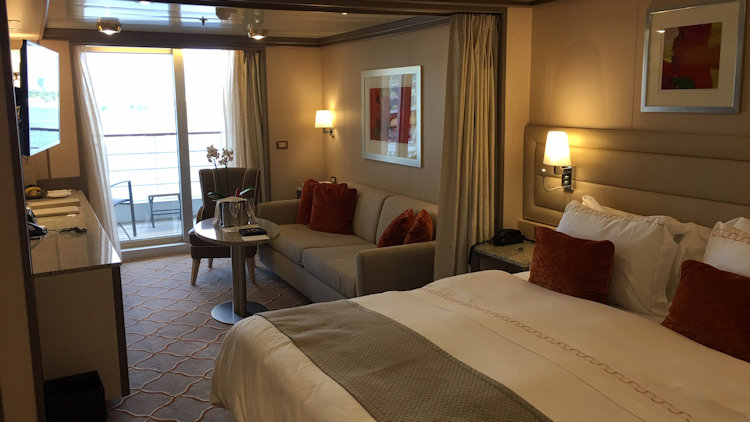 Our Suite #903
Our spacious suite is definitely five star and includes a luxurious bathroom with deep soaking tub and separate walk-in shower with rainshower and Bulgari amenities, a walk-in closet, a luxurious queen bed with pillow menu offering 9 types of pillows to choose from including a body pillow, and a living area with queen sofa bed, large TV, vanity, and sliding doors onto the balcony. Thoughtful details include Champagne and chocolates, a stocked fridge with our preferred beverages, a fruit bowl refreshed daily, and fresh orchids.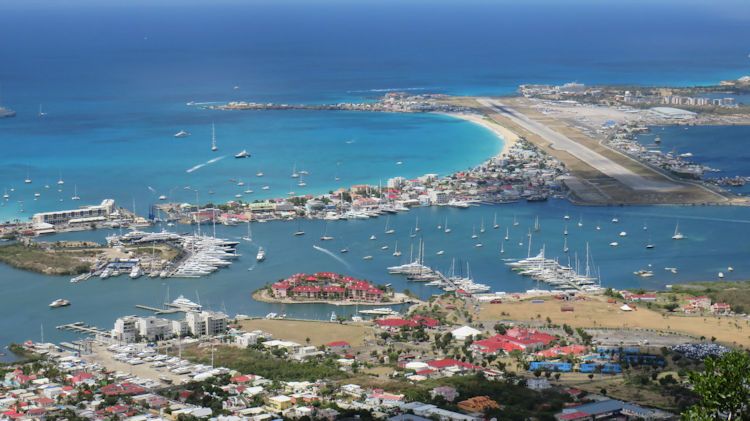 View of St. Maarten's yacht marina and airport from the top of Soualiga Sky Explorer
The next day finds us in St. Maarten – a superyacht mecca because it is surrounded by exclusive islands such as Anguilla and St. Bart's. I love yacht spotting, so we take the new Soualiga Sky Explorer chairlift up 1,120 feet on the island's Sentry Hill with 360 degree views all around. It's a slow half hour ride up but the views are worth the wait and I hit the jackpot by seeing one of the most spectacular yachts in the world -- the 468-foot sailing superyacht simply named "A" built for a Russian oligarch. We can also see St. Maarten's unique airport where jets come in for landings extremely low over Maho Beach at the end of the runway. Tonight's dinner is at Indochine, the ship's Asian-inspired restaurant where the food and wines are excellent. We are welcomed with a Singapore sling cocktail and an Asian amuse-bouche to start. Our exotic meal includes the best hot and sour soup I've ever tasted and Aloo Gobi with garlic rice, as well as caramelized bananas for dessert.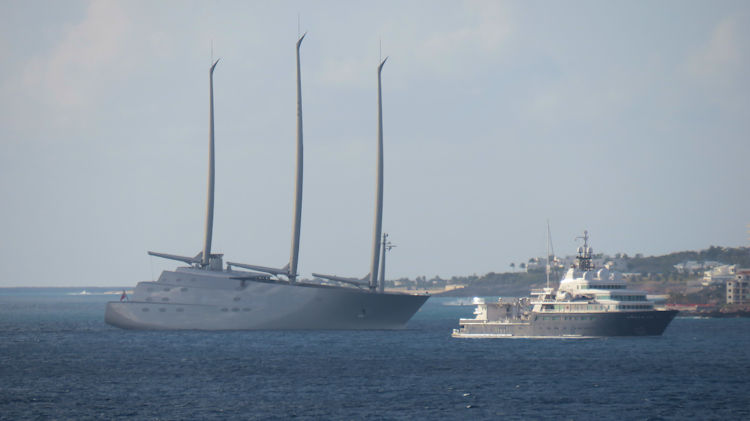 Superyacht "A" in St. Maarten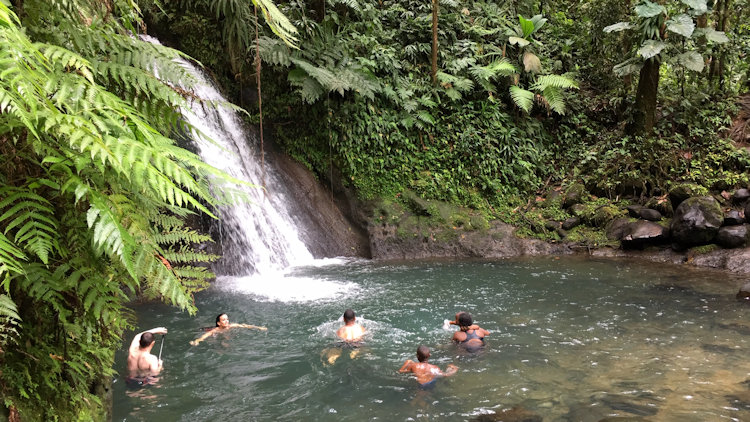 Guadeloupe waterfall
Day Six we arrive in Guadeloupe which unfortunately is the single low point of our voyage. We chose the shore excursion to the Cousteau Preserve and our expectations were high, but it turned out to be very disappointing with nothing interesting to see except a pretty waterfall by the side of the road on the ride back. On the ship we run into new friends who went to the Botanical Garden and their photos are spectacular, so that would have been the right choice to make here.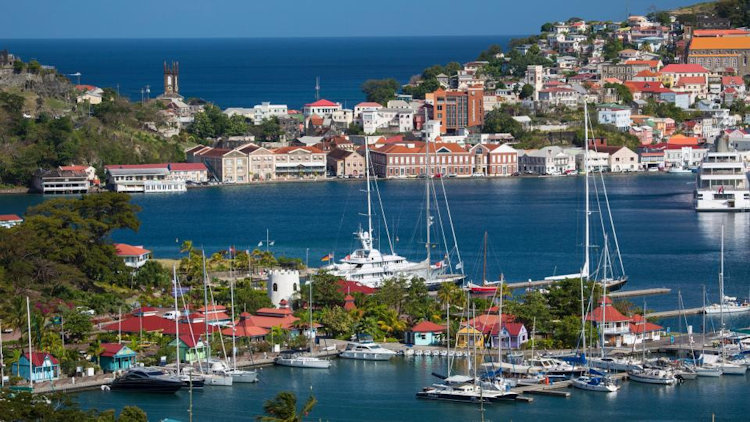 Port Louis Marina, St. George's, Grenada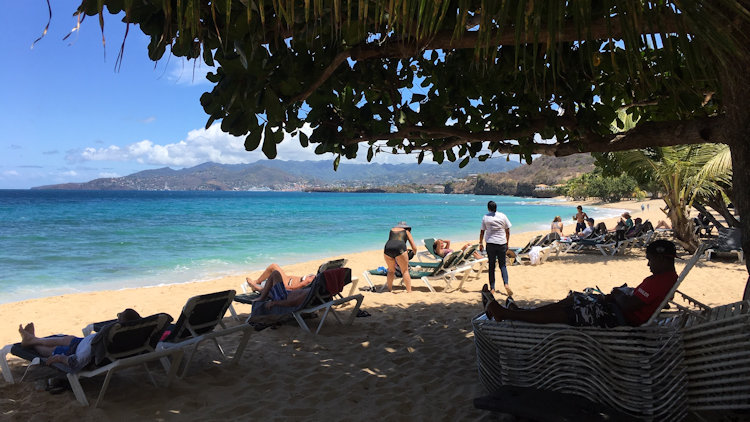 Magazine Beach, Grenada
Luckily the following day turns out to be the highlight of our voyage. We arrive in St. George's, Grenada – the most beautiful Caribbean port! Lush, green hills and mountains are dotted with colorful architecture. We tour historic Fort Frederick which is a dominating feature above St. George's and afterward we spend the afternoon on a gorgeous tropical beach with a restaurant and bar. The island dubbed "The Spice Isle" because of its nutmeg, cinnamon, cloves, and cocoa production is so picturesque and completely unspoiled by tourism – it is a true "secret gem." In the evening, the ship celebrates the destination with a "Death by Chocolate" party on the pool deck and entertainment by local Grenadian steel band, the Angel Harps Steel Orchestra.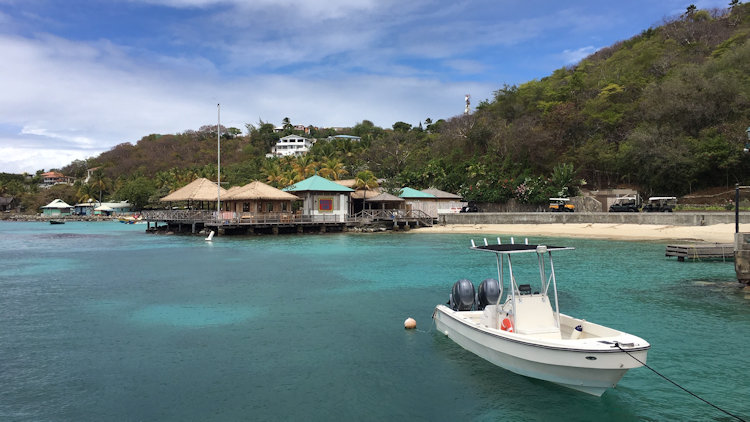 View of Basil's Bar from the water
The next morning we have an early arrival in another very picturesque and unspoiled spot -- Port Elizabeth, Bequia (pronounced beck-way), part of St. Vincent and the Grenadines. Unfortunately we didn't get to explore Bequia because a tour to exclusive Mustique Island is offered including the famous Basil's Bar which has been on our bucket list, so we do that instead.
Mustique is a tiny, private island known as a destination for rock stars, royals and other jet setters. Mick Jagger has a villa there called 'Stargroves' and Princess Margaret has a gorgeous hilltop villa named 'Les Jolies Eaux' – both are available to rent by the week. Basil's Bar's had its 50th anniversary in 2018 and Will and Kate attended the celebration. It was pretty cool sitting at Basil's talking with new friends we made on the ship who have actually met the Queen and know members of the Royal family! Tonight we have a casual dinner at the Grill outside on the pool deck with its sizzling stones for cooking right at your table.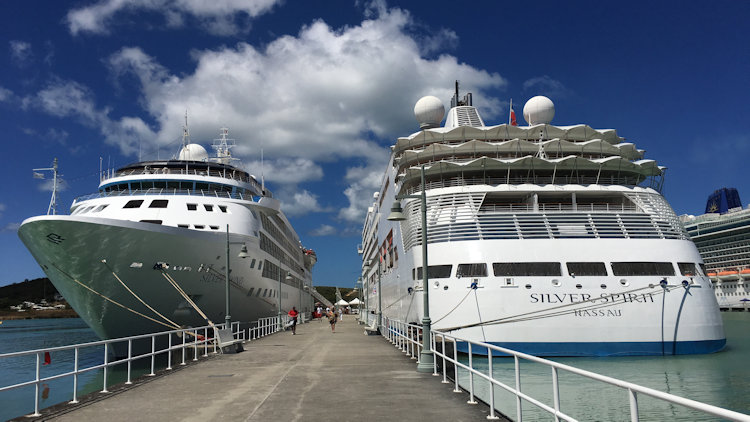 Silversea ships in Antigua
On our next stop in Antigua, we get a special treat, docking alongside Silver Spirit's much smaller "little sister" ship Silver Wind. At 511 feet and 294 passenger capacity, she is less than half the size of Silver Spirit with a 642-passenger capacity.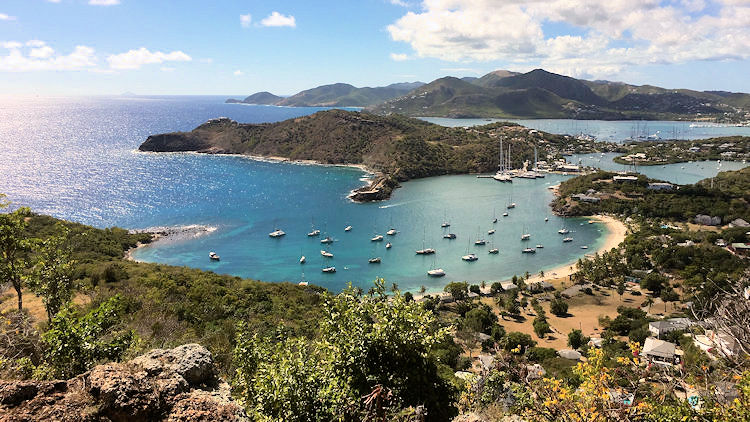 Antigua view
Antigua is a beautiful island known for having 365 beaches -- one for each day of the year. At 108 square miles, it is too large to discover in a day, so the best thing to do is spend the day at an exclusive beach retreat that the ship's Shore Concierge can arrange at Curtain Bluff Resort or Blue Waters Resort. In the evening back on the ship we treat ourselves to Champagne and canapés in the Arts Café and watch the sun set.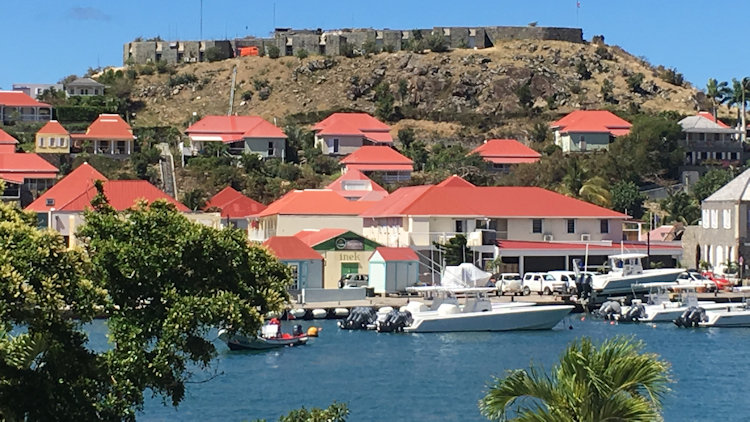 Gustavia fort
Our final day is in exclusive St Bart's – a fitting finale to a luxurious Caribbean cruise. We arrive to see the beautiful sunrise and I spot many superyachts including the stunning 360-foot "Anna" – another yacht owned by a Russian billionaire. We have been to St. Bart's before but only saw Gustavia, so we took the one-hour taxi tour around the island's steep, narrow, winding roads to discover what the rest of this small, 8-square-mile island looks like. The highlights were seeing the famous Eden Rock resort with its spectacular location in St Jean Bay, as well as St. Bart's crazy airport with a very short runway that ends at a hillside. Just over the hill we are back in Gustavia with plenty of time to spend wandering the designer boutiques and enjoying a cocktail overlooking the yacht marina before setting sail for San Juan.
In the early evening there is the captain's farewell speech and crew parade on stage in the theatre and we feel a sense of sadness that this fabulous vacation is ending. The all-inclusive value of Silversea, together with the refined, five star personal service make the entire experience completely seemless and carefree, even magical. Hopefully it won't be long until we are sailing on another Silversea cruise!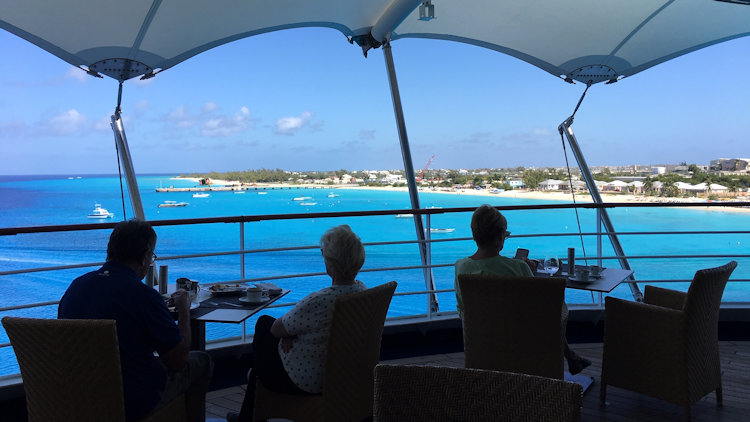 La Terrazza terrace overlooking Grand Turk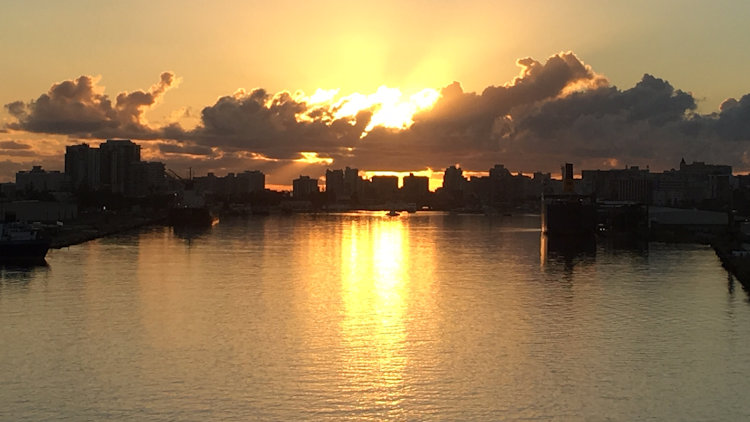 Sunrise in San Juan, Puerto Rico

All photos © Christine Gray/Luxury Travel Magazine except where specified