This depends, of course, on what you're looking for. Great theater, head to London. Fabulous designer fashions, hop over to Milan or Paris. However, if you want to visit a city that is pure magic, then get yourself over to Prague. One of the most beautiful cities in Europe, thanks to its location and to more than a thousand years of glorious architectural tradition; it has a rich artistic, musical and literary history. The citizens of Prague are rightly proud of their city, awarded the title World Heritage Site. But Prague, by no means, lives on its illustrious past alone. It's a modern metropolis where past and present merge in a unique and very special symbiosis.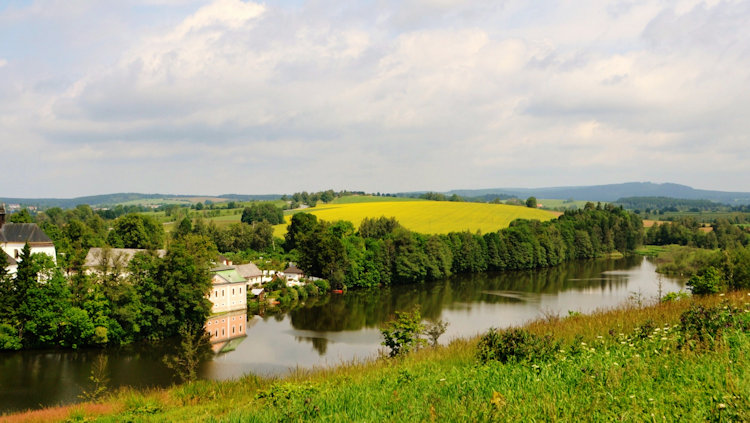 The Five Towns
Prague is a virtual jewel, barely damaged by World War II. Settled by the Celts in 500 BC, it's made up of five towns. The Old Town, the Jewish Quarter, the Little Quarter, the New Town and Hradcany, the village around Prague Castle on the hill above. When one sees photos of the city, invariably in the background there's Prague Castle, seeming to dominate every image. Numero Uno on my list of things to do is a long trek up the hill to this site, originally the seat of Czech nobility and royalty. This monumental complex consists of a palace, church, monastery and garden; also several small sidewalk cafes and some fine restaurants. On the day I visited, the Crown Plaza, was hosting the Czech soccer team. In addition to experiencing a quick tour of this lovely property, the buff, cute team members hanging out in the lobby was an amiable distraction.
A Neighborhood Inspired by Wine
Vinohrady, which means vineyard, is a quiet, residential section of Prague, a mere 15 minute walk from Wenceslas Square. Here I discovered a true Prague neighborhood – moms pushing strollers, lovers walking hand-in-hand down tree-shaded lanes, and everyone (it seemed) walking a dog. Luckily I also discovered a distinctive Belle Epoque Hotel, Le Palais. After having a brief site inspection of the property, I decided that this is where I wanted to make my home for the next few days.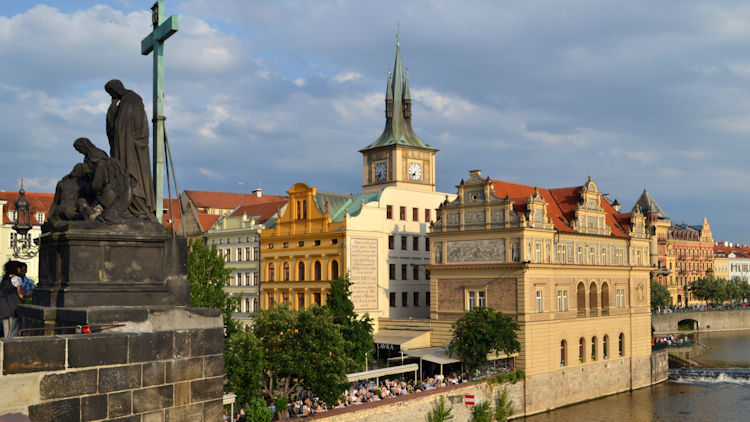 A Most Excellent View
I had a brilliant dining experience, a regal repast at Allegro in the splendid Four Seasons Hotel. I was given the choice of dining inside or on the terrace overlooking the Charles Bridge and the Vltava River. Not a difficult choice as it was a balmy evening with the setting sun casting a golden glow over the city. I could barely tear myself away from this breathtaking scene to return to my table and peruse the menu.
From time to time while dining, I left the table to stand at the terrace's rail and gaze down at that iconic bridge named Charles. It spans the river and joins Prague's Old town (Stare Mesto) with the Little or Lesser Quarter (Mala Strana). This, the oldest of Prague's bridges, was built in 1357 by Charles IV and its sandstone sculptures that adorn either side are black with age. It was from this very bridge that St. John Nepomuk was thrown to this watery end in the 14th Century by order of King Wenceslas IV (good king?) for refusing to divulge what the queen had told him in confession. The legend claims that as John drowned, five stars appeared on the water and these five stars have become the symbol of the town's patron saint.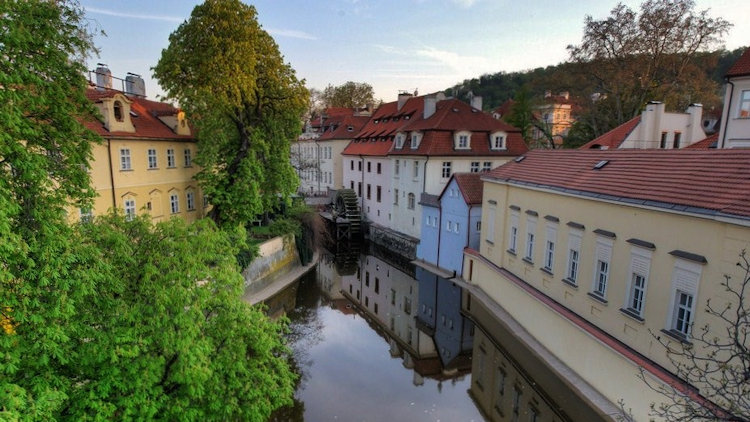 Everything Old is New Again
The roots of the Jewish Town reach back to the Middle Ages; happily, the original network of streets is preserved. In addition to the Old-New Synagogue (from the 13th Century), the Jewish Town Hall and most of the legendary Jewish Cemetery have been preserved. The cemetery was founded in 1478 in a smallish space. Thus the graves had to be made in several layers – there are areas with up to twelve layers and more than 100,000 souls are buried here. The Old-New Synagogue is the oldest in Europe and still in use despite having endured much from 1270, including fires to pogroms.
The Old Town Square (Staromestske Namesti) is the central meeting point for the droves of Prague's tourists. Young, old, and everything in between, you'll see it all here. I stood in the center of the square and slowly turned around, admiring all the historic buildings that encircle it. St. Nicholas Church dominates the square, a great example of both Gothic and Rococo styles. The buildings' facades are ice cream-colored and sidewalk cafes abound.
If you see a maze of people standing together in the square, staring up at a tower, you'll know you've found the medieval Astronomical Clock that dates from 1410. In the 17th Century, moving statues were added as well as figures of the Apostles and they are set in motion on the hour. Actually, as I preferred people-watching I found a ring-side seat at a pretty café and sampled their gelato in a myriad of flavors – a delicious end for this weary but sated tourist.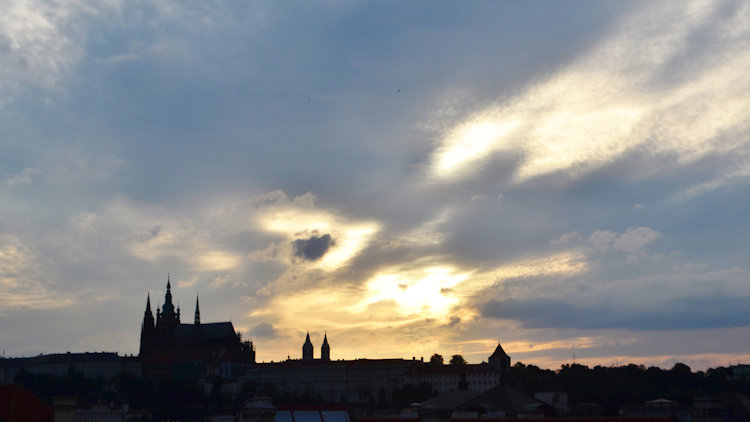 Do You Believe in Magic?
Before returning to my hotel, I took a walk through some winding ancient lanes. It was crepuscule, that bewitching hour when, if one is ever to believe in magic, it is then. Looking off in the distance, sitting on an ornate bench under an umbrella of chestnut trees, I thought – can it be? Yes! Franz Kafka, shooting the breeze with a few companions? Turning right at the next lane, I found if I squinted just hard enough, I could make out the slender figure of Aphonse Mucha, easel set up under dim lamplight, sketching something wondrous and art nouveau. Here In Prague, past and present merge effortlessly. I allowed myself to slip softly back to reality, and know what? Reality in this sweet, spiritual city, is satisfying indeed.
If You Go:
Czech Tourism www.czechtourism.com