At that moment, the troop of dancers were frozen in a dance pose. The taiko drummer had his sticks in the air. The other musicians held their instruments at the ready.
All he needed was volunteers from the audience to come-on-down!
Having just flown from Los Angeles to Tokushima on Shikoku Island, I was jet lagged. In my addled state, I almost accepted. But my natural shyness kept me in my seat. With a polite shake of my head, the master-of-ceremonies looked elsewhere.
In the audience, men, women and children giggled as they allowed themselves to be coaxed onto the stage to join the line of dancers. And, with the thump of the taiko drum, the performance was on. The dancers had the audience clapping and singing. The musicians kept the dancers moving. Everyone was having fun on stage and in the audience.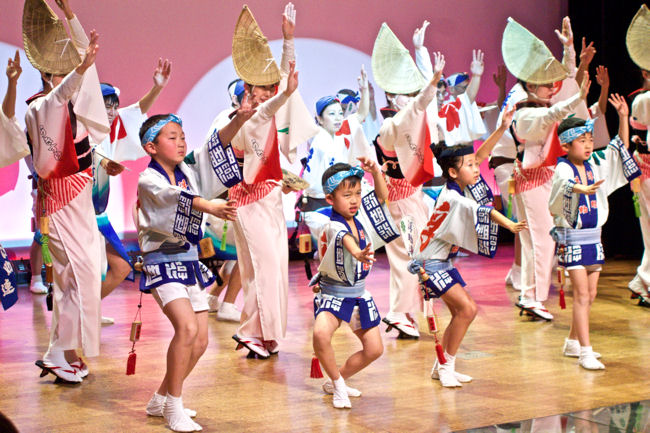 The exchange rate favors the dollar
With a strong dollar, now is the time to experience Japan. To prepare for the 2020 Olympics, Japan has put out the welcome mat, encouraging international visitors with English language signs and uniformed guides in major railway stations to help travelers find the way to their destinations.
Recently I tested that friendly approach and traveled outside of the major cities. I had adventures that took me into the mountains to visit forested Buddhist shrines and down to the shore to walk on rugged cliffs with views of the Pacific.
On my last visit, I explored Shikoku Island, a diverse and beautiful island located near the southern tip of Japan.
My first stop was Tokushima on the northeastern coast to visit Awa Odori Hall where we watched the thoroughly engaging performance by the Awa No Kaze troop. When the dance ended, we were invited to another performance, one as full of art as any on the dance floor.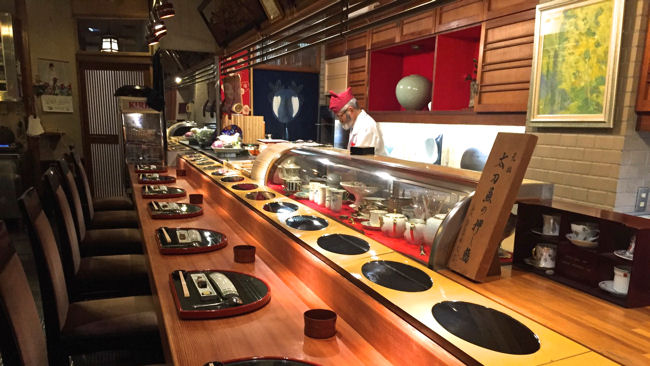 Sushi Tarafuku
Surrounded by the Pacific Ocean on one side, the Inland Sea on the other and crisscrossed with fresh water rivers, Shikoku Island has access to high quality seafood and aquaculture products like seaweed and sea vegetables.
To begin a culinary tour of the island, we attended a special meal at Sushi Tarafuku to experience the art of chef Isao Hiraoka.
The narrow sushi bar seats less than a dozen in a cozy setting. A sushi chef for sixty years, Hiraoka is a master of technique and a font of knowledge about the bounty of Tokushima Prefecture. Hiraoka doesn't speak English but if you come with a translator, he will tell you about the fish he is serving today, the special sauces he has made for each and the source of the vegetables he buys from local farmers.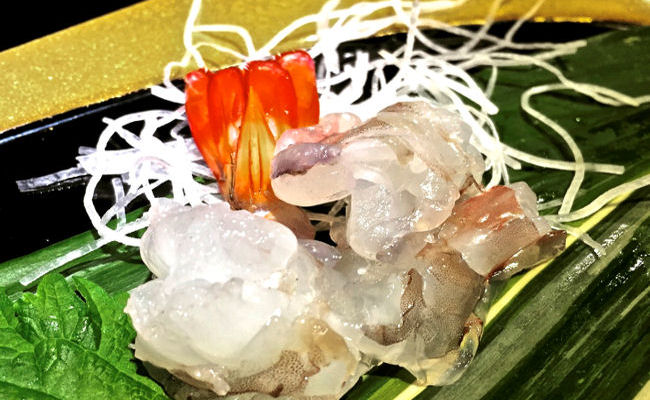 Sweet shrimp sashimi at Sushi Tarafuku
But even without a translator, to enjoy his culinary achievement, the only Japanese you really need is "Omakase." With that simple word, you have asked for the chef's choice. Hiraoka will happily comply and make you taste treats from the daily catch. If you want to know the names of the fish he is serving, Hiraoka makes good use of his iPad to show a photograph of each fish with its English language name.
In pursuit of quality ingredients, Hiraoka drives around the Tokushima area visiting his favorite fishermen to find what he wants to serve for dinner. Once he has the day's catch in hand, he searches for the vegetables, herbs and fruits that he will serve with the fish he deems the-best-of-the-freshest.
Eating at Sushi Tarafuku you will taste what is in season in Tokushima Prefecture.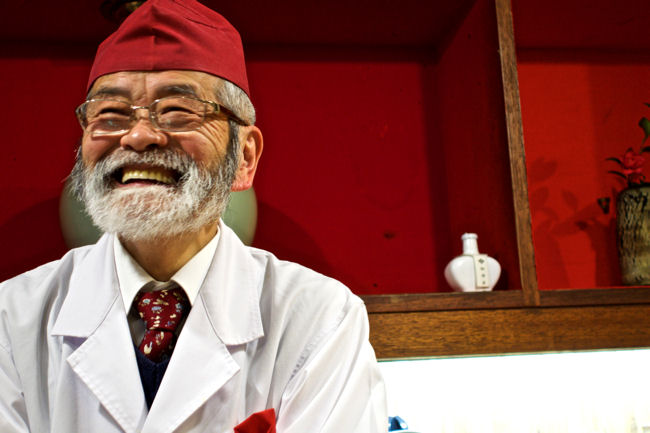 Sushi chef Isao Hiraoka at Sushi Tarafuku
The night I visited, he smiled broadly when he told our group that today he had driven over a hundred miles to find what he wanted. That included the three fat daikon (white, black and purple) prominently displayed on the sushi counter as well as the thick fish filets on ice in front of his cutting board.
Before there would be sushi and sashimi, there was an amuse bouche. Hidden underneath a narrow oblong porcelain container in front of each of us, there were five bite sized delicacies to be eaten with sake. After we picked our sake cup from a basket, sake was poured and the feast began.
A palate cleansing white leek soup made with dashi, soybeans and leeks followed the amuse bouche. Then we watched Hiraoka work with the energy of a twenty-year old to present us with a selection of fish from local waters. Dense-fleshed fish was contrasted with pliant and mild fish. We consumed with delight substantial slices of parrot fish, cutlass fish, dorade, yellow tail, mackerel and sweet prawns.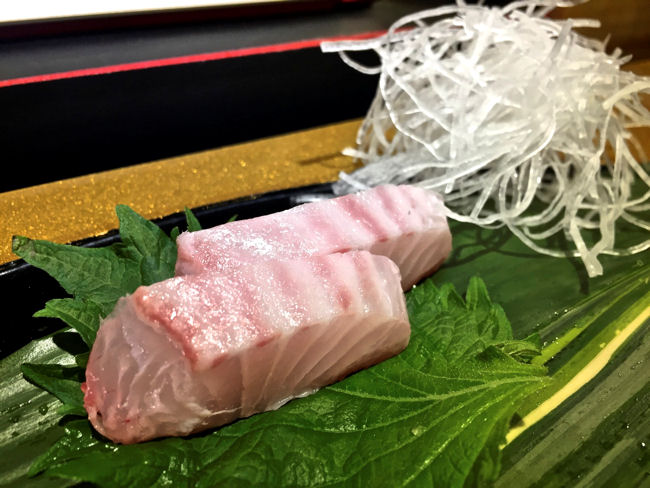 Parrot fish sashimi
Not all the fish was served raw. Thin slices of lotus root and wakame seaweed shared the plate with pickled chad and daubs of strawberry sauce. Fat pieces of red snapper were baked and served with yuzu miso. Seabass was served two ways–grilled on a hot charcoal brazier and smoked. He served one slice of fried mackerel in a delicate breading.
To signal the meal's next phase, Hiraoka brought out a hangiri, the large wooden bowl used to make sushi rice. He sprinkled a mixture of rice wine vinegar and water seasoned with kombu seaweed over the hot rice. Then he tossed and worked the rice.
Hiraoka adheres to the Tokyo style of sushi, with a small piece of molded rice underneath the raw fish. One after the other, the sushi tumbled from his quick fingers. We ate bright orange maguro (tuna), large slabs of shad and half a dozen other fish. My note taking fell off after too many courses and too much sake.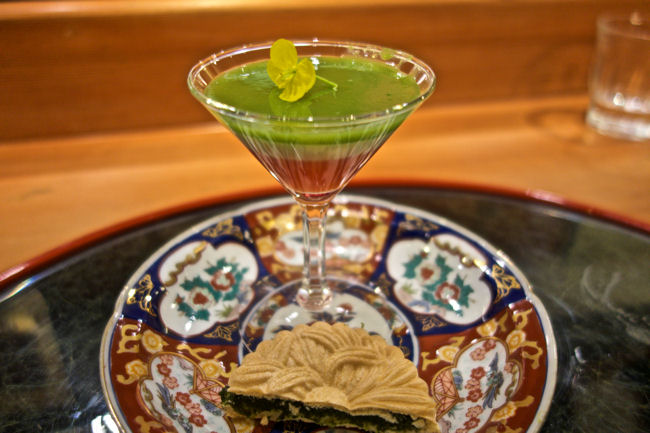 Fruit jellies and red bean dessert
Before we could say our good-byes, smiling and gesturing, Hiraoka presented us with a beautiful parfait glass layered with jellied fruit and red bean paste. That sweet treat was the perfect way to conclude an epic meal that introduced us to the bounty of Shikoku Island.
The only other Japanese we needed to know that night was "dōmo arigatō gozaimashita," thank you very much.
When you go:
Sushi Tarafuku (2-7-3 Ryogokuhoncho,Tokushima City,Tokushima Prefecture, 770-0843)
Awa Odori Hall (2-20 Shinmachibashi, Tokushima City, Tokushima Prefecture, 770-0904; 088-611-1611;
www.awaodori-kaikan.jp)