The skies are void of planes which is encouraging travelers to explore what's on their doorstep. Travelers love the thrill of new adventures and foreign lands, which means that they have intentionally and insolently ignored their local hotspots, but time has changed the vacation landscape, and there is no sign of long haul travel opening up soon. So consider staying local and consider staying Dauntless.
Sail Dauntless
Aptly named Dauntless, a beautifully appointed and privately owned 55 foot Jeanneau sailing yacht silently navigates the waters around Newport and The Hamptons. A yachting holiday is an experience that you will never forget. Every little detail is considered by your husband and wife host team, Captain Jim and chef and First Mate Judy Brown. For the last five years, they have explored the history-filled waters of the east coast of America and 13 Caribbean countries. They can recommend seemingly endless tailored itineraries to explore these iconic holiday destinations.
The Hamptons
The Hamptons is world-known for its extravagant lifestyle, celebrity population, extraordinary beaches, vineyards, eccentric mansions, enthusiastic parties and divine eateries. Various events occur throughout the heady summer months, most of which center around food and crisp cold wine or the iconic Hamptons Classic horse show at the end of August. Holidaying on a private yacht allows you to pick and choose which event you'd like to attend.
The Hamptons, the 118-mile-long south fork of Long Island, is home to some of the most sought after beaches and addresses in the US. Aboard one such address, Dauntless, you'll find four staterooms with queen beds and one cabin with twin beds that are perfect for single travelers or children. There are also two large heads (bathrooms) with separate showers and two bathrooms. Your private charter is planned meticulously to ensure that you enjoy the serenity of the yacht or the boisterous party scene. Of course, there is no better way to spend sunset than sipping artisanal cocktails as the sun dips over the bays of Long Island Sound.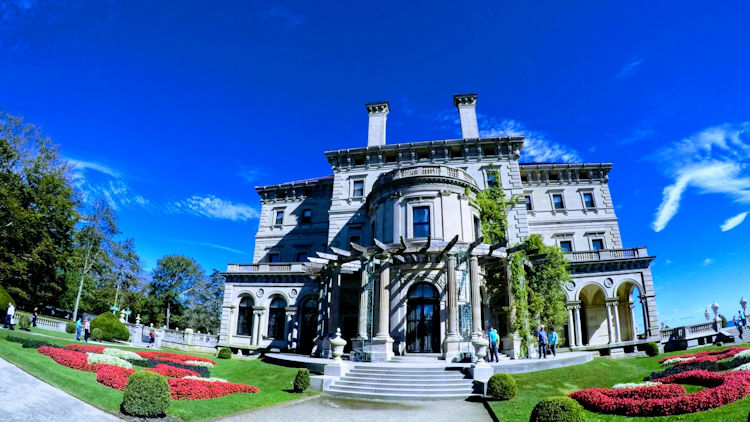 Newport
Newport is an eclectic fusion of architecture and boasts opulent summer residences along clifftop Belleview Avenue. Elizabethan manor houses, French châteaux and Italian palazzi are all gloriously restored and filled with historical and priceless antiques. Newport is known for its yachting scene and vacationing aboard will put you in the midst of the action. There are many marina-fronted restaurants and bars to choose from for evening entertainment if you are not at sea. The town is also home to the Newport Folk Festival. This fun event has been running since 1959 and was conceptualized to celebrate the modern folk movement. The folk festival was added as an extension to the jazz festival that was formed in 1954 and has seen revered household names such as Bob Dylan, The Pixies and Johnny Cash.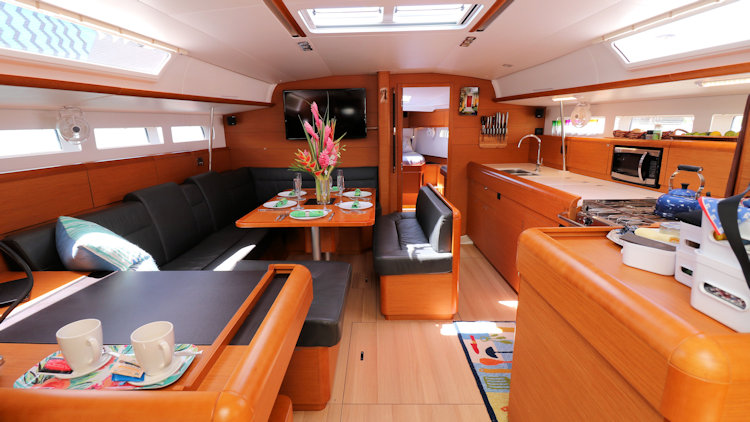 Dauntless by design
Your first mate and captain will guide you every step of the way to ensure that they provide the very best experience. Judy will ask you to complete a comprehensive preference form that allows you to express your desired itinerary and the activities you'd like to pursue. Most importantly, you'll be asked to highlight your food and beverage options. Everything is personally customized. Whether it's over easy eggs for breakfast with smoked salmon and fresh herbs or chia seed yogurt parfait with fresh fruit and chocolate granola with a mimosa to top it off, no detail is left unattended to. The ship's bar is extensive and carries premium brands and if you have any preferences you simply have to include it in the preference form and the crew will do their utmost to accommodate you.
Being aboard Dauntless means that you are free from restrictions, and the ocean is your unlimited playground. The crew are used to making themselves scarce at all the right times, yet they are somehow aware of your every need. They can provide you with endless romantic options either on land or on the boat or if partying if more you style, they will make sure your time aboard is one to remember for all the right reasons. You can learn the basics of sailing with your captain or let him do all of the hard work; you can moor offshore and take the tender ashore to explore local eateries or allow Judy to cook you a gourmet feast onboard. Each day, you'll map your journey together, depending on the weather, sea conditions and tides.
As you sail along the coastline and lazily meander between coves, you can choose where you moor or drop the anchor; you might want to choose an empty beach and bathe in the sun's rays while reading a book, stop off at a bustling fishing village and gather the freshest ingredients for supper, wander idly through coastal towns admiring art galleries and craft shops or even visit a historical monument or stately home. The stretch of coast between the Hamptons and Newport is home to a plethora of fabulous windswept offerings and Dauntless will be your window to them all.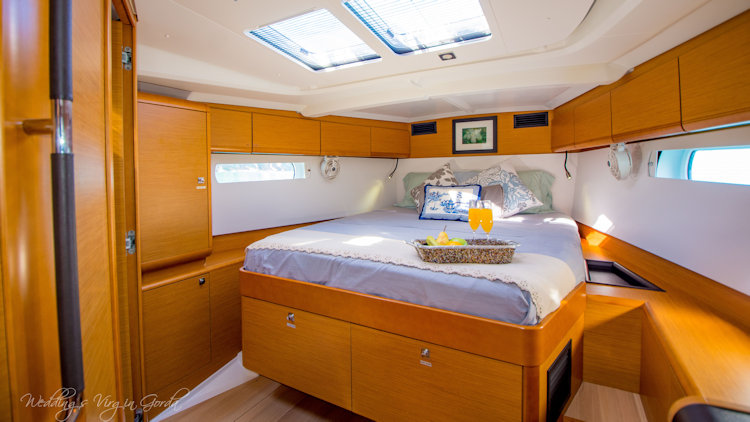 Dauntless etiquette
Jim and Judy make a great team, and they will do everything in their power to make sure that you create the most unforgettable memories. They are discreet and enjoy making magical moments happen. They've provided celebratory cakes for milestone birthdays, booked a guitarist for a surprise engagement, provided guests with percussion instruments for festive celebrations and ferried party revelers back to the boat in the small hours of the morning. Their attentive service and attention to detail is what truly sets them apart. Quite simply, nothing is too much trouble for Dauntless.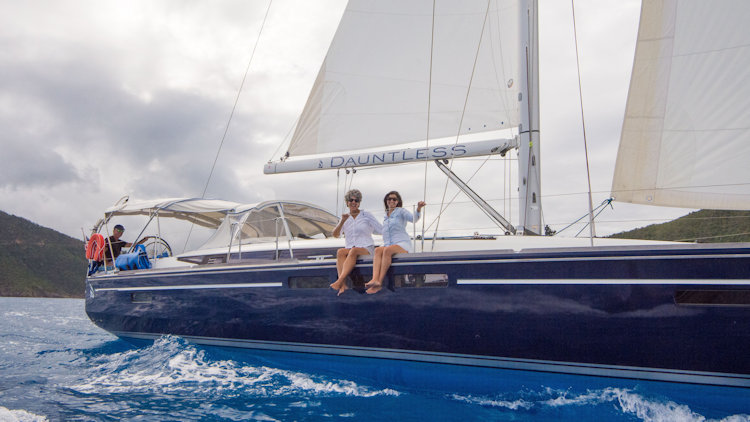 Does Dauntless float your boat?
Choosing the right boat is a big decision. The right crew should be at the heart of making the right choice. Make sure they can cater for your every need and whim and that they have a blemish-free safety record and put your well-being at the forefront of importance. The crew should maintain exceptional safety standards, cleanliness and essential equipment at all times. Delve deep into their history, ask lots of questions and read their reviews. Take the time to find out about your hosts; they should be the perfect balance of sensibility, fun and adventure.
They should genuinely care about making your holiday a once in a lifetime experience. A Dauntless charter usually runs for seven days, but Jim and Judy are flexible and can explore options ranging from sunset cruises to customized weekends and celebratory events. The boat is stocked with fine foods, such as lobster and caviar, and an abundance of sparkling wines. You can practice yoga at sunrise to welcome a new day and sip cocktails in the evening as the sun sets over the horizon and the yacht sways in the gentle breeze.
Do it the Dauntless way
Jim and Judy have carefully curated holiday bundles that feature some of their guests favorite elements of their yachting experiences suitable. The bundles are suitable for those who want to relax or have an adrenaline-filled and daring adventure.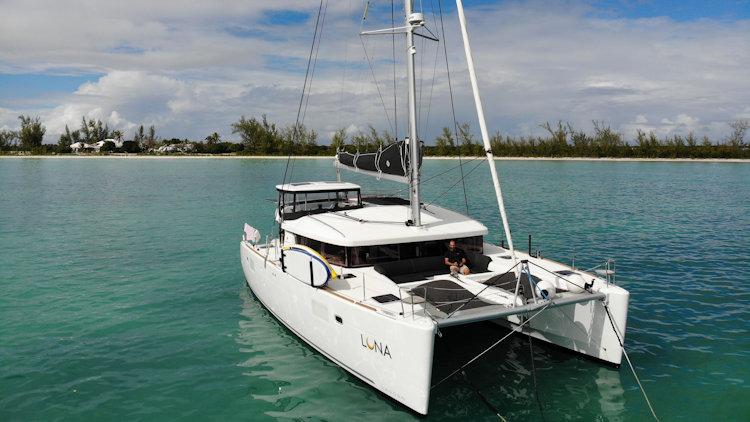 Virgin Island alternative
If you want to travel a little further afield, experience the spectacular turquoise hues of the US Virgin Islands, with Captain Nim and Chef Fabiola, board their sailing catamaran LUNA, a 2019 Lagoon 450S customized for hosting up to six guests in comfort and luxury. Their offerings are equally as decadent and their focus on fine hospitality, food and award winning cocktails allows you to make memories that will truly last a lifetime.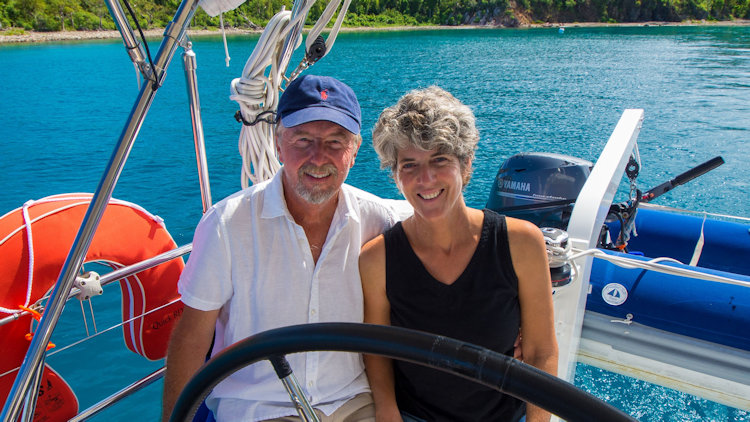 Team Dauntless
A crewed charter vacation is the perfect option for a socially distanced vacation this summer, and with rentals filling fast, what better way to explore the Hamptons than on a luxurious floating waterfront property, without the enormous pricetag! Jim and Judy can't wait to curate the perfect sailing adventure for you, and they are both vaccinated, so there's one less thing to worry about. No day will ever be the same. So have an informal chat with them and discuss your dream holiday. They are fun. They are professional. They are dauntless.
More information: www.saildauntless.com and www.sailluna.com