Discerning skiers want more than a downhill ride. They desire a plethora of apres ski activities, first class accommodations and gourmet dining on or near the mountain.
Although we have skied the world's most renowned resorts, Deer Valley Resort, located in the historic mining town of Park City, Utah, exceeded our lofty expectations by leaps and bounds. For starters, Deer Valley is a "ski only" resort. Despite the tremendous popularity of snow boarding, Deer Valley has stayed true to its roots and remains one of only a handful of ski areas that is designed entirely for the ski purist. This may upset the boarders in your group, but the policy results in a snow utopia for those who still like to strap on a pair of freshly waxed twin tips. Truth be told, skiers often get annoyed by boarders who plump themselves down in the middle of a trail or who whiz by you while performing their "airdogs" and "tail slides."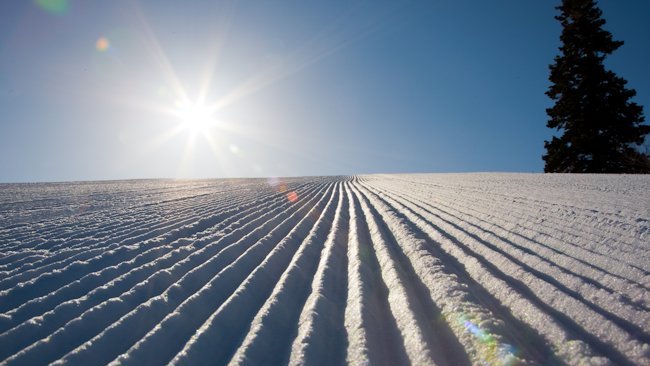 Your name doesn't have to be Bode Miller or Lindsey Vonn in order to enjoy Deer Valley's vast terrain of 2,026 acres as the resort offers something for everyone. With a vertical drop of 3,000 feet, 100 trails and several powder bowls, skiers will find just about any type of challenge they desire. Known for its meticulously groomed terrain, Deer Valley is a cruiser's paradise, and each morning skiers arrive at the mountain to find a smooth, corduroy surface awaiting them on the majority of trails. Carving first tracks on one of the resort's wide slopes as the sun has barely risen over the horizon is one of the great pleasures of the sport and leaves you invigorated for the rest of the day. Of course, expert skiers can test their mettle on any one of the resort's infamous black diamonds, including some precipitous bumps the size of small Volkswagens, while young ones and beginning adults can hone their skills on acres of very friendly terrain.
During our week-long stay we tried to sample a bit of everything, but mainly enjoyed the panoramic vistas from the intermediate terrain, stopping at the side of trails every now and then to marvel at the topography of the mountain itself. Although it is very difficult to take a day off from skiing such a magnificent mountain, we spent a day exploring 7,000 acres of alpine foothills of the Wasatch Mountains with a guided snowmobile adventure from
Summit Meadows Adventures
, located a short five-mile drive from Park City's Historic Main Street off Highway 248. Nature's sheer scenic beauty captured along the way was an eye-opening experience that cannot be duplicated in too many venues. After the tour ended, we all agreed that it was one of the best decisions our little ski group ever made.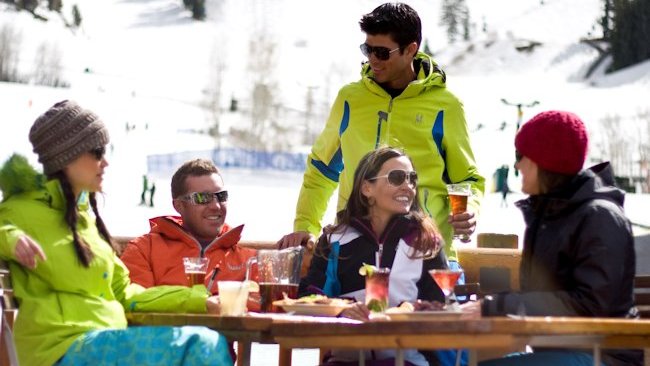 Apres ski activities constitute a sizable portion of a ski vacation for many people, and Deer Valley doesn't disappoint. Delectable cuisine with sit-down service can be experienced in a contemporary lodge setting, located mid-mountain at the Royal Street Café in the Silver Lake Lodge. With stunning views at 8,100 feet, the cafe serves gourmet comfort food like the Maple Bacon Barbeque Bison Burger or Dungeness Crab Tower – and plenty of choices in between. Crawfish bisque is a palette treat while the Garlic Herb Parmesan Shoestring Fries with homemade ketchup are a sinful delight. The ketchup itself would make cardboard taste good. Just for good measure, we frequented the cafe daily.
As one would expect from such an upscale ski resort, Deer Valley serves up the perfect dinner menu with an assortment of fine dining options. The Mariposa, located in Silver Lake Lodge, is rated the top restaurant in Utah by the Zagat Restaurant Guide for its masterful blend of classic and contemporary cuisine. Each menu item is a tasting size portion, allowing you to enjoy multiple selections. Four courses are suggested plus a dessert, but the choice is yours. Should you desire a more traditional à la carte dinner of heartier portions and fewer courses, every item may be scaled up, doubled or tripled in size. Skiers can be a hungry crowd and often prefer the supersized version of each course after a day of burning calories on the slopes. Vegetarian specialties and gluten-free options are available. Fireside Dining at Empire Canyon Lodge features four courses served from stone fireplaces. Sample warm Swiss raclette cheese, cured meats, salads, delectable stews, potato rosti, risotto or polenta, fire-roasted leg of lamb, fresh baked breads and dessert fondues. A full bar is available as well as specially selected wines and imported beer to complement each course. Horse-drawn sleigh rides are available for hire or consider an adventurous trek before dinner on snowshoes.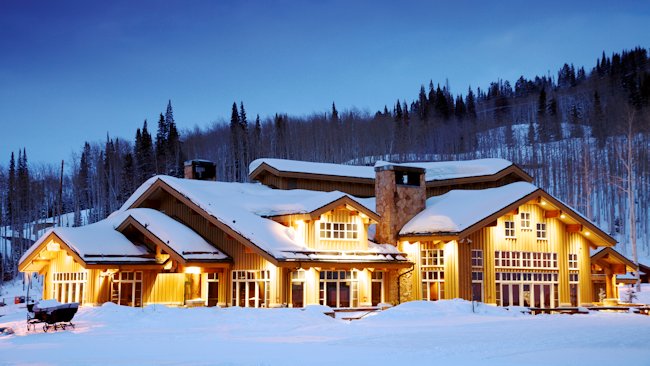 Whenever feasible, it's always desirable to stay slopeside or at the base of the mountain on any ski vacation in order to appreciate the convenience factor. Deer Valley offers no less than 16 lodging properties that afford skiers easy access to the slopes. Just steps away from Deer Valley Resort's Northside Express chairlift, the
Grand Lodge
brings new meaning to luxury. From the exquisite stone and wrought iron architecture to the premier ski-in/ski-out access, these posh condominiums offer the privacy and exhilarating beauty that is only imaginable in a world-class resort. Spacious three, four and five bedroom residences have been designed to take advantage of both the mid-day sun shining over Flagstaff Mountain and the glorious down valley views of Park City. Each residence features hand hewn beams, custom cabinets, granite countertops and Sub Zero appliances along with exquisite furnishings that will satisfy the most discriminating tastes. The Grand Lodge's two common area hot tubs, ski locker room, ski valet service, steam room, fitness center, guest lounge and on-site concierge provide an environment that will satisfy everyone in your party. Also available are four and five bedroom penthouse condos featuring ski-in/ski-out access, full kitchen, spacious living room and dining area, fireplace and breathtaking views.
Deer Valley pampers skiers from the moment they arrive with ski valets, heated sidewalks, free parking, free shuttle service, world class skiing and sumptuous dining. Even though Aspen, Colorado, may be known as the home of the stars where celebrities gather for on-slope photo ops, Deer Valley dishes up a celebrity of its own -- a dazzling overall ski experience.
Where to Stay:
Deer Valley/Park City Luxury Hotels & Resorts
PHOTO CREDITS: Deer Valley Resort