For travelers who enjoy extensive, pre-planned schedules, Audley and Elevate Destinations are making it easy to visit these countries with tailor-made trips to help tourists experience the local culture and venerable history.
A South Africa Tracking Adventure is a 15-day Elevate Destinations trip that offers travelers a chance to participate in The Endangered Wildlife Conservation Project. Adventurous tourists can get directly involved with some of the most exciting endangered and priority species conservation work in the epicenter of Africa by monitoring endangered animals like the cheetah, African wild dog, black rhino, and priority species with a high ecological impact like the elephant, lion, white rhino, hyena, leopard, and buffalo. Monitoring activities will be comprised of an assortment of experiences, including tracking endangered and priority wildlife from an open 4x4 vehicle, and locating them via radio or satellite telemetry equipment, or taking photos and creating identity kits of individual animals. Other up close activities are radio collaring of animals and notching (identity marking) of animals like rhino and elephant. Trips start at $2,500 per person.
The Classic South Africa is a 16-day journey by Audley which provides a chauffeured itinerary to see the highlights of South Africa's Cape and Garden Route region, along with a safari experience in the spectacular Kruger National Park. Private transfers are included throughout to allow tourists to sit back and enjoy the scenery. Starting at $4,265 per person, travelers will get to experience Cape Town, Plettenberg Bay, The Klaserie Private Game Reserve, Franschhoek, Oudtshoorn & Surrounds and Swellendam. Highlights of this itinerary include a private car transfers between all locations with your own driver and absorbing the spectacular view from Table Mountain.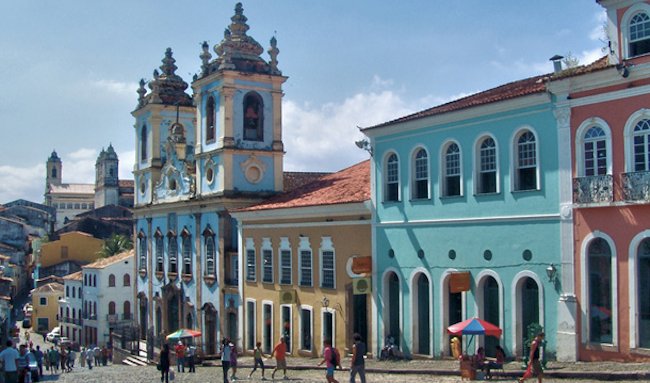 Pelourinho
Brazil in a Nutshell includes a ten-day package by Audley that allows travelers to visit three of the most famous areas of Brazil; the Iguacu Falls, the vast Amazon Rainforest and the vibrant city of Rio. Brazil-bound travelers will get to experience the Amazon Eco Park, Rio de Janeiro, Iguacu Falls and Manaus. Features of this itinerary include a motorized canoe ride along the scenic Amazon River and a visit Sugarloaf Mountain and the famous statue of Christ the Redeemer. Arrive in Brazil and take a domestic flight to the Iguazu Falls. Upon arrival in Brazil tourists will be met and driven to their hotel in private vehicles. Listen to the roar and feel the spray of the Iguacu Falls as you explore the Brazilian side of the Falls. Trips start at $3,415 per person.
Brazil: Exploring Natural Wonders involves an active 11-day Elevate Destination itinerary that takes travelers on a journey to discover the amazing hikes, waterfalls, caverns, grottos and people around the Bahia region. Starting at $4,000 per person, the trip begins in the city of Salvador, Bahia. Arrive at the airport where you will be met and transferred to your hotel in the city's historic district of Pelourinho. Your afternoon is free to enjoy the rich range of restaurants, stores and other attractions of Salvador.
Spend a day walking around the vibrant sites of Pelourinho. The area is home to some of the most well-preserved collection of colonial architecture in the Americas, which has led to the district's designation as a World Heritage Site. Enjoy a traditional lunch between morning and afternoon touring sessions of some of the most important sites. Spend some leisurely time on a neighborhood guided walking tour. Brazil is an immense country with a wealth of natural wonders to be discovered, and this trip is an outdoor enthusiast's dream as you will visit totally unique sites.
Visit website:
http://elevatedestinations.com/