The exterior of the store was wrapped in a design by Hawaii artist Jasper Wong in preparation for the unveiling of the new global brand. DFS has spent over $50 million dollars on improvements to its Waikiki store and airport duty-free locations at Honolulu International Airport and Maui's Kahului Airport.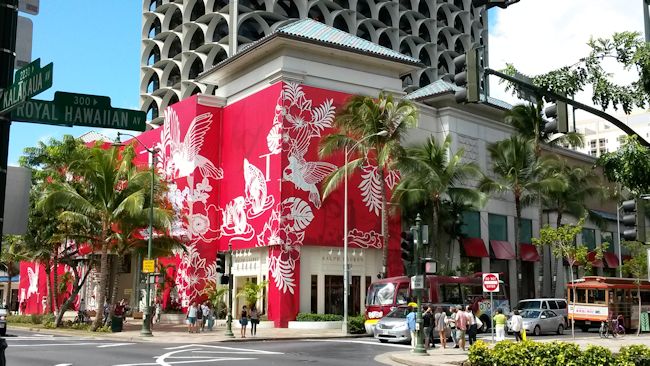 Exterior of T Galleria by DFS all wrapped up. ©Photo by Christine Gray
To celebrate this announcement, DFS invited the public to attend one of the biggest street parties in Waikiki. The gala event included a Red Carpet walk of VIPs/celebrities down Royal Hawaiian Avenue to Kalakaua Avenue lined with drummers and Polynesian dancers, a Kahiko hula by 50 kane dancers and blessing ceremony by a Hawaiian priest, the unveiling of new brand followed by music performances on an outdoor stage and entertainment inside the store for VIP guests provided by Cirque du Soleil performers and British pop-star Estelle.
The Gala Event overtook the T Galleria Hawaii, with hundreds of brand representatives and friends of DFS Group gathering together for a spectacular night of celebration. ©Photo by Roxanne Lowit
VIPs and celebrities attending the red carpet event on September 7th included the daughters of DFS co-founder Robert Miller: HRH Marie-Chantal Claire, The Crown Princess of Greece, Princess of Denmark, her sister Alexandra von Furstenberg, and their daughters Princess Maria-Olympia of Greece and Princess Talita Natasha von Furstenberg. Also in attendance were the Governor of Hawaii, Neil Abercrombie, as well as TV actors, music stars, and international fashion models.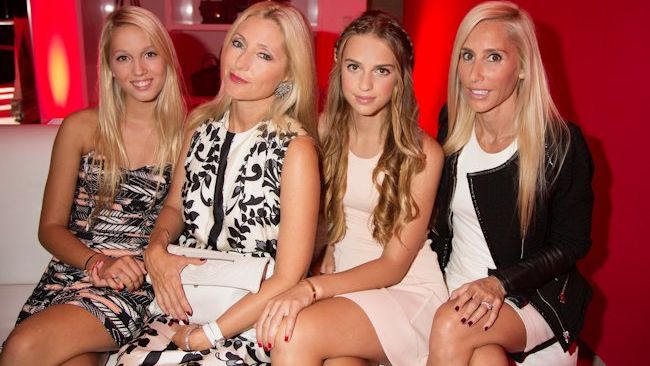 Daughters of DFS co-founder Robert Miller and their daughters; From left to right: HRH Princess Olympia of Greece; HRH The Crown Princess Marie-Chantal of Greece, Princess of Denmark; Talita Natasha von Fürstenberg, Alexandra von Furstenberg. ©Photo by Roxanne Lowit
The new T Galleria Hawaii by DFS curates
the best selection of luxury brands under one roof
, with
over 140 brands
in 210,000 square feet of luxurious retail space. Customers are served by over 470 multilingual sales associates trained across all categories and brands for a seamless and luxurious shopping experience.
The new T Galleria by DFS in Waikiki includes a
Marie-Chantal
boutique featuring the children's clothing label by HRH The Crown Princess Marie-Chantal of Greece, Princess of Denmark.
DFS pioneered the duty free shopping model over fifty years ago and helped define luxury travel retail. DFS remains the industry leader today. DFS has invested several hundred million dollars over the past few years upgrading downtown Galleria stores and implementing new design elements and features.
With
downtown locations in 7 countries and 11 cities
, the new brand identity and elevated design will be rolled out progressively to all existing DFS Galleria stores globally over the next 18 months.
The new look and feel incorporates a wide array of experiences, including beauty concierge services, luxurious members' lounges, and Masters Series product exhibitions, which feature the most rare, exclusive and limited editions from the world's most coveted brands.
DFS' T Galleria stores provide a single destination where travelers can discover many of the world's most desired brands across four pillars of luxury shopping: beauty and fragrances, fashion and accessories, watches and jewelry, and wine and spirits. Each store also offers destination themed products, many of which are tailored to the local market.
DFS' ambition is to become a universal experience sought-after by all travelers around the world. T Galleria offers the DFS 100% Worldwide Guarantee: once travelers return home, DFS will exchange, repair or accept the return of all purchased merchandise.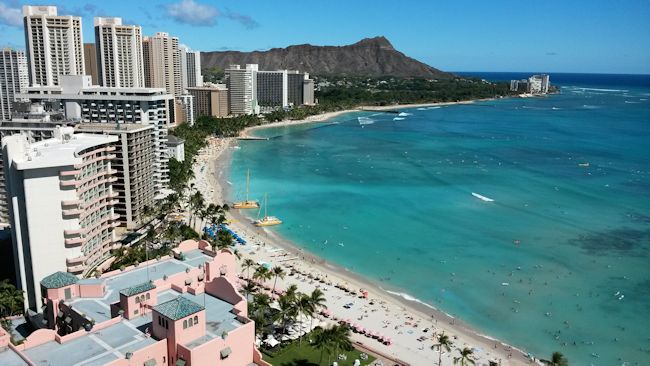 View of Waikiki Beach and Diamond Head from 27th floor of Sheraton Waikiki. ©Photo by Christine Gray
ADDRESS:
T Galleria by DFS
330 Royal Hawaiian Avenue, Honolulu, HI 96815
Website:
www.tgalleria.comBEST LUXURY HOTELS IN WAIKIKI:The Royal Hawaiian, A Luxury Collection Resort
2259 Kalakaua Ave, Honolulu, HI 96815
Website:
http://www.royal-hawaiian.com/
Walking distance to store: 0.2 mi, 4 mins
A luxurious property on Waikiki Beach since 1927, the hotel known as "The Pink Palace of the Pacific" still hosts international royalty and heads-of-state to this day. MUST DO: Visit the resort's award-winning Abhasa Spa noted for being the only spa on O'ahu that offers luxurious spa treatments in a serene tropical garden setting, while being located in the heart of Waikiki.
Halekulani (A member of The Leading Hotels of the World)
2199 Kalia Rd, Honolulu, HI 96815
Website:
http://www.halekulani.com/
Walking distance to store: 0.4 mi, 7 mins
Secluded at the end of Waikiki Beach, this elegant hotel has been a favorite of Hollywood's elite for many years. MUST DO: Sip on mai tais at House Without A Key, listen to hula music and watch the sunset by the beach at the Halekulani. This is idyllic Hawaiian fantasy realized.
Trump International Hotel™ Waikiki Beach Walk®
223 Saratoga Rd, Honolulu, HI 96815
Website:
http://www.trumphotelcollection.com/waikiki/
Walking distance to store: 0.4 mi, 8 mins
The newest luxury hotel in Waikiki opened in 2009, the property is one block from the beach and provides the most spacious Honolulu accommodations with kitchens in every suite.
Moana Surfrider, A Westin Resort & Spa, Waikiki Beach
2365 Kalakaua Ave, Honolulu, HI 96815
Website:
http://www.moana-surfrider.com/
Walking distance to store: 0.3 mi, 6 mins
"The First Lady of Waikiki" first opened its grandiose doors on March 11th, 1901. Over one hundred years later and countless renovations and refurbishments in-between, the Moana Surfrider, A Westin Resort & Spa remains a premier destination for Waikiki travelers. MUST DO: Have lunch at Beachhouse at the Moana.