Basking on the secluded shores of an 18,000-acre nature reserve, Amanyara's lush tropical pavilions overlook half a mile of white sand beaches and the turquoise waters of Providenciales' North West Point Marine National Park. A retreat for all ages, the resort offers restorative wellness retreats and endless possibilities for discovery above and below the waves.
Looking out at the vivid turquoise waters of North West Point Marine National Park, or the verdant greenery of the property's gardens and forest, Amanyara's 20 two to six-bedroom Villas offer consummate privacy and space on the secluded shores of Turks and Caicos. With generously proportioned living areas, each villa is set around a black infinity pool and hardwood deck that define each of the villas' extensive grounds, with several featuring ocean views and others offering direct beach access. Aman's unwavering attention to detail and intuitive service is brought to each villa, with the addition of a dedicated personal service; all are serviced by villa hosts, and the three-to-six-bedroom villas are also serviced by personal chefs.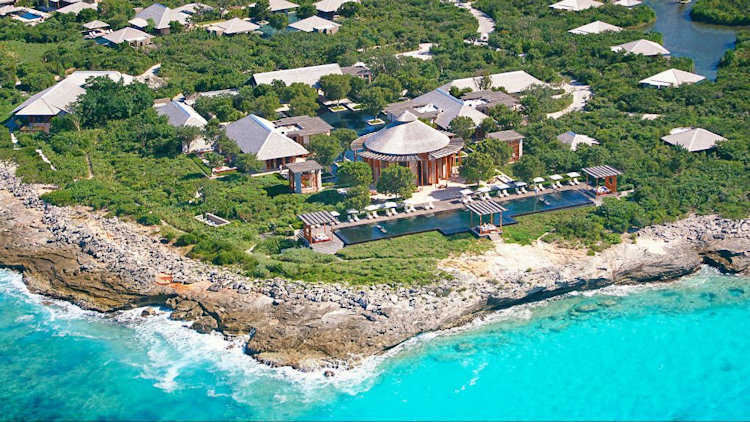 Whether traveling solo, as a couple or family, or even as a corporate group, all will find eye-opening experiences at Amanyara. Guests are welcomed to master new sports - from kitesurfing and paddle boarding to kayaking along the coast- with the help of specially trained instructors, or wile away the days self-soothing in the spa or on the sandy beach, while children are enriched and entertained with daily programs of age-targeted activities at the Nature Discovery Center, designed to bring awareness to the area's precious environment.
For those looking to savor special moments with family and friends or wanting to escape into romantic seclusion in a spectacular setting, Amanyara's Villas offer the comfort and reassurance of a private home on one of the world's most beautiful coastlines. For guests staying three nights or more, the resort's Season of Discovery at Amanyara exclusive offer includes daily breakfast, two-course lunch and three course dinner, all of which can be enjoyed within the guest's private villa or at the resort's restaurants, a movie night in the cinema with beverages, popcorn and canapes, and a private guided snorkeling trip. Guests wishing to extend their stay are offered a complimentary fifth night.


Amanyara's signature villa, the Artists Villa, is located in a serene spot with its very own stretch of white sand beach. The resort's largest and most exclusive residence, the five-bedroom villa enjoys three acres of lush private gardens, with a 108-foot infinity swimming pool directly overlooking the sea. Expansive sundecks, multiple dining areas and inviting terraces encourage outdoor living, while the vast main pavilion features soaring ceilings and spacious indoor living and dining areas, with double doors opening on all sides to bring the inspiring landscape in. A dedicated team of chef, host and housekeeper are on hand to tend to every need, with the option for guests to feast on
On the property a vast array of sports facilities can be found on site including a pilates studio, four tennis courts, a multi-sport field and volleyball court.
As part of the Amanyara Legends program and following the highly anticipated 2022 US Open, guests of the resort will come face-to-face with budding court stars Leylah Fernandez and Paula Badosa during Amanyara Tennis Legends clinics from Monday, September 12 to Wednesday, September 14. On September 12 and 13, young tennis professionals Leylah and Paula will each host 60-minute Sports Tennis Clinics for guests and on September 14 guests can enjoy watching the two stars play each other during a 30-minute Pro-Player Match. The Pro-Player Match will be followed by an intimate cocktail reception for all clinic attendees.
Tennis stars Leylah Fernandez and Paula Badosa have impressed the international tennis world with early achievements. Currently ranked No. 15 by the Women's Tennis Association and a quarterfinalist at the 2022 French Open, 19-year-old Canadian tennis player Leylah Fernandez is turning heads, while current world No. 3 Spanish tennis player Paula Badosa impressed spectators early on when she won the 2015 French Open girls' singles title. Through the Amanyara Legends program guests are offered the unique opportunity to meet and be taught by a variety of talented sports stars.
In keeping with Amanyara's continued support for the local community, all proceeds from Amanyara Legends will benefit the Edward C. Gartland Youth Centre, a local non-profit organization.
Click here to book: Aman Resorts