For cruisers, life onboard ship is just as much a discovery as the ruins, churches and beaches that await on shore.
This itinerary, "Mediterranean Treasures," not only stops at some of the ancient world's most important cities — Rome, Athens, Istanbul — but includes the luxury of three full sea days to explore the ship.
Queen Victoria premiered in 2007, joining Cunard's Queen Mary 2. The new Queen Elizabeth was christened by the Queen Mother herself in 2010.
Queen Victoria's onboard activities could fill a week's cruise all on their own: lectures, free art lessons, violin and piano concerts, movies and dance lessons, art auctions, shopping in the Royal Arcade, wine tastings and cocktail classes, plus a two-story library with 6,000 volumes.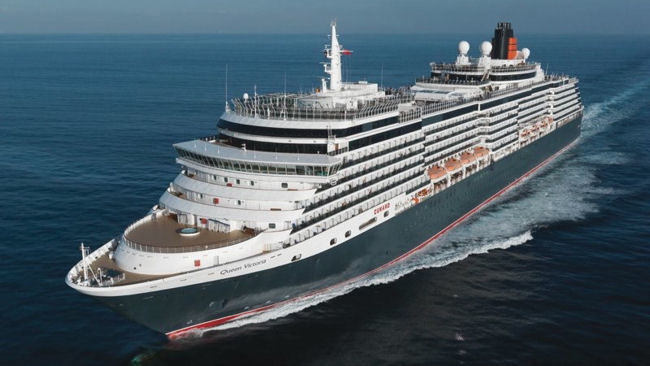 Cunard's Queen Victoria
The heartbeat of the ship is the two-story Queens Room where ballroom dancing to live music is the most popular activity, and where white-gloved waiters serve afternoon high tea. The tea service is also available on Lido Deck and in the Grills Lounge, a private area for guests of both the Princess and Queens Grills. These two elegant, private dining rooms are reserved for guests residing in the ship's 127 deluxe suites.
The ship's 990 staterooms include Grand Suites, Master Suites, Penthouses, Queens Suites, Princess Suites, Balcony, Oceanview and Inside cabins.
The dramatic, three-tier Grand Lobby features eye-catching artwork and a magnificent staircase that's the perfect backdrop for a portrait on any of the three formal nights this cruise.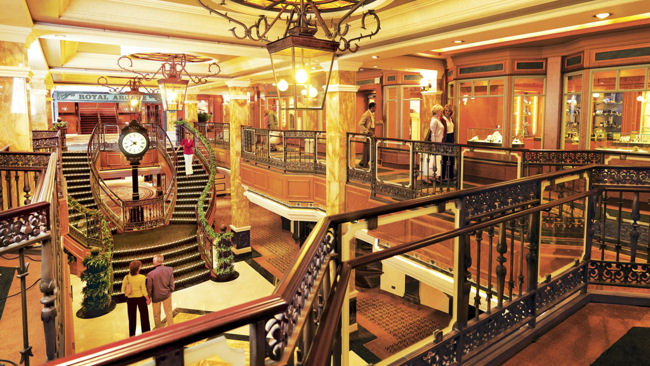 Royal Archade shopping
The majority of passengers dine in the soaring two-story Britannia Restaurant. There's also the celebrity chef Todd English Restaurant on board with dining for an add-on fee, a pizzeria, the Lido buffet nightly, and an alternative Lido dining option section. The night we sampled the latter, it was Asian cuisine with delightful service.
Showtime in the two-story, 800-seat Royal Court Theatre varies from song-and-dance productions, to classical concerts, to a comedian, and this trip, a singer with a Dean Martin persona. There are even private boxes with waiter service available by reservation.
Post-show, there's the authentic British pub the Golden Lion, late-night dancing in Hemispheres Disco, the Empire Casino, a sweeping view at the Commodore Club on Deck 10, a cigar bar, the Veuve Clicquot Champagne Bar, plus other lounges.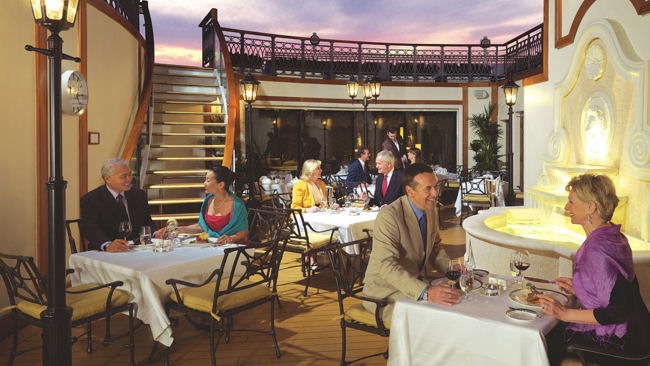 Princess Grill patio dining
We opt to dedicate some of our precious sea time to the Royal Spa & Fitness Centre, which offers such signature treatments as Ancient Hot-Stone Massage and the Shirodosha Experience where warm dosha oil is dripped slowly on the "third eye" followed by full-body massage. There's acupuncture, teeth whitening, plus the usual spa fare. The Thermal Suite is a favorite with its large hydrotherapy pool, heated slab beds, steam rooms and super-jetted whirlpool, all great for relaxing after trekking so many ruins.
The spa is reached through the tranquil Winter Garden lounge with a retractable glass roof and water fountain.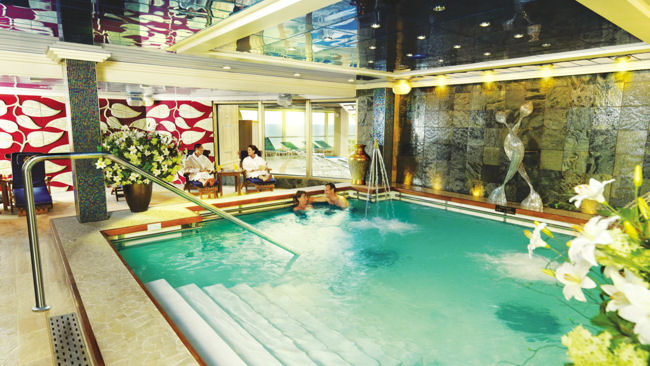 Hydrotherapy pool in the Royal Spa
Cunard's rich maritime history dates to 1922. The Queen Vic, as the passengers call her, even has a small "Cunardia" museum on board. The company's first paddle-wheeled steamer, Britannia, crossed the Atlantic in 1840. Today, the Queen Mary 2 offers the only regularly scheduled transatlantic liner service.
Queen Victoria is perfect for the ocean-going traveler who likes a more formal cruise setting, ballroom dancing, international passenger interaction and service, service, service.
This Mediterranean itinerary received glowing reviews from passengers — 1,900 of them from a hodge-podge of countries (the UK led with 1200-some passengers; the US 2nd with over 300).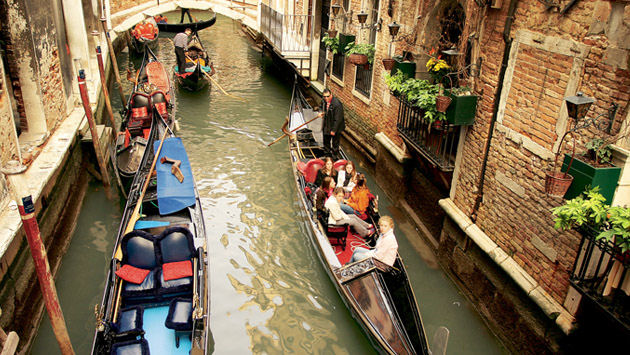 Venice, Italy
We begin our 12-day voyage in romantic Venice; it will end at Civitavecchia, the port for Rome. In between are ports-of-call for fascinating, history-laden cities in a region worthy of exploration and conquest: Katakolon and Athens, Greece; Istanbul and Kusadasi, Turkey; Yalta and Odessa, Ukraine; then finally Naples before ending at Civitavecchia, Italy.
So much happened here, and the shore excursions illuminate the history and also provide a glimpse of the beauty held in the combination of past and present. Palaces, fortresses, dwellings that date back centuries stand next to modern office parks, museums and homes. Vibrant cultures live side by side, demonstrating that differences can exist and not collide.
Since many of Queen Victoria guests are repeaters, the affable Captain Christopher Rynd is familiar to many - us included as he was at the helm of the Queen Mary 2 on our transatlantic crossing a few years back.
Of this itinerary, he says, "It's special for the very diversity of places, cultures and sea areas, all of which have a long history that is powerfully evident."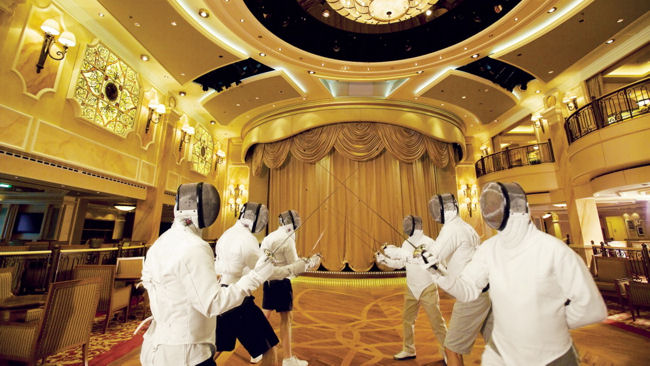 Fencing lessons
Porthole Cruise Magazine's readers named Cunard as having the "Best World Cruise Itineraries," "Best Transatlantic Itineraries" and "Best Onboard Educational Programs."
Many fellow cruisers agree, citing their prior Cunard experiences. One said, "We booked this specifically for Yalta." Another, from Canada, noted that with this cruise being his first, he was totally spoiled.
Among exploration options from Greece's largest port, Piraeus, are visits to Athens' famed Acropolis and its Parthenon, or a trip to either Cape Sounion with its impressive Poseidon Temple or Corinth's ancient ruins, followed by crossing the narrow, manmade canal connecting the Aegean and Ionian seas, proposed by Roman Emperor Nero and completed by the French in the 1890s.
At Katakolon, cruisers can explore Olympia, site of the original Olympic games, and even run the ancient track surrounded by grassy slopes where in ancient times up to 45,000 spectators cheered on competitors, (who raced in the nude, by the way). After jogging the track with clothing intact, we finish our excusrion at a sandy beach following a plate lunch of Greek delectables.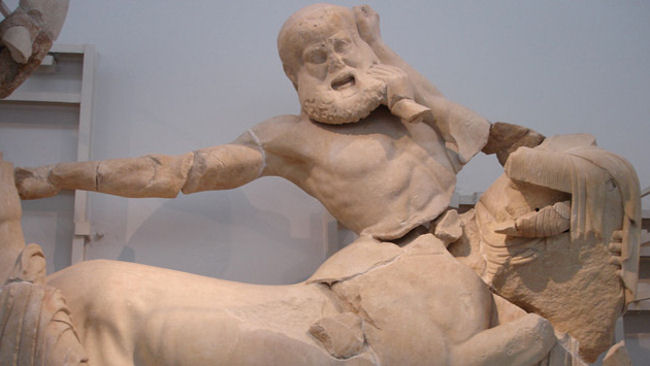 Olympia, Greece
A highlight is Queen Victoria's sail into Istanbul passing massive mosques with minarets spiked skyward, including those of the overwhelming Blue Mosque. The overnight stay is a bonus, allowing extra time to tour the city by day and night. Popular sites are the towering Haghia Sophia church, where the Statue of Liberty could stand upright inside, the sprawling Topkapi Palace, and the Grand Bazaar, full of gold, leather and carpet vendors.
Our departure sail-away takes us under the Bosphorus Bridge while watching domes, palaces and an ancient castle on the shoreline as well as some of the 135 minarets standing throughout the city. Istanbul, with over 12 million citizens, is the only metropolis in the world that is located on two continents, Europe and Asia, and remains a crossroads of civilizations.
Kusadasi is the entry port to discover the ancient ruins at Ephesus including the elegant, towering library façade and a bas relief of the winged Nike. Nearby is the 2,000-year-old House of the Virgin Mary with a small, inspiring chapel and a stone wall where visitors write and leave notes of praise and prayers.
For us, this cruise offered first glimpses at Yalta and Odessa, Ukraine, where tours include palatial homes of the Russian elite and, in contrast, a home visit with a modern family. Yalta, specifically known as a seaside resort, and Odessa, a major port, still reflect former Soviet Union influences.
In Naples, cruisers can stay and explore the bustling city where pizza was born, or trek to Pompeii and Sorrento, or Mt. Vesuvius and Herculaneum, or traverse the stunning seaside Amalfi Coast.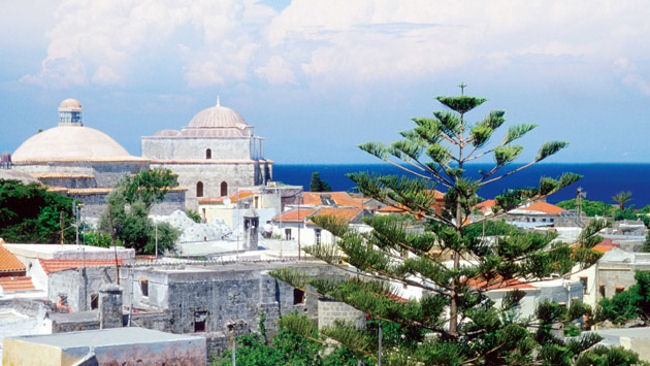 Naples, Italy
Upcoming Cruises
Next up for Queen Victoria is the last voyage of 2010, sailing Dec. 20 for a 16-day Canaries Celebration in the Canary Islands, Portugal, Gibraltar and Spain, beginning and ending in Southampton.
Queen Victoria then starts 2011 with an eight-day Westbound Transatlantic Crossing from Southampton to New York, Jan. 5, and guests on that voyage can continue on for a total 25-day Panama Canal Discovery cruise or a total 29-day Grand Panama Canal and Hawaii Adventure. The Jan. 5 England departure will allow New York embarkation on Jan. 13 for those guests to continue onward through the Panama Canal, ending in Los Angeles Jan. 30, or continuing on to Hawaii, ending in Los Angeles Feb. 13.
Cunard's other luxury liners have big plans for 2011 as well, with World Voyages. Queen Elizabeth and Queen Mary 2 will embark on global odysseys that together will visit 57 ports-of-call across 34 countries.
Fun Fact: Exactly three years to the day after Cunard welcomed its trio of "Queens" in New York for the first time, a second "Cunard Royal Rendezvous" takes place Jan. 13, when Queen Mary 2, Queen Victoria and Queen Elizabeth will come together in New York Harbor.
Details: For more information on the ships or to book a voyage, contact 1-800-7-CUNARD or visit
www.cunard.com
.