Woodloch Pines Resort, tucked away discreetly in the Lake Region of the Pocono Mountains, has been a favorite vacation destination for people from all over the east since its inception in 1958. Long recognized as one of the top family resorts in the country, the resort offers a unlimited smorgasbord of activities for both kids and adults. Although the resort is home to a variety of accommodations, including hotel-style units and suites directly on the property, guests who desire an opulent, over-the-top experience can rent a vacation home or condo. What's more, these exquisite properties are often for sale, thus offering discerning home buyers the opportunity to own their own piece of Woodloch luxury. Prices range from $199,000 for an elegant townhome to $1.6 million for an 8,400 square-foot home on two acres of land boasting six bedrooms, hardwood floors that cover the entire first and second levels, matchbox ceilings, home theater room and a lower level featuring pool table, card table and wet bar.
The beginning of Woodloch Real Estate dates back to the creation of Woodloch Springs in 1991. During those early years Woodloch worked directly with guests from Woodloch Pines Resort who were interested in exploring real estate options, including a primary home, a second home, a guest home or fractional ownership. All of Woodloch communities are amenity rich, including golf and zip lines, along with every kind of service you can imagine, such as landscaping, housekeeping, maintenance, construction and even a safety service team that patrols the 1,000 acres of land on a regular basis.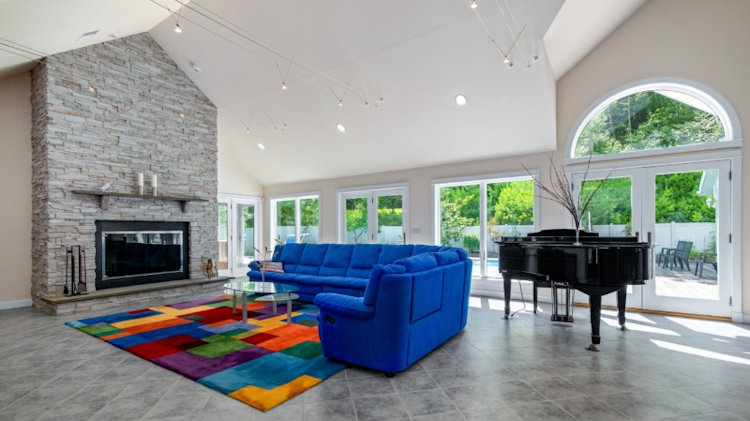 Woodloch Springs
In 1990 Woodloch launched its first community, Woodloch Springs. The Springs is a premier residential community consisting of 438 acres of some of Pike County's prettiest land. The Springs features 402 residences and/or home sites, together with a wide range of amenities that include a championship 18-hole golf course, a pro shop, a spectacular clubhouse, four tennis courts, an outdoor swimming pool, a Sports Complex, an outdoor playground and acres of undisturbed natural areas for the use and enjoyment of the residents and members of Woodloch Springs. There is a wide range of home ownership options including townhomes (attached units), courtyard homes, custom home sites and interval ownership in the form of the Four Season Country House.
The Reserve
Situated on 44 forested acres in the Lake Region, the Reserve is made up of 21 carefully designed parcels of land ranging from ¾ acre to over 1.25 acres of land. Some are located in private cul de sacs while others are located near the entrance waterfall and pond. All home sites are buffered by a natural green belt of over 20 acres of land ensuring privacy and protection. As you meander along the paved lane you will cross over a bridge traversing two ponds and a waterfall.
Moss Creek
Moss Creek offers privacy without sacrificing location, amenities or services. Located on 32 forested acres in the Poconos, Moss Creek is made up of 14 carefully designed parcels of land ranging from ½ acre to over 1.7 acres of land. All home sites are buffered by a natural green belt of close to 20 acres of land ensuring privacy and protection. As you drive along the wide paved road you will find a waterfall and two large stone pillars supporting rich looking gates offering a feeling of security and opulence.
The Mill at Whitehall
The Mill at Whitehall with manor-sized home sites ranging from two to three acres in size is a rare commodity. The Mill tastefully blends nature with the nostalgic elements of the past – an old-fashioned grist mill with a fully operating water wheel. To enhance the mill, a pristine pond with flowering shrubs adjoins the mill adding to the peacefulness of the setting. Native boulder pilings with soil pockets brimming with perennial flowering plants accent the entrance making it unusual, natural and serene.