Turkey is a fantastic yacht rental location since it is full of charm and natural beauty. This mash-up of ethnic influences brings you Mediterranean cuisine, Middle Eastern personalities, and some interesting Balkan culture. This nation, which serves as a link between east and west and has innumerable ancient monuments, is a perfect destination for a luxurious vacation.
Its unique and alluring city is Istanbul. Churches mix with mosques, busy nightclubs are near Byzantine and Ottoman buildings, and the Mediterranean and Aegean coasts are dotted with beaches and fishing communities. There is a stunning variety and socioeconomic contrast everywhere. A genuine yachting utopia is created by captivating cruising grounds, and touring from the boat is pure magic.
The greatest way to see the Turkish coastline, which is dotted with historic archeological sites, beautiful beaches, and little seafood eateries, is by yacht. Skip around the Mediterranean seas between nautical destinations like Bodrum, Fethiye, and Antalya, feeling the salty wind in your hair. Kuwait is a significant location among the numerous from which you can travel to Istanbul, a major city in Turkey. Book Kuwait to Istanbul Flights online and plan a luxurious trip to Turkey, book a yacht, and sail away to this mesmerizing destination.
Turkish sailing conditions
You may discover your perfect charter yacht in Turkey, whether you're an experienced sailor seeking bareboat sailing or more of a sun seeker who likes a crew to do the heavy work. The Mediterranean environment implies pleasant evenings and average summertime temperatures of 33 degrees here. From mid-June to September, the well-known Meltemi winds blow, providing midday westerly breezes. Typically, wind speeds range from 5 to 12 knots, but sometimes they might gust as high as 20 to 24 mph, so pay attention to the forecast. When the weather cools in October, these breezes stop, providing late summer a calm season of the year for a leisurely sail.
Here are a few destinations you need to include on your list of places to sail in Turkey:
This untouched wilderness is teeming with protected coves, prehistoric towns, and remote beaches that can only be reached by sea. At Orhaniye's cutting-edge Marty Marina, which provides everything you may need, from stores to restaurants, a beach, and even a luxury spa, you can board your charter boat or stop to resupply. The gulf's environment is surprisingly calm, so find anchoring in a sandy cove for a snorkel, or spend a few hours lazing in the sun. Nothing beats a refreshing swim in the crystal-clear sea after a strenuous climb through the aromatic pine trees, possibly with a customary Turkish tea, fresh pomegranate juice, or something stronger at dusk in a little seaside town.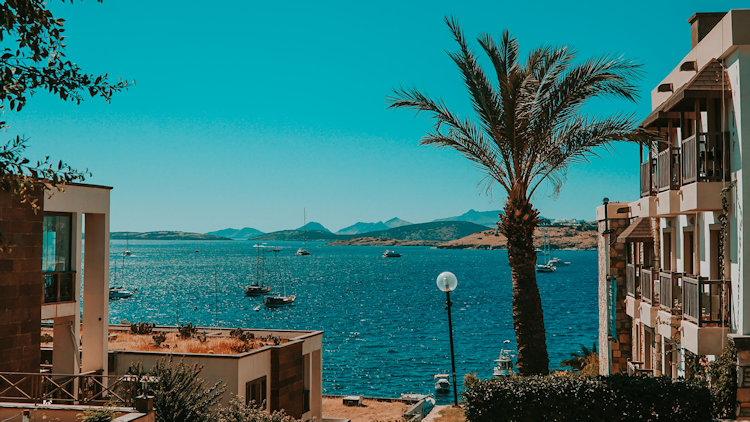 A bustling port city well-known for both its parties and its boats. You can easily travel from the airport in Bodrum to one of the town's several marinas and your opulent charter boat. Stock up at the busy town's stores and markets, and if you like it, take advantage of the legendary nightlife. Admire the massive medieval castle that overlooks the gateway to the expansive blue harbor before setting sail east in search of beautiful sand beaches, secret coves, and kilometers of charming coastal communities along the shoreline bordered with pine trees. This stunning region is simple to explore thanks to the Greek Dodecanese islands to the south. Additionally, it has a lot of waterfront dining options with convenient docks and little coves for swimming in the warm, clear water, snorkeling, or paddle boarding. Along the Bodrum peninsula, there are wonderful traditional local villages that you may explore.
Marmaris has something to offer any Turkish yacht charter vacation, whether you're visiting for one of the town's renowned outdoor parties or the tranquil, olive-lined hills and lovely bays. You can easily maneuver your charter boat as you cruise in and out to visit the region since Marmaris' harbor is as quiet as a lake. Discover sea turtles and dolphins in the adjacent Dalyan Delta, go scuba diving or snorkeling under the water, and then rise for air for a walk down the prom in the evening. Choose from a variety of restaurants at night, or indulge in a delectable Turkish feast of freshly caught fish, sizzling meat koftas, regional olives, and hummus. Because nighttime lows in the summer may reach 27 degrees and summer highs are greater here than further west, having air conditioning aboard your charter boat is a treat.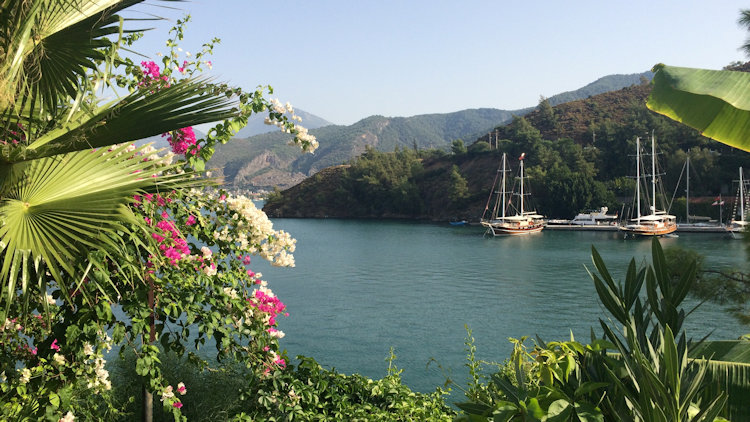 A shady, family-friendly port town with wonderful eateries and gorgeous sandy beaches can be found in Fethiye's natural harbor. This picturesque location, which is known for the 4th-century Lycian rock tombs that adorn the cliff face, has a bustling market where you can stock up on baklava, a typical Turkish flatbread, fruit, spices, or even carpets. The shady old town is a great place to look for gifts or stop for a Turkish coffee at a taverna. In this isolated Turkish idyll, sail in on the soft breeze and unwind into the slower pace of life. There is a wealth of marine life to discover around. Don't forget to take your charter boat to the beach and waterfalls of Butterfly Bay Nature Reserve and snorkel in Oludeniz's breathtakingly blue lagoon. It is perfect for novice sailors, families, or anyone seeking a relaxing holiday with plenty of swimming and water activities since the wind here often blows at a leisurely 15 knots.
You will immediately understand why Turkey's southwest coast is known as "the Turquoise Coast" as you navigate your charter boat across the Gulf of Göcek. This unspoiled region is a nature lover's paradise, with its sprinkling of little islands and sandy bays. Here, you have the option of meandering through the rivers, spending the night near an isolated island, or casting a long line to the beach to wake up in your little paradise. The village of Göcek provides a safe bay and a large, active marina that is well-equipped for every need. Explore this oasis of turquoise tranquility by mooring up along an island jetty and seeing historic shipyards and Byzantine remains, or just relax on the deck and take in the vista.