There are plenty of grown-up options – adults-only pools; an adults-only section on Disney's private island, Castaway Cay; a beautiful on-board spa; an entire section of each ship devoted to themed nightclubs; superb stage shows (this is Disney, after all); plus two highly-rated, adults-only restaurants.
Of course, you can still get your kid on at spots like the way-cool AquaDuck, the only water coaster at sea; turn detective to figure out a series of clues hidden around the ship in pictures that "come to life"; plus be wowed at Animator's Palate, a restaurant with large screens featuring 100 video monitors around the room. Here, either Crush, the talking turtle from "Finding Nemo," calls you out from the crowd to have a conversation, or you can show off your drawing skills to become a Disney animator by crafting a character that will come to life on screen in a one-of-a-kind dinner show.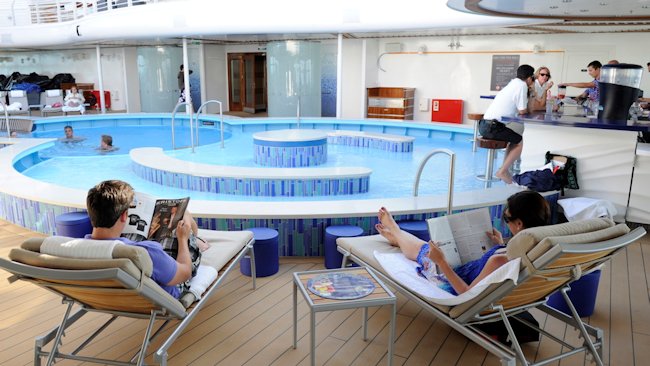 Quiet Cove adults-only pool
Adult Dining
For gourmet, adult dining, there's upscale Remy, which debuted on Disney Dream and continues on Disney Fantasy, plus Palo Restaurant, which takes its name from those barber-striped poles that line the canals of Venice and where the gondoliers tie up their watercraft.
"From the moment our guests walk through the door at Remy, they are transported to a fine French dining experience," said Ozer Balli, vice president, Disney Cruise Line Hotel Operations. "The success of Palo on the Disney Magic and Disney Wonder encouraged us to create this elegant, upscale and even more intimate dining experience for the Disney Dream."
Dinner at Remy is a lavish and leisurely affair, starting with a signature chilled Taittinger Champagne cocktail made tableside, followed by eight-to-nine small courses complemented by a stellar wine list.
With a subtle nod to the hit Disney-Pixar film "Ratatouille" and its petite French star Remy, the softly lit dining room seats 80. Its art nouveau style utilizes soft greens, deep reds and rich gold. The Remy character is subtly and artfully integrated into the room's design. Keeping with the story-line, serving staff dress in long white aprons, black jackets or burgundy vests, and bow ties.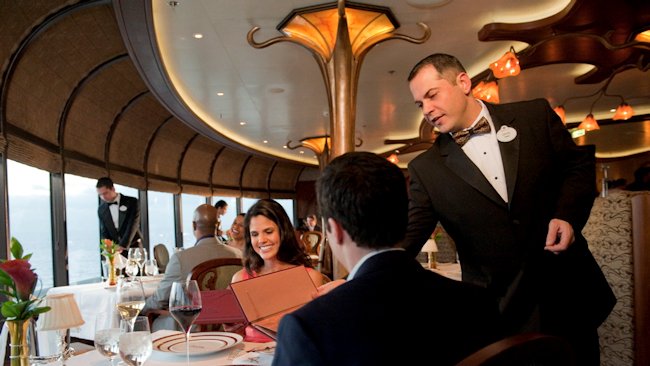 Remy
A private Chef's Table dining room, Chez Gusteau (inspired by the fictional Paris restaurant in "Ratatouille") seats eight. Diners are invited to meet with a sommelier pre-dinner in Remy's glass-walled wine room (housing more than 900 bottles and available for private dining) to taste and pre-select their wines for the evening. Two wine lists exist: a special French list with 200 vintages from regions in France, and Remy's Vault, a separate and exclusive list with rare wines from all over the world. The surcharge for Remy dining is $75 per person in addition to the cost of wine and alcoholic beverages.
We sampled Palo on Disney Dream – one of the best values we've found at sea in our 60-plus cruises. This specialty restaurant featuring Northern Italian cuisine, classic reserve wines and superior service, only charges $20 per person. Such dining would easily top $100 per person on land.
We immediately liked our server, Victoria, who thanked us for dressing up for our special evening. "It makes the beauty of the room more beautiful," she remarked. We drank in the flattery, along with the ambiance, from pianist's tunes to ocean views.
Palo is laid out in a semi-circle with floor-to-ceiling windows, and raised banquettes along one side. The menu features pizzas, fresh pastas from wild mushroom risotto to a penne with fresh tomato and basil sauce and grilled shrimp. Seafood and meats are prepared with Italian touches – turbot is pan seared with porcini, pancetta and fennel with walnut butter; the classic beef tenderloin is served with a Barolo wine or Gorgonzola sauce. We asked the chef for the recipe, and he had it (and three others) delivered to our stateroom the next day.
Desserts include the classic tiramisu as well as a signature chocolate soufflé, which we loved. An orange soda float with vanilla gelato is a nice nod to Italy.
Palo's wine list has about 90 labels all from Italy, including a sparkling Prosecco and a lush red Barolo made just for Palo. With our beef tenderloin, the sommelier suggested a Brunello di Montalcino, which was perfect.
After dinner, we wandered over to Meridian Lounge only to discover a very rare bottle behind the bar, one of 768 numbered decanters that constitute the first edition of Louis XIII Rare Cask de Remy Martin Cognac. Disney Dream's is Bottle 436. It's a piece of art to behold, a handmade, crystal bottle. The $1,000-per-shot cost prohibited our tasting it, but buying one includes keeping the beautiful shot glass.
Meridian's great for a pre-dinner aperitif or an after-dinner cocktail. With décor inspired by the early days of sea travel, this adult-exclusive lounge has inside seating and an outside teak deck, also ideal for watching a sunset or relaxing with a cigar from a fine assortment available at the bar.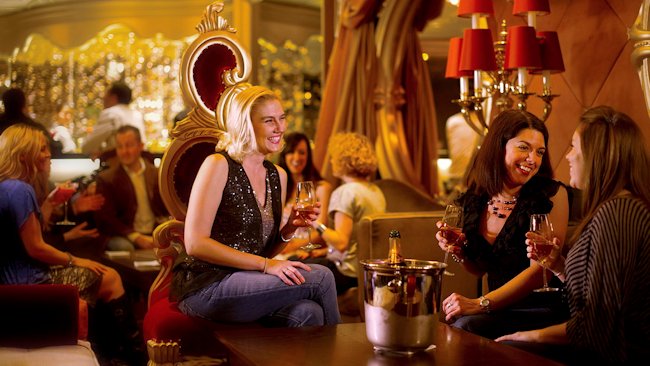 Europa nightclub
Nightclubs
A quiet drink, an evening of dancing, a place to laugh and joke with fellow adults, Disney Dream and Fantasy have an abundance of nightlife choices.
On Disney Dream, adults-only venues are:
• The Cove Café, a computer, media lounge (Deck 11);
• Currents, a bar above the Quiet Cove Pool (Deck 13);
• District Lounge, reserved at night for adults (Deck 4);
• Skyline, a lounge where each night the view becomes a different global city with drinks to match (Deck 4).
• Evolution, a dance club (Deck 4);
• Meridian, the bar between Palo and Remy (Deck 12) and;
• Pink, a champagne lounge (Deck 4).
On the new Disney Fantasy, The Cove Café, Currents, Skyline, and Meridian are repeated, but the Europa District, Deck 4, aft adds new adults-only venues:
• La Piazza, an Italian-inspired gathering spot;
• O'Gill's Pub, an Irish-styled sports bar;
• The Tube, a dance club, and;
• Ooh La La, a French-themed lounge.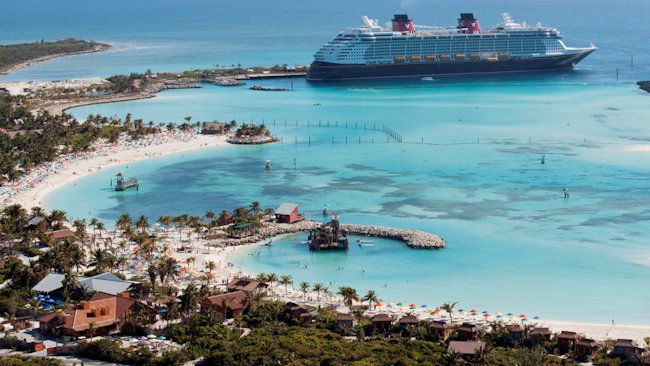 Castaway Cay
A Private Island
Castaway Cay, Disney Cruise Line's private island, features crystal-clear turquoise waters, sandy beaches, palm trees and tropical flowers. And unlike some cruise lines' islands, the joy here is that the ship actually docks, so passengers walk ashore and don't have to take a tender.
A tram whisks guests to various activity areas; taking it helps us get a handle on where things are on this 1,000-acre island. The adults-only beach is Serenity Bay, almost a mile from the main family beach. Private cabanas are for rent for that true "it's-my-island" feeling. An adults-only lunch pavilion serves typical beach-bar food and drinks.
Castaway Cay has plenty to do, like biking, interacting with stingrays, parasailing, fishing, playing volleyball, or just hanging out in a hammock or on a lounge chair by sea. Lots of cool toys are for rent like water cycles, paddleboats, kayaks, sailboats, personal watercraft, and snorkeling equipment.
We checked out some of the 12-acre snorkel trail dotted with sunken treasures, including a submarine from the classic Disney attraction "20,000 Leagues Under the Sea" and a statue of a certain familiar mouse.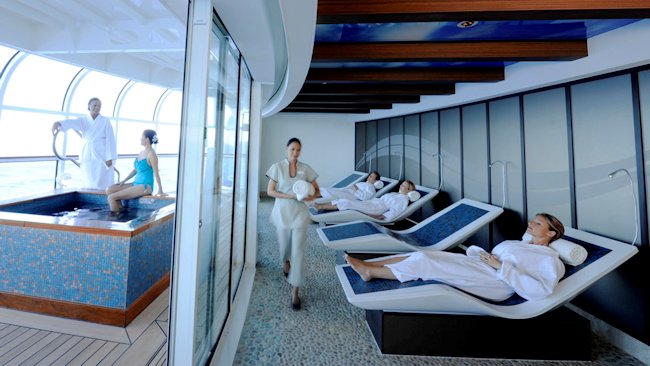 Senses Spa
Senses Spa
To retreat from the world of Disney characters and active poolside children, we head to a spot reserved just for us: the couples treatment room in Senses Spa and Salon. The décor is beautiful from the gleaming salon and mani/pedi station, to the rain forest area that features some incredible showers, to our own treatment room, where we surrender to masseuses for a couples massage. Huge, floor-to-ceiling windows offer perfect views, which are accompanied by expert hands that loosen and relax our over-exercised muscles.
On the massage menu, there's an Elemis aroma stone therapy massage, Thai poultice massage, bamboo massage, Elemis deep tissue muscle massage, Swedish massage, and the couples massage we experienced (loved it).
For anyone wanting to work off some of the onboard cuisine, the oceanview gym is the place. One of the special classes is Tour De Cycle cycling.
As always, the insider tip is try to book spa appointments before getting on the ship because once aboard, those coveted spa appointments go quickly especially on sea days.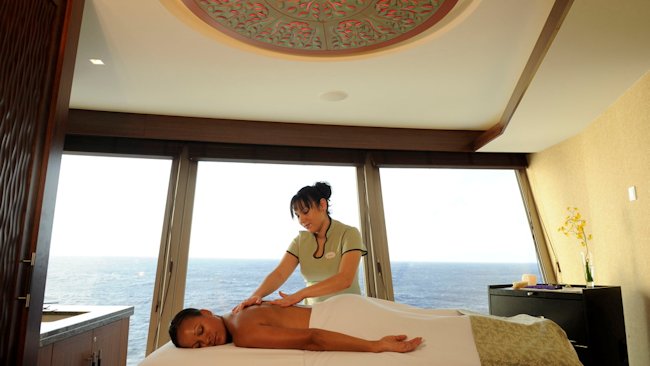 To Book a Cruise:
For Disney Dream, the brand new Disney Fantasy, or any other Disney Cruise vacation, call 888-325-2500, contact a travel agent or visit
disneycruise.com
.
Disney Fantasy sails out of Port Canaveral on seven-night Caribbean itineraries – alternating eastern (St. Maarten and St. Thomas) and western (Grand Cayman, Costa Maya, Cozumel). Special Eastern Caribbean sailings in November and December 2012 stop at St. Thomas and San Juan, Puerto Rico. All Disney Fantasy itineraries include a stop at Disney's private island, Castaway Cay.
For Specialty Dining:
Reservations are required for Remy or Palo dining. In addition to romantic dinners, Palo offers both an adult-only champagne brunch and High Tea on select days. The brunch features made-to-order entrées, seafood, a selection of international cheeses, fresh breads and pastries, desserts, champagne and mimosas. There is an additional $20 charge for dinner and brunch; High Tea is $10. Disney Dream also features al fresco dining on Palo's private teak deck with picturesque views and ocean breezes. Ahh.
©2012 Luxury Travel Magazine. Written by Kathy M. Newbern and J.S. Fletcher for Luxury Travel Magazine.
Award-winning freelance travel journalists, Newbern and Fletcher often incorporate their romantic travels into their other business, www.yournovel.com, where they put you and your sweetie in your own personalized romance novel "wild" or "mild." They are also the creators of the award-winning travel blog, www.YourSpaReport.com.
Photos courtesy of Disney Cruise Line