The past 18 months reinforced the need for celebration and commemoration. Graduations, weddings, births, memorials, so much had to be postponed, canceled, and worse, ignored to tend to the needs of the global pandemic. However, summer 2021 began with a sense of normalcy, and by mid-summer, events and family reunions were the most welcomed of events for relatives.
Dude ranches were born from the idea of bringing families and loved ones together for adventures, community cuisine, and spectacular star-filled evenings with roaring campfires, plenty of S'mores, and loads of stories, both true and tall tale of the lands and legends that once roamed. This epitome of Wild West adventure is not only thriving and coveted in 2021, it's now the destination to reunite for the most monumental life moments.
There are nearly 100 dude ranches across the Western United States and Canada, each entirely different from one another. How does one choose where to plan one of the most exhilarating, inspirational, and exceptional experiences of a lifetime? As the cowboys would say, lead by example. Here's a sampling of honoring friends and family, dude ranch style.
Circle Z Ranch
Patagonia, Arizona
Autumn and Early Winter Celebrations
Circle Z Ranch is an astounding atonal adventure for honeymooners and intimate weddings. And, the ranch runs phenomenal programming and deals up until Christmas. The original sheep ranch was developed into an official dude ranch in the 1920s where numerous generations of families would connect for reunions. Located in stunning Southern Arizona's Sky Islands, known for its vast grasslands and vaulting mountain ranges, the ranch has a rare year-round creek running along the property, ideal for photography sessions with wildflower backdrops.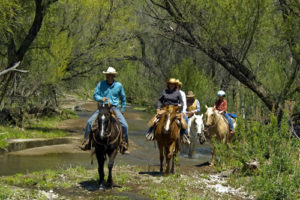 The current owners, the Nash family, purchased the property in 1976 and this is currently the oldest continually operating guest ranch in all of Arizona. The ranch is so special and iconic, movie buffs will recognize the landscape of the property. If not, study up on Broken Lance with Spencer Tracy, Monte Walsh with Lee Marvin, El Dorado, with John Wayne, and the final episode of Gunsmoke—all filmed on ranch property. Legendary stars require legendary accommodations, and there is no shortage at Circle Z Ranch. This is what makes it ideal for weddings and honeymoons. There is even a honeymoon cottage!
All cottages on property have individually controlled heat and air-conditioning, a mini-fridge, living area, and bedroom(s). Each cottage has a lovely outdoor patio for cowboy relaxation and each unit has also been newly remodeled with tile bathrooms, carpeted floors, and comfortable beds.
The colorful cantina is a centerpiece of the historic property and ideal for celebrations. The cantina also has two game tables, an assortment of books, as well as a computer and printer. Look into the pre-holiday specials! November 28 – December 19, 2021, the ranch runs 10% to 20% discounts on all stays. Plus, Circle Z Ranch has four and seven-night stays, ideal for a sampler, or the full experience.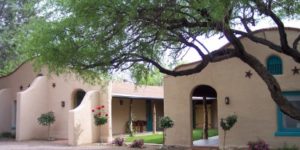 C Lazy U Ranch
Granby, Colorado
White Winter Wonderlust
Looking for a last-minute destination wedding? Is your party between 70 and 90 folks? Then C Lazy U might be the most perfect winter wedding. The 100-year-old ranch is notorious for melding dude ranch activity with luxury cuisine and beverage for the most elegant of affairs. With nearly 1,000 weddings under their belt buckles—from ranch dinners to white table seafood extravaganzas—C Lazy U offers the most diverse winter activity for weddings with proximity to the largest international airport, Denver International Airport in the Rocky Mountains.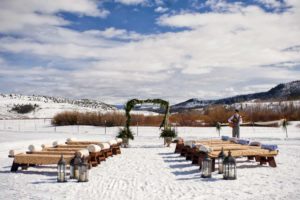 The 8,500-acre ranch has endless scenic options to capture the nuptials. There are four indoor/outdoor ceremony sites and three indoor/outdoor receptions areas. There's a secluded honeymoon cabin, numerous ranch activities such as winter fly fishing, cross-country skiing, snowshoeing, ice skating, horseback riding, gourmet dining, and optional bar packages that can be curated to add wine from the on-site sommelier.
The Main Lodge will certainly entertain guests for numerous meals and events. The 70-year-old structure overlooks the horse pasture, included with a roaring fire out front, lit nightly to help illuminate the breathtaking experience of the nightly sounds and songs. Winter stars and crisp air will elevate all the guests' experience.
Tip: November through April, the ranch has discounted wedding rent-out rates and lower minimums for number of guests needed for the two-night required stays.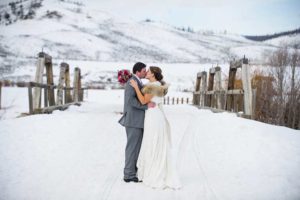 Rawah Ranch
Glendevey, Colorado
Raw Wilderness
The Rawah Wilderness Ranch, a stunning oasis is an all-inclusive experience that is thoughtfully curated for those who wish to disconnect. Pick up a fly rod, horseback ride along alpine ridges, take a hike along meandering aspen-lined trails. Sit a spell in a rocking chair on your front porch to watch for moose and elk. Rawah welcomes families with children of any age and has so much to offer for your next small gathering or celebration.
The ranch boasts 9 guest cabins and can accommodate up to 32 people. One of our most charming cabins, Cowboys Cabin has panoramic views of the Laramie River, located close enough that you can dips your toes in during those hot summer days. This beautiful cabin will allow you to experience a western ranch in a magnificent setting. Nestled among the aspen trees, sit on the porch in the morning, and hopefully you'll be lucky enough to see moose and deer, sometimes with their young. The perfect blend of Old West charm with extreme indulgences of today.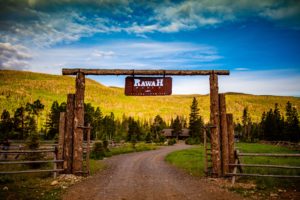 This ultimate mountain retreat with panoramic views gives you your much-needed break from the hustle and bustle of everyday life. When you are ready to disconnect, visit Rawah Wilderness Ranch and experience all the dining, activity, and scenery there is to offer!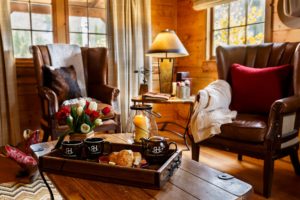 Kay El Bar Guest Ranch
Wickenburg, Arizona
Reuniting in the Wild West
This stunning boutique dude and guest ranch is ideal for family reunions and anniversaries with a 24-person maximum. The ranch is located in the foothills of the Bradshaw Mountains on the banks of the Hassayampa River in the iconic Sonoran Desert. A rarity amongst dude ranches, Kay El Bar is open year-round and doesn't need to be all-inclusive, guests can choose what to add to their packages; nonetheless, all meals are included with plenty of snacks in between and iced cold lemonade and tea.
Riding is the premiere activity on the ranch. There are twice-daily rides which make it sensational for first-time dude ranch guests to get the best sampler while spending much-needed time with loved ones. Some days, families are given the option to work cattle in the ranch's outdoor arena. Make sure to request the "mini Grand Canyon" trail, where horses swerve between dried-up river beds that can reach as tall as four feet high.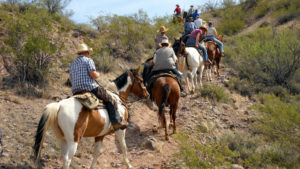 Activities include hiking, pool, spa, scenic walks, nearby Wickenburg, and multiple golf options (again, perfect for reunions and anniversaries) amongst evening activities, tales and s'mores by the fire, and much more. Another of the ranch's original buildings serves as a large gathering space with a bar for adult beverages or sodas. Rehearsals, renewals, ravishingly fabulous times can all be spent in the space that also includes a small library of Western classics, children's books to borrow, board games, and a checker/chess table.
Options for bedding down include a homestead house that can sleep up to six guests, great for families or multi-generational travelers. There are two casitas with two twin beds in each, along with eight lodge rooms with either full, queen, or king beds.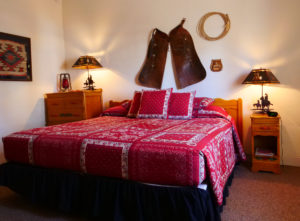 Greenhorn Ranch
Quincy, California
Weekend Getaways
Greenhorn Ranch is located in the stunning Lost Sierra Wilderness on 660 acres with access to 500,000 acres of public land for riding. The year-round, California high woods destination has multiple lodging options and activities for all seasons. There is usually a three-night minimum stay which is perfect for family gatherings, or a quick, adventurous getaway. Easy access to the ranch from the Reno airport (65 miles) makes for easy transfers.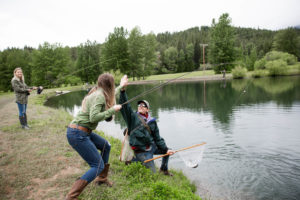 Horseback riding is the focus of ranch excitement, with 80 heads of horses on the ranch. However, there's more off-the-saddle to explore than a season worth of adventure. Fly-fish on trout-filled streams, adventure into the wilderness by foot, ATV, mountain bike, or one of the electronic bikes for even more forest access. Afront the main lodge, Greenhorn offers s'mores, whiskey and wine tastings, karaoke, lawn games, and much more.
The lodge is a 12-room, two-story lodge with a wood-burning fireplace comfortable leather seating, and a variety of cozy gathering spaces. Indoor meals are served in the dining space. Guests can choose from lodge rooms or the creekside cabins, pines cabins, or the creekside modern airstream.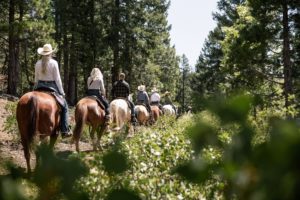 Regardless of the celebratory event, there's reason now to gather and rejoice in some of America's most isolated and beautiful places. Autumn in Arizona to fresh snow tracks in Colorado, there is something magical to be encountered and experienced at a dude ranch.
Not sure where to start? Unsure of what ranch is right for you? That's why we're here to help! Contact Dude Ranchers Association today to help you narrow down your destination options, so you can book your celebratory gathering at a dude ranch! 307-587-2339 | info@duderanch.org