The luxury yacht departed on its maiden eight-day, seven-night voyage from San Cristobal Island on Sunday, February 28.
The 20-passenger mega-yacht features 10 deluxe staterooms distributed throughout one deck, and offers a variety of onboard amenities designed especially for the discerning traveler. These include locally inspired gourmet cuisine, an open bar policy, a Jacuzzi and fitness center – making it the only vessel in its category with a fitness room. MV Origin also features expansive indoor and outdoor social and observation areas, allowing for easy and comfortable viewing of the islands' unique scenery and topography. The vessel is also ideal for family travel, offering connecting cabins and triple cabins.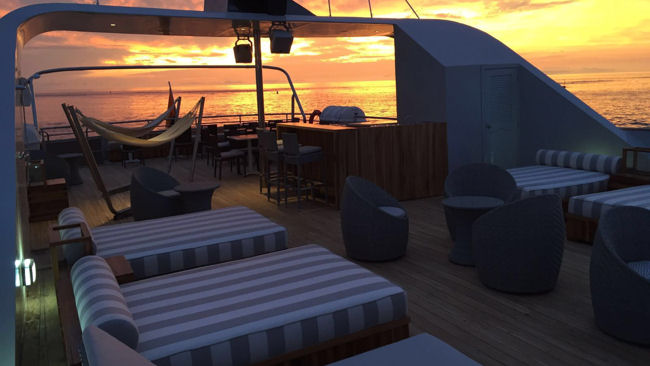 The newest and only vessel of its kind, MV Origin is redefining the cruising experience by combining modern sophistication with environmental responsibility, alternating between seven-night A & B itineraries to reduce the impact of visits to the islands' most popular sites. On February 28, MV Origin joined Ecoventura's existing fleet on the B itinerary through the northwestern route. Its maiden voyage on the A itinerary departs March 6, taking guests around the southern central route through the islands. Both itineraries include daily, personalized excursions with optional snorkel and kayak tours led by two certified onboard naturalists.
In addition to offering the most favorable guide-to-passenger ratio in the region with just 10 guests per guide, MV Origin also has the most favorable passenger-to-crew ratio in this segment with 13 crew members. The yacht was designed as one of the most environmentally friendly vessels in the Galapagos, reducing fossil fuel consumption by over 30% from similar yachts in the archipelago. In addition to being 50% more spacious than the existing vessels, the bow is designed to cut through the waves for smoother sailing, allowing the cruising speed to be 30% faster than the rest of the fleet.
Rates for 2016 start at $6,500 per person based on double occupancy, and include all meals, beverages and snacks, Captain's welcome and farewell social gatherings, an open bar policy including wine and spirits, guided shore excursions, snorkel equipment and multiple sea kayaks, as well as transfers in the islands between the airport and dock.
For a full list of 2016 departures and corresponding itineraries, please visit
http://www.origingalapagos.com/departures
To make a reservation, visit
www.ecoventura.com
using the "Book Now" form, email Galapagos Network at info@galapagosnetwork.com, or call 800-633-7972.