This is the philosophy behind the hotel platform of the same name,
eightyfourrooms.com
. Along with recommending the best rooms and suites, the book provides tips about the restaurants and bars you should visit to make your trip a truly unforgettable experience. Thanks to detailed guides on each property and local highlights, the book provides everything you need to be an insider.
Each of our hand-picked choices undergoes a rigorous check of every facet of its operation. This is the only way to ensure that each hotel presented is truly best-in-class in terms of its surroundings and its fabulous signature style. We offer a wide variety of choices: places for rock stars to remain anonymous, romantic getaways, and luxurious ski resorts, as well as properties offering amazing views of the sea or big-city skyscapes. Bon voyage!
The manager of Eighty Four Rooms, SEBASTIAN SCHÖLLGEN, studied Hospitality Management in Switzerland and Spain. After stints at the Ritz Carlton, the Villa Padierna in Marbella, the Swiss hotel Victoria-Jungfrau, and the Rocco Forte Hotel de Rome in Berlin, he realized his dream of starting his own agency, which now owns its offices in Düsseldorf-Oberkassel. The unusual name stands both for the year he was born and the number of hotels that his company has long since surpassed.
Buy book:
http://www.teneues.com/shop-us/Eighty-Four-Rooms.html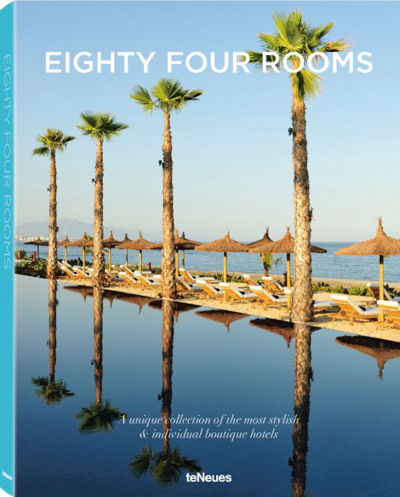 Top photo credit: ©Finca Cortesin by EightyFourRooms