Roll down the windows and the heady scent from the Eucalyptus trees sweeps over you. In the quiet air, you can hear the "zip" of golf balls being delivered to the fairway. Making a final turn onto the last leg of the drive leads to the hotel's piazza-style entrance with its distinctive Baroque water fountain.
Located twenty minutes inland from the beach at Del Mar and thirty minutes north of San Diego, the hotel, spa, restaurants and golf course have received the highest awards from Condé Nast Traveler, Elite Traveler, Forbes, AAA and Travel + Leisure. The hotel is an island of privacy and relaxation on 380 acres adjacent to Los Peñasquitos Canyon Preserve.
The Grand Del Mar references designs made famous by Addison Mizner, an architect who built homes for the wealthy in 1920s Palm Beach and Boca Raton. Taking its lead from Mizner's attention to detail and his use of high quality materials, the Grand Del Mar reimagines that elegance by updating his Mediterranean design features and adding modern creature comforts and hi-tech conveniences.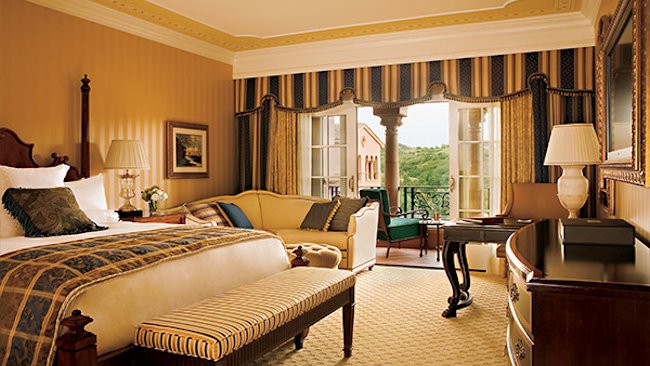 Part of Mizner's design credo was to "bring the outdoors inside," so all of the hotel's 249 rooms have balconies with views of the golf course, canyon or poolside courtyard.
In addition to rooms in the hotel, there are two-story, three bedroom villas, which enjoy the privacy of a private home with the amenities of a five-star hotel. Available for fractional ownership and as-available rental use, the villas are attractive to groups of up to ten who want to share the experience of the hotel in a residential setting. To make entertaining easy, every villa has a large, modern kitchen outfitted with state-of-the-art appliances including Sub-Zero refrigerators and Wolf stoves and an enclosed patio with fireplace and gas barbecue. A happy surprise, each villa also a baby grand piano and a screening room with a 60-inch plasma TV and Bose theater surround sound. Rounding out the amenities are an exercise room, two car garage with a complimentary golf cart and a home office.
The villas are completely private, offering a sanctuary for guests who want to take time away from their busy, public lives. Shopping to supply the kitchen with all essentials can be requested from the hotel. Butler service is also available to handle any requests during a stay, such as planning a dinner party or arranging for excursions.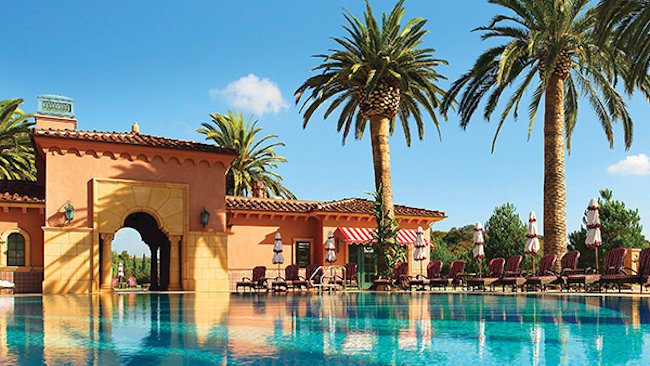 Exploring the area
For families, the local area is child-friendly with beautiful beaches in Del Mar and the surrounding communities, San Diego's Zoo & Wild Animal Park, Balboa Park, Torrey Pines State Park, Legoland and Seaport Village within a thirty minute drive.
For the more adventurous, the concierge desk can arrange hot-air ballooning, hang gliding, scuba diving, snorkeling, surfing, body surfing, motor boating, water and jet skiing, fishing, kayaking and sailing.
The concierge desk can also coordinate personalized excursions of the nearby theme parks. Because the area is a favorite with children and families, tour guides can take a private group on a behind-the-scenes tour of SeaWorld to explore the lives of dolphins, sharks, turtles and penguins up close. Guided visits to the San Diego Zoo, Legoland and San Diego Safari Park, three of Southern California's most popular attractions can also be planned.
Taking advantage of the waters off the coast, private yachts can be chartered for day trips or overnight stays with catered meals. For a bird's eye view of the area, book a hot air balloon ride from Del Mar or a helicopter tour of San Diego and the beach areas, including a stop at a Temecula winery for lunch and a wine tasting.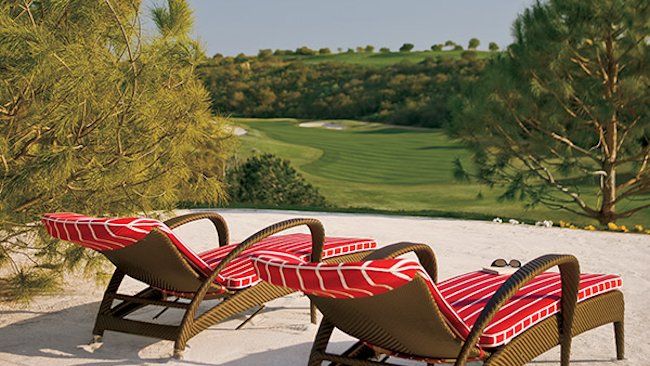 Stay in
For guests who want to exercise without leaving the hotel, in addition to the golf course, there are tennis courts, an equestrian center and four pools. Close to the property, there are hiking and nature walks in nearby Los Peñasquitos Canyon Preserve.
There are also a great many pleasures at the hotel for anyone who enjoys lounging around a pool, eating good food, and relaxing in a spa.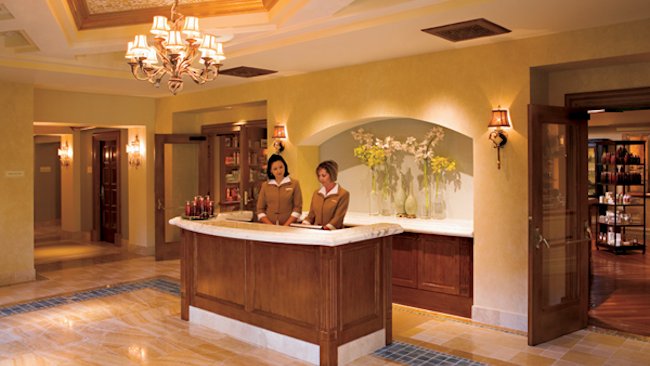 Spa reception
Most importantly, there is The Spa.
With 21,00 square feet and 11 treatment rooms, a large menu of massages and facials are available. Developed exclusively for The Spa by the well-regarded English therapist Anne Bramham, the intent of the many treatments is to relieve stress and invigorate body and soul. Personalized wellness can be gentle or aggressive, as you choose. Luxuriate in a body wrap after being massaged with heated oils or surrender to a vigorous, rejuvenating scrub.
Women's and men's lounges in the spa are decorated in classic male/female décor. The Men's Lounge features red leather English style chairs and couches with dark hued walls and a stone fireplace. The Women's Lounge references French luxuriousness with canopied lounges, gilded mirrors, a fireplace and mid-room drapes.
Included with a treatment is access to the steam rooms and saunas, an indoor Jacuzzi and quiet rooms with hot tea and iced water.
The Spa also has a fitness center with yoga, Pilates and spinning classes, which are available to hotel guests without cost.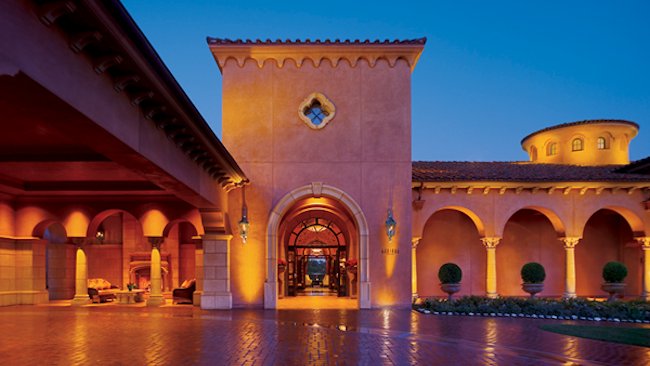 Addison entrance
Eating well
Addison, the hotel's elegant, fine dining restaurant, is the home of chef William Bradley who brings considerable skill to his work in the kitchen. Open for dinner, my wife and I enjoyed a wine-paired meal that was brilliant. Each dish was a work of art.
His classical French training is immediately apparent in the baked goods that appear on the table. Freshly baked rolls, house made sweet butter and deliciously chewy twisted grissini bread sticks flavored with Meyer lemons and seasoned with fleur de sel signal chef Bradley's attention to details.
A confit of white sturgeon, glistening on top with a generous quenelle of osteria caviar, was encircled by a deeply green, spinach-olive oil emulsion. The colors were as much a delight as the flavors, which were clear, crisp and succulent.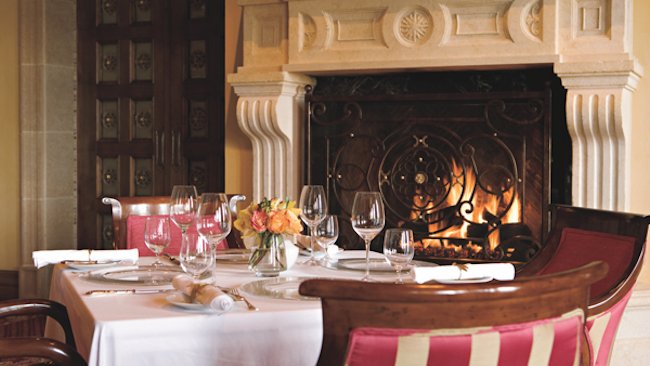 Addison table
Illustrating the breadth of the restaurant's 30,000 bottle wine cellar, a soup course took on exceptional qualities when paired with a small production, South African wine, a favorite of sommelier, Elizabeth Huettinger. The biodynamic Pofadder from vintner Eben Sadie in Swartland, helped levitate the roasted pumpkin soup topped with pecans. The wine, similar to a Pinot, carried the perfect amount of acid to parry with the richly flavored soup.
Soon after our visit we learned that chef Bradley was the well-deserved recipient of the Robb Report Culinary Masters Competition (2014), hosted by the master chef Thomas Keller.
Besides Addison, there is Amaya, open for breakfast, lunch and dinner, with outdoor service on the wide patio. Family friendly as well as elegantly casual for date night, chef Matthew Sramek prepares farm-to-table California-Mediterranean style dishes. One evening when the restaurant was filled with large families gathered for the holidays, my wife and I had an intimate dinner at a curved banquette tucked off to the side.
The meal began with a demitasse cup of lobster bisque, chef Sramek's gift to the table (an amuse bouche). A beet and tangerine salad and a spicy Spanish style shrimp soup followed, after which we shared a perfectly grilled sea bass and a plate of fresh pappardelle noodles tossed with lobster and crab.
Finished with our cozy dinner, we retired to our room and enjoyed the perfect ending to a long and fun day, a luxurious hot bath, scented with lavender bath salts.
The Grand Del Mar, 5300 Grand Del Mar Court, San Diego, CA 92130 (866) 305-1528, www.thegranddelmar.com. The hotel is easily reached by car, train and airplane. Airports and train stations are thirty minutes from the hotel.