There's no better way to feel effortlessly chic than with a bit of shine. It really does not matter the season, if we think about it. Even if in many parts of the country there's a transition to fall dressing that is starting to happen. We're liking so many Instagram posts with long sleeve midi dresses, sweaters, sequins, and denim. When we look closely, we can see that shine can be embraced while still being completely on-trend. It's a look that we are totally loving.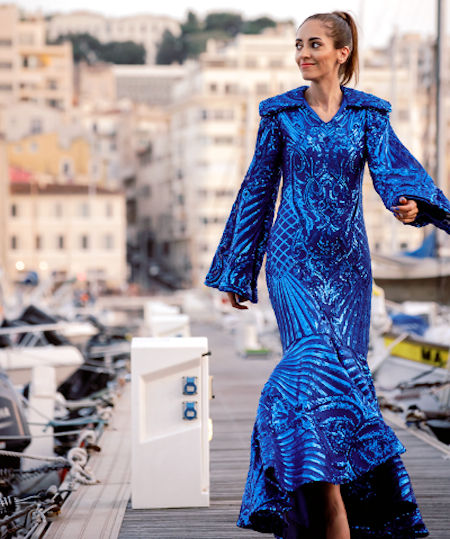 Blushingly Beautiful
On a recent trip to France, Donna Leah Designs showed off one of the many ways the color trend can be executed to Paris perfection. Blush is slightly less dramatic than the bubble gum pink the designer often loves for her evening gown collection. And we love it. Pictured here is the Rose Garden gown that's so chic.
A Love of Lace
Around the world fashion runway shows are exciting, but we think that it's also the street style that can be equally captivating. Donna Leah Designs does it again, this time it's the perfect combination of leather and lace. We love the use of lace for Fall as an unexpected detail that's most often used in the spring. This shot was taken during the prep for the Lumiere Runway in Marseilles.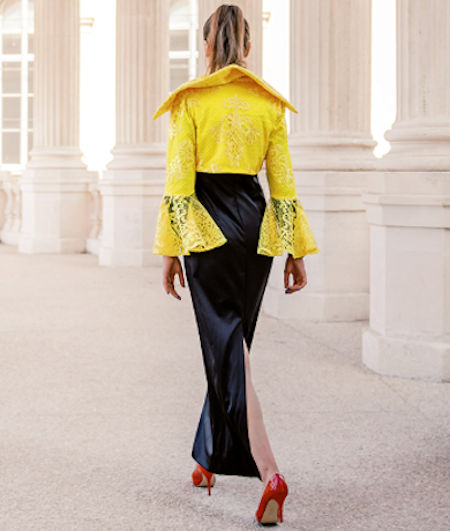 Denim Days
A wardrobe staple is definitely denim. Nothing goes better from day to night or summer to winter than a workhorse denim jacket. Find a style with hand embellished shine and it's truly meant for every occasion. Some designers are showing off denim in head-to-toe looks, but for now we are embracing a jacket that is both versatile and sophisticated.
Fabulous Fabrics
A great way to incorporate shine into a wardrobe is with a two-piece set. Especially if it's created in a fantastic leatherette fabric. Wear the set as a monochromatic look for evening or separate and turn it into a head-turning outfit to be worn during the day.
Highlight Saturated Hues
Donna Leah Designs has always embraced color. One can argue that it's done equally to her love of shine. Fall does not have to mean a switch to khaki, green, and brown. Embrace bold colors that make you feel happy all day long. If you are not yet comfortable with mixing strong colors together in the same look, do not worry. Go for a set or dress that does the work for you. We're here to remind you that the focus is on the shine.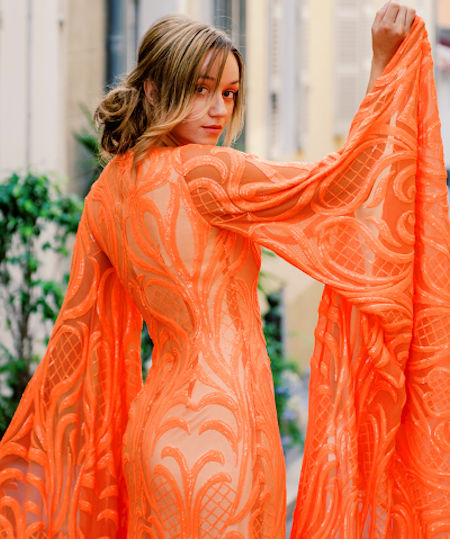 Sophisticated Sequins During the Day
We saved the best for last. Embrace shine from day to night by starting off immediately with something, well, with shine! Have you heard the term "revenge dressing"? It's about making up the lost time that everyone was indoors and social distancing over the past year. Don't wait for New Year's Eve to break out the sequins. Do it right now and all day long.