Bienvenidos a Española Way, manera todos!
Translation, welcome to Española Way, Everyone! Picturesquely nestled between 14th and 16th Street (from Washington to Drexel on Miami Beach) is one little Floridian street packed with good food, atmosphere, and culture. In other words, Española Way. This avenue not only rolls off the tip of your tongue with ease, but embodies the easy-going, lively, culturally dynamic, and vibrant nature of Miamians in a teeny-tiny radius.
Surely, South Beach has its 'unofficial' icons that are associated with The Magic City. Many will take note of the Instagram-perfect rainbow hue lifeguard stations running down Miami Beach. Of course, you can't forget to mention the modern-meets-art-deco draw of the Marriott Stanton South Beach. Others with an eye for style will call out the variety of multi-color woven bistro chairs which appear minutes before the dinner hour. You know, that magical time of day when South Beach's strip preps for another buzzy night of appetizers, cocktails, and conversations. All of these things (and more) act as a memorable South Beach representation.
To many of the city's visitors as well as even some of its residence, the vivacious Española Way may not be on the radar. However, thanks to a recent $2.5 million revival sponsored by The City of Miami Beach, we are calling, Española Way the hidden gem of South Beach. Dare we say, an icon? Yes! She's lively, sensual, charming, and hospitable. Come on over, and meet Española.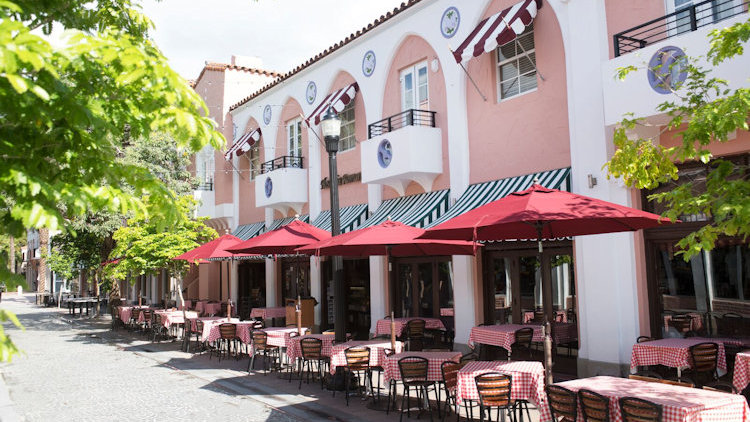 Since Española's revitalization, the street was dubbed, "Best Block in South Florida" by the Miami Herald.
Like all good things, this pedestrian-only street, illuminated by cozy table-lit candles and string café lights, has roots dating back to the 1920s. The atmosphere of Española Way is European-inspired architecture. Many note that that the street style resembles that of the artist quarter in Paris as well as the Big Apple's Greenwich Village. However, the appropriate name of Española's aesthetic is called, Mediterranean Revival.
Wendy Chernin with the Española Way Association spoke with Luxury Travel Magazine. Chernin comments, "Quaint and rustic, picturesque, yet bohemian right down to its peach-colored paint, Miami Beach's Española Way is a slice of history served with a touch of culture."
She continues to elaborate about the street's aesthetic saying, " The street's European-inspired buildings stand seemingly untouched by the modern designs of the new millennium."
The street's Spanish style buildings with photogenic canopies as well as a collection of southern plants is one of the many reasons why Española Way's appearance is so alluring. Yes, iconic too.
Just when you thought, red-checkered tablecloths, perfectly miss-matched china, and instrumental music only existed in Disney's Lady & The Tramp, talking your first step on Española Way, you'll realize that is just not so! Atmosphere aside, there are currently fifteen restaurants, three hotels, and a handful of shops to amuse all of Española's visitors.
The glamour of Española is not only her physical attributes, but the many evenings of planned events (and activities) that mingle locals with Miami guests.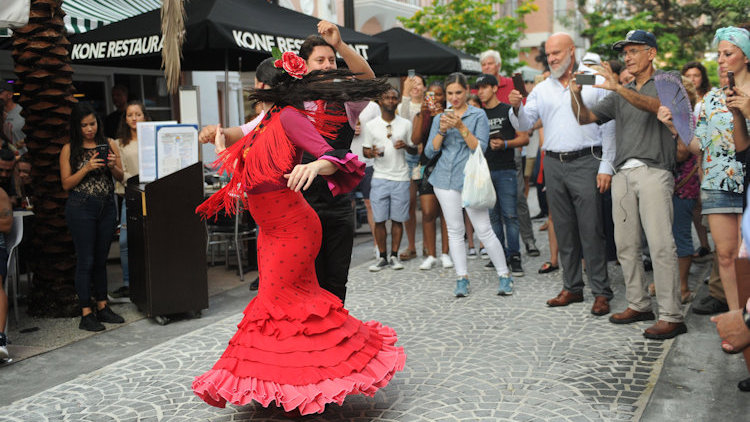 Wednesdays, Española establishments encourage all to toast the mid-week blues away with street-wide happy hours from 4-7 p.m. Thursdays are Salsa nights, followed by Flamenco Friday, and Samba Saturday. Olé!
When asked how would you describe Española Way to someone who has never been, Chernin knew exactly what to say. She replied, "Española Way is a place where visitors can be transported to an enchanting European village complete with charming cafes and restaurants, shops, and Mediterranean architecture, all while enjoying the luxury of Miami Beach."
You see, Española Way is more than a street, a pathway, and a quintessential hideaway. She is a little community. This energetic tight knit community composed of by-passers, locals, visitors, and Miamians wants you to stop by and grab a chair. Or meet them on the dance floor.
Olé, Olé, Olé.
Follow Española Way on Instagram
Article by Katelyn Chef / Photos provided by Española Way