The
Coastal Adventure Package
includes luxurious accommodations and one of three excursions for two -- sea kayaking, horseback riding or a tasting at Thomas Fogarty Winery. The experience starts at $859 per night and also includes resort fee and overnight valet parking.
Sea kayaking is a unique way to enjoy the natural setting of the captivating coastal region of Half Moon Bay. Glide across the waters of Pillar Point Harbor while getting close to and observing harbor seals, marine birds and other wildlife in their natural habitat.
Experience riding a horse on the beach and be only feet from the Pacific Ocean. Ride along the trail that hugs the coast and offers spectacular views of not just the beach, but the California landscape and Princeton Harbor. Keep your eyes peeled for the variety of marine life frolicking in the waters, and don't forget to look up and potentially spot a red-tailed hawk hovering in the sky above in place as it searches for its next meal.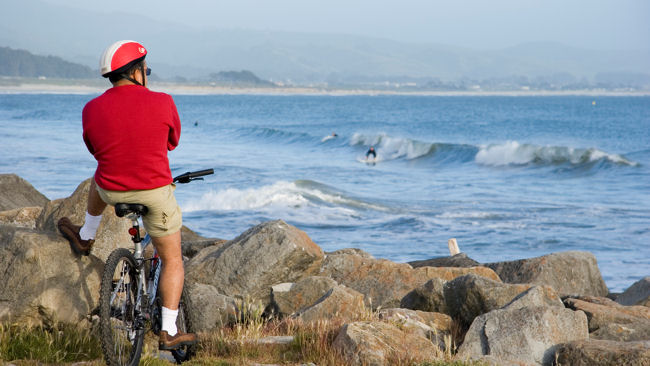 Thomas Fogarty Winery features 25 acres of Burgundian-style varietals planted on this 325-acre estate, focusing on Chardonnay, Pinot Noir and small lots of Merlot and Sangiovese. The winery sits on Skyline Boulevard at a 2,000-foot elevation. The long, cool, growing season and excellent sun exposure provide an ideal climate for these grape varieties. Dr. Fogarty's vision is to produce high quality, character-filled wines, which take full advantage of the unique soil and climate of this appellation. The winery also has great views across Silicon Valley and even the city of San Francisco on a clear day.
During their visit, guests of the Half Moon Bay hotel can also enjoy all things adventure, including hiking, biking, surfing, golfing, whale watching, horseback riding, and paddle boarding, just to name a few. For outdoor adventure with less physical exertion, guests can enjoy a stunning coastline diversion on a Segway® tour where they can view an assortment of wildlife, native plants and shore birds along the beautiful Half Moon Bay Coastal Trail. At the end of the day, guests can enjoy roasting s'mores by the fire pits on The Ocean Terrace.
Visit website:
www.ritzcarlton.com/en/hotels/california/half-moon-bay