In addition to pristine waters and unspoiled rainforests, Nevis also boasts a range of stately resorts fit for modern royalty. As part of the run-up to Nevis' Independence Day celebrations this fall, Luxury Travel Magazine was recently invited to experience this laid-back travel destination's multifaceted splendor for ourselves. What we found when we arrived, by charming ferry no less, were gorgeous resorts and hotels, often with an interesting heritage, and untouched beaches with only pelicans and the occasional stray monkey for company. Beyond scenic mountain peaks and rainforest paths, Nevis also offers a range of luxury experiences for the discerning traveler.
Those hoping to escape the hassles of modern life and relax into the calm of island time can book a sauna or spa treatment at one of the resorts we've reviewed below, have a tropical breakfast overlooking the coast, or simply chill out and watch the ships come in from under the thatched roofs of Oualie Beach.
Though it was difficult narrowing it down, below are a few of the most tranquil, beautiful, and above all: luxurious hotels to be found on the island of Nevis.
For design lovers:Golden Rock Inn
Created on the restored grounds of a 200 cut-stone sugar mill, the artist
Brice Marden
and wife Helen designed
Golden Rock Inn
to be a place of peace and beauty. Here, set among the slopes of Nevis Peak and overlooking Antigua, Redonda, and Montserrat, the couple hoped visitors could find the same tranquility of mind and spirit they achieved on their first visits. Smartly designed with state of the art amenities, yet tastefully built into centuries old pre-existing structures, Golden Rock was built to contain only eleven guest rooms on its sprawling 100-acre property, to allow for a more relaxed and intimate experience.
With grounds rivaling even the most elaborate botanical gardens, this lush estate was conceptualized in part with the help of Miami landscape architect
Raymond Jungles
, with rooms containing bleached wood floors, colonial antiques juxtaposed against modern accents, and imported Moroccan floor rugs. On the property is also
The Rocks
restaurant, where fresh Caribbean cuisine is served daily. In addition visitors can relax in an adjacent alfresco dining area designed by architect
Ed Tuttle
overlooking Windward Beach.
For the adventurous: rent mountain bikes, hike to the beach or nearby mountain ranges, or merely get in a few laps at their world-class pool. However keep your eyes peeled, green vervet monkeys are also frequent guests, along with hummingbirds, nocturnal tree frogs, finches, and the occasional donkey or goat-- both of which are allowed to roam free on the island.
Golden Rock Inn, PO Box 493, Charlestown, Nevis West Indies 869.469.3346 http://www.goldenrocknevis.com/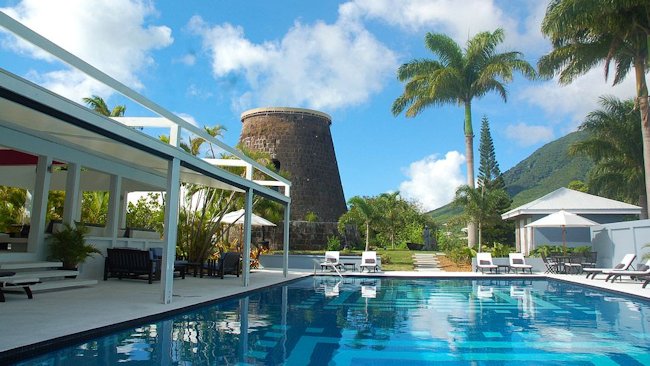 For newlyweds:Montpelier Plantation and Beach
So unobtrusively elegant and lushly hidden it makes visitors want this hideaway secret, the stunning
Montpelier Plantation and Beach
was the location of Princess Di's retreat after her official split with Prince Charles. A quick walk around the estate makes it obvious why the Princess made it her first choice: with its sleepy charm, set against centuries old trees and clinging ivy, each tastefully decorated bungalow gives off the feeling of both homey warmth and stately grandeur. Just far enough from the center of town to thwart potential paparazzi stalkings, visitors can unwind near the sundrenched pool area or the open stone courtyard, enjoying one of Montpelier's delicious breakfast dishes (including the fantastic local delicacy spiny lobster, served with eggs).
Regularly ranked by publications like Travel & Leisure and Conde Nast Traveler as being among the top resort hotels, particularly for romantic getaways, Montpelier is frequently the site of weddings and ceremonies-- with
Relais & Chataeux
hospitality providing all event needs. The site if one of the island's greatest love stories, that of the wedding between the landowning heiress Franny Nisbet and British Navy Captain Horatio Nelson, years after its creation the Montpelier Plantation is still one of the best place on Nevis to witness a happy couple.
During the day, check out the gallery space featuring
Kirk Mechar
, a Canadian national who paints in Nevis and whose modern work is prominently displayed in the great house.
At night, grab a seat at the
Indigo
bar and restaurant for one of the strongest rum punches on the island, or book a table at
Nevis Restaurant 750
for modern Caribbean fusion cuisine, both on premises. For an extra-special evening the
Mill Privée
, a one of kind candlelit dining experience located inside the 300-year-old sugar mill converted into a restaurant, offers a gourmet 6 course tasting menu for a mere $75. Created out of the restored hand-cut round stone walls of the original mill, Mill Privée's signature tasting menu is, as in most things in life, best when paired with wine or finely aged rum from the hotel's private stock.
St Johns Parish Montpelier Es Pond Hill, Saint Kitts and Nevis 869.469.3462
http://www.montpeliernevis.com/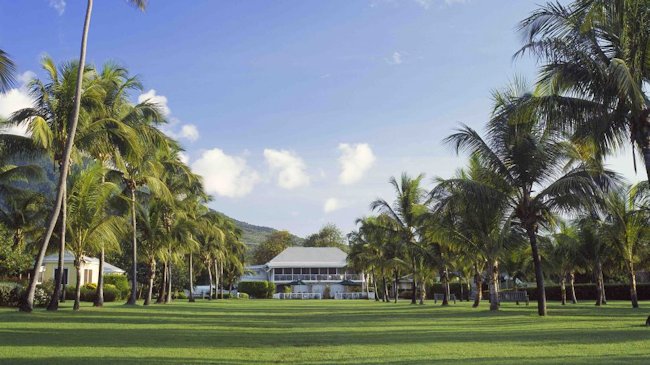 Nisbet Plantation Beach Club
Formerly belonging to the Nisbets, (one of the islands most esteemed colonial families), the Nisbet Plantation originally functioned as a sugar plantation and vast estate. After the island's years as a sugar producing nation ended, the plantation spent several years as farm and homestead before being purchase and renovated by Mary Pomeroy, who turned Nisbet into the four star resort it is today. Retaining its colonial British heritage through small touches like daily high tea, well-manicured lawns and gardens, and a pineapple décor motif, Nisbet is one of the only retreats with true Nevisian roots also located right on the beach. With 36 cottage-style accommodations lining the shore, each sunny ocean front bungalow is within quick walking distance of a gorgeous natural reef, and one of the most secluded pieces of ocean front property imaginable.
With a friendly staff on call to help with everything from local travel tips and dining recommendations, to how to manage the island's charming wildlife (while on premises colorful tree frogs, salamanders, egrets, and monkeys are a common sight), Nisbet plantation is the perfect destination for the luxury traveler hoping for the utmost in amenities, while also enjoying the piece and relation Nevis is famed for.
Dining:
One of the most lavish and upscale restaurants on the island, the
Great House
(located on premises) serves a variety of daily specials, often including staples like grilled Mahi Mahi or Caribbean lobster. Four Diamond-rated by AAA, the Great House receives much of its ambiance due in no small part to its charming décor, which also includes works by famed artist Eva Wilkin, who lived much of her life on the island.
For less formal dining, guests, visitors, and locals can all stop by
Coconuts
, the casual, open-air restaurant overlooking the pool and beach, visited frequently for its Thursday night beachfront barbeque. Traditionally the evening begins with a cocktail party, followed by a locally sourced buffet or surf and turf Caribbean-style dinner, with dancing and music provided by local musicians.
If you're simply looking to grab a drink before heading off for a long walk down the coast, stop by the
Sea Breeze Beach Bar
for a cocktail or a spiny lobster sandwich.
Those in search of top-quality amenities can also enjoy
The Palms Spa,
a full-service on site spa, a fitness center, tennis courts, available kayaks and snorkel gear for exploring nearby coral reefs, weekly scuba lessons, an island-style croquet lawn or Vespa scooters for rental (among other services).
Nisbet Plantation, St James Parish, Nevis, West Indies 869.469.9325 http://nisbetplantation.com/
For families:The Hermitage
(pictured at top)
The first thing to know about the Hermitage Inn is that its owners love running it-- their unbridled enthusiasm infectious to guests. Running this gorgeous, family-friendly destination since 1971, owner Richard Lupinacci's face lights up when he describes how his father bought the estate when it was in disrepair, lovingly restoring it to its colonial glory – and creating one of the island's most beloved destinations. Named by author
Jack
Bertholet
as "the oldest surviving wooden house in the Caribbean" in his 1984 book
CARIBBEAN STYLE
, The Hermitage was originally a farmhouse during the height of the sugar plantation era. Even today the property is strewn with the stone remains of the original settlement. With a weekly pig roast buffet, a stay at The Hermitage feel like an extended visit at a particularly lavish friend's house, who also happens to own a world-class leisure destination. With classical music adding the perfect backdrop to the English charm of the Hermitage's lobby, a Georgian style room over flows with books and antiques, while at the bar and restaurant the friendly staff will try to convince you that their rum punch is the island's best.
With split-floor bungalows available to rent overlooking the mountains and palm trees, you can feel confident letting children run free, while adults soak in the charm of the estate. On premises are a pool, tennis court, private massage and body therapy, yoga instruction, and access to a concierge service on call to provide everything from deep sea fishing instruction to arranging a game of golf.
The Hermitage, Gingerland Nevis 869.469.3477 http://www.hermitagenevis.com/
Oualie Beach
Situated against a stunning expanse of blue ocean, and overlooking the charming Hurricane Cove Bungalows, the Oualie Resort is the perfect spot for beach bums with luxurious tastes. With rows of shaded chairs doting the coast to the charming docks that first bring visitors to Nevis, children can experience hours of unsupervised fun creating sand castles and seeing fisherman come in with the daily catch. Run by the Yearwoods, a large West Indian family with roots extending back 350 years to England, the relaxed and inclusive environment of Oualie is meant to cater to travelers in search of a casual and relaxed atmosphere set in natural beauty. For those seeking adventure, the helpful front desk staff can facilitate sailing, snorkeling, horseback riding, and guided beach and rainforest trips for guests of all ages. In addition, Oualie is an active participant in Nevis' annual Fishing Tournament, in which fishermen from St Kitts, Antigua, Monserrat, St Maartens, Statia, St Croix and St Barths gather to take part in this yearly celebration of island culture. For adults: the on-premise
Chill Spa
, owned and operated by trained sports masseuse Sharon Gillam, offers a range of specialized treatments to help easy the overworked.
Another attraction of the resort is the highly ranked
Oualie Beach Restaurant
. Open daily for breakfast, lunch and dinner, Oualie Beach's Chef Michael Henville is a native Nevisian who studied at the Culinary Institute of America, who makes it a point to bring Oualie's "green Philosophy" into the kitchen, using only fresh, locally grown produce "wherever possible".
Oualie Beach, Oualie Bay, Nevis New Castle, Saint Kitts and Nevis +1 869-469-9735http://oualiebeach.com/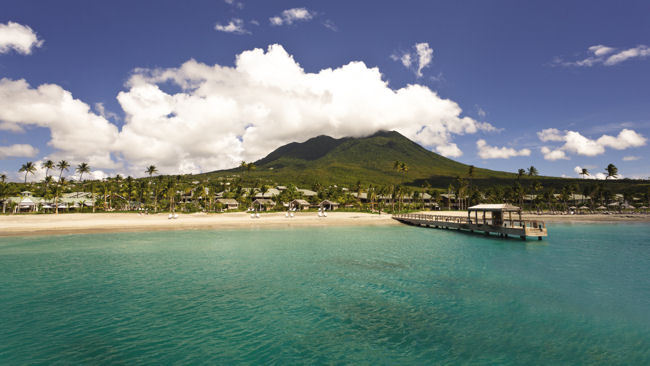 For palatial luxuryFour Seasons Resort, Nevis
While the four seasons chain needs no introduction, this particular location blends so perfectly European elegance with island touches that it's become visual catnip for design and luxury lovers alike. Featuring an impressive trio of infinity-edge pools, 10 tennis courts, cabana-style beach houses, award winning spa, golf course, babysitting services and ongoing kids' programming (in addition to many other amenities), visitors may find them never wanting to leave again. If that's the case, you're in luck because the Four Seasons Nevis also has lavishly designed private residence rentals so you can extend your stay in paradise indefinitely.
If what you are mostly seeking is a fine dining experience, there's no shortage of choices at the Four Seasons: featuring four separate restaurants, the Coral Grill, Neve, Cabana, and Mango. After dining, relax at the nearby Library Bar, where guests can enjoy a cocktail, signature rum punch, or a Cuban cigar in an elegant and intimate setting.
Four Seasons Nevis, P.O. Box 565, Pinney's Beach, Charlestown, Nevis West Indies, Caribbean 869.469.1111 http://www.fourseasons.com/nevis/
While these were just a few of our very favorite luxury accommodations on Nevis, the island is filled with great funky destinations and innumerable places to relax and soak up the warm Caribbean sun. If you'd like to learn more about Nevis, you can visit Nevis' official tourism portal at
www.nevisisland.com
.