To stay at Four Seasons Resort Hualalai is to abandon allegiance to any other favored Hawaiian locale. The defection begins at the moment of arrival when an orchid-perfumed lei or kukui shell necklace is placed around the neck of each new guest. Loyalty is further cemented upon first sip of the POG Mai Tai and bite of fresh pineapple offered at check-in. Complete fealty is achieved after several days of persistent pampering by a warm and attentive staff that attends to every wish – be it a saved chaise lounge near a favorite corner of the pool or the impromptu appearance of a preferred beverage. This is a posh paradise like none other, and the embodiment of the aloha spirit.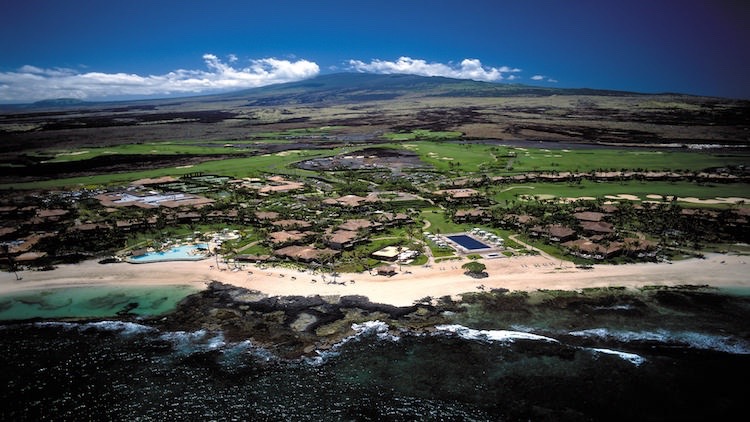 The resort's 800-acres meander along the Kona-Kohala coastline, where tide pools and calm bays are sprinkled amongst ancient lava flows that spill into the Pacific. The provenance of the craggy black coastline looms above the resort – Hualalai, one of the island of Hawaii's five volcanoes that over centuries have shaped and influenced the island's moon-like terrain. The extraterrestrial topography seen on the drive from nearby Kona airport gives way once inside the Four Seasons Resort grounds where the lush greenery of fairways and swaying palms predominates.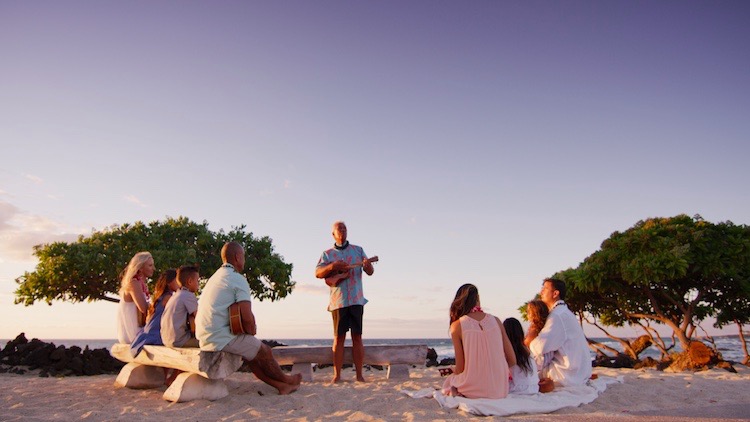 'Uncle' Earl Kamakaonaona Regidor
And while Four Seasons Resort Hualalai affords typical tropical pleasures such as golf, tennis, and a choice of swimming venues, it's the variety of bespoke and enriching activities that sets it apart from other island destinations. Though guests are welcome to simply retreat into a poolside cabana with a good read, those seeking a bit more from their Hawaiian vacation will easily find multiple diversions. Take the resort's Ka'upulehu Cultural Center for instance. Overseen by 'Uncle' Earl Kamakaonaona Regidor, this book-lined, art and artifact-filled gathering spot located below the resort's Hualalai Grill welcomes guests to explore Hawaii's rich history. A Big Island native, Uncle Earl welcomes young and old to partake in lei making, 'ukulele lessons, hula lessons, and Hawaiian language classes. A master of the Hawaiian art of 'talking story,' Uncle Earl can help explain the primordial power of Pele, Hawaii's goddess of fire, and the diametric source of both the island's volcanic outbursts and its bounteous beauty.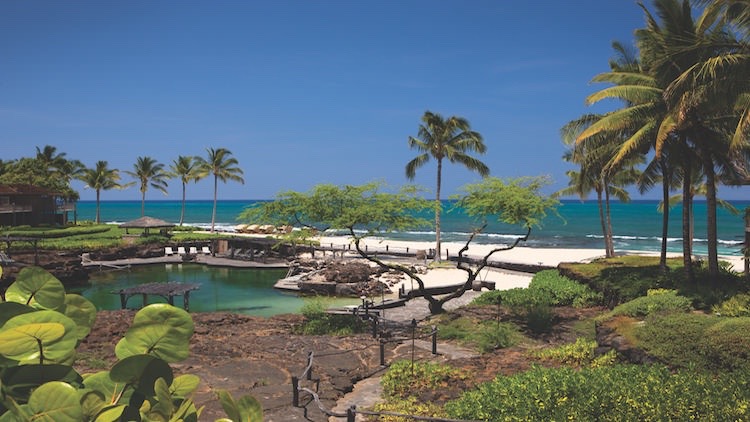 King's Pond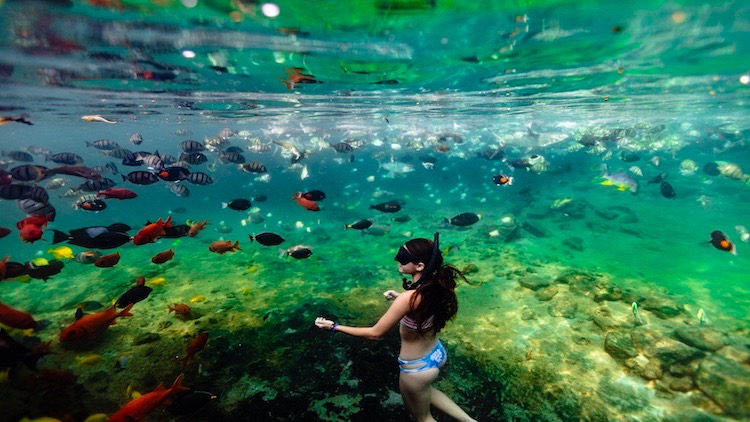 King's Pond snorkeling
For those interested in marine life and the natural resources of the resort's ecosystems, seek out David Chai who is often seen pedaling his bike between ponds. The resort's director of natural resources, Chai and his team of aquatic resource managers offer a number of programs and classes that introduce guests to the island's varied resources. Feed Kainula, the resort's Spotted Eagle Ray, during a snorkel swim within the King's Pond pool (carved out of natural lava rock), take a tide pool tour, visit the resident sea turtles who laze upon the resort's warm sands, or arrange for a marine biologist to accompany your group on a canoe ride or paddle board tour. Chai and his team are palpably passionate about ocean and coastal preservation and their enthusiasm and knowledge are contagious.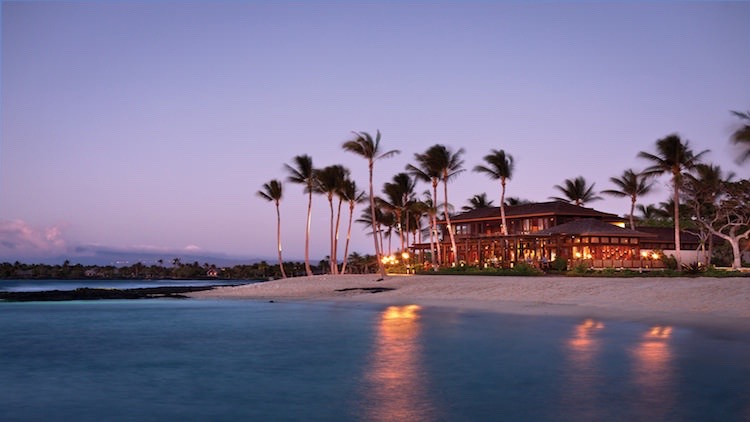 'Ulu Ocean Grill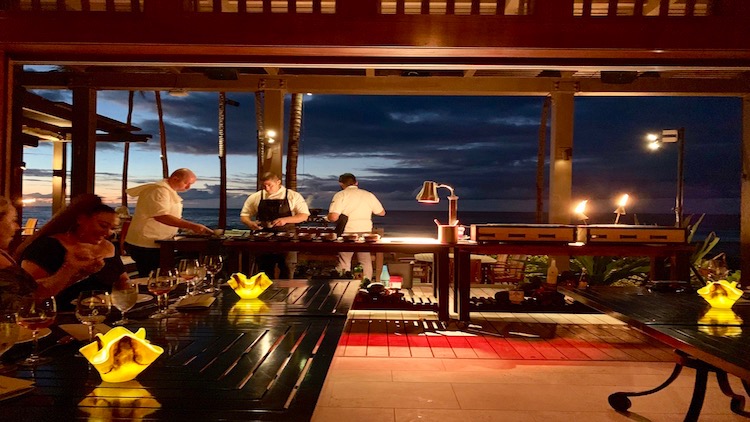 Mauka to Makai Dinner
If it's cuisine that cajoles, guests are more than satiated with five restaurant choices. And for those seeking further culinary adventure, the resort more than complies with a number of bespoke opportunities that inspire. A weekly Mauka to Makai Dinner pairs seven courses derived from land and sea with wines from around the world. Staged in the open dining room of the resort's signature restaurant 'Ulu Ocean Grill + Sushi Lounge with the Pacific Ocean as a backdrop, the Four Seasons Resort Hualalai's dream team of chefs - Executive Chef Thomas Bellec, Executive Pastry Chef Kalani Garcia, and Chef de Cuisine Chad Yamamoto - minces, chops, bastes, and sears in its outdoor kitchen, before an intimate audience of no more than 18.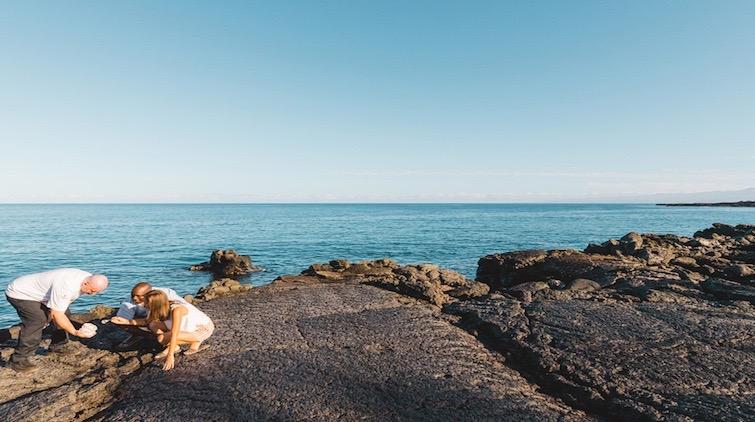 Salt Harvesting with Chef Thomas Bellec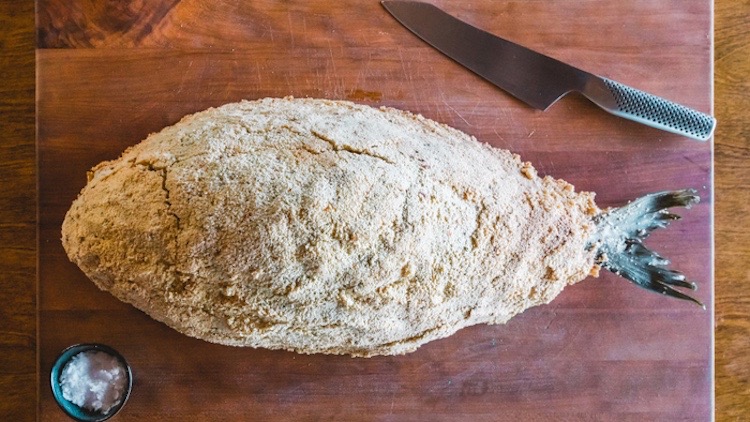 Salt Cocooned Catch of the Day
For those interested in even more personalized chef contact and culinary instruction, the Four Seasons Hualalai's Salt Harvesting Experience delivers. This Chef Bellec-guided hike along the coastal lava flows leads to collection of the sodium chloride which settles in the black coastline crevices. The French-trained Chef Bellec – a Maitres Cuisiniers de France – then conducts a private cooking class where the versatility of salt is illustrated through both the preparation of a poke dish and a standing ovation-worthy presentation of salt-encrusted catch of the day. Chef Garcia joins in with a swoon-worthy salted caramel dessert creation. That these two amiable masters so openly provide the tricks of their trades during this intimate two-and-a-half-hour experience is nothing short of intoxicating. Who needs the accompanying bottle of rosé?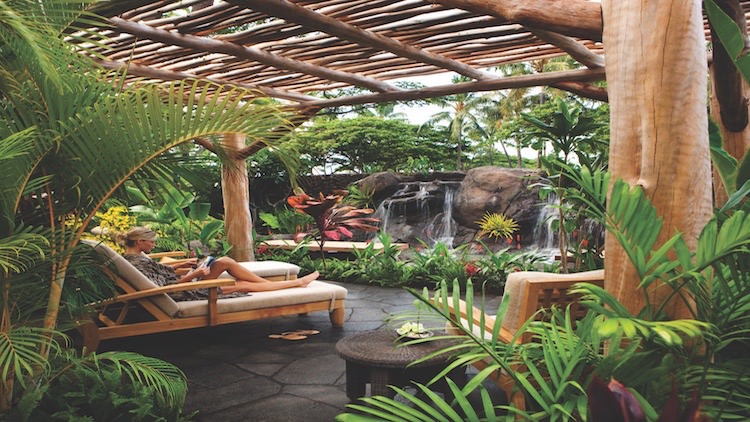 Hualalai Spa Garden
Guests can extend their salt education at the resort's lush Hualalai Spa with a 'Salts of the Ocean' body treatment. Featuring seven varieties of Hawaiian sea salts blended with seven unique Hawaiian essences, the indulgent treatment balances energy and well-being by addressing each of the seven chakras. A sensory interpretation of the salts and essences and their attributes is provided, and blending takes place at the lobby's colorful apothecary display. The whole body scrub is followed by a relaxing massage and use of the beautiful spa facility which includes an outdoor garden in which to linger. A flowing river invites meditation and introspection while the abundant variety of garden greenery creates a soothing canvas.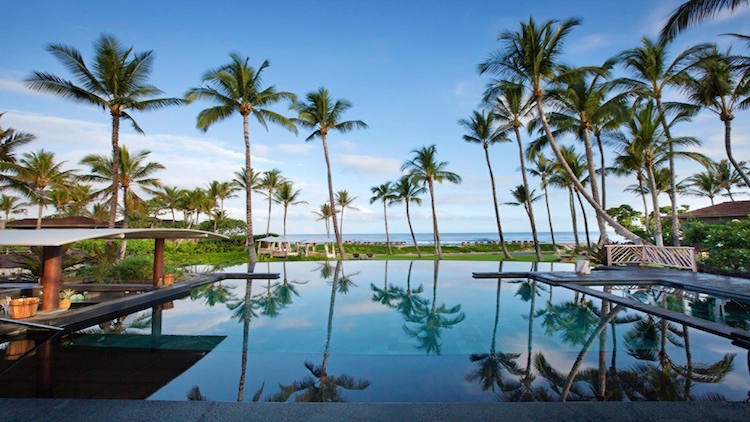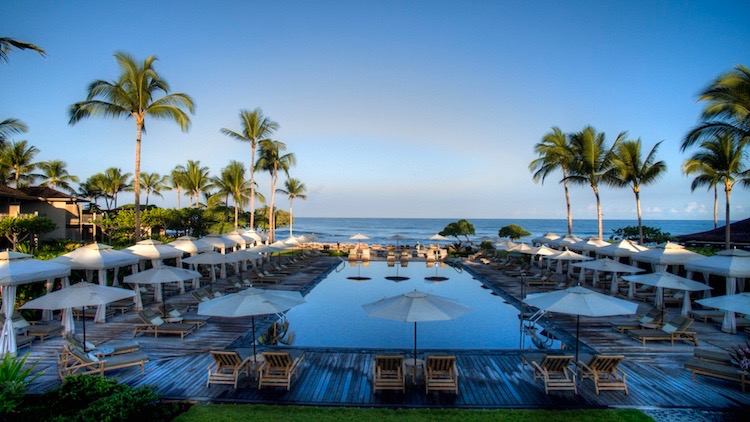 And after all of this, if a poolside good-read is still desired, choose your lounging spot from amongst the multitude of swimming pools – each with its own vibe and tenor: For quiet rest and relaxation, it's the Beach Tree pool. Seeking to escape the wee ones? Head to the adults only Palm Grove Pool. Need a workout? The spa's 25-meter lap pool awaits. Families and children love the waterfall, infinity-edged Sea Shell Pool and nearby Keiki Children's Pool, and the 4000 tropical fish within King's Pond never reject a snorkel-sporting visitor. And don't forget the largest pool of all – the Pacific Ocean – upon whose white-capped crests this paradise is perched.
Photo credits: Four Seasons Resort Hualalai