I'm sitting in an idyllic Caribbean village sipping water from a freshly cut coconut, listening to a Garifuna medicine man tell us about "Jackass Bitters" -- a natural antiviral remedy that he claims can ward off Covid among other serious ailments like cancer and malaria. The Garifuna people who have been recognized by UNESCO for their ancestral language, music and dance, are descendants of the indigenous Afro-Caribbean people who found refuge from slavery here in the late 18th century. He told us that they are a tight-knit community and didn't want to lose anybody, so they've been drinking this tea made from the leaves since the beginning of the pandemic and so far they haven't been hit by Covid. He exclaimed, "It's so bitter you gotta be a jackass to drink it!"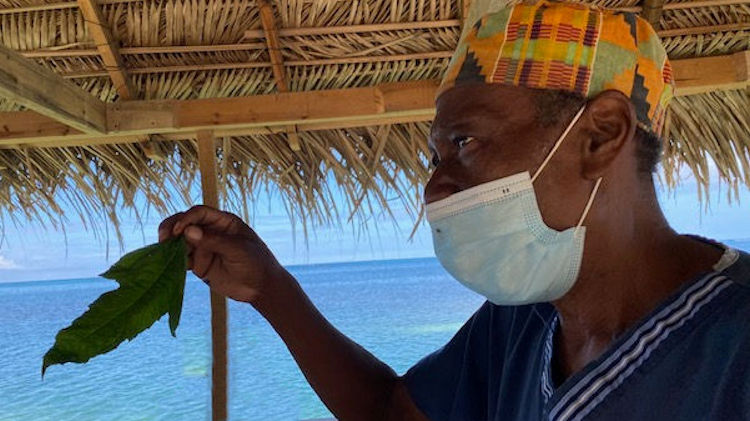 The village is Punta Gorda on the island of Roatán in Honduras. This is a place where local Garifuna people live simply off the sea and the land, so it is fitting that we have been brought here by Silversea's S.A.L.T. (Sea And Land Taste) -- a groundbreaking new program that elevates the role of food and drink as a means to travel deeper into a destination, by showcasing entire ecosystems around the culinary cultures of the world.
Roatán is 48 miles long and 5 miles across at its widest point with a population of about 80,000. The west side of the island where the ship is docked is the most developed and most frequented by tourists. In the middle of the island you have the larger towns for shopping and other services. The farther east we traveled, the quieter and more rural it got. We even ran into cows wandering beside us on the road.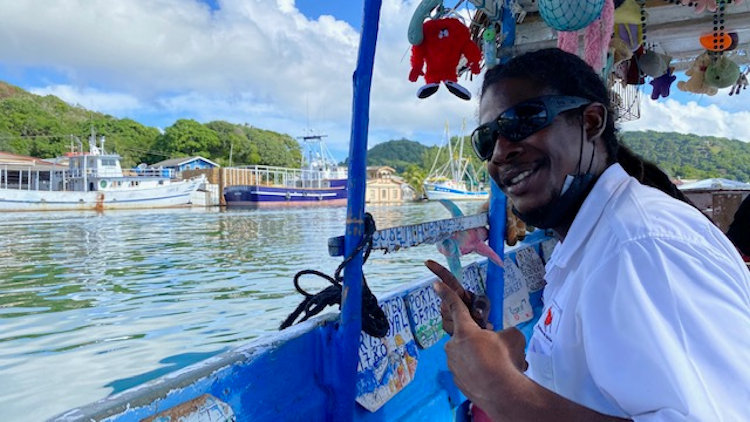 Our Garifuna guide gave us a picturesque tour by ornate wooden skiff where we saw Garifuna fishing huts perched on stilts in the water. Roatán, with its verdant, jungle-covered hills, is a tropical paradise which has been named one of the best islands to retire for expats. He explained that foreigners generally live up in the hills with panoramic views, while locals live on the water. The island, 30 miles offshore, belongs to the country of Honduras, but it is world's away from the mainland in many ways including safety and language. Although Honduras is a Spanish-speaking country, English is widely spoken on the island because of its historical link as a British colony.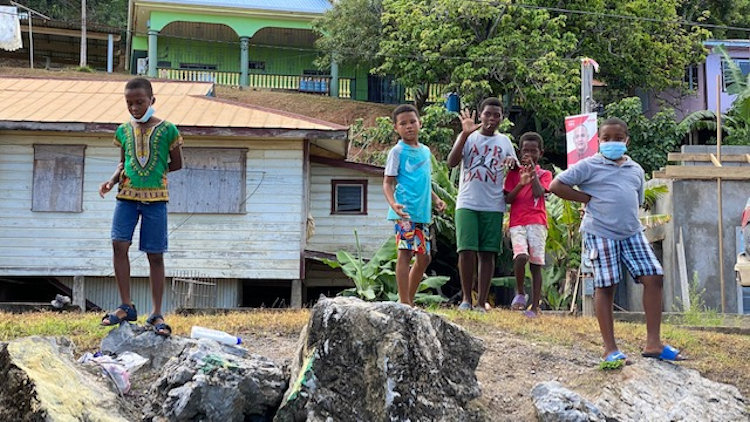 Garifuna kids
Garifuna dancers treated us to a lively performance where the women swung their skirts, kicked up their heels, and twirled around in a traditional ancestral dance accompanied by drums and percussion.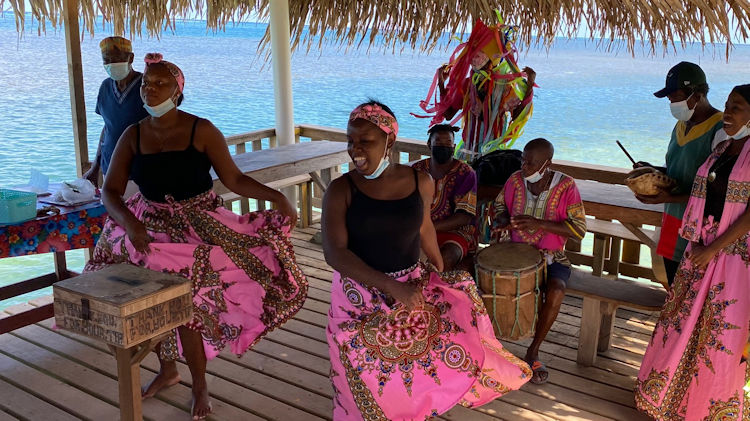 After the performance, we joined the chef for a traditional Garifuna lunch of "Hudutu" Fish and Coconut Milk Stew with Plantains beneath the restaurant's open-air canopy. We learned that Garifuna food and drink generally makes use of a combination of native Central American crops and African staples, including fish, rice, beans, plantains, cassava bread, and bananas.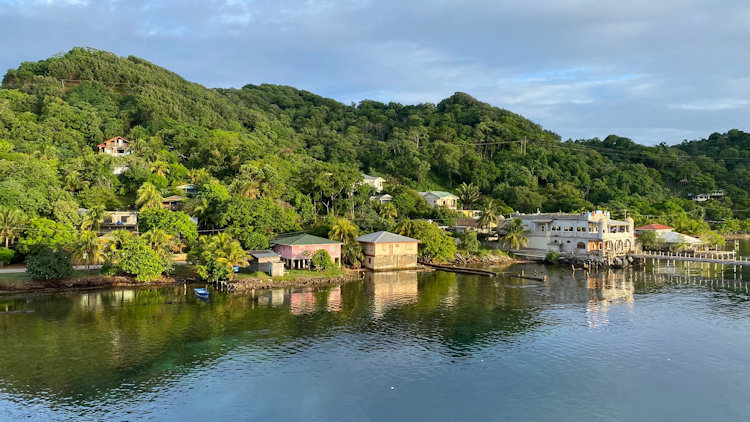 View of Roatan from port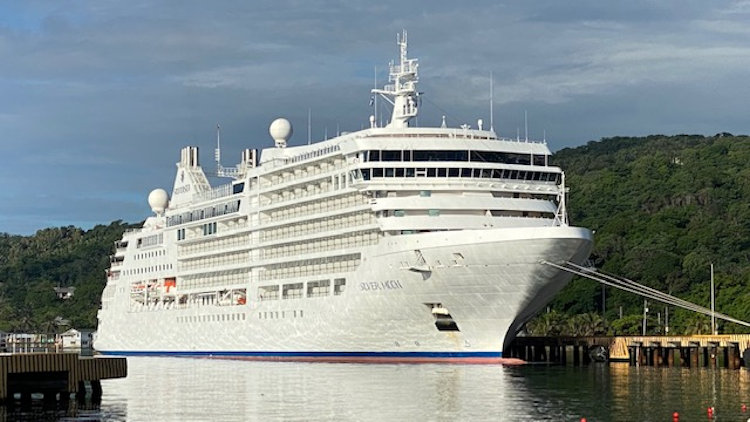 Silversea's Silver Moon docked at Roatan
Silver Moon debuted in June 2021, and is the 9th ship in Silversea Cruises' elegant, ultra-luxury fleet. It's been said that if Silversea were a hotel, it would be rated 6-stars and we completely agree. With each new ship they seem to take it up another notch! The intimate all-suite Silver Moon has a guest capacity of 596 with a theme of tranquil elegance flowing throughout the accommodations. All suites feature ocean views and 96% have a private veranda.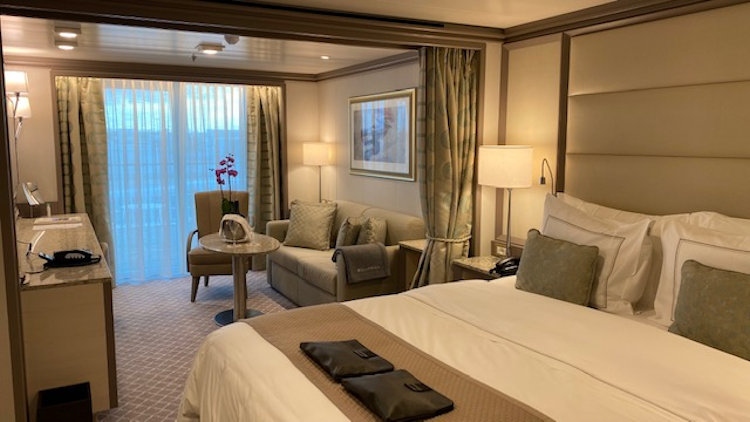 Veranda Suite
The luxurious suites also offer one of the highest space-to-guest ratios at sea, with Silversea's trademark level of comfort including every suite coming with butler service, marble bathrooms including deep soaking bathtubs and a full line of luxury Bulgari toiletries. Our fully stocked mini-bar included full size bottles of Champagne including Laurent Perrier. The larger suites offer lavish indoor/outdoor entertaining spaces. Although it is considered a small ship, Silver Moon features a huge pool, 8 restaurants and bars, and a variety of large gathering spaces intermingled with secret hiding places.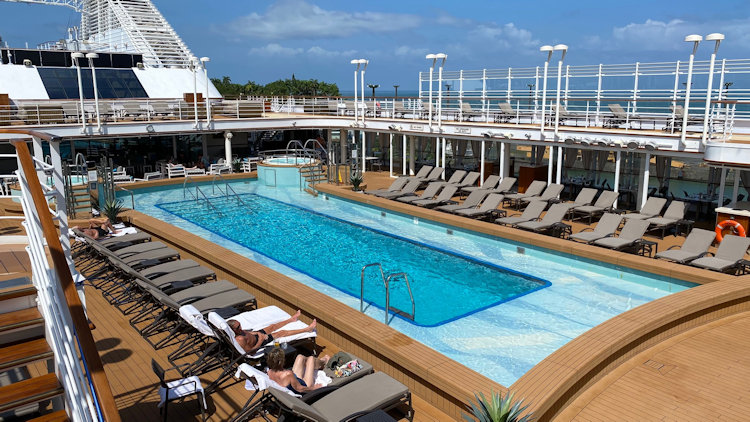 Already known for the excellence and wide variety of its on-board dining, Silversea has added the comprehensive S.A.L.T. Sea and Land Taste to its newest ships. The pioneering S.A.L.T. program is currently unique to Silver Moon but will also be featured on Silversea's 10th ship, Silver Dawn which will launch in March 2022. S.A.L.T.'s co-creator and director is Adam Sachs, a three-time James Beard Award-winning food and travel writer and former editor-in-chief of Saveur magazine.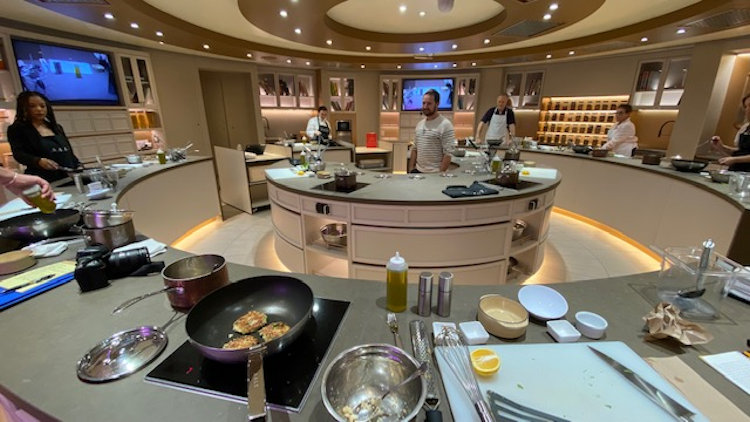 S.A.L.T. Lab - A contemporary, sparkling venue aboard Silver Moon
On board you'll find the S.A.L.T. Lab, S.A.L.T. Bar, S.A.L.T. Kitchen, and S.A.L.T. Talks. The final element of the S.A.L.T. program involves immersive shore excursions where guests develop an appreciation for regional ingredients and culinary customs by venturing ashore under the guidance of experts to experience food and drink cultures first-hand.

Our voyage departed Fort Lauderdale, passing by Cuba and making stops in Mexico, Belize, Honduras, and Costa Rica before traversing the Panama Canal. Experiences in this part of the world include visits to Mayan temples and ruins, rainforests and animal sanctuaries, kayak and snorkel adventures, in addition to the S.A.L.T. excursions.
Culinary experts also define Silversea's innovative new S.A.L.T. program using storytelling to form meaningful connections between curious guests and the world's most remarkable places, cultures, and communities. S.A.L.T. Talks take place in the ship's uber-comfy Venetian Theater. Nicholas Gill, co-author of the stunning new "The Latin American Cookbook: Cuisine From the Rio Grande to Cape Horn" joined our voyage. He wrote this comprehensive 600-recipe cookbook with award-winning, three-Michelin-starred Peruvian Chef Virgilio Martinez. The book features an incredible range of cuisines from Mexico's tropical coasts to the jungles of the Amazon, to the icy shores at the foot of South America.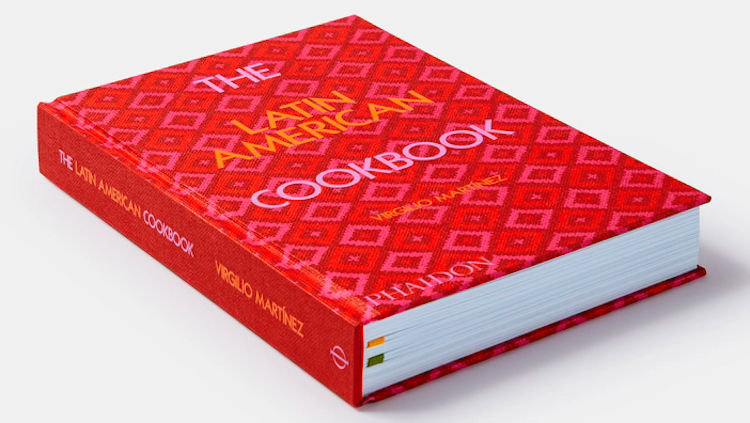 Nicholas explained that the rare combination of some of the Earth's richest biodiversity and its oldest civilizations has helped fuel the diversity of the cuisines. He said it was very difficult to narrow it down to just 600 recipes to represent the cuisine from a region that spans from Tijuana to Patagonia. He also told us how the regions and microregions have encouraged generations of farmers to develop literally thousands of varieties of potatoes and other tubers, corn, pseudo-grains, and chillies. The vast area has also been influenced by European and Asian cultures. The talk gave me a sense of the importance of the need to protect the indigenous knowledge and biological and cultural diversity of regenerative organic agriculture.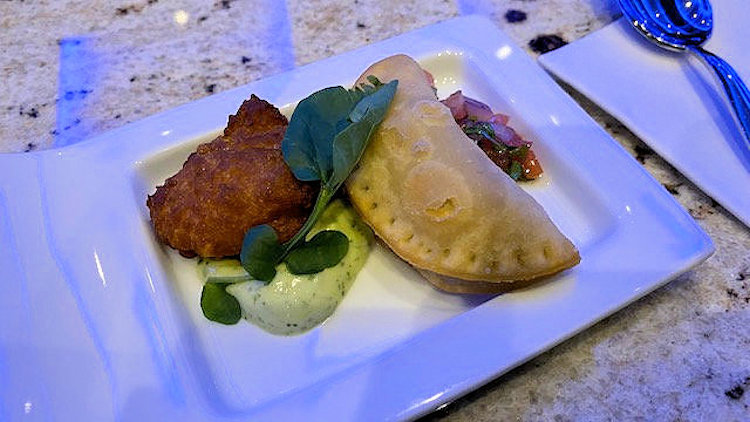 We were treated to a taste of Empanadas during our S.A.L.T. Talk
S.A.L.T. Lab class options during our voyage included: Grains of the Gods: Amaranth; Wrapper's Delight: The Art of Making Tamales; Tastes of the Garifuna Kitchen; Costa Rican Comfort Food; and Cuisine at the Crossroads: Foods of Panama. S.A.L.T. Lab selects dishes that are simple enough for even novice cooks to prepare and bonus -- you are given copies of the recipes to take home!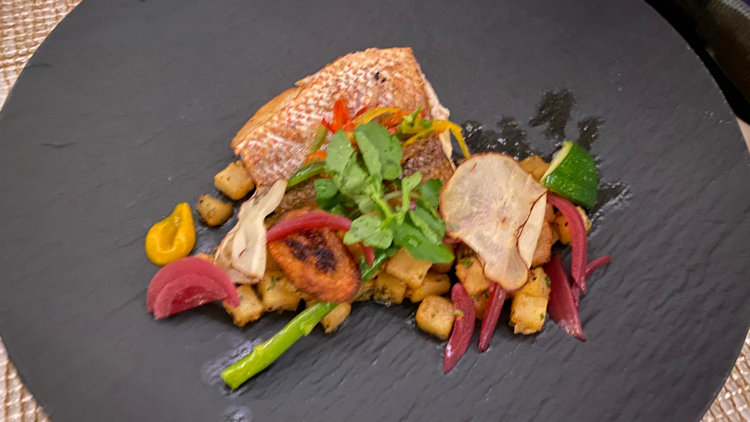 Garifuna dish: Fried red snapper with encurtidos pickled red onions and crispy tajadas plaintains
S.A.L.T. Kitchen's menu is divided into two sections: the first section is the "Terrain Menu" with local dishes from the specific port visited that day, and the second section is the "Voyage Menu," which is more encompassing focusing on the broader region of sailing. In our case, Central America, and entitled Between Hemispheres: The Americas. Our cruise's Terrain Menu included menus from Cuba, Mexico, Belize, Roatán, Nicaragua, Costa Rica and Panama.
On the evening that we were docked at Roatán, we ordered from the Garifuna menu in S.A.L.T. Kitchen that included:
Starter: Honduran tamale with beans, chipilin greens and cilantro, topped with tomato sauce
Entrée: Fried red snapper with encurtidos pickled red onions and crispy tajadas plaintains (pictured above)
Dessert: Rum-soaked sponge cake with coffee ice cream.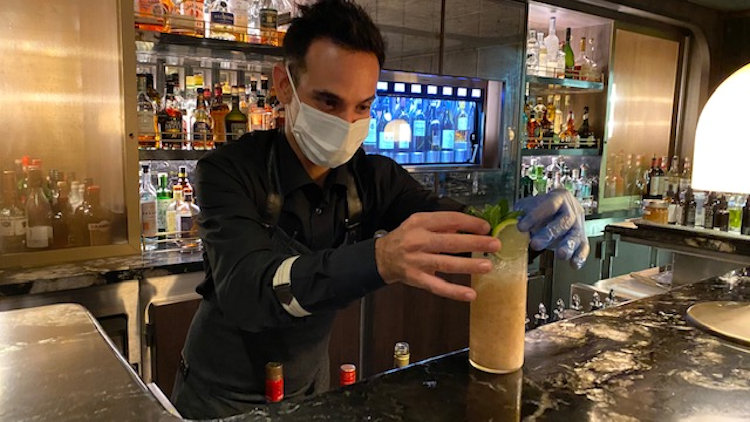 SALT Bar and bartender
We found the S.A.L.T. Bar to be the perfect cozy spot for cocktails and pre- or post-dinner conversation, with its super exclusive, speakeasy atmosphere reminiscent of Tokyo's hidden cocktail dens.
"To me, this is the most elegant and sexy space on the ship and it's been a thrill to see guests ordering and really enjoying new spirits and cocktails you won't find anywhere else." - Adam Sachs, Director of S.A.L.T.
We indulged in S.A.L.T. Bar many times during our voyage to taste local cocktails concocted with local spirits, from Cuba to Panama. We found our favorite to be the Old Cuban, made of 7-year-old Havana Club, mint, fresh lime, angostura bitters and Champagne.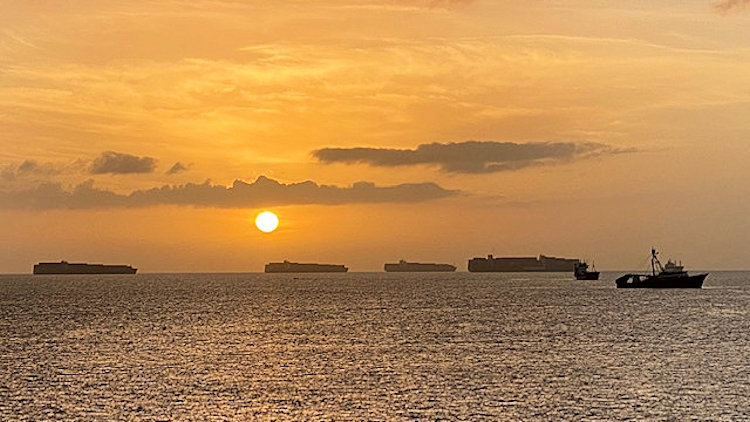 Ships lined up at sunrise to pass through the Panama Canal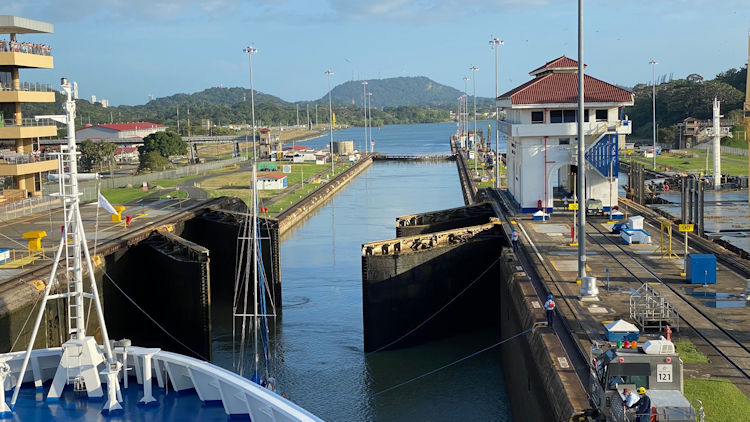 Miraflores Locks -- the Panama Canal's Pacific Gate
It is fascinating to pass through the Panama Canal that connects the Atlantic and Pacific Oceans at the narrowest point between them which happens to be just 50 miles. Today, S.A.L.T. presents "Cuisine at the Crossroads: Foods of Panama" and the S.A.L.T. Kitchen features the Fuerte Amador menu. The port of Fuerte Amador is located right at the Pacific entrance of the Panama Canal in the Pacific Ocean with a view of the cosmopolitan Panama City skyline.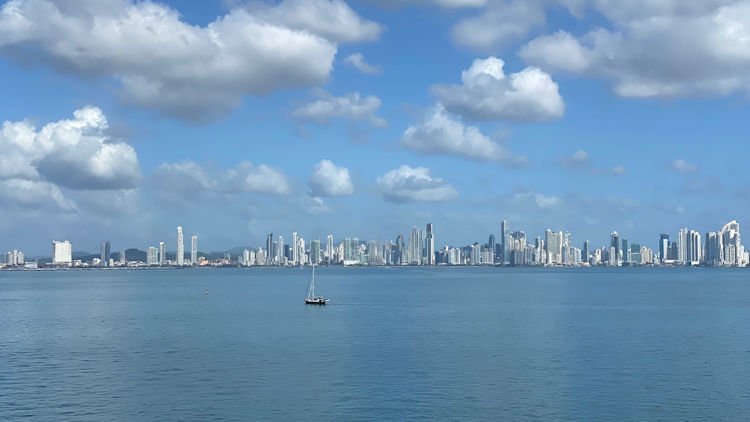 We mentioned that with each new ship, Silversea seems to take it up a notch. Silver Moon introduced the groundbreaking new S.A.L.T. concept, and her sister ship Silver Dawn launching in 2022 will introduce yet another innovative concept with its indulgent Otium Spa. Life doesn't get any better than sailing on a Silversea cruise!
All images ©Christine Gray/LuxuryTravelMagazine.com
***
Silversea voyages and cruise expeditions sail to over 900 destinations on all seven continents, more than any other cruise line. Visit https://www.silversea.com/
VIDEO: Silversea CEO Roberto Martinoli gives a tour of Silver Moon's restaurants and public spaces
VIDEO: Introducing S.A.L.T.
The ship's health/safety protocols: We traveled in December 2021 and felt very safe. During pre-cruise boarding, Silver Moon's guests—all of whom must be vaccinated—take a COVID-19 antigen test at the port and it must be negative for them to board. Our butler took our temperature each morning. The crew isn't currently allowed to get off the ship. More testing is done half-way through the voyage, and at the end of the voyage before going to the airport.