The charm of Lausanne, Switzerland's fourth biggest city with 340,000 inhabitants, and set on three hills topped with grand churches is that it can be explored and enjoyed on foot.
Whether that is absorbing its Olympic history with a visit to the IOC headquarters and its fascinating museum or the vibrancy of the Flon district with its bars, restaurants and cafes, it is a city where grand architecture dovetails with modern designs and five-star hotels such as the opulent Royal Savoy where we were staying.
Boarding the metro and sweeping up the incline to Flon, we emerged with the arches of the Grand Pont before us – a bridge dating from 1840 which crossed the River Flon, which has long-since been canalized but still runs hidden beneath the square.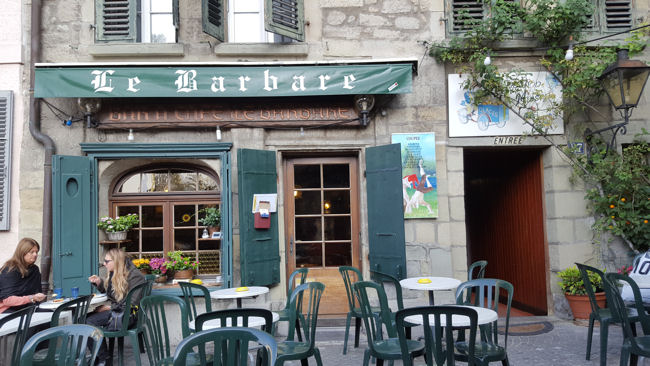 Flon truly comes to life at night and in one of the side streets the previous evening we had discovered a gem of a restaurant. The hugely-popular Eat Me brings together "dishes to share" from around the world and is an eatery tailor-made for, and perhaps reflective of, the multi-cultural nature of the Olympic city, where 44 per cent of the population are non-Swiss. My favorite dish was the Togo Mogo of chicken breast, spicy Togolese scotch bonnet and tomato sauce and cassava fries.
Not so many years ago though, Flon - a former industrial area - was in a state of dereliction before it underwent a revival and regeneration.
"It is now the funky happening place of Lausanne with clubs, bars, restaurants, cinemas and hotels but with buildings preserving or replicating the original warehouse architecture," explains our guide Hilary Bales, as we begin our walking tour through the pedestrianized shopping area.
"People come to Lausanne, not necessarily for one single reason but more for the whole ambience," adds Hilary as we walk. "They like the lakeside, the bars, and markets and the Olympic museum."
It is Saturday and the street market – which also runs on a Wednesday – is alive with shoppers choosing meats and cheeses, fruit, vegetables and the most delicious breads.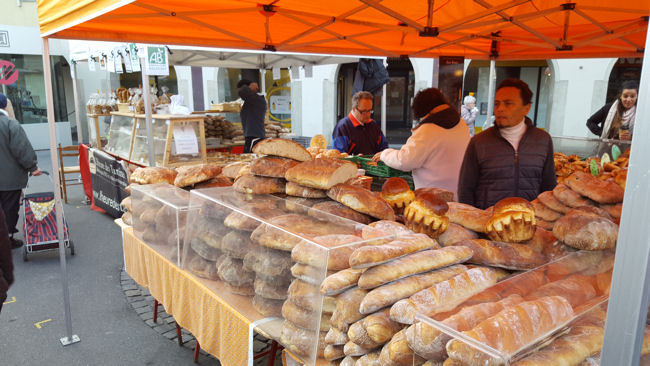 Our wanderings take us to Place du Riponne where we cut through the former university, now a collection of small museums, and exit near the Cathedral of Notre Dame, consecrated in 1295.
It has the most splendid stained glass windows, including the 13th center rose window, but it is the new organ that dominates; a modern masterpiece depicting an angel floating on a cloud and weighing 40 tonnes with 7380 pipes.
As we emerge into the autumnal morning, the view is impressive across a city chosen by Pierre de Coubertin in 1915 as a neutral location to sustain the fledgling Olympic movement. It is also here where he is buried – apart from his embalmed heart which resides in ancient Olympia in Greece.
Fountains, some 300 of them, nourished by the hidden waters of Lausanne are all around but as we head down from the cathedral we choose a different succor, pausing for thick hot chocolate at Le Barbare and then meander on to buy more chocolate at Blondel - which has been selling confectionary since 1850 - as we are lured back to the splendor of the
Hotel Royal Savoy
.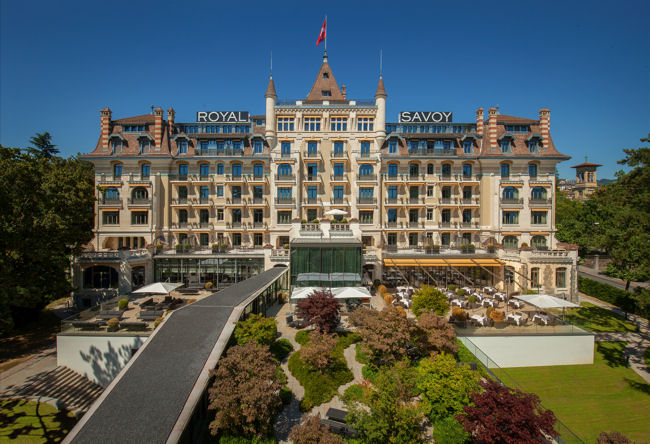 Hotel Royal Savoy
It opened its doors again in November 2015 after a five-year refurbishment costing CHF100 million, but the original building dates from 1909 and has long been an iconic landmark establishment in Lausanne, renowned for its architecture and unrivaled hospitality, attracting celebrities and royalty alike.
For a number of years the Royal Family of Spain lived in exile at the Savoy, while the King of Thailand was also a regular visitor. Other famed guests have included Olympic gold medalist Carl Lewis and Brazilian football legend Pelé.
Built in the Art Nouveau style, with 196 rooms, and a 7th-floor terrace with a spectacular 360 degrees panorama across Lausanne, the hotel also offers a unique wellness experience. The Royal Spa has an indoor and outdoor swimming pool, sauna, hammam and steam rooms, and eight treatment rooms for a range of massages and therapies.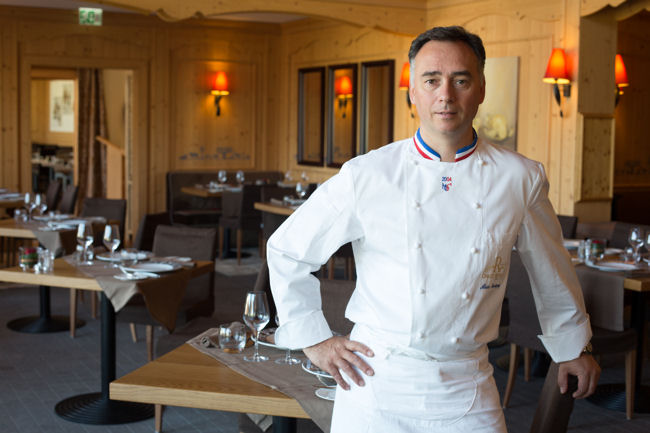 Chef Alain Montigny
La Brasserie du Royal serves fine food and wines and that range of wines is never far away in the Canton of Vaud, with many produced from the family-owned vineyards that cascade down to the Lake Geneva shoreline in orderly rows.
A couple of stops along the railway line from Lausanne towards Montreux is the Domaine Croix Duplex at Grandvaux, run by the Vogel family since 1929.
Maude Vogel explained that it was started by her grandfather Samuel with three hectares of vines but now covers 30 hectares of 13 different types of grape, including the prevalent Chasselas, to produce 300,000 bottles of wine a year. Popular among the 26 wines in the family range is the whites of Les Chapelles and Calamin, with its rich mineral and floral flavors; the Oiel de Perdrix Rose; the Croix Duplex Piot Noir with its fruity, blueberry flavor; and Le Message, a blend of four different grapes.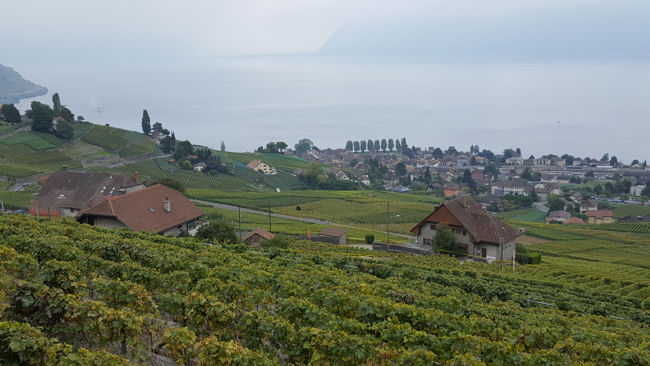 Sampled with gruyere and tommes vaudois cheeses, and a range of meats with saucisson, bacon, ham and dried beef, it was a perfect lunch.
The railway line continues towards Montreux, hugging the shoreline for much of the way, and to Bex where we alighted to change trains and head into the mountains and up to Villars and the Chalet RoyAlp & Spa.
The train wound its way through trees and higher into the mountains, pausing at Bevieux, Gryon and Barboleuse in a popular ski area but one that is great for mountain hikes during the summer and into the autumn. We changed trains again and continued from Villars to Bretaye in the heart of the Vaud Alps for lunch at the cozy Hotel du Lac at 1800m above sea level.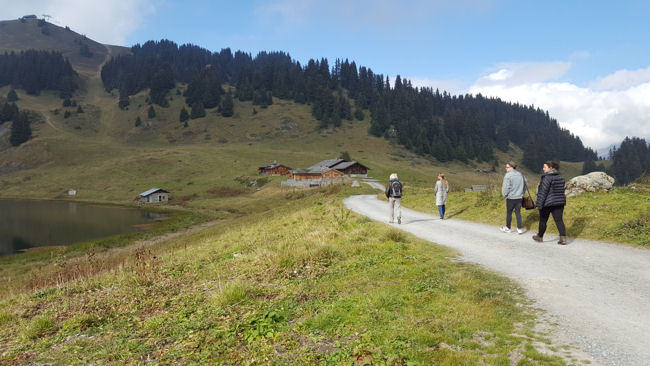 Hiking above Villars
A good walk was required and duly followed, with our group descending through woodland for the next two hours and back to the comfort of the five-star
Chalet RoyAlp
to relax in its pool and spa.
With a combination of 63 spacious rooms and 30 residences, the RoyAlp is also renowned for its cuisine under head chef Alain Montigny. The Les Jardin Des Alps and Le Rochegrise restaurants honor French gastronomy – food that has been admirably underlined by the recent award of a Michelin Star - while Le Grizzly offers authentic Swiss cuisine such as wood-fired raclette or fondue.
Set amid the stunning Vaud landscape, Lausanne, Villars and the Lake Geneva region is an area of Switzerland where hospitality is underpinned all year round by fine wine, gastronomy and well-being…and a square of chocolate or two if you so desire.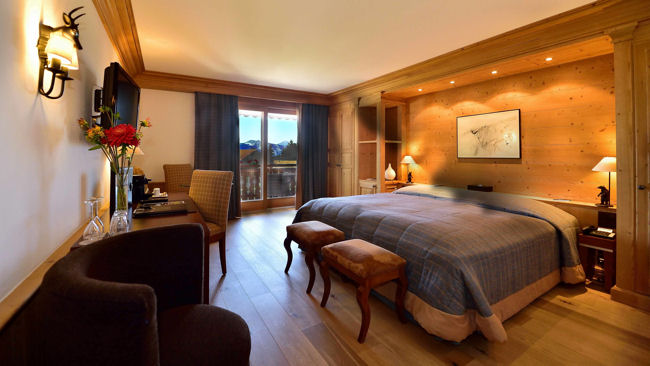 RoyAlp Junior Suite
For more information visit:
www.royalsavoy.ch
www.chaletroyalp.com
www.lausanne-tourism.ch
www.villarsgryon.ch
www.lake-geneva-region.ch