Comprised of 9,000 square miles, the Finger Lakes are home to 26 state parks, a 16,036-acre national forest, 1,063 waterfalls, 135 museums, 650 miles of shoreline, more than 300 bed & breakfast facilities, and at least 100 restaurants with waterside views. But who's counting?
Stretching from the southern shore of Lake Ontario to the Pennsylvania border and spanning the center of New York State, tourists will discover a virtual cornucopia of attractions at their disposal. The National Soaring Museum, an aviation museum working to preserve the history of motorless flight, and Ithaca's majestic waterfalls that drop hundreds of feet are two of the area's most popular tourist sites. Greek Peak Mountain Resort draws hordes of skiers each winter to its slopes while hundreds of annual festivals and fairs welcome visitors each spring and summer. The fall foliage is simply resplendent, and consummate shoppers will love the Windmill Farm and Craft Market which features 200 shops and craftsmen along with an open-air market surrounded by flower gardens and picnic areas. In addition to fresh produce, shoppers will find crafts, antiques, collectibles, leather goods, quilts, clothing, shoes, jewelry and furniture.
However, without question the Finger Lakes are most noted for being one of the world's premier cool-climate wine regions. With more than 100 wineries scattered throughout the region, tourists flock to the Finger Lakes by the bus load each day for tours and tastings. Those arriving by car can opt for various forms of tours, including by limousine or small coach. Visitors can choose from a number of "wine trails" that offer spectacular scenery en route to each winery. For example, there are 30 different wineries on the Seneca Trail alone, each specializing in both red and white wine.
Overlooking Seneca Lake in the center of the Finger Lakes, venerable Fox Run Vineyards is one of the most popular wineries in the region. With 50 acres of vineyards, the winery was one of the region's first artisanal wine producers, creating an impressive range of limited-production, site-expressive estate wines. Fox Run is reshaping the image of Finger Lakes wines with exquisite Rieslings and full bodied Chardonnays, whose grapes can adapt to climatic variance. Regularly recognized in national wine publications, Fox Run Vineyards was named one of the top 100 wineries in the world by Wine & Spirits Magazine in 2008, and has been a multiple gold medal winner at the Riesling du Monde competition in Strasbourg, France.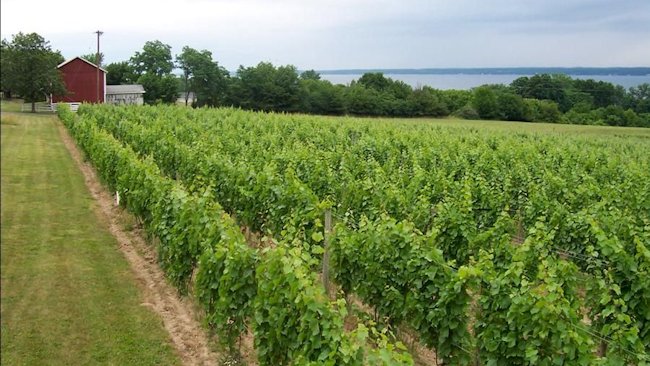 Since 1977, Heron Hill Winery has grown cold-climate Riesling and Chardonnay grapes and made elegant world-class wines on a slate hill above scenic Keuka Lake. The vaulted Tasting Hall overlooks vineyards and Keuka Lake and provides spectacular vistas for tasting a full range of wines including Rieslings, Chardonnays, Vinifera reds and the popular Eclipse Series. Tour groups will certainly appreciate the handcrafted gift items and works by local artisans that are available. The winery now produces over 20,000 cases of wine each year and entertains more than 50,000 visitors to its grounds. Additionally in the Finger Lake region, Heron Hill has tasting rooms on Seneca Lake and Canandaigua Lake.
Arbor Hill Grapery and Winery was the first Finger Lake winery to produce Traminette, a spicy, semi-sweet and distinctive white wine. Even red wine enthusiasts will marvel at its taste. This region is also home to the famous Naples Grape Pie, and the Annual Naples Grape Festival has become one of the Finger Lakes' most popular attractions. Held every September, this celebrated tradition began in 1961 and thousands come to celebrate the harvest and sample the grape pie. Entries are always welcomed.
Because it's impossible to see everything in one day, visitors are advised to spend some quality time touring the region by staying a few nights. In addition to the many quaint bed and breakfasts, tourists can opt for country inns, timeshares, or a variety of hotels.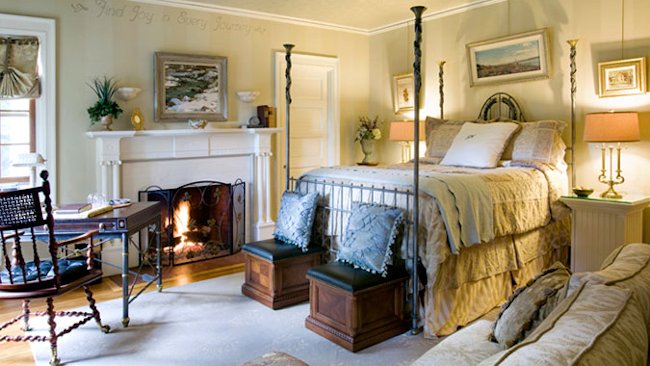 Juniper Hill Bed & Breakfast
Juniper Hill Bed & Breakfast
, located in Trumansburg, New York, is a historic circa 1921 Federal/Colonial Revival design which was modeled after the Governor's Palace in Williamsburg. The thoughtful decor reflects the era of construction of the mansion with an art gallery that concentrates on American Impressionist Fine Art of the early 20th century. Be prepared to be pampered with thick supima cotton towels, 300 plus thread count linens, seven-layer luxury bedding, plush pillow top mattresses and down pillows with hypoallergenic fills available upon request. The hearty breakfast is worth the trip itself and features a plentiful three-course combination of fruit, sweets, and a hot savory main course which is simply delectable. In order to fully appreciate the tranquility of the environment, breakfast is served on fine china by candlelight and a sparkling fire in the main dining room or on the veranda, with soft background music playing.
Geneva on the Lake, a stately country villa overlooking Seneca Lake in Geneva, New York, was built in 1914 and once functioned as a monastery. Its opulence today is highlighted by Italian marble fireplaces, wall tapestries, Ionic columns and wood ceilings. As soon as guests enter the elegant foyer they realize they've come upon a very special place. With plush canopy beds and intimate dining, the villa provides the ideal ambiance for a romantic getaway. However, the true attraction of Geneva on the Lake has to be the graciousness of the hosts who welcome everyone with warm, genuine smiles, not to mention beautiful flowers, creamy milk chocolates, and champagne.
Wine enthusiasts will appreciate the fact that there is excellent wine to be found east of Napa Valley. The
Finger Lakes region
is one shining example.