The Fairmont Banff Springs Golf Course and the Fairmont Jasper Park Lodge Golf Club offer breathtaking golf scenery surrounded by wall-to-wall mountain ranges.
Choosing between the two majestic locales is the ultimate dilemma. The Fairmont Banff Springs Hotel is dubbed "Canada's Castle in the Rockies." Vacationers from around the world travel to Banff to indulge in this one-of-a-kind mountain experience. By comparison, Jasper Park's guests stay in luxurious cabins, waking up to panoramic views of which they'd previously only dreamed. It's not uncommon to see elk grazing outside your cabin window. The common denominators shared by these Alberta getaways are spectacular golf courses with seemingly endless mountain vistas.
Fairmont courses connect with golfers by naming each of their golf holes. This personalization includes each tee box being adorned with signage offering rich insights into the hole's legacy, namesake, or geography.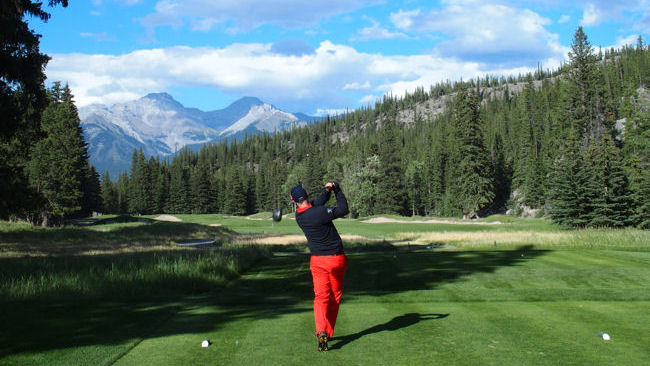 Fairmont Banff Springs - Stanley Thompson Course
There are few golf courses in North America that can match Fairmont Banff Springs history and majesty. In 1928, legendary architect Stanley Thompson designed this 6,900-yard layout amid Banff National Park's 2,500 square miles.
Yes, Fairmont Banff Springs provides elevation thrills at every turn, yet the underlying sensation of the course is a quiet magnificence born from playing golf in a mountain range amphitheater. Your concentration will be tested in this wondrous Rocky Mountain setting where 144 bunkers are scattered over 18 holes.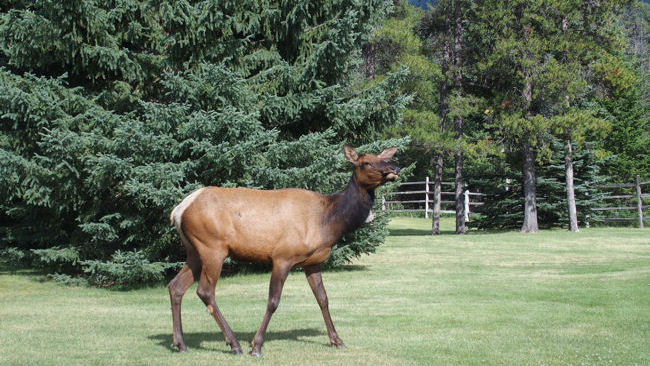 Mountains, Monikers, and Luxury
With mountain elevations reaching 9,000-feet and the pulsating sounds of the Bow and Spray Rivers nearby, Fairmont Banff Springs is a Canadian Rockies golf dreamscape. Be prepared to coexist with elk, caribou, and bear. This "when will they appear" undercurrent adds a wonderful element to your Banff golf journal.
Some of the names greeting you on each tee box are more obvious than others. Rundle, Fairholm, Peechee, and Sulphur honor the mountain ranges surrounding Banff Spring's 18-hole acreage. What's eye-opening is when Stanley Thompson's mood swings range from whimsical to edgy. Golf holes named "Jinx," "Goat," and "Devil's Cauldron" makes you think twice about where to aim each shot.
While the golf is impressive, the hotel accommodations are equally pleasing. When looking southwest from the course, you're drawn in by the hotel towering high above the 14th hole green. Built in 1888 with the thought of luring railroad travelers with a taste for luxury, the hotel was styled after a Scottish castle. Restored for $75 million in 1999, it provides guests with magnificent views of Banff National Park, the golf course, and beyond. The hotel is a mere 10-minute walk to the charming town of Banff.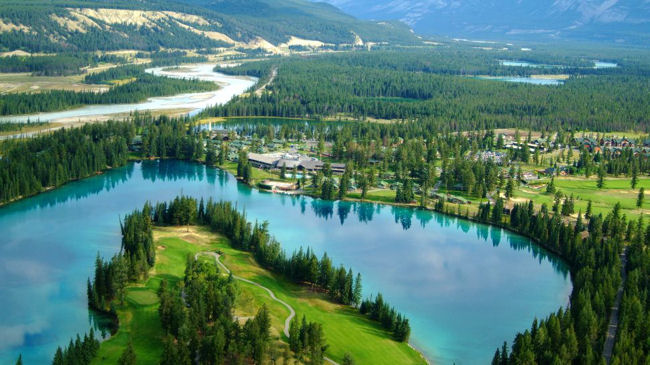 Fairmont Jasper Park Lodge Golf Club - Rated Canada's #1 Resort Course
Celebrating its 100-year anniversary in 2015, Fairmont Jasper Park Lodge turns back the clock to a quieter time when trains were the preferred form of transportation. Ten years after the hotel opened for business, Stanley Thompson worked his golf architectural magic to create Jasper Park Lodge Golf Club in 1925. Thompson's golf creation was built on the backs of 200 men and 50 teams of horses.
What you see today is an architectural marvel of mounds, contours, bunkers, and elevations that Thompson molded to mirror the mountains serving as a backdrop on each hole. Jasper golf holes are also christened with mind-bending names that are either obvious or will have you wishing a Jasper historian was playing in your foursome. "Colin's Clout," "The Bad Baby," and "Cleopatra" golf holes will have some players paging through their Alberta history upon returning home.
Jasper Park Lodge Golf Club is a haven for elk, deer, and bald eagles. Most of these creatures seem completely unimpressed by the wide-eyed, two-legged beings wielding 5-irons. Lake Beauvert adds further color to this mountainous locale on the back nine. The stunning glacier-fed lake serves as the jewel in the crown of Jasper Park's mountains. The lake also stands between you and your second shot on the par 4, 355-yard 14th hole.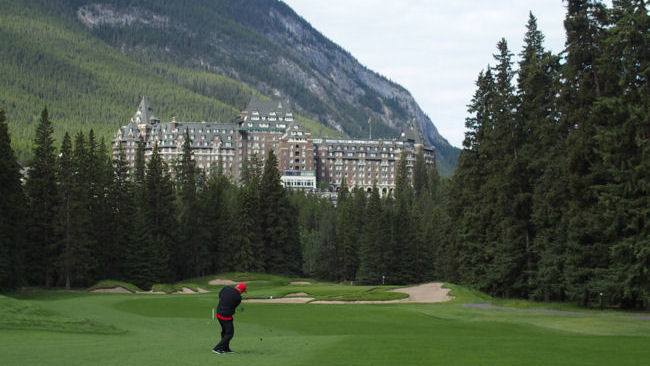 Banff or Jasper Park Golf? Your "No Lose" Decision Awaits
If you're considering an Alberta Canadian Rockies golf vacation, you can't go wrong choosing Banff Springs or Jasper Park Lodge. If you're leaning toward luxury, then Banff Springs is a great choice. If you like the idea of flashing back to a less hectic time and discovering postcard views right outside your door, then a cabin at Jasper Park Lodge is as good as it gets.
Both properties are sparkling clean, convenient to shopping in town, feature glorious walking trails, offer superb dining, and are connected to ample off-property excursions. Also, Fairmont's trademark service is a security blanket you can count on.
Best of all, both properties feature golf courses embraced by unforgettable mountain ranges. It's amazing how Stanley Thompson bridged the future into his enduring golf design. Fairmont Banff Springs and Fairmont Jasper Park Lodge provide opportunities to experience the Canadian Rockies through the eyes of Canada's most revered golf architect. Decisions, decisions. If you can't choose one, why not play both?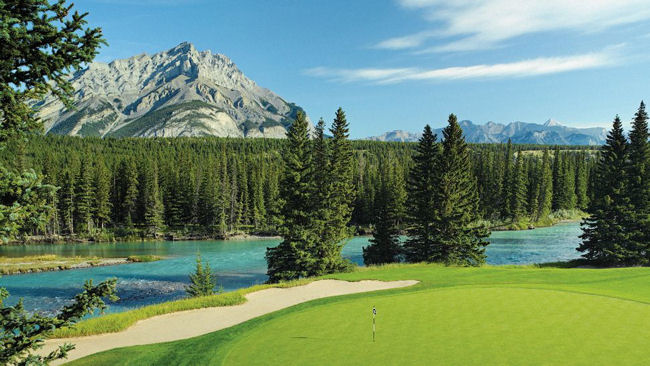 Visit websites:
http://www.fairmont.com/banff-springs/golf/
http://www.fairmont.com/jasper/golf/
Tim Cotroneo is a Minneapolis-based freelance writer specializing in travel, business, and golf.